Family-Owned
How Goodman's Went From a Regional to a National Business
Mike Kimrey grew up using Goodman's vanilla flavoring. Years later he learned it was produced in the Ozarks by a family-owned business. Today, Mike and his wife Michelle own the business, which has transitioned from a regional to national footprint.
By Sony Hocklander
May 2020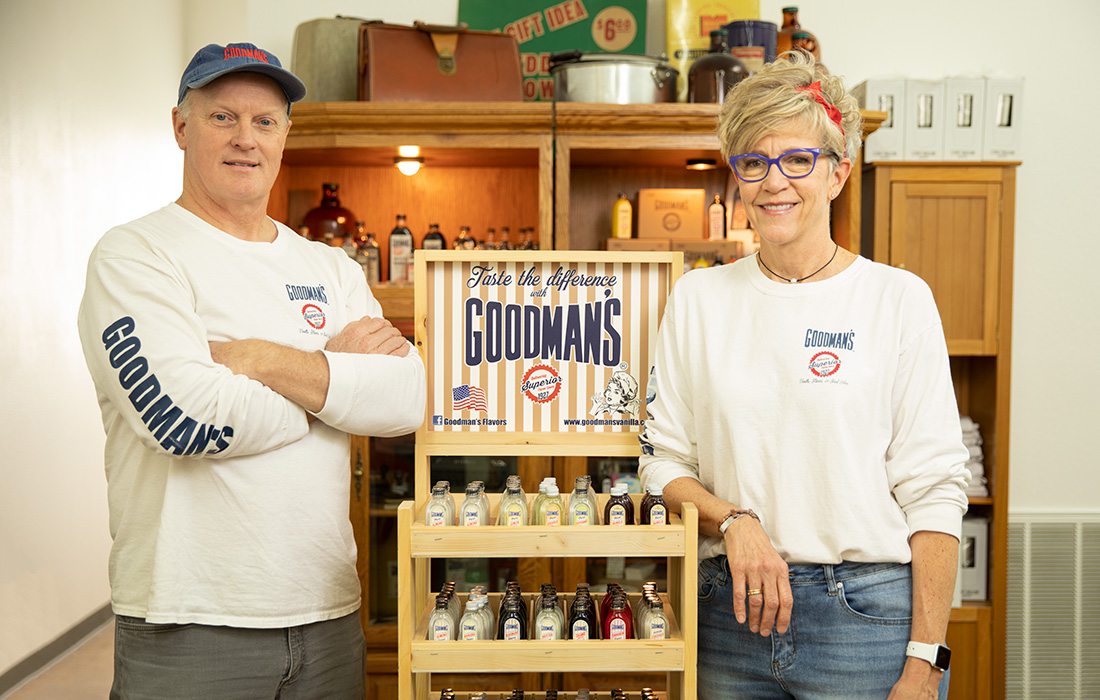 Goodman Manufacturing Company, Inc., founded in 1927, earned a trusted reputation among regional families who used its vanilla flavoring in homemade foods from the heartland. In 2003, third-generation owners Robert and Connie Goodman sold the company to Mike and Michelle Kimrey, who honor the company's legacy while helping the decades-old company grow.
Over 17 years the Kimreys have worked to increase distribution for the company's original vanilla formula—a blend of pure vanilla extract and imitation flavoring—plus a variety of other extracts, flavorings and food colorings. Extracts and flavorings aren't just for baking, Michelle Kimrey says. "These days, lots of people use extracts in beverages, hot tea, coffee, smoothies, protein drinks. Extracts add a really great flavor kick to all kinds of things."
Mike Kimrey knew the Goodman family long before buying their Carthage-based business. For 13 years, he'd worked for a company that marketed ingredients to area food businesses. That included Goodman's, owned then by Earl Goodman and his son Robert.
The company was founded by Earl's father, John William Goodman—known as J.W.—who bought a double-strength formula for vanilla flavoring in 1909. After moving his family to Carthage, he established Goodman Manufacturing Co. in 1927. Eventually, the company was passed down to his grandson, Robert. When Robert's father passed away, he was ready to sell Goodman's and retire. About the same time, Mike was ready to own a business and, with Michelle, had been researching franchises and small local companies. "We knew and loved the products; it was an old company with a strong history and solid profit margin; it could be run with a small workforce; and Mike had some experience both in retail and sales and was familiar with the ingredients," Michelle says. Plus: "We trusted the current owners, Robert and Connie Goodman." The company is now based in Marshfield, where they were raising their children.
Before selling the company to Mike and Michelle, the Goodmans distributed their products in a four-state region. Now, the Kimreys have expanded to 25 states and plan for continued growth. The expansion is not without its challenges, though. Walmart was a big part of the business in 2003. But over time, as shelf space decreased, the Kimreys pursued a new plan. Enter Value Merchandisers Company in 2015. The specialty warehouse distributer gives Goodman's access to about 3,000 stores nationwide. Getting products into VMC not only increased sales, it streamlined operations. Now, instead of delivering to stores, the Kimreys only deliver to a warehouse in Memphis. "It allowed us to stop doing so much direct-store delivery, which is labor intensive, and focus on gaining more stores that would order our product," Mike says.
While the company's delivery system has changed, Goodman's old-fashioned branding hasn't. In fact, its vintage look and glass packaging is attracting new interest. "All of our competitors have converted to plastic, but now it's cool to be glass again because it's 100 percent recyclable," Michelle says. "We don't use an individual box, and a lot of people are conscious about that now, too. They don't want any extra waste. So we have pretty glass bottles sitting on the shelf in the grocery store."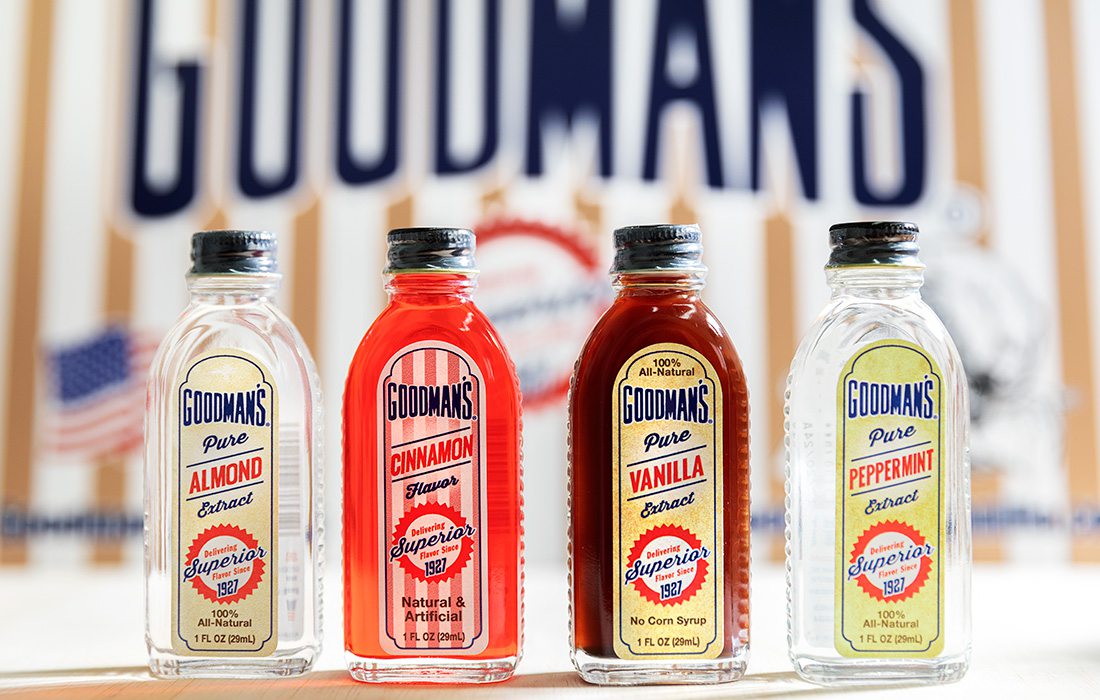 The company's southwest Missouri location helps too. "We're a wholesome part of the country, you know, and I think that definitely is a little marketing point right now because people are interested in local products that are not big, huge East Coast or West Coast conglomerates. We're proud that we're from here," Michelle says. "And it's a selling point."
Mike recommends anyone buying a business do their due diligence. "Make sure that what somebody is selling is really what it is," he says. The Goodmans were honest, and they had a reputable name, "so we were just able to continue and grow from that." 
On top of doing your due diligence, Michelle suggests having a launch plan that's fiscally conservative. While Mike was focused 100% on Goodman's, Michelle worked as an accountant for other companies to ensure a reliable income. Because they could funnel money back into the business, Mike paid the loan off early, says Michelle, who joined Goodman's full time approximately three years ago.
Also, the two recommend not letting any one customer become too big a part of your business. If that goes bad, your business suffers. "We had grown for several years, and then we had a few years when Walmart cut back, and we declined some," Michelle says. "We had reserves available because we were careful."
Lastly, the two say to expect hard work. "There's no eight to five about it because you're thinking about it and living it 24 hours a day," Michelle says.
Headquartered: Marshfield
Type of Company: Privately owned
Current Number of Employees: 5