Family-Owned
Springfield Engineering Company
For some, maintaining a family legacy means keeping in touch. For Bryan and Jeffrey Fielder, it's representing three generations of quality service at Springfield Engineering Company.
By Lillian Stone | Photos by Brad Zweerink
Jul 2016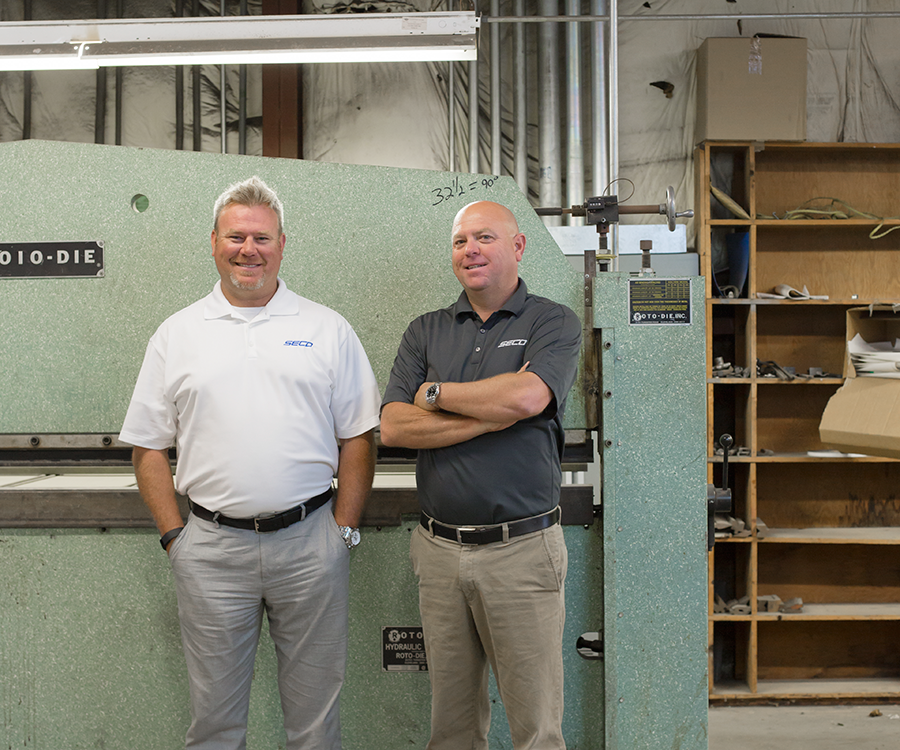 Jeffrey (left) and Bryan Fielder (right) are taking over their third-generation family business, Springfield Engineering Company, which includes an on-site metal fabrication shop for building ductwork and other metal goods.

Springfield Engineering Company is the quintessential family business. Bryan and Jeffrey Fielder serve as president and vice president, respectively, of this strictly local mechanical contractor. They're also brothers, having inherited Springfield Engineering—otherwise known as SECO—from their father, who inherited the business from his father. In a competitive local market, the Fielder brothers represent several things: quality, innovation and the value of a strong family legacy.
Ben Fielder founded SECO in 1952. The business began on a fairly small scale with a focus on engineering and installing refrigeration systems. His son, Jerry Fielder—Jeffrey and Bryan's father—took over as president in 1977. Today, SECO is a full-service mechanical contractor with a focus on the healthcare industry, and the Fielder brothers proudly represent the third generation of ownership. According to Bryan, inheriting the family business was inevitable. He studied business management at the University of Tulsa before becoming SECO's service manager. Jeffrey, the younger of the two, skipped the college route and went straight to work as a pipe fitting apprentice. Bryan then became vice president in 1999, while Jeffrey became plumbing division manager in 2002. In 2014, their father stepped down, and the Fielder brothers came into their family legacy—Bryan as president and Jeffrey as vice president.
  The big deal is keeping the family business alive for the next generation." —Bryan Fielder, president of Springfield Engineering Company
As the newest faces of SECO leadership, the Fielder brothers are focused on maintaining high-quality service while focusing on innovation. "Our goal is to keep our quality high and get our costs down," Bryan says. "We're in the process of making some changes that we've been wanting to make for a long time." According to Bryan, those changes are centered on two things: efficiency and staying competitive in a challenging market. SECO is also working to stay ahead in the technology age. "The industry is so different today than it was 20 years ago," Bryan says. "The amount of work you have to do to get work and to perform work has changed a bunch, and that's where the technology really comes in."
The evolving industry has created an interesting dynamic for the multi-generational business. "We did struggle some working with the second generation—not just our dad—with new ideas, because they were stuck in their generation," Bryan says. "Their ideas were working at the time, even though we saw on the horizon that there may be problems ahead." After more than 20 years watching how his father's team operated, Bryan had a lot of suggestions for potential changes for the company. He says that the second generation's business practices were very successful, but it was just a different time.



1. SECO's manufacturing side has played an integral part in the expansion of Andy's Frozen Custard. 2. High-tech tools like a plasma cutter make more intricate cuts, allowing SECO to take on more complicated jobs. 3. In SECO's plumbing fabrication shop, workers have access to all the parts they need, like copper fittings.

As brothers and business partners, understanding is the key to success for the Fielders. "I think we both agree that we have a goal to grow and develop, and we have to do that together," Jeffrey says. "We have to bring both of our ideas in here and come to an agreement on things to better this place."
The Fielders agree that, though extremely rewarding, inheriting a multi-generational business can be a challenge. Bryan suggests that older generations ease the transition by listening more intently to the ideas of the younger generation. "Especially when it comes to technology, get the younger generation involved earlier, and don't wait until you time out," he says. His advice to other next gen-ers? Hire someone to help you navigate the process. He explains: "We went about it in a very traditional way and just kind of learned the business as we went on. But I would really recommend bringing someone on to help you make the transition." Jeffrey, on the other hand, feels strongly about the importance of company culture. "You need to strive to make it a great place to work," he says. "Make your employees happy, look for success, and enjoy the ride. That's my philosophy. You only go around one time, so enjoy the ride."
SECO is going strong under the third generation of Fielder leadership, and there's a possible fourth generation on the way—Bryan has a son, Benton, planning on attending college next year to study information systems. For now, though, the Fielder brothers are happy to carry out the family legacy. "I was very close to my grandfather," Jeffrey says. "I was interested in working for the family business and being here with my father and my brother." Bryan agrees. "The big thing is the history of it," he says. "It's not fun every day. There are fun and very rewarding times, but the big deal is keeping the family business alive for the next generation."