Family-Owned
ColorGraphic Printing and McCann Printing Join Forces
From side hustle to successful printing company, family-owned ColorGraphic Printing recently celebrated 50 years with a merger and an expansion, joining forces with McCann Printing.
by Sony Hocklander
Jan 2020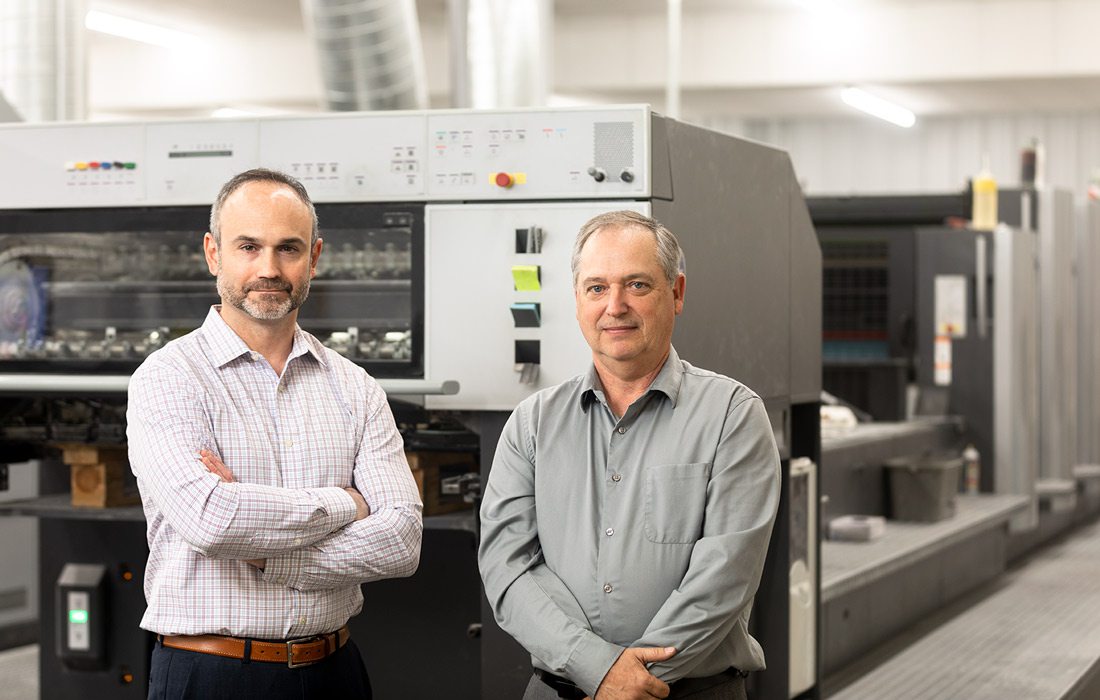 From side hustle to successful printing company, family-owned ColorGraphic Printing recently celebrated 50 years with a merger and an expansion. What started in his grandfather's garage continues to grow, says third-generation owner and current CEO/President Grant Johnson. Joining forces with McCann Printing, another family business, has strengthened ColorGraphic's position as Johnson takes the company to its next level.
For five decades, ColorGraphic Printing has successfully served 417-land, with customers that include Bass Pro Shops, area hospitals, universities and manufacturing plants, in addition to numerous clients around the nation. Just one year after merging with McCann Printing in September 2018, the company expanded its building by 10,000 feet to accommodate a growing market in digital and wide-format printing, grew revenue by around 25 percent and added more than five employees for a grand total of 50 company-wide. One of those additions is McCann Printing's former owner, Robert McCann, now a senior account executive.
For McCann, the merger with ColorGraphic eliminated overhead while continuing to serve his customers. For ColorGraphic, the merger increased its customer base, expanded services and brought additional expertise to the table via McCann and several of his former employees.
A Family Affair
Printing is a Johnson family tradition. CEO and President Grant Johnson's grandfather, Bill Johnson, worked at Lily-Tulip Cup Corporation when he started printing part-time from his garage. With an expanding customer base, he established ColorGraphic Printing in 1969 and went full time. His only child, Steve, joined ColorGraphic at age 20, running presses and learning the business from the ground up. Steve took the reins when his father retired in 1993. Four years later in 1997, his only child, Grant, joined the company full time after graduating from Drury University. Over the decades as ColorGraphic grew, it would change locations five times, eventually moving into its current building on West Division Street. Constructed 10,000 square feet larger than its previous home, that extra space quickly filled up.
McCann understands what it's like to run a multi-generation business. The same year Johnson joined ColorGraphic, McCann was buying the namesake printing business his father, Donald McCann, started in 1966. After the sale, rival printer Steve Johnson called to congratulate Robert, and a friendship struck up between the two second-generation family business owners. They were "friendly rivals," McCann says, who helped each other out: "If one of us broke down, we loaned parts back and forth."
"We were both good backups," Johnson adds, and because they specialized in different kinds of printing, "we tried to not fish in each other's ponds."
Working Together
About four years ago, Steve Johnson started to phase out of leadership while discussing an eventual merger with McCann. When Steve retired, McCann— ready for a new beginning—approached Steve's son Grant, now CEO. After McCann bought his father's business, he took it new directions by adding web printing and specializing in serving the needs of advertising agencies. While he had a smaller account list than ColorGraphic did, the merger brought them to ColorGraphic where McCann can continue to serve them. "They still trust I am looking out for their best interest," McCann says.
Merging was a win-win for both family-owned companies, the men say. "One of the benefits," Johnson says, "is we didn't have a lot of overlapping customers. [Robert] brought a group of customers over that had been loyal to him over the years and allowed us to add that to our workflow."
McCann's team also brought additional expertise—for instance, improving mailer production. ColorGraphic had added digital small quantity printing and mailers to its services as a result of the 2008 recession. But mailers were a specialty of McCann Printing. With the merger, a former McCann employee revamped ColorGraphic's mailer department, taking it to a more efficient level and reducing Johnson's workload. "The people who came with [Robert] were a huge benefit to our organization," Johnson says.
Generational Knowledge
As second-and third-generation business owners, McCann and Johnson share similar learning experiences. For instance, they know it takes hard work to earn the respect of employees and overcome the stigma of being just "the boss' son or daughter." You are held to a higher standard, Johnson says. Both know the value of learning all you can about every aspect of the business while older generation owners are still around, and, if you work with relatives, how important it is to establish defined roles—with contracts—to reduce tension and conflicts. 
Johnson also says it's important it retain core values that made your company a success, while recognizing that the management style your parent or grandparent employed may not be best for you. "Manage the way you think works best for your employees," he says. To continue moving a second-or third-generation company forward, invest the business by staying on top of technology. And be willing to listen to employees' ideas and value their input.
Adapt with the times for what works best for your company now, not just in the past, Johnson says. Don't accept "Well, that's the way we always did things" or you will be left behind. At the same time, respect the legacy. Johnson says he feels a sense of responsibility to take good care of his family's longtime business. "I want to continue growing the company," he says, "and having the reputation we've always had."