Family-Owned
Fresh off the Press at Traders Printing + Design
Learn how Andy Cobb's family printing business continues to thrive in a digital age.
By Vivian wheeler | Photos by Brandon Alms
Mar 2016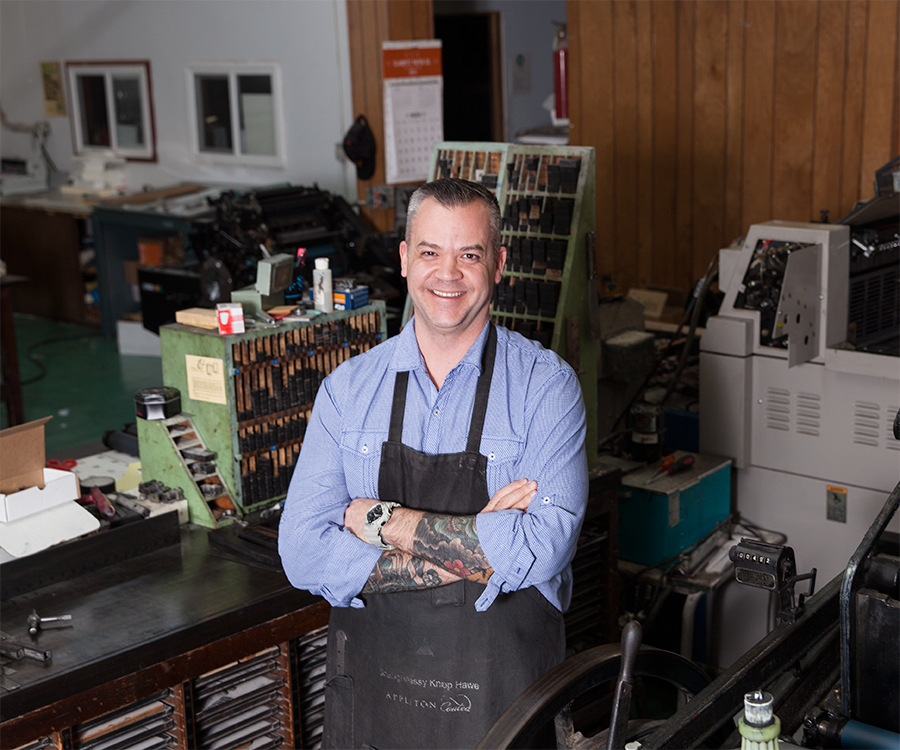 Andy Cobb grew up inside his father's printing shop. As soon as he was old enough, he was put to work cleaning ink knives and plates, sweeping and mopping the floor and cutting paper. He even had his own apron, tied up tight in back so as not to drag on the floor. These days he's running the show, going from shop boy to shop owner. 
Established in 1925, Traders Printing + Design has been serving Springfield's printing needs for more than 90 years. Dealing mainly in business-to-business printing, Cobb's father, Stanford, bought the shop in 1968 and continued to grow the company by treating clients like family. "My dad was always a really personal guy," Cobb says. "He would sit there for an hour and talk to you even though there was stuff to be done. But that's just the way he was." 
They wanted to retire, so I bought their client list and hired their employees and took their machinery and put it into my shop."—Andy Cobb, Owner of Traders Printing + Design
Cobb continued to work alongside his father, eventually learning every aspect of the business, including running and maintaining the machinery, designing and drumming up new clients, which meant lots of cold calling. "I hated it," Cobb says. "I hated every phone call. But that's part of it, too. Getting turned down is part of it just as much as succeeding. It gave me a chance to move on if someone wasn't interested." All of this preparation was put to the test when Cobb's parents developed Alzheimer's disease within a few years of each other. 
Cobb quickly found himself in charge and facing his first major obstacle. Neither of his parents had long-term care insurance. Cobb needed to significantly grow the business. Within a year of taking over at the shop he bought out another local printing enterprise, Corner Printing. "They wanted to retire, so I bought their client list and hired their employees and took their machinery and put it into my shop," Cobb says. "We had really quick growth from that." Then, 14 months later, Cobb acquired another Springfield printing shop, Expressions Printing. The additional business generated by the two mergers helped cover his parents' medical bills. 



 The downtown location (left) allows Traders Printing + Design to be a go-to place for bustling businesspeople.Andy Cobb sticks to tradition, using tools like this original Heidelberg windmill (middle) for perforations and scoring. Customers can choose the perfect color, thanks to an ink mixing station (right) where employees mix custom colors.


Cobb's advice to others looking to take over their family business is to stick with the core values the business was built on. "Don't get too much in a rush to change everything, because apparently it has always worked," he says. He also urges caution when considering big purchases, a lesson learned from his father. "Don't get in over your head too quickly," Cobb says. "Keep your investments in the company within a reasonable goal." New equipment is expensive, and Cobb has been able to keep his costs down by effectively utilizing his existing resources.
In 2005, Cobb officially bought the business, and today the shop is thriving—an impressive feat in an increasingly digital landscape. A quick online search will produce a plethora of wholesale printing companies, but Cobb remains unfazed. He knows that in the end, when a customer has a product that they need delivered on time and done right, Traders Printing + Design has an edge on the competition. They can offer customer service that online companies can't match, and can fix any issues before delivery. 
Cobb also sees the value of technology, and while he has retained his father's old-school approach to customer service, he's come to understand that the business must evolve to compete. For years Cobb resisted buying a copy machine. He was proud of the fact that the business was a traditional print shop and that they were skilled craftsmen. Eventually, he saw the light. They still do letterpress and offset printing, but now they also offer digital printing. "I've kinda put my foot in my mouth," he says. "I probably should have done that five years earlier."   
Even though both of Cobb's parents have passed away, family still fills Traders Printing + Design. Cobb is married with two kids. His wife, Heather, helps in the shop when she can and runs the place when Cobb is away on military reserve duty. Avery, his daughter, is 7. She's starting to perform all the tasks Cobb first learned from his father. She can be found cleaning ink knives and plates, wearing Cobb's old apron that's still tied up in the back so as not to drag on the floor. Cobb is optimistic but realistic about the future of the company. "It's going to be more challenging, but there is always going to be some tangible paper printed product," he says. "Our job is to find creative ways to continue to do what we do."