Leadership
What You Missed from Our B-School Featuring Clif Smart
As the president of Missouri State University, Clif Smart has been busy. We got to know our Person of the Year a little better, and get an inside peek of his plans in the coming years.
By Jenna deJong
Dec 13 2019 at 8:15 a.m.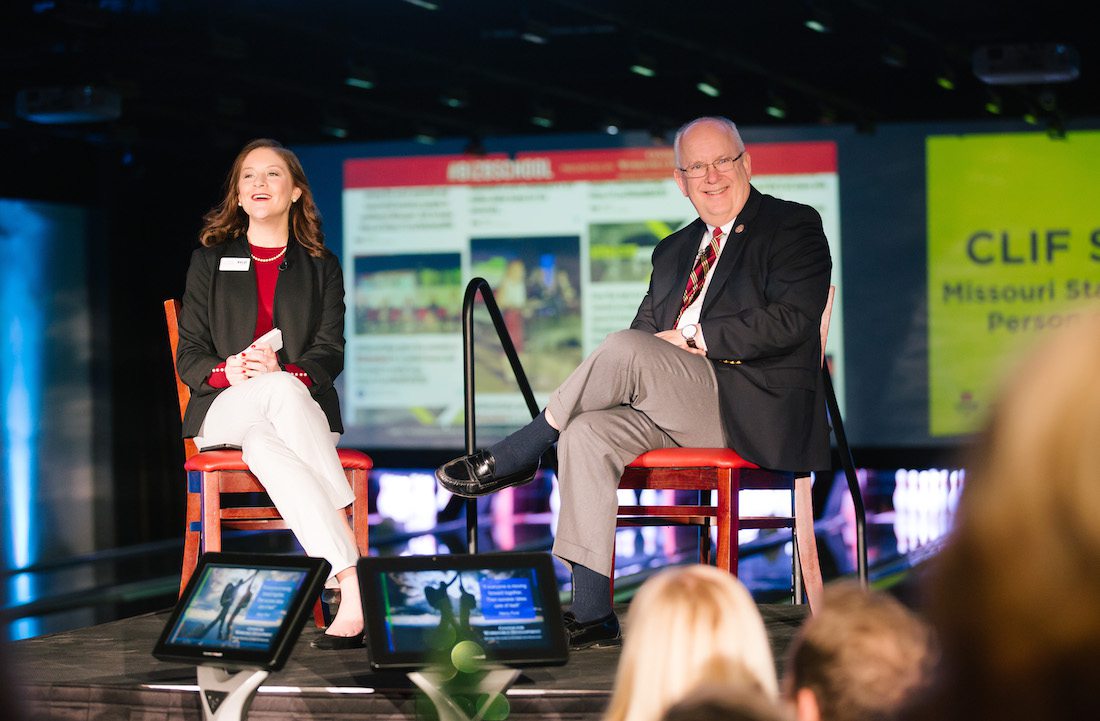 For the last B-School of the year, we got to know Clif Smart, Missouri State University president, 417-land cheerleader and campus celebrity. Clif Smart is a friendly and familiar face to most of region: He's not afraid to dance his way through a promotional video, his Twitter game is strong and he frequents many community and business events throughout the year, making him a sought-after connection across all industries. But there is more than meets the eye to this former lawyer. We spent the morning getting to know Smart on a deeper level. Keep reading to get to know our 2019 Person of the Year.
Humble Beginnings
Originally from Fayetteville, Arkansas, Smart's father was a college architecture professor for 50 years. During his career, his father landed a job at a university in Afghanistan, moving the entire family halfway across the world. For a year, the family soaked up another culture, even traveling to surrounding countries like Pakistan.
"We traveled to a northern part of the country and they had these giant Buddhas carved into these walls of the mountains, at least they did until the Taliban blew pieces of them up," Smart said. "You could climb to the top of the Buddha and look out over its head over the whole valley." Now, as an adult running a major university, Smart says the experience has stuck with him. "It was an important event in my life because it gave me a global perspective of the world. Everyone cares about their faith, their family, career…The core values were the same. Once you could appreciate that, it shapes your worldview." As a young adult, Smart attended the University of Arkansas and eventually became an attorney. His wife, Gail, is from Little Rock and the two worked in her hometown for two years. It wasn't until a weekend with friends who worked at a local law firm that they decided to make the move to southwest Missouri.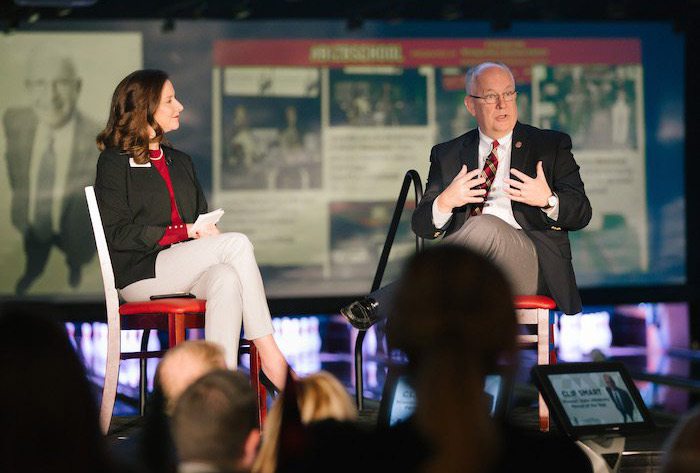 Photo by Brad Zweerink
Biz 417 President and Association Publisher Logan Aguirre interviews Missouri State University President Clif Smart at B-School Breakfast Series.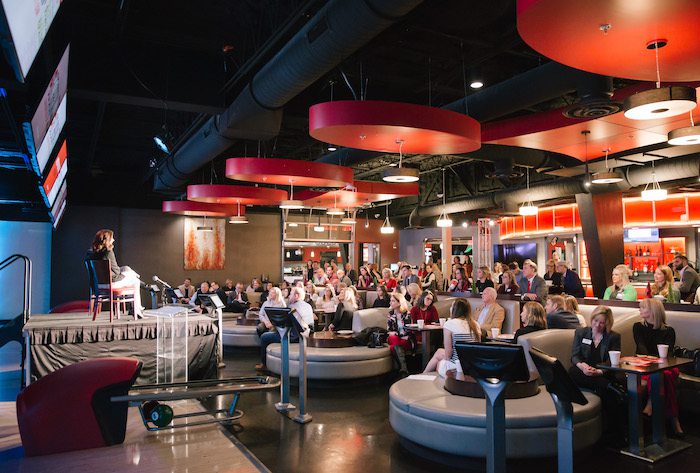 Photo by Brad Zweerink
The crowd packed in to hear Missouri State University President Clif Smart speak about how the university impacts the local business community.
Becoming President Smart
After 15 years as an attorney, Smart opted for a less chaotic lifestyle and became general counsel for the university. It was then that the university came knocking on his door. Smart says the first time he was offered the job of university president he "actually laughed out loud." In fact, one of the biggest deciding factors in taking the job was Gail.
"She had to agree for me to do it," Smart said. "I know people don't think about it this way but in our view, it's a 'we do it together.' So much of my job is external that if my spouse is not able to or interested in that, my job becomes much harder."
With their youngest son off to college, the empty-nesters gave it a shot and within eight months, Gail was fully on board. By the time the university asked Smart to apply for the job full-time, the couple was in and there was no turning back.
When Smart stepped into the role, the university was in need of a community leader. Smart's predecessor had run the university from inside his office and "the result of that was there wasn't that connection [with the Springfield Area Chamber of Commerce] and Ozarks Technical Community College." With Smart on board, his rapport of long-term connections would give the university an edge to becoming a major player.
Part of this reputation comes with Smart's new hires. "I think the success that we've had is the stability in leadership, and it's not just me," Smart said. "It's in all those critical positions, and then we've brought in really good new people of all different ages and races and backgrounds. All of a sudden you have a diverse room of people with different experiences and that helps the old guys do better and think differently."
"I'll say, 'we can look at any position at the University of Missouri and they make two to three times the money we make. I wouldn't trade a single one of my people for anyone working at the University of Missouri. That's how good our team is."
So, About The Football Team
Of all the milestones the university has achieved in Smart's tenure, the one that remains in limbo is the football program. Smart said that any major American university has a football program, and taking it away would diminish the profile of the university. Not only that, but the football program is used heavily in recruiting both future students. The football program also supports the 340 students in marching band and the music education program, plus the 40 of 100 football players who are paying their way through school.
"There are all sorts of things you lose when you don't have football, even bad football, and it doesn't save you any money. In my mind, the goal is to figure out how to be more competitive, not figure out how you're not going to have it...I am a strong proponent that you need football to be a major university. You just have to figure out how to do it better."
Even more so, Smart points out that to buy out head football coach Dave Steckel's contact, it would require charging every student $27. "I don't think we should do that. I think [Dave Steckel's] a good football coach and there's potential to build a good program so we'll see what happens in the next two years."
Looking Ahead
As Smart wrapped up his time on the hot seat, he took some time to touch on some of the major milestones the university has hit in the last few months, including the historic capital campaign, Onward, Upward, and Bill Darr's recent gift of $6.5 million to fund a magnet school with Springfield Public Schools. In the meantime, Smart said he will continue to be a positive voice on Twitter by promoting both the university and Springfield.