Offices
The Office Updates Everyone Wants
Peek inside three Springfield offices where simple updates made coming to work a whole lot more enjoyable.
by Ettie Berneking
Aug 02 2021 at 8 a.m.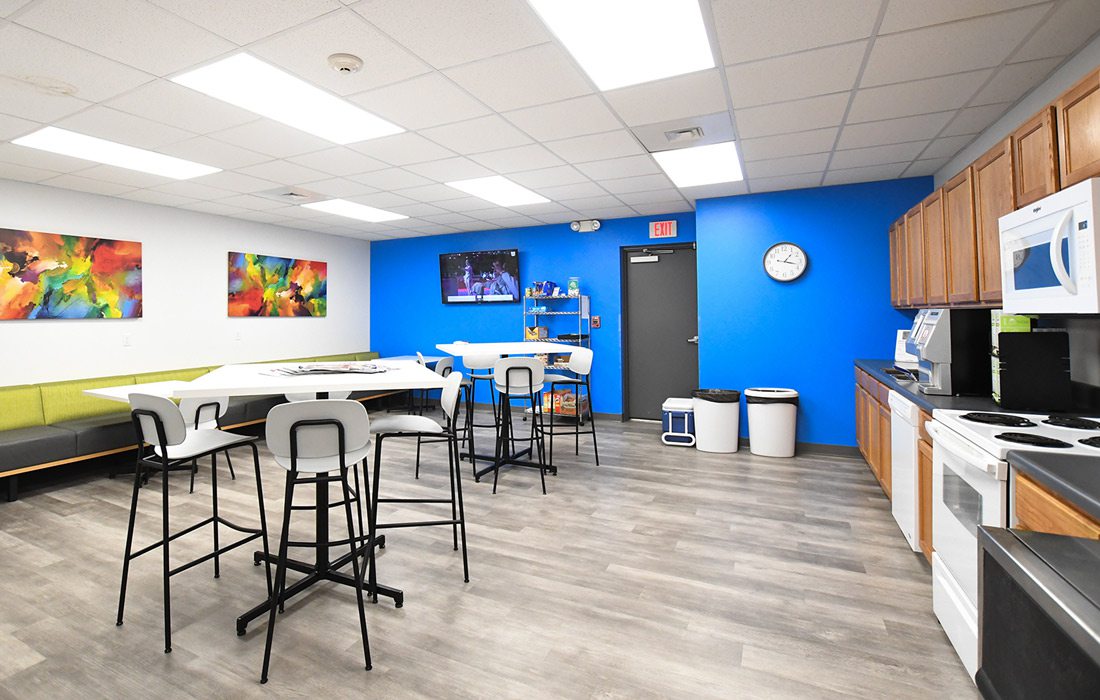 Now that we're back to work in person, raise your hand if your office is getting some kind of a makeover. Now keep your hand in the air if that makeover is going to make being at work a little more enjoyable. Offices in Springfield, Missouri are getting new looks from bigger and better break rooms to brand new workout facilities, and the team at Grooms Office Environments has helped with a handful of these remodels. "We know that an employee's workday doesn't just happen at their desk," says Victoria Gorham, Sales Manager at Grooms.
"It happens in the breakroom, meeting spaces, around the coffee pot. 2020 taught us how important these ancillary spaces are when individuals can compare the 'less loved' spaces to something they had better, like their kitchen or workout space, when working from home. Adding that flexibility and work life balance is now a major focus for in-office employees." In fact, Grooms even gave its warehouse crew a new gym, so they know all about the desire to revamp the workspace these days. To show off a little bit of the new glitz and glamour happening at workspaces around town, here are three projects we are green with envy about.

PRESENTED BY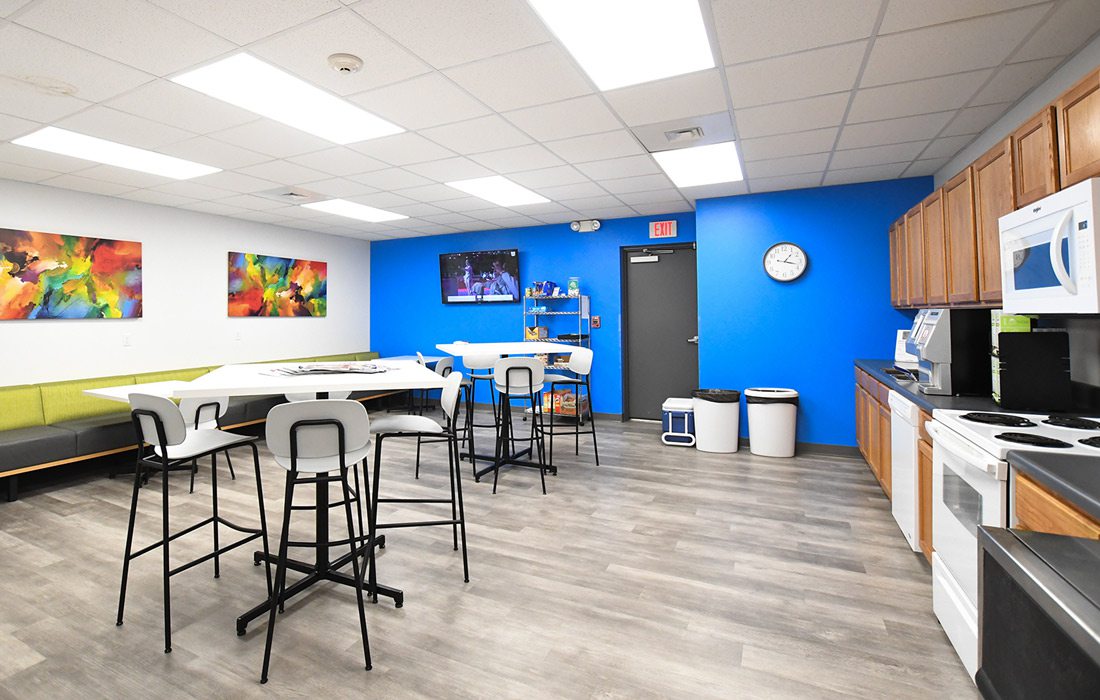 New Vibes, New Breakroom, New Place to Unwind
Turns out the old saying "build it, and they will come" works. This breakroom makeover happened at Guaranty Bank's Elfindale location. William Cologna, VP/Director of Operations and Facilities at Guaranty Bank says the team had been in the same building for about 10 years, but very little attention had been given to the outdated breakroom. In fact, very few people even used the breakroom for much more than a place to reheat their lunches. "We looked at the breakroom, and it was 6-foot long plastic tables, uncomfortable plastic chairs and absolutely no color," he says. "We needed to make a space that was more inviting." To breathe new life into the room, Guaranty Bank worked alongside Grooms and used the bank's Farmers Park facility as a model. "Having a space where your team can take a mental break or have a more casual meeting is becoming more and more important," Gorham says.
"On this project, we knew we needed to adjust the breakroom layout so it could serve the purpose of a kitchen but also be a comfortable and inviting space where the team could unwind." To make the space more bright and inviting, Guaranty added new woodgrain LVT flooring, painted the walls a bright white and blue to match the bank logo and implemented the new space plan and furniture concept from Grooms by added tables and chairs of varying heights. Construction went on for about two months last June and July when most people were out of the office. Now, the 65 people who work at the Elfindale location have a brand-new break room, and the new look is paying off. "We've gotten nothing but rave reviews," Cologna says. "The biggest testament is now during lunch time, there might be six to eight people in there sitting and relaxing. And there are a few people who will even grab a laptop and go hideout there to work."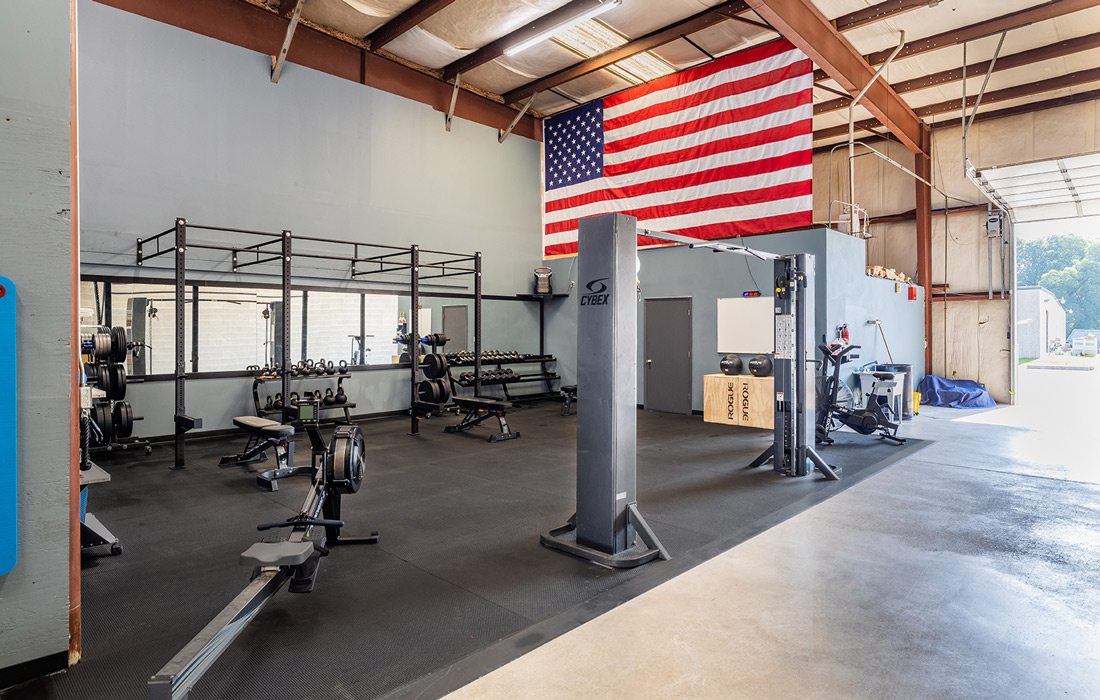 New Gym, New Fitness Goals
When Grooms decided to dedicate part of its new 4,000-square-foot warehouse space for a workout facility, they were looking to provide a space to invest in the health and wellbeing of their installation team. Giving their guys something to be proud of and call their own at the warehouse. During talks of building the 36-by-36-foot gym, Travis Adams, the Service Manager at Grooms, overheard the install team talking about doing a weight loss challenge with each other. He took the idea to Grooms' co-owner Jonathan Garard, and the two came up with a plan. To get everyone committed to enhancing the new gym, Grooms would run a 90-day weight loss challenge for their install team with incentives along the way.
On top of individual rewards, if the team met their group goal, Grooms would invest in more equipment to fully outfit the gym. As the 90 days progressed, new goals would be set, and each time a goal was met, new equipment would be added as incentive to make the space bigger and better. "We know that healthier employees can improve the quality of their lives," Adams says, "and our ownership is committed to helping the team live a better life at work and away from work." The plan paid off big time. Adams says the team collectively lost 210 pounds between 10 people. "Our team has a very physically demanding job and it can take a toll," he says. "There's been physical transformation and energy levels are noticeably higher. Also, when you know someone is willing to put the financial backing behind their words, it goes a long way." Now that the weight loss challenge is done, the Grooms' gym is equipped with medicine balls, dumbbells, bio boxes, squat racks, stationary bike, rowing machine, cable machine and more. "We wanted to make this gym a crossover between endurance training and strength training because those are the kinds of physical requirements this job demands," Adams says. "And because we all joined in on this goal together, the team feels an ownership over the space and know it's something they truly deserve, and we have a great gym to show for it."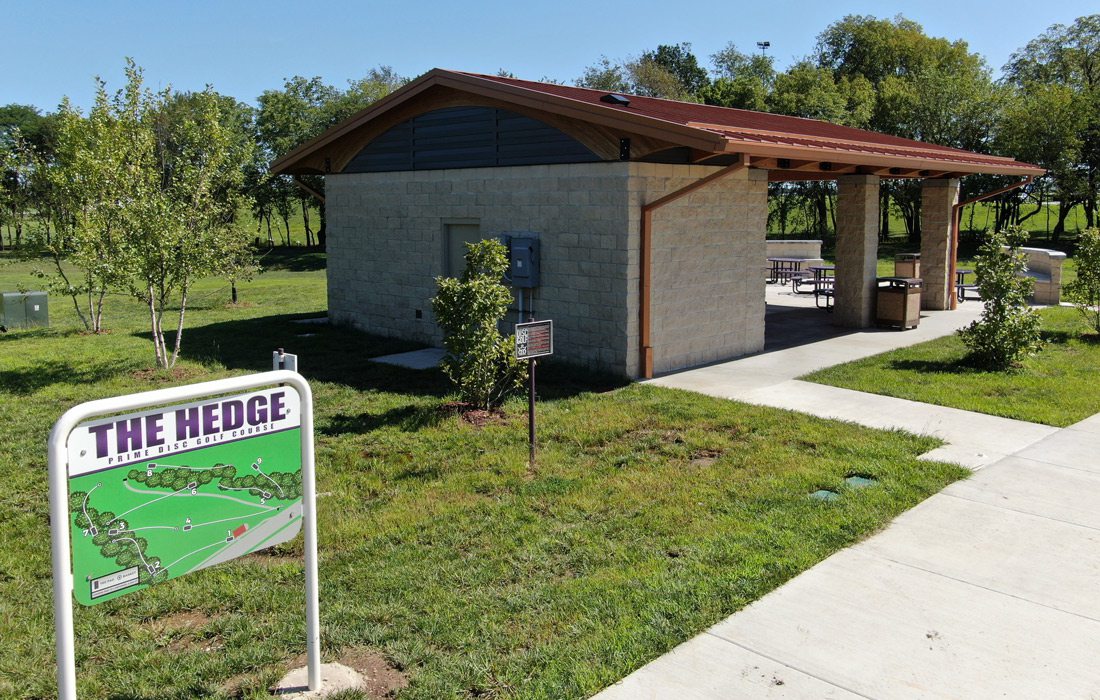 New Trails, New Way to Unwind
Yes, Prime Inc. in Springfield gave its headquarters a huge remodel, but that was in 2000. The more recent remodel happened outside the office and has almost nothing to do with work. Instead, it has everything to do with disc golf. At the end of 2018, Prime turned a vacant lot on the property—one that had previously been used for overflow truck parking—into a 9-hole disc golf course named The Hedge. The Hedge, much like the 4 miles of sidewalks and walking trails that loop through Prime's property, is aimed at giving team members a fun way to relax and hang out either after work or on their lunch break. "The Hedge disc golf course is a great amenity to have on our Prime Inc. campus in Springfield," says Andrea Mueller, media and onboarding manager at Prime. "The course gives associates a reason to get away from their desk or out of the truck and get some fresh air and enjoy some friendly competition." The Prime team loves it so much, it's even hosted tournaments, and recently, an outdoor kitchen and bar were built next to The Hedge, so company gatherings just got a lot more fun.
Grooms Office Environments
For more than 44 years, Grooms Office Environment has provided commercial interior design services including furnishings, space planning, and project and move management as a full-service Herman Miller dealership. Whether you need a new office chair, design for your new office space, or to furnish an entire a new building, Grooms' expertise can work for you. A few of Grooms' clients include CoxHealth Network, Jack Henry, Legacy Bank and Drury University.