Women in Business
Top Takeaways from Ladies Who Launch 2021
Just a few of the insights and "aha moments" that made an impression during our annual conference for the women who are shaping 417-land's future.
by Lucie Amberg
Jul 2021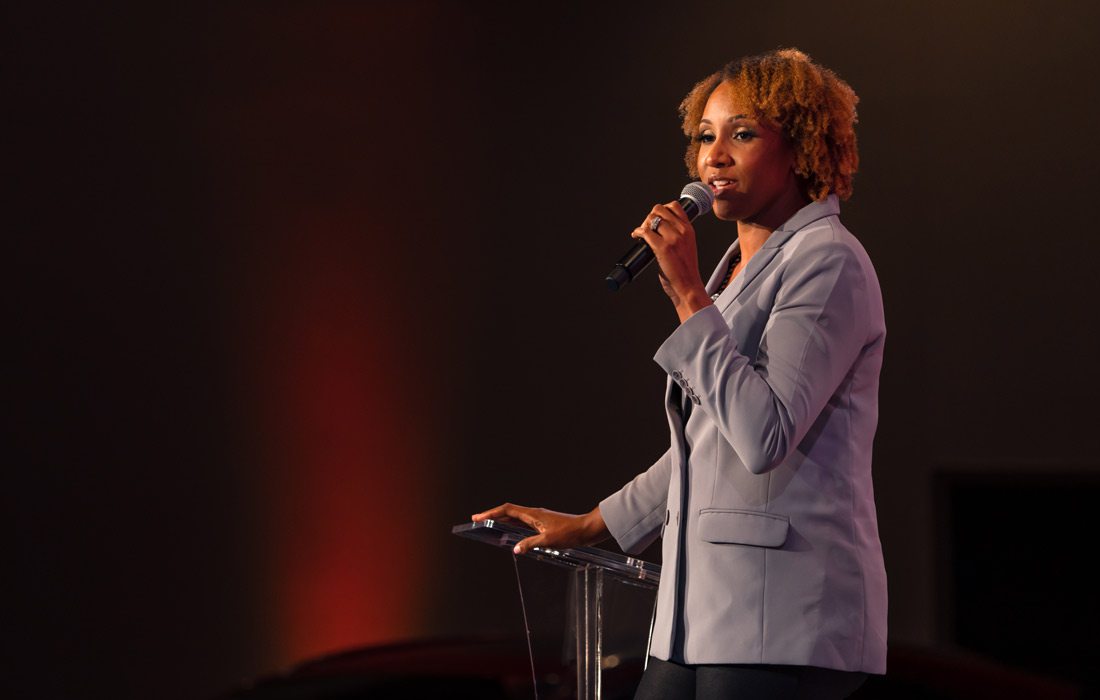 We were overjoyed to welcome an enthusiastic group for Ladies Who Launch presented by Volt Credit Union. Thanks to sponsors Volt Credit Union, BKD CPAs & Advisors, Husch Blackwell, Mercy, Reliable Lexus and Rosie, attendees went home with an abundance of inspiration. Throughout the programming, a theme emerged: the vital importance of taking time for self-reflection so that you can reach your full potential as a leader.

In Case You Missed It
Nona Jones (bestselling author, motivational speaker, media personality) spoke about "Building Success from the Inside Out." She delivered powerful personal testimony about moving beyond the pain of the past to lead others from a healthy heart.

Insight from Nona Jones
• On the true definition of success: "What I've come to realize is that the key to leading others starts with healing yourself, which is why success is not something you attain. Success is something you become. Success is an inside-out process."
• On why you must "release the why" to move forward with success: "There are things that have happened in all of our lives that have somehow wounded us. There is a question that is haunting us all the time; that question is, 'Why did it happen to me?' We ask ourselves this question, but the reality is, there is no answer to that question that will bring healing… Why it happened in the past doesn't matter as much as what you can do with it in the future."
Catherine Hanaway (partner and chair of Husch Blackwell, former U.S. Attorney, former Missouri House Speaker) taught us about "Owning the Room." She shared lessons she's learned about taking risks and pursuing goals with confidence and commitment.

Insight from Catherine Hanaway
• On how to act with confidence, even when you're not feeling it: "Confidence is tough. You can steal it from when you've used it for someone else. Everyone in this room has stood up to defend someone who couldn't defend themselves. That took confidence. You took a risk then; now do it for yourself."
• On how women can leverage our strengths: "We have higher emotional intelligence on average. We read and react to people much better than men, and the world is changing. Teamwork, collaboration and inclusiveness are more highly valued than they ever have been."
Jenn Whitmer (certified Enneagram coach, interpersonal conflict and leadership expert) provided tips on how to "Put Your Enneagram to Work." She led attendees through questions designed to enhance our self-awareness and, in turn, strengthen our leadership qualities.

Insight from Jenn Whitmer
• On the transformative power of self-awareness: "Ruthless self-honesty paired with generous self-compassion creates a great leader."
• A good reminder when your inner voice won't stop obsessing about what you should be doing: "Stop 'shoulding' on yourself. Don't do it. If you hear the 'shoulds,' know that you need to grab that thought and observe it a little more."
Networking in Practice
Past Ladies Who Launch attendees expressed interest in more networking opportunities. This year we delivered big on this request, thanks to the Hustle Hour presented by BKD CPAs & Advisors. Kristen Wannenmacher Bright, partner in BKD, moderated this speed networking session. Participants engaged through a series of lively, six-minute conversations and walked away with new connections.