Offices
Legacy Bank's New HQ: A Modern Facade with Plenty of Midcentury Charm Inside
Peek inside the brand new Legacy Bank Headquarters located on East Sunshine in Springfield.
by Ettie Berneking
Sep 07 2021 at 8 a.m.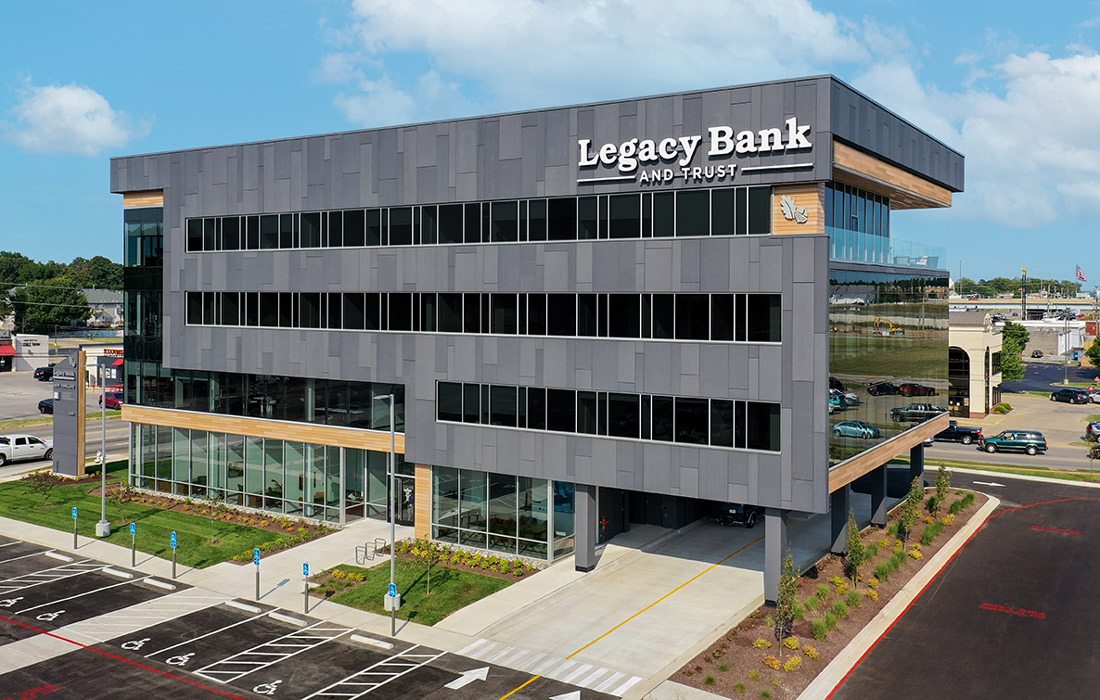 Turns out size does matter when you're trying to get people's attention, and that is exactly what Legacy Bank accomplished by building its new headquarters in Springfield. With four floors and 40,000 square feet of space, wrapped in dark cement fiber and lots of glass, it's hard to miss the bank's new location. It stands out as you drive down east Sunshine, and you can even spot it from 65 highway, but this bank wasn't designed to be flashy. It was designed to be timeless, bold and efficient. "Legacy is an old regional bank but a newer bank locally, so they wanted to make a bold move," says George Mandrik, architect with Butler Rosenbury & Partners. BRP and Grooms Office Environments worked hand-in-hand to design Legacy's new headquarters and this project was a new chance to flex some serious creative muscle.
PRESENTED BY
Building Efficiently
The real star of the show when eyeing the new Legacy building, is the details. Inside and out, BRP and Grooms worked together to create a polished office worthy of the title of headquarters while also focusing on efficiency and employee satisfaction. The first place this is evident is in the size and shape of the building.
The biggest restriction on the building's footprint was the size of the lot. "This is a 2-acre lot on the east side of Sunshine," says Geoffrey Butler, an architect at BRP. "That's a large lot, but your parking requirements always drive the size of the building." To allow for the required parking, BRP designed the bank to use as much vertical space as possible, but parking wasn't the only restriction. Legacy began construction with BASE Construction Management as the General Contractor at the start of 2020 right when COVID was causing material costs to skyrocket."There were buildings coming in at $250 per square-foot," Mandrik says. "We had to use more basic building materials to stay in budget, but we still used those materials in ways that added design." In the end, BRP and Grooms finished the building under budget. They also finished the project in twelve months by designing the interiors while the building superstructure was still being erected. And while the shape of the bank might be simple, Mandrik says to look for the details. "It's the details that make this building look great," he says.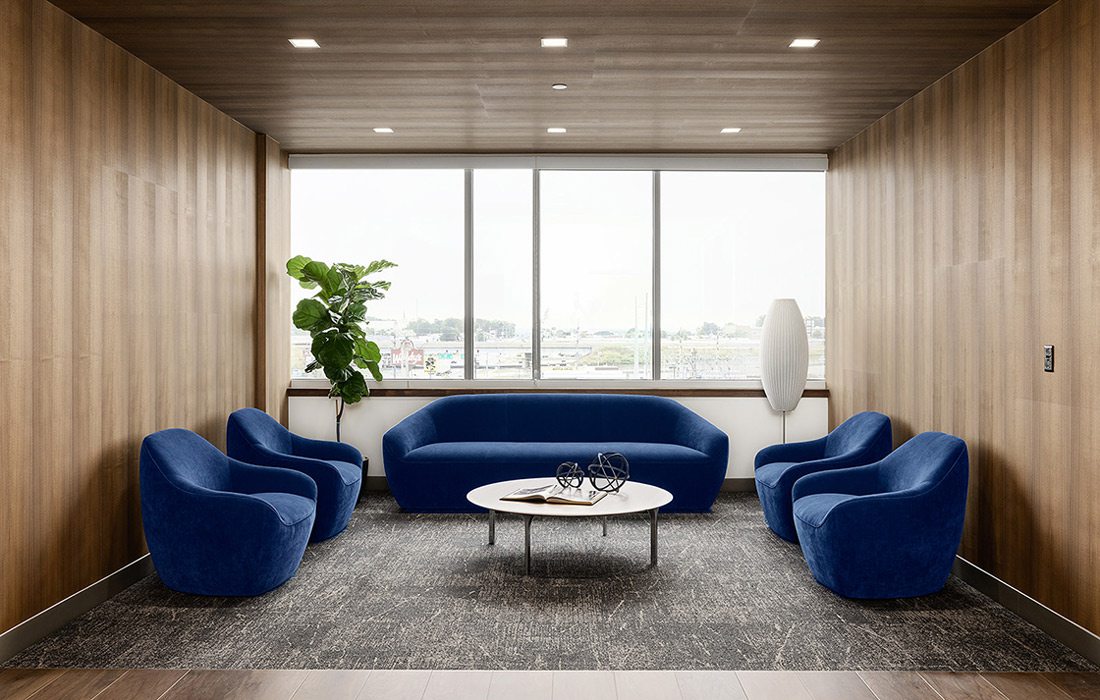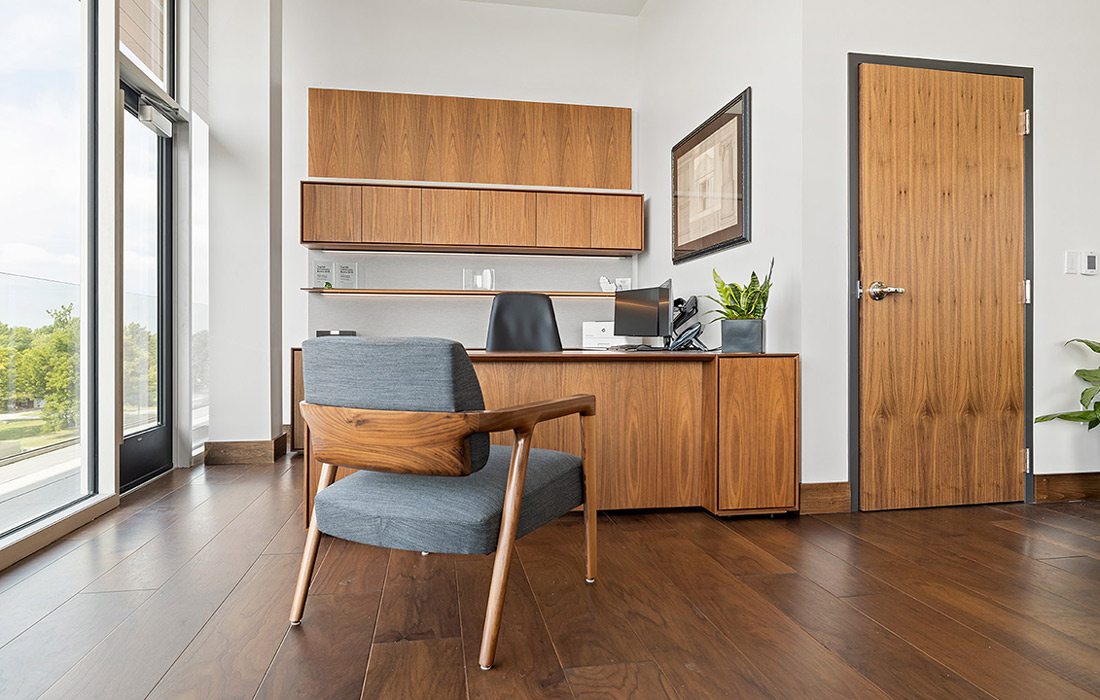 Photos courtesy Jared Hoffpauir Photography To create a timeless design, Grooms selected paint colors, finishes and lighting that combined a clean look paired with natural materials. Examples of that natural material can be seen in the walnut in the flooring, ceiling features and furniture.
Fine Tuning the Interior Design
Inside Legacy Bank is where you'll really see Grooms' work shine. The detailing is timeless. "We worked hard to make sure the interior of the bank matched the personality of Legacy," says Victoria Gorham, Sales Manager at Grooms. That means all materials within the building needed to work together to accomplish their goal of standing the test of time and upholding a refined professional setting without looking loud or trendy. "During our initial design phase, we talked in depth to uncover how Legacy wanted new and existing clients to feel as they entered the building and how their employees should feel proud, comfortable and productive in all areas of their new office. They always looked to make sure their staff was proud and took ownership of their space and truly wanted to give back to them with this new building."
Every detail you see inside the new headquarters were carefully selected by BRP and Grooms. Grooms even worked with the Springfield Regional Arts Council to commission local art that's now hung up throughout the building. "We have been a partner of the bank for years before this project came to light," Gorham says. "We traditionally worked with them on furniture needs, but for this project we were humbly selected to complete the full interiors package along with all furnishings. That trust isn't lost on us, and we're really proud to showcase how the design comes full circle when we're able to partner early in the process."
One of the first things you notice inside Legacy is the amount of natural light pouring in through the floor-to-ceiling windows. Those windows also provide a 360-degree view of the east Sunshine area. To make the most of that view, the team at BRP moved the core of the building, the stairs, public areas and elevator to the center of the building. This design choice does two things: It means the core doesn't block any windows, and it provides for offices with a view on all four faces of the building. Another major focal point in the 18-person boardroom that includes a retractable wall that opens into a spacious kitchen and back patio accompanied by a fire pit. "One of my favorite things has been visiting the bank once they have been up and running and being able to see all these spaces that we dreamed up utilized even more than we could have thought," says Samantha Falk, Interior Designer at Grooms. "Each time we're there, there are employees sharing snacks in the breakroom, sitting in the lounge for some conversation between meetings and enjoying the patio for their lunch. It's rewarding to see beautiful design be truly functional, that's all you can hope for."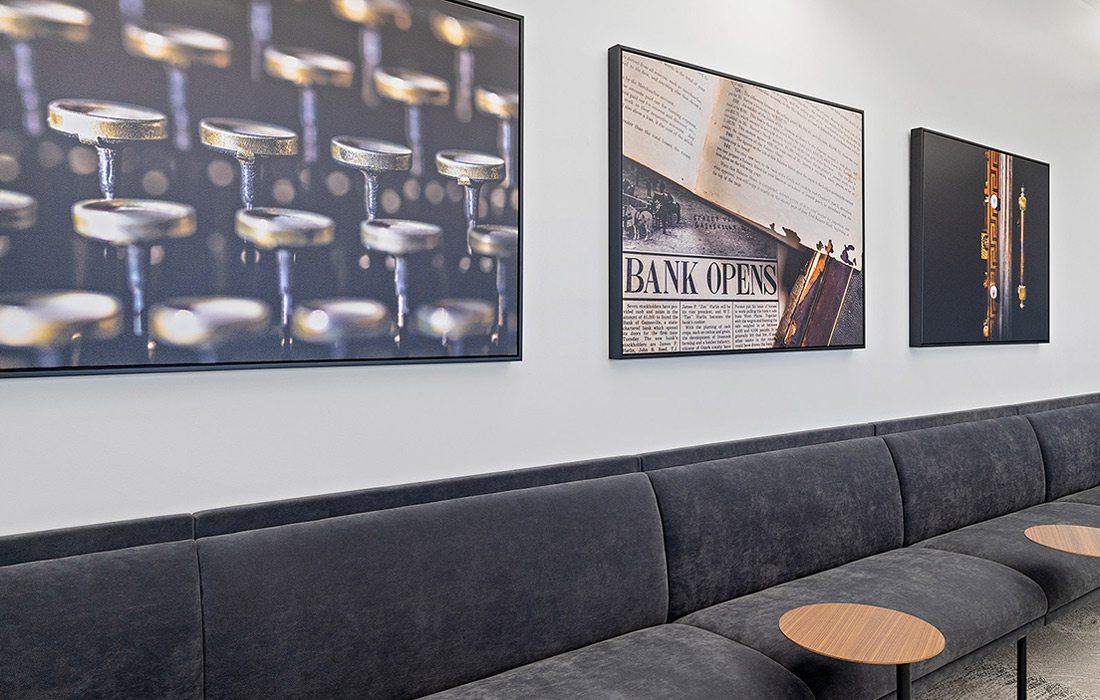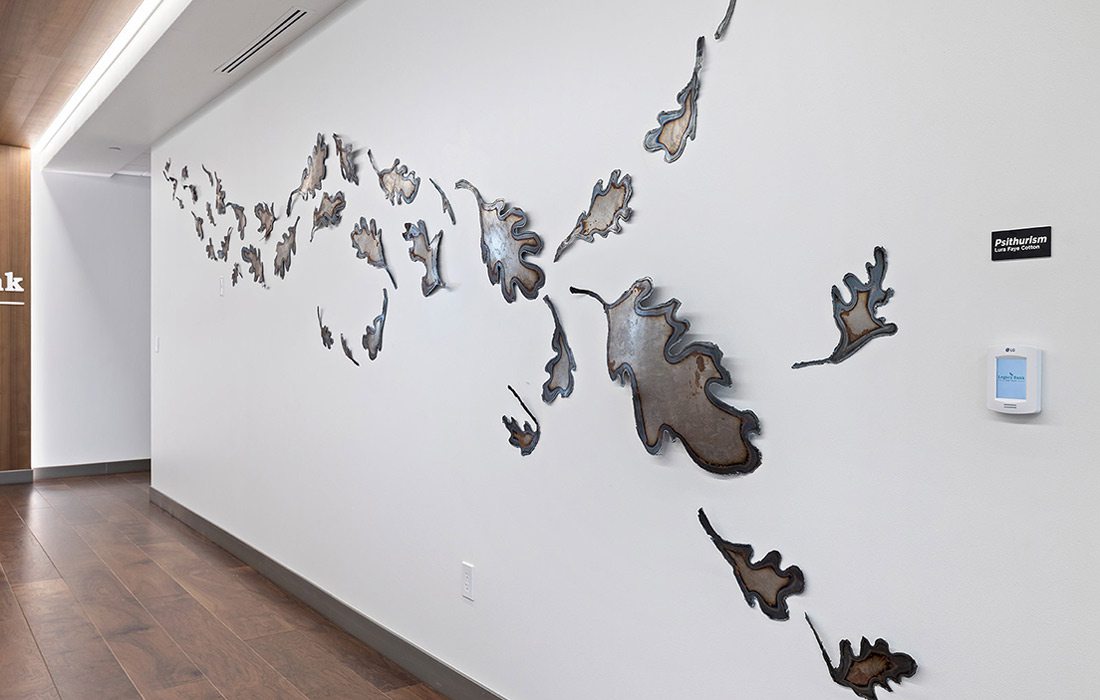 Photos courtesy Jared Hoffpauir Photography Keeping the walls a simple white was more than intentional. Grooms had a vision that included filling the walls with meaningful artwork. The project was made possible through a partnership with Avery Parrish at the Springfield Regional Arts Council. The SRAC listened to the bank's wishes for the space and Groom's design to find local artists to commission first edition collections for Legacy's new home. That art now hangs in hallways and offices throughout the headquarters.
Designing Around Comfort
Unlike many retail banks, most of Legacy's customers are commercial operations. That means Legacy didn't require a large lobby or a counter dedicated to numerous tellers. What it needed, as Brett Magers, president of Legacy Bank says, was a comfortable workspace where Legacy team members could provide the best customer service. Balancing comfort and utility was a primary goal for Legacy. Magers says there's a reason customers don't walk into a grand lobby. "We wanted this building to be nice but also utilitarian. We're there to produce, and we need to dedicate plenty of room to our team," he says. "Grooms did a great job getting feedback from our people. They asked about the importance of desk chairs and what common complaints our team had. That really mattered when we executed this project."
Gathering team feedback is one of the things Grooms says it does with every project. "With every project, listening to that specific organization's needs and wants is so crucial," Gorham says. "We could be working on five separate banks, and the result could look miles apart for each one. Individually, they could be perfect for that client as long as it's meeting their needs and displays their specific company culture. There's a balance of leading the client to ensure the space is going to work for them, but listening to the needs of their individual business is hands down the most important part of any project."
The end result for Legacy Bank's new operations center is a modern building that is designed to make the most out of their space. It takes advantage of the bold building materials, ample natural light and practical furnishings. "We really had the dream design team with BRP and Grooms," Magers says. The headquarters is polished, practical and designed to meet each department's needs whether that's privacy or collaboration.
Grooms Office Environments
For more than 44 years, Grooms Office Environment has provided commercial interior design services including furnishings, space planning, and project and move management as a full-service Herman Miller dealership. Whether you need a new office chair, design for your new office space, or to furnish an entire a new building, Grooms' expertise can work for you. A few of Grooms' clients include CoxHealth Network, Jack Henry, Legacy Bank and Drury University.