Strategy
Are your Employees Burnt Out?
Three leadership experts weigh in on ways to identify a burnt out employee and how to help them regain their passion.
By Tessa Cooper
May 11 2018 at 8:14 a.m.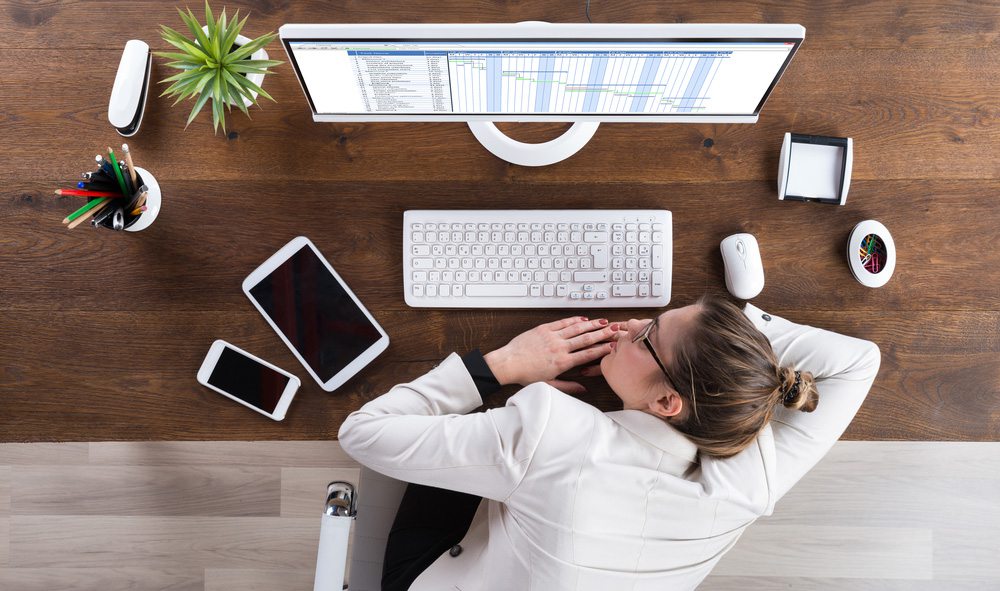 The start of a new job is exciting for almost everyone. With high hopes and an eagerness to succeed, many great employees continue to check lines off the to-do list and go above and beyond for several months or even years into the job. However, even your best employees can experience burnout. Here are five signs you might have a burnt out employee, and how you can take action.
They're acting different (and not in a good way)
According to Tricia Clark, contract leadership trainer for the Center for Workforce Development and operations consultant, if an employee starts acting in a way that is contrary to their normal behavior, it could be a sign that they are experiencing burn out.

What to do: In order determine whether or not an employee is acting different, you need to pay attention and interact closely with them. Then, identify a baseline for their typical behavior and leadership style.   
Was your employee was once very talkative in brainstorming sessions but now reluctant to share ideas? No longer on time or willing to stay late? Starting to turn in subpar work? Randy Will, contract leadership trainer for the Center for Workforce Development and owner of RG Will Solutions, LLC, says to take note. If you notice a pattern, it might be time to have a private conversation.
"A burnt out employee typically has a barrier that prevents them from performing at their best," Will adds. "In order to help the employee get past the barrier, leaders must work with the employee to determine the source of the problem and address it."
They're not energized about their work
If an employee doesn't seem excited about the majority of their job tasks, they could be burnt out. Alia Stowers, contract leadership trainer for the Center for Workforce Development and leadership consultant/coach, says that leaders should keep in mind that the level of enthusiasm displayed will vary from employee to employee..
What to do: As a Gallup-certified strengths coach, Stowers encourages leaders to assign individual employees with work they are passionate about, and find ways to play off their strengths. "When you know your employee's strengths and motivation based on the talent they were born with, then you have a key to engaging those employees."
"When you know your employee's strengths and motivation based on the talent they were born with, then you have a key to engaging those employees"
— says Alia Stowers, contract leadership trainer at the OTC Center for Workforce Development
They're taking too much or not enough time off
According to a meta-analysis published in the Journal of Vocational Behavior, both men and women experience burnout equally as often, but they tend to deal with burnout differently.
"In my experience, I have not found that one gender burns out more often than the other," Clark says. "I have, however, observed a difference in how the genders process and deal with burnout." She says she's noticed men tend to take more time off to refresh and seem to be better at setting boundaries at work. Women take less time off when they are feeling burnt out, and often struggle with pressure to perform well and prove themselves worthy of the job.  
What to do: "Both genders have to work to overcome burnout, and discover what program works for them with the help and support of their leader," says Clark.   
They have a constant heavy workload
Clark recommends that leaders take time to assess how much employees really have on their plates. "Personally, there have been many seasons in my career where long hours are required," Clark says. "But I'm looking for it to be a season—not a pattern."  
What to do: Whether it's a failed audit or a strict deadline, Clark encourages leaders to help employees estimate how long a busy season will last. Next, determine what additional resources or knowledge your employee needs to get work done most effectively. 
If you believe your employee's drive to work overtime is self-inflicted rather than a result of an organizational demand, Clark says to encourage them to take time off to reflect and refresh.  
They're unmotivated to succeed
"Burnt out employees don't always quit," Will says. "Most times, they stay and perform at lower levels."
A survey by ComPsych found 56 percent of employees say their top job priority is accomplishing basic responsibilities, 27 percent view simply being present as their most important task, and only 17 percent see performance improvement as their top work goal. 
What to do: Will warns leaders to pay special attention to highly motivated employees, because they can convert to burnt out employees very quickly. "Leaders must always be on the lookout for the signs of burnout," he says.
---
About OTC's Center for Workforce Development (CWD): OTC's Center for Workforce Development offers employers and individuals a wide variety of innovative, high-value training and consulting solutions that are focused on increasing the professional, leadership and technical skills of the Springfield workforce. Contact the CWD to start benefiting from it's professional business managers and subject matter experts.