Small Businesses
Q&A with Great River Engineering: 2018 W. Curtis Strube Small Business Award Winner
In just 20 years, Great River Engineering has expanded its offices in Springfield in addition to opening offices in Kansas City and St. Louis. In May 2018, the business received the prestigious W. Curtis Strube Small Business Award.
By Jenna deJong
May 04 2018 at 10:24 a.m.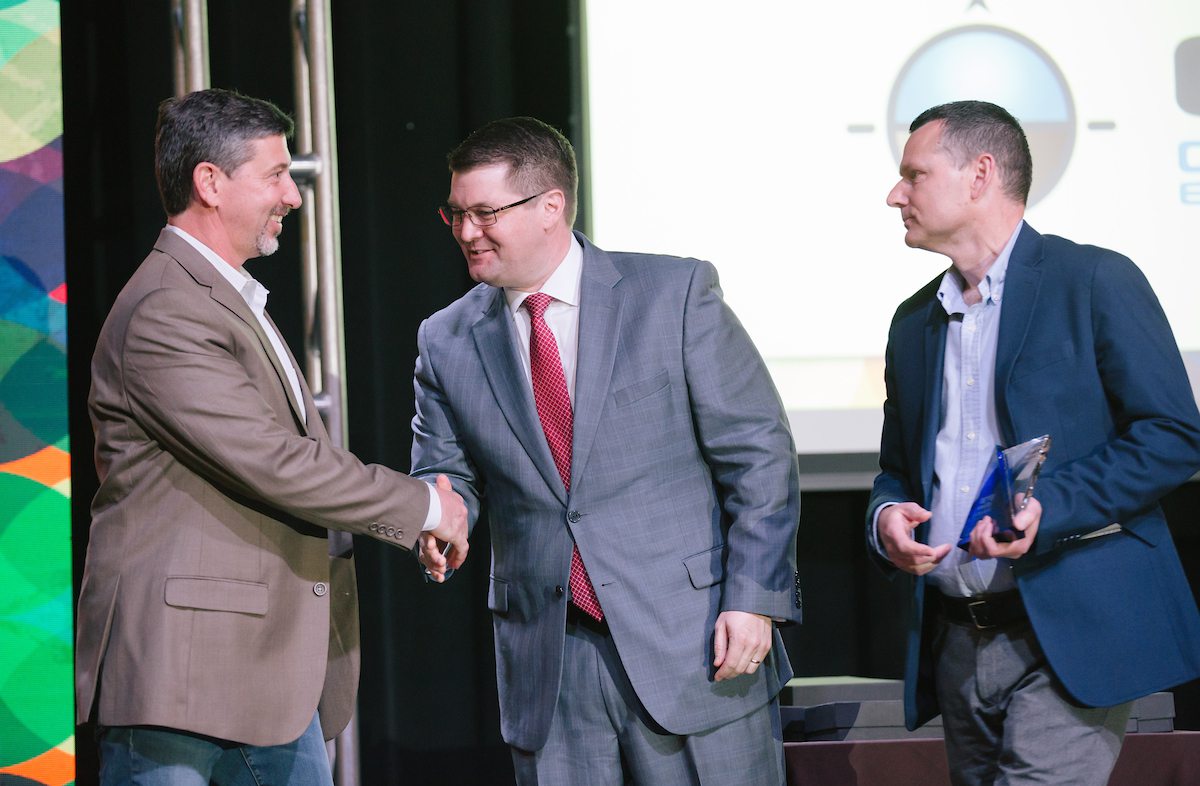 On May 2, 2018, the Springfield Area Chamber of Commerce's Small Business Council handed out its 26th W. Curtis Strube Small Business Award to Great River Engineering. Recognizing small businesses and entrepreneurs for their role in local economies, the award celebrated the enthralling success the 21-year-old company has earned including opening locations in Kansas City and St. Louis. Other nominees for this year's award include Atlas Security Service, Complete Automotive, OzAir Charter Service and Revel Advertising. We spoke with owners of Great River Engineering Spencer Jones, Mel Eakins and Jason Sivils about how they got their start and words of wisdom they had to share.
Biz 417: What were the beginning stages of your company like and how did you make it work?
Spencer Jones: We operated out of my guest bedroom in Nixa when we first opened. At that point, it was very much the same [then] as it was [five years later] where we took the role and responsibility of being the secretary. You deliver the mail and write all your correspondence, you make all your copies. You're doing all the business development and you're doing all the engineering so we operated that way for those first four to five years where a lot of those responsibilities fell on the individual.


Biz: What growth strategies did you use to expand your business?
Mel Eakins: Our business is completely relationship-based. We do very little advertising, so we focused on building long-term relationships with clients and as we developed those over time, we tend to keep them and grow in that fashion. We believe that building the right relationships with people is the number one thing we can do to improve our lives and the lives of others. So, our relationship mentality is the same whether we're talking about our peers at work, our clients or anyone that we meet.


Biz: What resources or mentors did you rely on throughout the process?
Mel Eakins: We rely heavily on each other and consistently rely on each for advice and mentorship. We all have other mentors outside the company, too, that make a big difference.
Jason Silvils: I'm active in professional organizations like Missouri Society of Professional Engineers and American Public Works Association. Those are geared toward what we do. The people in those organizations are in similar business to us, and you get to see how market trends are going and what's upcoming.  


Biz: What situations helped you set up for success later down the road?
Spencer Jones: In the early years, the way that we worked is have our head down, work really hard and we'd get to the end of the year and we'd ask how we did. What we learned over time is that by having a vision further out and being able to track how we're accomplishing that goal or direction, we were able to accomplish more by being smart and having a better guideline to go by than just head down, work hard.