Leadership
How Our Past 10 for the Next 10 Honorees are Fighting COVID-19
Some of our past 10 for the Next 10 winners are stepping up to the plate during the COVID-19 pandemic. Find out how these stars are leading 417-land through a crisis.
By Jenna deJong
Mar 26 2020 at 4 p.m.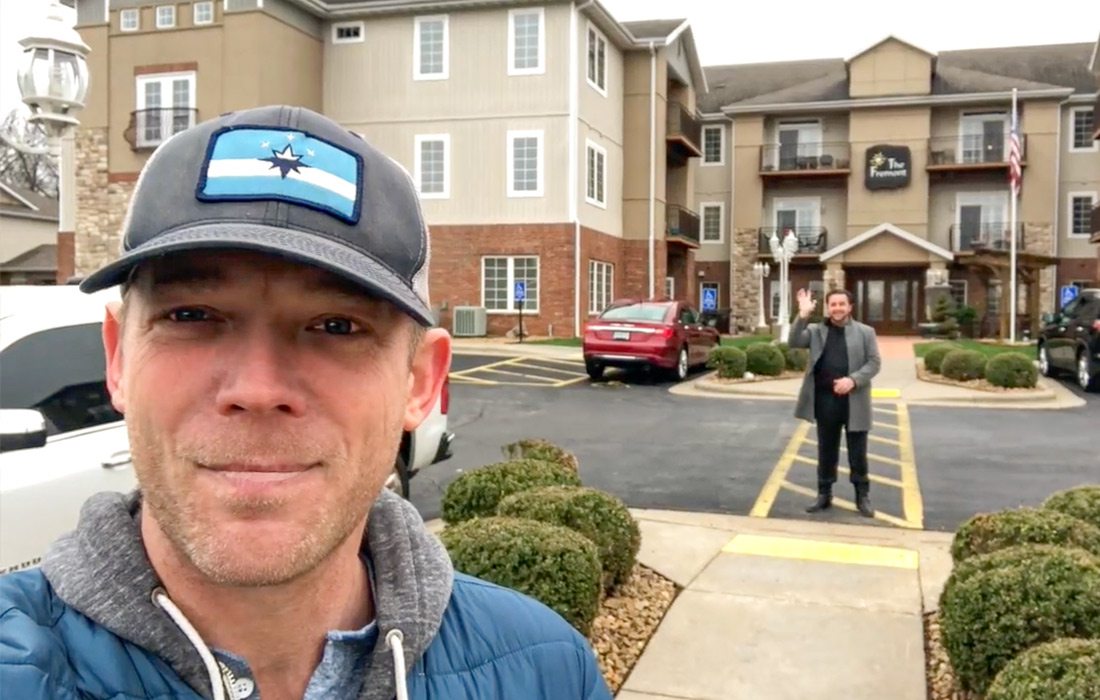 We like to say that our 10 for the Next 10 are rising stars leading 417-land into the next decade. Right now, some of our past honorees are leading us through COVID-19. Find out what some of our 10 for the Next 10 are doing to support the community and keep us #417strong during a time of crisis. 
This blog was updated at 3:07 p.m. on April 2 with additional information. We will update this blog as new information is released. 
Tyler Drenon works at Missouri State University Libraries' Innovation Lab as an innovation strategist. The latest project he's been working on is creating 3D prints of personal protective equipment (PPE) for the Springfield Fire Department. He partnered with Jordan Valley Innovation Center, CoxHealth and a handful of community members to drop off more than 80 masks on Wednesday, April 1. 
In an email, Drenon said that since the department has about 250 employees, he will continue to make the remaining 170 over the next few days. "We're also reaching out to others—hospitals, the police department," Drenon said in the email. "Several makers in the community have reached out offering support, so we will be trying to help as many people as possible."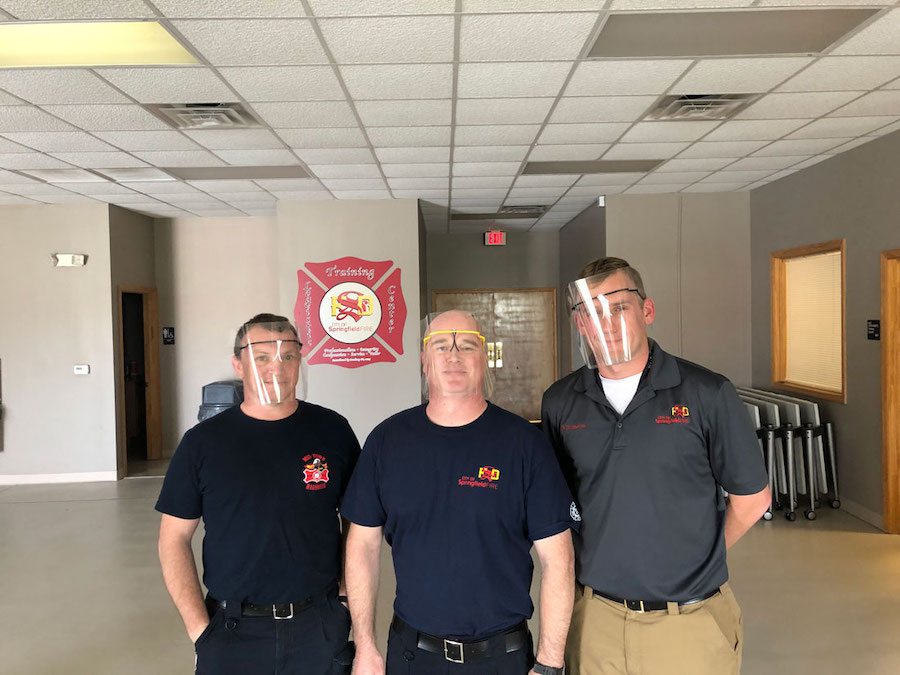 Rob Blevins, Executive Director of the Discovery Center, kept a close eye on the COVID-19 pandemic since its spread in China, developing contingency plans just in case it made its way to 417-land. In mid-March, he began conversations with the Springfield-Greene County Health Department (SGCHD) about ways the Discovery Center could cater to the community in the time of a crisis.
When local school districts closed, the SGCHD worried about childcare needs, especially for healthcare workers, and Blevins stepped up to the plate. He shut down the Discovery Center to the public and turned it into a temporary childcare facility for healthcare workers, doubling his staff, taking down all science exhibits and turning the open space into defined classrooms. He also applied for and earned a temporary childcare license to legally run the facility.
To maintain the safety of the kids and staff, the center set up a logistics command center that tracks the movements of every class throughout the day, making sure they never intersect with each other as a means to diminish the chances of infection should a child get sick. These extra measures include "dedicated care to cohorts of 10 students so they are only ever interacting with their class and their dedicated teachers from 6 a.m to 8 p.m. seven days a week," Blevins said in an email. The center has 15 employees who share the role of sanitizing and disinfecting the center, including cleaning the bathroom after each individual use.
The project is expensive—running at full capacity costs $10,000 a day. Through a $10,000 donation from the Central Bank of the Ozarks and another $10,000 donation from the Stanley & Elaine Ball Foundation, the center was able to operate for its first full week and serve 100 children. But the second week is not yet funded, meaning Blevins and his team will have to come up with alternatives, which might include serving fewer children. Nevertheless, Blevins is determined to keep the center open, and is accepting any form of help, whether it's the donation of food and supplies or monetary contributions. As he says, "my team doesn't quit."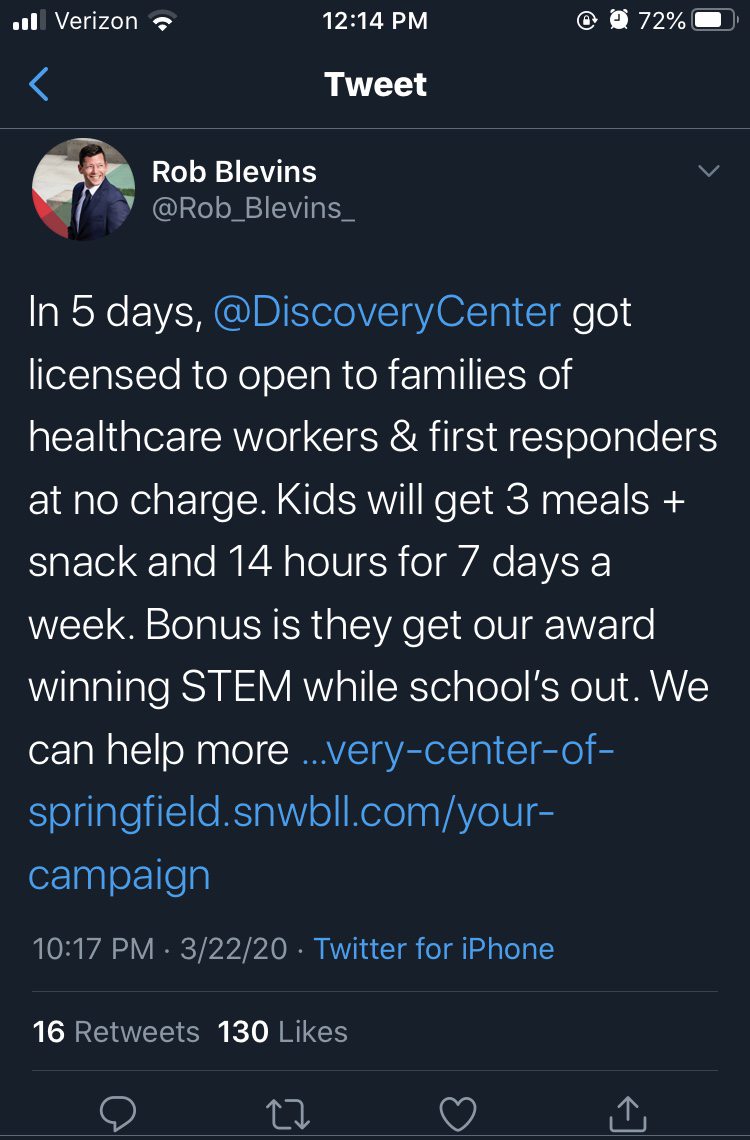 Image courtesy Rob Blevins
@Rob_Blevins_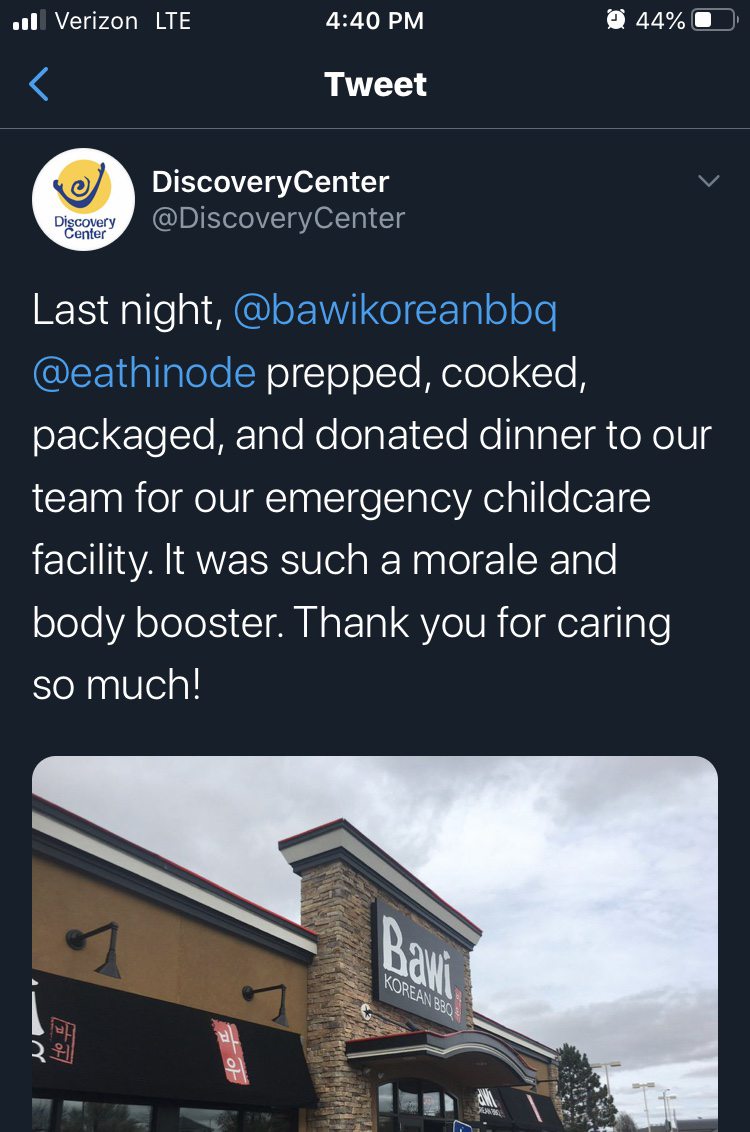 Image courtesy the Discovery Center
@DiscoveryCenter
As the creator of The Mystery Hour, TV personality Jeff Houghton has brought laughs to millions of viewers from right here in 417-land. In a time when social distancing is strongly encouraged, he's broadcasting a daily version of his show every evening on Facebook Live around 9 p.m. These shows include guests like Michael Spyres, world-renowned opera singer with the Springfield Regional Opera, who serenaded locals outside of nursing homes and assisted living facilities. Visit the show's Facebook page for more information. 
Like Rob Blevins, Brandy Harris' sole focus is on the wellbeing of local kids. Harris is the CEO for Boys & Girls Club of Springfield, and in the past few weeks, she's been working to ensure members get fed through drive-through food stops. On the first day, Thursday, March 19, the club provided over 540 meals to kids and families, Harris tweeted out. The club has accepted donations from Hotel Vandivort, Care to Learn, Bawi Korean BBQ, Hinode Japanese Steakhouse and more to feed both families and staff. In addition to the meals, the club is developing virtual programming and scheduled for families to implement in their own homes. These include physical activity, educational resources and more.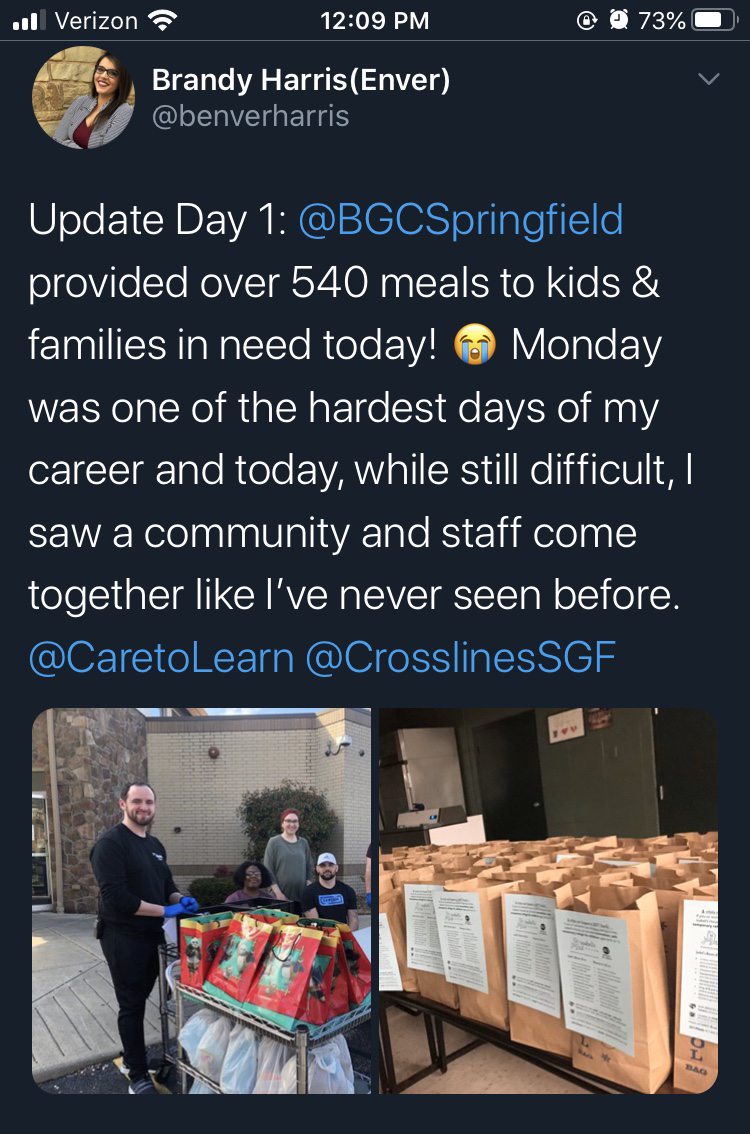 Image courtesy Brandy Harris
@benverharris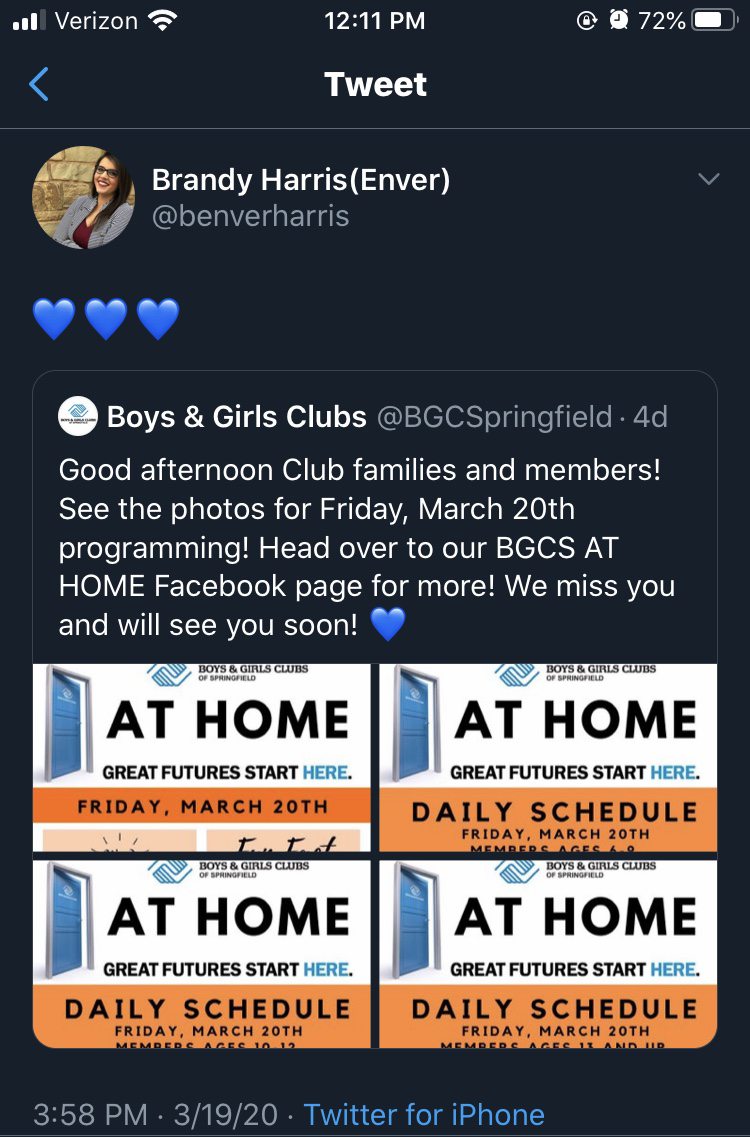 Image courtesy Brandy Harris
@benverharris
As social distancing takes a toll on mental health throughout the country, C.J. Davis, president and CEO of Burrell Behavioral Health, is working to give locals access to services in the safest, most convenient way possible. On March 18, Davis tweeted out that Burrell was now offering telephone services. A few days later, he tweeted that all four locations of Burrell remain open and that the 50 medical team members are ready to help when needed. The center is also hosting Facebook Live events, covering topics such as self-care tips and ways to stay connected. Visit the organization's Facebook page for more information.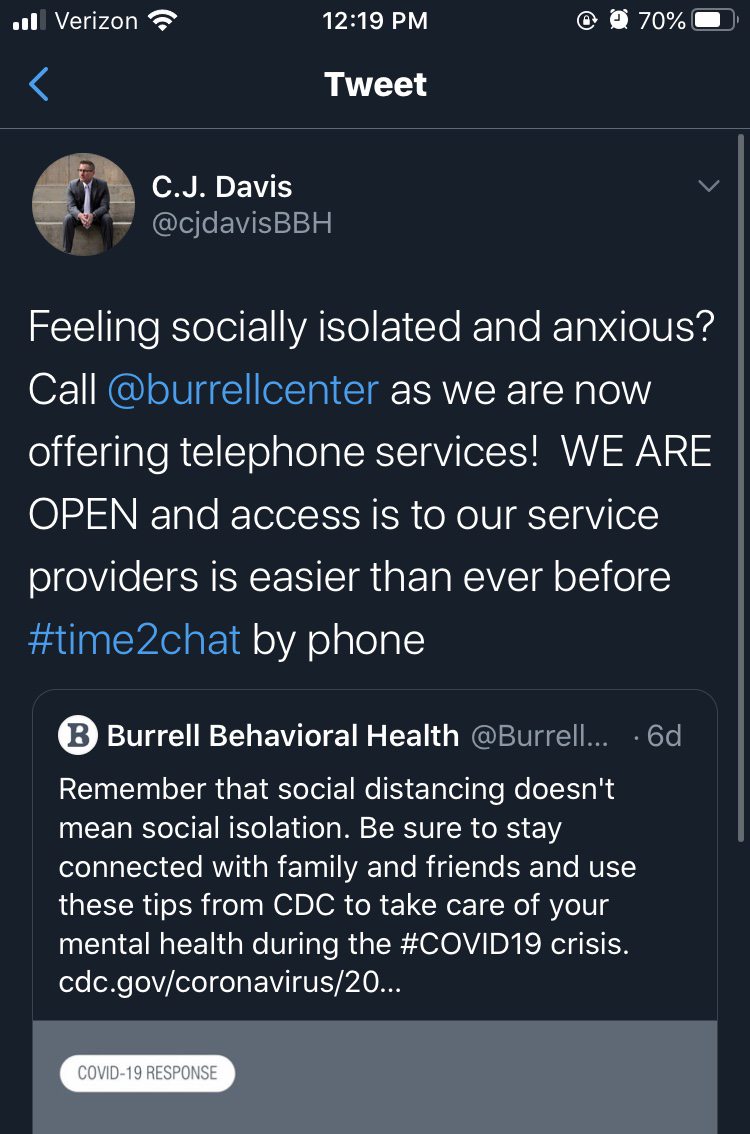 Image courtesy C.J. Davis
@cjdavisBBH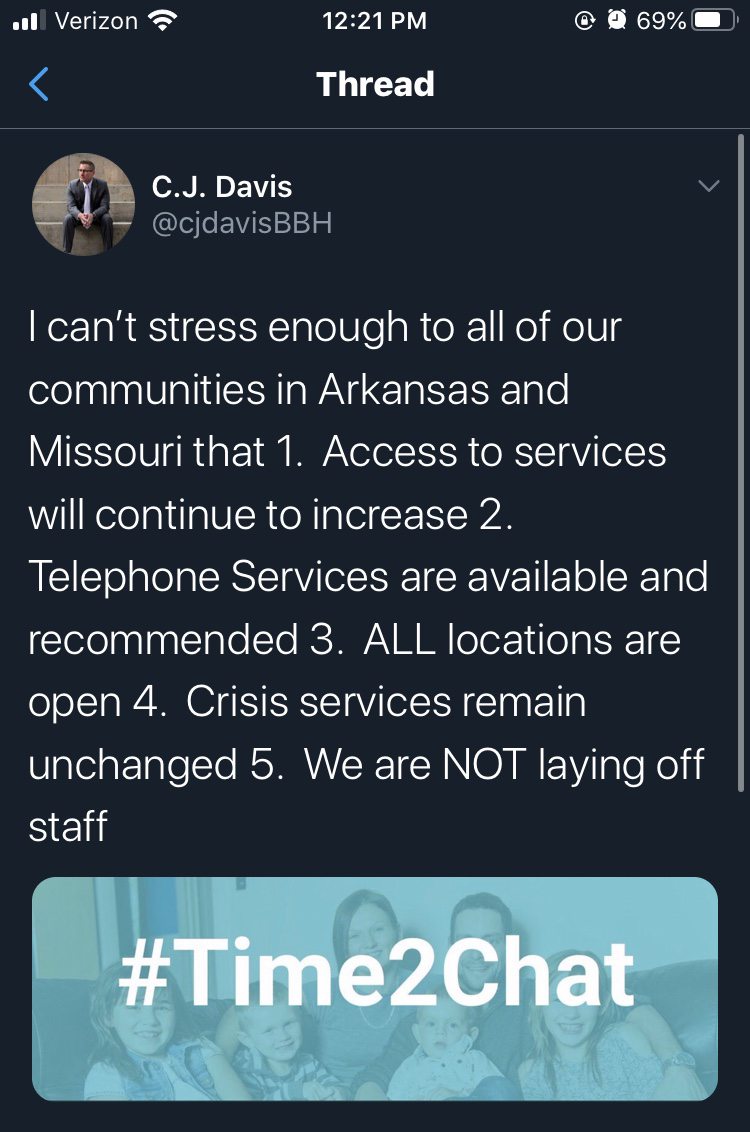 Image courtesy C.J. Davis
@cjdavisBBH