Women Who Mean Business
Judy Thompson is a Woman Who Means Business
Judy Thompson, now-retired senior vice president for university advancement at Drury University, is known for her passion, warmth and authenticity.
By Kate Duby | Art Direction by Danielle Giarratano and Sarah Patton | Photography by Brandon Alms
Mar 2022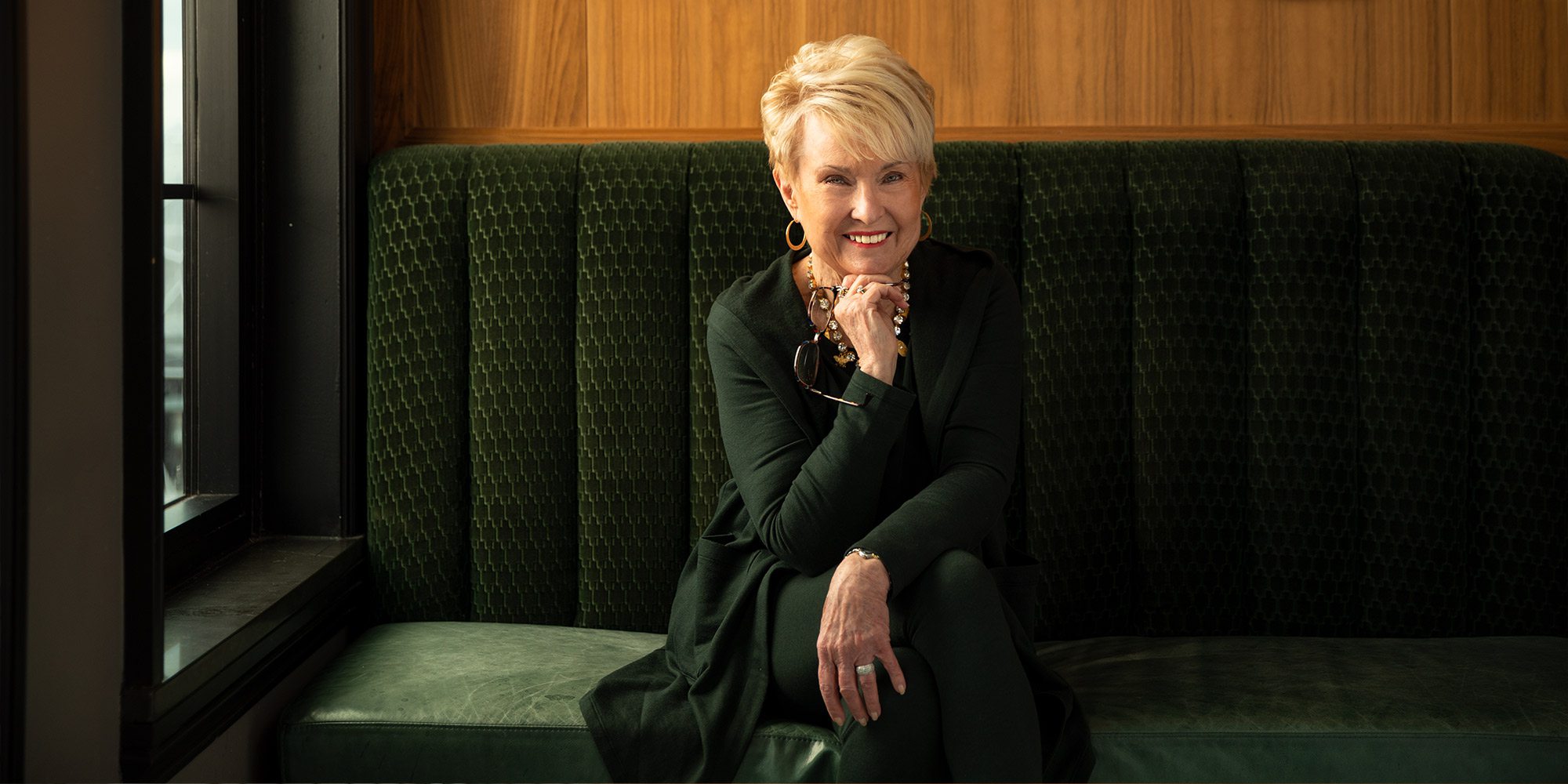 Take yourself back to the early days of your career—back when you were just getting started in the profession you'd envisioned for yourself. This is where Rita Baron, principal of Baron Design & Associates and RAGA Properties, found herself when she first met Judy Thompson. It was six months after Baron's graduation from Drury University. Baron was working at an architecture firm, and Thompson came to ask her for a donation to Drury.

"Six months!" Baron recalls. "She didn't even give me a year." But after thinking it over for a few days, Baron committed to the donation. It was Thompson's passion that sold her, along with her warmth and authenticity. "She's the friend I met and just knew would be a friend for life," Baron says. "That's how she made me feel."

Their relationship grew and deepened through the years. When Baron gave birth to her children, Thompson visited her in the hospital. And when Baron, who's now Chair of Drury's Board of Trustees, was initially asked to join the board, Thompson was one of the first people to offer her congratulations.

"'She said: 'And now you know I'm going to ask you for more," Baron remembers. "She was darling."
Thompson's passion for Drury isn't only about funding the buildings that make its campus so beautiful or the scholarships that help its current students reach for the kind of  success Baron has attained.
"She's committed to the mission," Baron says. "She tells us: 'We all need to be part of history.'" And Thompson is certainly part of Drury history. She began her advancement career there in the 1970s, just before the university's 100th anniversary. The late William Everheart, who was the university's president at the time, offered her a job as alumni director. She was intrigued—as a devoted Drury alumna, she loved the idea of championing her alma mater. But she wanted to preserve the work-life balance she'd found as a working mom and popular French teacher at Parkview High School. She asked Everheart for the ability to pick her kids up from school and take summers off. "And he agreed to all of that, which floored me," Thompson says.
"I absolutely adored working at Drury, and the reason I adored it so much was the people."
— Judy Thompson
In 1974, after six months of this condensed schedule, Thompson decided it wasn't working for her––she just couldn't contribute all that she wanted to. So she started working more, and in 1979, she became the university's first woman vice president. "I absolutely adored working at Drury, and the reason I adored it so much was the people," she says. "It gave me an opportunity to meet people I would never have had the opportunity to meet and get to know otherwise."

Thompson first retired from her full-time role in 2002, but she continued working part-time for each Drury president. In 2015, she was asked to return to full-time work, and she served as Drury's interim vice president for university advancement starting the following year. "I decided when I was 80 I was going to retire to part-time, and that lasted a month," she says. Thompson, now 82, officially retired on January 31.

"Drury is a very special school," she says. "It's just such an honor to even play a small role in the lives of some of these great people who have gone to Drury, and that continues."
The Biz 417 editorial team selected Judy Thompson for the 2022 Women Who Mean Business before she retired from her position as Drury University's senior vice president for university advancement early this year. During the last half century, Thompson has become an institution, influencing every aspect of Drury's direction and culture. She continues to serve the university in an advisory role.
COMPANY
Drury University
HER LEADERSHIP STYLE
Inspiring confidence in others. "Don't say, 'do it this way,' but 'tell me how you think we can make this happen.'"
HER COFFEE ORDER
Coffee, black.