10 for the Next 10
10 Things You Might Not Know About Our 10 for the Next 10 Honorees
Throughout the interview process, we learned a few fun and surprising facts about this year's class of 10 for the Next 10.
By Jamie Thomas
Aug 2020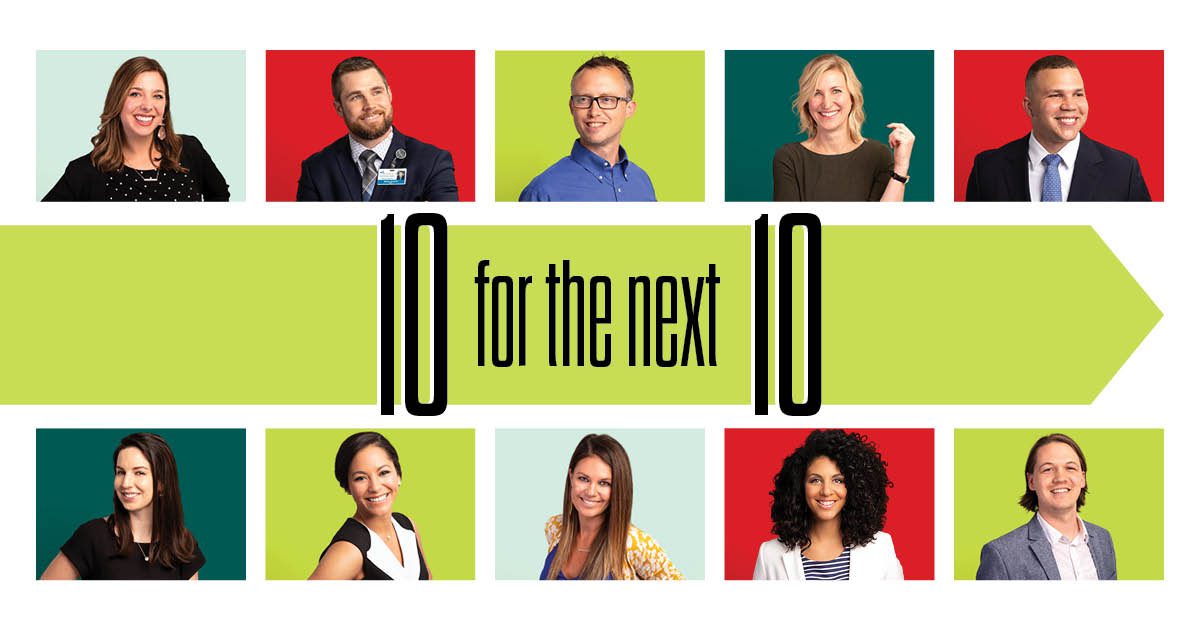 Chief Financial Officer and Vice President of Group Services at the Erlen Group
While in the UK, Angle became a fan of the BBC gardening series Gardener's World. "We had a garden in our first floor flat," Angle says. "I did some gardening, but it felt too densely populated. It's my one regret because everything grows in England. My roses were beautiful."
Design Associate at Dake Wells Architecture
Jones, along with his wife, Katie Jones, has held a live concert series, Lamplight Sessions, from their apartment in downtown Springfield.
President of Total Highspeed Internet Solutions
A few other things on Allen's goal list are getting scuba certified, visiting the Eiffel Tower and being financially free by age 25—all of which he has achieved. What about something he didn't achieve? "An underground house. Not sure what this one was about!"
Deputy Superintendent of Academics at Springfield Public Schools
Holt's tendency toward teaching started at an early age. "I think if you were to ask my mom, I probably was an educator from the start. She always shows me pictures of me setting up my bedroom like a classroom and forcing my younger brothers to be my students."
Engineer II in Traffic Operations at the City of Springfield
Estell spent time in China as part of an internship, working with engineers in a totally different culture. "It just so happened that I got paired with the only company that didn't have any English-speaking people. Luckily for me, engineering is a pretty universal language."
Talent Retention Coordinator at the Springfield Area Chamber of Commerce
Jones started college as an illustration major before moving to advertising and public relations, which allowed her to capitalize on her people skills. "An advertising and public relations degree gave me flexibility [and] several different routes after I graduated from college."
President at Pearson-Kelly
Bode, along with other team members, once duct-taped Pearson-Kelly's director of sales to a wall as part of a fundraising drive for Harmony House. "You donated a dollar and got a foot of duct tape," Bode says. "The whole office was having a blast with it."
Corporate Services Development Officer at Guaranty Bank
King worked her way through college as a single mother, having had her son at 18 years old. Part of her love for Springfield developed through using the free amenities like parks and greenways with her son when he was growing up, and they both recently signed their names on a brick at Nathanael Greene/Close Memorial Park.
Administrative Director at Cox Medical Group
Brock Shamel played baseball in college and both he and his father are fans of the Springfield Cardinals. He doesn't play anymore, but still keeps fit through CrossFit classes with his wife.
Public Relations Officer at Springfield Police Department
Bailey spent a year in South Korea teaching English at an elementary school. "I learned so much about the world and myself. Sometimes it was hard being so far away from home, but I had to tell myself that diamonds are made under pressure."