Style
How Scott Rogers of CoxHealth Has Made Masking Trendy
Scott Rogers has chosen to embrace the mask trend by sporting homemade mask and tie combinations made by his mother. The result? A few office giggles and support for curbing COVID-19.
By Lucie Amberg
Nov 2020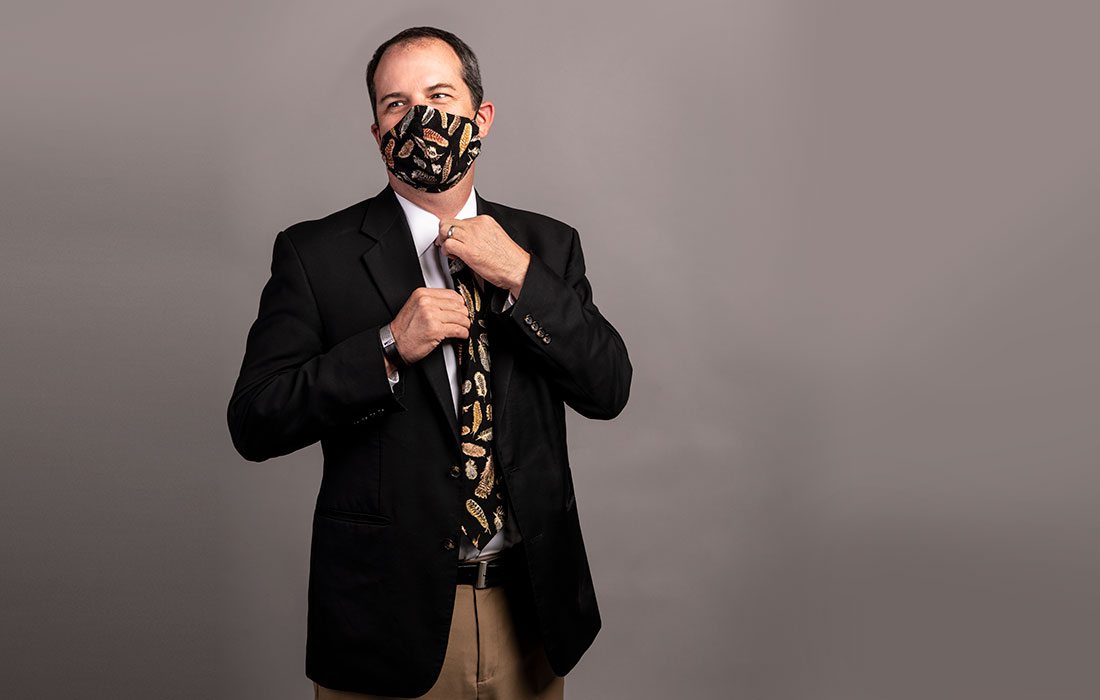 In his role at CoxHealth as System Director of Performance Integration and Innovation, Scott Rogers has to be prepared for a wide range of interactions. "On a given day, I may have internal meetings, then head down to the efactory, then be at the Springfield Area Chamber [of Commerce]," he says. So when he gets dressed for the day, he opts for the classics—a sport coat, slacks, long-sleeved button down and tie. But lately, he's added another crucial accessory—a face mask. 
He's become known for his coordinating mask-and-tie combos, which, he says, he owes to his mom. When the COVID-19 pandemic sidelined her usual activities and outings, she kept busy by sewing face masks. Rogers liked her fabric choices so much, he asked for matching ties. He now has five of his mom's custom-made mask-and-tie looks, including a traditional one for meetings, a tropical one for vacation vibes and one that celebrates his alma mater, the University of Iowa. 
While Rogers' colleagues at CoxHealth are already committed to masking, when he's out in the community, he's glad that his stylish method of staying safe draws attention to the need for face masks. It's also his way of gaining a new perspective. "My grandpa was in World War II; my grandma still has some of her ration coupons," he says. "They had to sacrifice a lot for a long time. What we're doing is minimal compared to what they had to do. It's a state of mind, and we can take this as an opportunity to have a little fun."