Strategy
How Do I Lessen the Carbon Footprint of My Business?
Business owners are looking for ways they can reduce their carbon footprints. But solutions are not always quick or easy. We talked with Askinosie Chocolate about weaving eco-friendly practices into company culture and taking steps toward positive change.
By Sony Hocklander
Mar 2020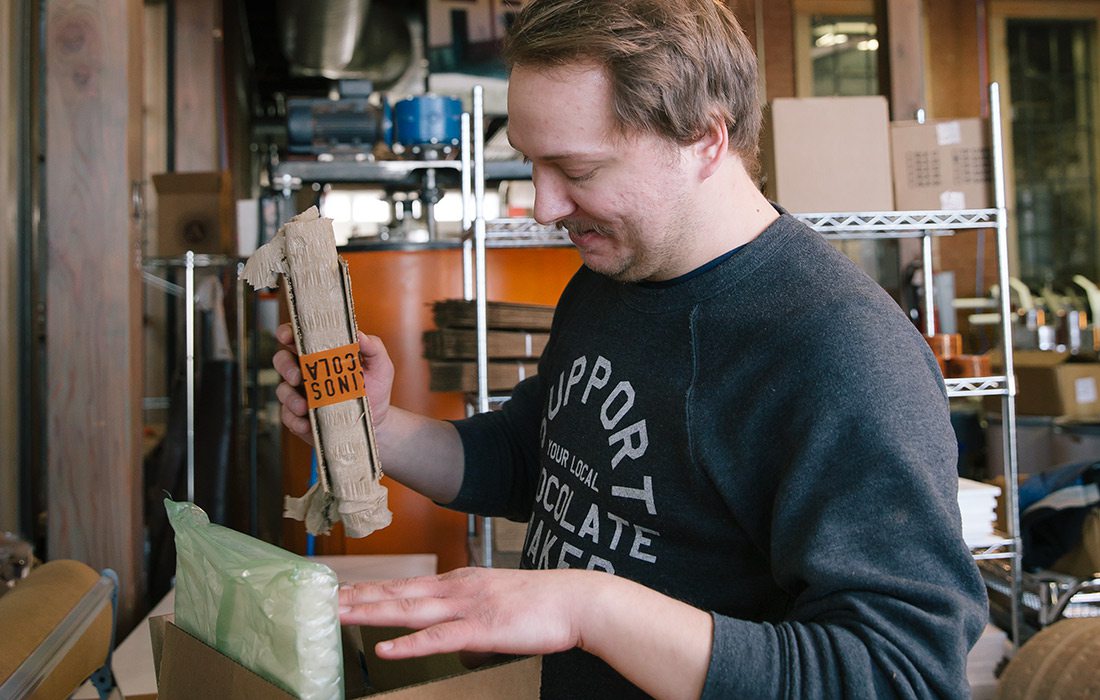 After months of testing, Askinosie Chocolate's shipping practices have started going green. In October, the company announced it was packing retail orders into Green Cell Foam, a product made from corn. Transitioning from Styrofoam to bio-degradable materials is the chocolate maker's latest move to reduce its carbon footprint. The switch hasn't been easy and isn't complete, says Chief Marketing Officer Lawren Askinosie. But it's better to start something than do nothing.
Allow Time for Transition 
The move to Green Cell is one more way the Springfield-based chocolate maker is staying true to its mission of social responsibility and minimal environmental impact. The company first developed its green thumb with the renovation of its factory by incorporating found materials. Not only that, but it's known for how it sources its cocoa beans from farming partners who use
eco-friendly practices, and Askinosie Chocolate also uses compostable film as the inner wrapping of its chocolate bars. Reducing its carbon footprint is a regular part of company conversation. "There are other opportunities to be more green, and we feel strongly about taking care of the planet and being good stewards of the environment," Askinosie says.
Shipping product in a more eco-friendly manner has long been a goal. The challenge is balancing responsible practices with strict standards for protecting a delicate premium product. "It's important to us that the customer is satisfied with the state it arrives in, meaning it's not melted and also not broken," Askinosie says.
"This is an area where anyone can make a big impact in ways that will be felt for generations."
— Lawren Askinosie, chief marketing officer
After much research and product testing, the team landed on Green Cell Foam. "What's great about it is that it's compostable and biodegradable," Askinosie says. The outer film can be recycled with plastics or dissolved safely in a kitchen sink.
Currently, about 90 percent of retail purchases are shipped with Green Cell. The company will transition to shipping 100 percent of retail with Green Cell and eventually use the product for wholesale shipping. "We are taking this in stages," Askinosie says. It's a significant investment at roughly three times their previous shipping cost, but the company is absorbing that cost in creative ways, versus passing it on to the customer. One way Askinosie Chocolate mitigates its investment is by reducing the size of the box being shipped, which reduces shipping costs.
Askinosie also decided to phase in the new shipping materials instead of throwing out the shipping boxes they have already. "We thought it's better to start, even if it's imperfect, than it is to hold off until we can do it perfectly," she says. 
Take Small Steps Toward the Overall Goal 
For other businesses looking to reduce their carbon footprint, Askinosie suggests researching green practices within your industry. Look at your model, pick one area you think is a pain point and start there, she says. Start somewhere, she says, "even if it's as simple as getting a recycling bin."
"As business owners, we have an opportunity to make a difference," Askinosie says. "And this is an area where anyone can make a big impact in ways that will be felt for generations."