Leadership
Dynamic Duos: Five Powerhouse Couples Who Make 417-land Better Together
Five Springfield, Missouri couples share what it takes to succeed when both are business owners and community leaders.
By Jenna deJong | Art Direction by Sarah Patton
Jan 2021
Get to Know One of Our Couples
The Change Making Couple
Anniversary: August 5, 2006 | How She Describes Him: Bold, beautiful, bad to the bone | How He Describes Her: Detailed, focused, compassionate

H. Wes Pratt has spent his life advocating for social justice issues and against racial disparities. Francine Pratt's career has focused on uplifting people who have less than she does. Together they fight for a better community and equity for all.
The two are powerhouses on their own accord: H. Wes Pratt's career includes stints with the city council in San Diego, California, as well as the California Conservation Corps and the National Forum for Black Public Administrators, before moving to Springfield. Wes, who was a young man during the Civil Rights movement in the '60s and is originally from Springfield, felt a pull to work with young professionals and advocate for racial disparity issues. His wife, Francine Pratt, also dedicated her career to a higher purpose. Her story begins in Europe, where she was born and lived until second grade before moving to the United States. She's lived in quite a few places, but it was in Santa Ana, California where she found her niche. After fleeing an abusive relationship, Francine delved into the world of childcare support services and held various positions at organizations and government institutions like the State of California, the State of Missouri, and finally Springfield's Isabel's House.
The two's shared passion to serve is what led Wes and Francine to find each other. The couple met at a conference in 2002 for the National Forum for Black Public Administrators where Wes served on the board. They married four years later on August 5, 2006.
Eventually, Wes wanted to return to Springfield. He earned a position with Missouri State University, where he's been the past 12 years and works as both the Assistant to the President and Chief Diversity Officer. He remains laser-focused on championing the region's diversity and inclusion efforts, which includes assisting the Student African American Brotherhood in moving its headquarters to campus. Outside of work, he co-founded networking group Minorities in Business. Since the move, Francine's also made a name for herself. She's now the director of Prosper Springfield where she's focused on reducing Springfield's poverty rate. She's also the director of the Missouri College Access Network. Under this domain, she's working to distribute CARES grant funding across the state to students and families that do not have reliable internet access and are thus struggling with virtual learning formats. This year, she also debuted Tough Talks, an initiative that aims to ignite difficult conversations to spur positive change. In addition to their roles, the couple is often sought-after for public speaking engagements and conferences to speak on their expertise and relevant community issues.
Though their interests and commitments mean they work long hours, the two offer each other unwavering support. Francine's word of advice? Don't compare yourself to other couples and move forward as a unit.

5 Things You Might Not Know About the Pratts 
1. In high school, one of Francine Pratt's dreams was to open her own business, particularly a restaurant. During high school, she launched her own cake decorating and catering business. Early in life, she also modeled. 
2. At one point in her life, the higher level of promotions in the corporate setting made her feel like something was missing. "I got to a point in life where it wasn't about the money, even though I was making very good money and [I had] a really nice bonus and a corporate apartment," Francine said. "I realized that the higher I went up, it just felt like something was missing. Wes moved to Springfield before I did and when an opportunity came up, I took a 50% cut in pay. That's when I first got into nonprofits." When she moved to Springfield, she took a 50% pay cut to work for the State of Missouri Family Division, living and working in Jefferson City and later was hired as the executive director of Isabel's House. This started her work in nonprofits. 
3. Francine Pratt was born in France and lived overseas until she was 7 years old. When her family moved to Washington, D.C., she had to repeat second grade because she was told she didn't understand English dialect. 
4. In high school, H. Wes Pratt lettered in four sports. He was also a student activist. 
5. When H. Wes Pratt was living in San Diego, he worked for the city's first black city councilman, Leon Williams.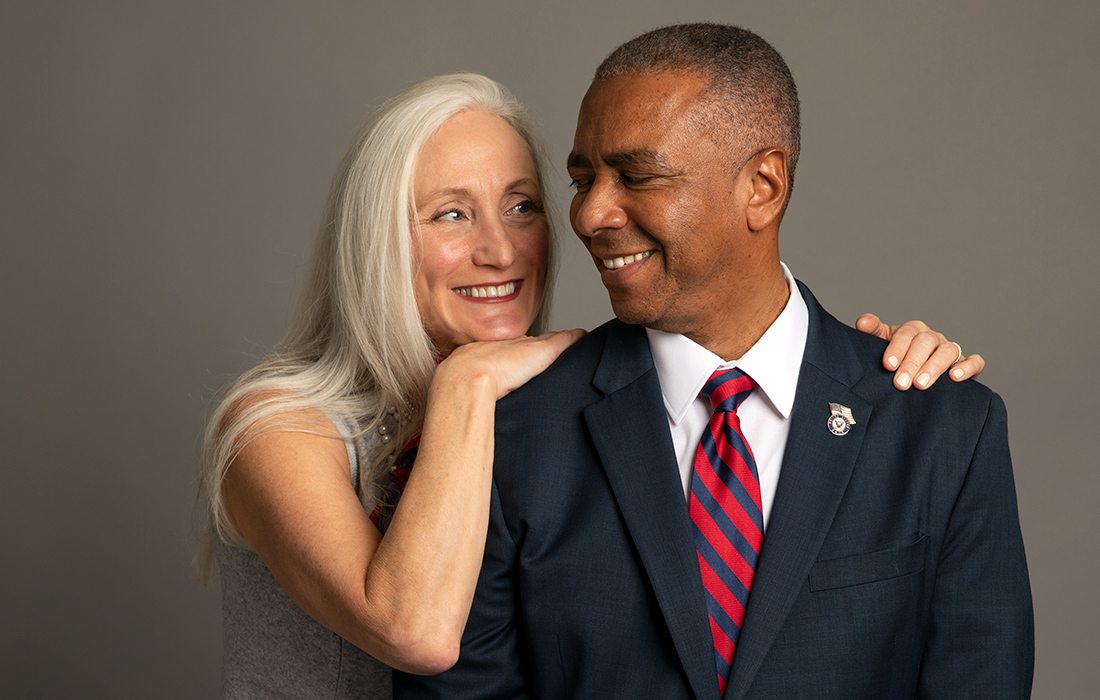 The Scholarly Couple
Anniversary: June 12, 2017 | How She Describes Him: Brave, disciplined, pensive | How He Describes Her: Persistent, perfectionist, progressive
Abram "Abe" McGull is a public servant at heart. Crista Hogan is passionate about the justice system. Together, they are an unstoppable force for good.
Abe McGull and Crista Hogan have a shared appreciation for the law and both have dedicated their lives to upholding the Constitution. Hogan grew up in Springfield and moved to Washington, D.C. and then Tulsa to follow her interest in government and law. Since age nine, she knew she would practice law, which she did for 10 years before joining the staff at the Springfield Metropolitan Bar Association where she now works as its executive director.
McGull also knew he would be a lawyer at an early age, but his career path had a couple of unforeseen twists and turns. As a New Orleans native, McGull moved to Kansas City for law school. After graduating, he later became an Assistant United States Attorney for the United States Department of Justice (DOJ), and it was during this time that the DOJ asked him to work as a Resident Legal Advisor in Kirkuk, Iraq. Upon completing his tour, the then-United States Ambassador to Iraq, James P. Jeffrey, awarded him the Department of State Meritorious Honor Award for expeditionary diplomacy in a hostile and dangerous environment. Before this, McGull had also served in the U.S. Navy Reserve and was called to active duty three times, one of which he served in Baghdad, Iraq.

After serving in the military, McGull continued to follow his calling for law and government. He was a city councilman and mayor of Pleasant Valley, Missouri. He worked as an Assistant Prosecuting Attorney in Clay County before moving to Springfield, where he is now a member of City Council. It was in Springfield and during a diversity and inclusion conference at Missouri State University that the two first met. McGull was presenting when the two caught each other's eye. Two years later they were married on the 50th anniversary of the U.S. Supreme Court's ruling in Loving v. Virginia, which outlawed any ban on interracial marriage. "I love legal anniversaries and it was profound to realize that within our lifetime interracial marriage was illegal in the state of Missouri," Hogan says.
So what's next on the horizon? McGull is starting his own law firm and is interested in becoming a public defender, as well as focusing on personal injury and civil mediation. And Hogan is hoping that this opportunity will give them the chance to finally try a case together. In the meantime, the two will continue the work that they feel is never done. To wind down, the couple watches the news where McGull mans the remote and pauses the segment any time Hogan is ready to discuss a matter. It's these moments and their combined interest in current events and law that bring them together.
5 Things You Might Not Know About Abe McGull and Crista Hogan 
1. Many members of Hogan's family are lawyers and judges. She decided to become a lawyer when she was nine years old.
2. New Orleans native Abe McGull attended Louisiana State University and earned his degree in mass communications. He worked in television as a journalist before moving to Kansas City, Missouri for law school. It was during this time that he was sent on assignment to the Baton Rouge Airport to capture film of suspected child molester Jeff Doucet being led by law enforcement officials. McGull ended up filming an attempted homicide. The father of the alleged victim shot Doucet at the airport. McGull's video was used for national news. Here's the full story.
3. McGull chose to go to law school in Kansas City, Missouri because when he looked on a map, it was the option that had the least amount of rainfall.
4. McGull, who served in the United States Navy, was completing some reserve duty drills at United States Strategic Command on September 11. That day, President George Bush joined McGull and his comrades. "Not long after, I was sent to Iraq where our PAO team served and briefed General David Patraeus, General Raymond Odierno and General Lloyd Austin," McGull said. "In my capacity as a Resident Legal Advisor in Kirkuk, Iraq, I frequently briefed Ambassador Christopher Hill about rule of law activities in my area of responsibility."
5. During his career, McGull met a lot of successful people including two former presidents of France, Francois Mitterrand and Jacque Chirac. He knew and covered a few Louisiana governors including the controversial leader of Edwin Edwards. He also attended college with political activist Donna Brazile.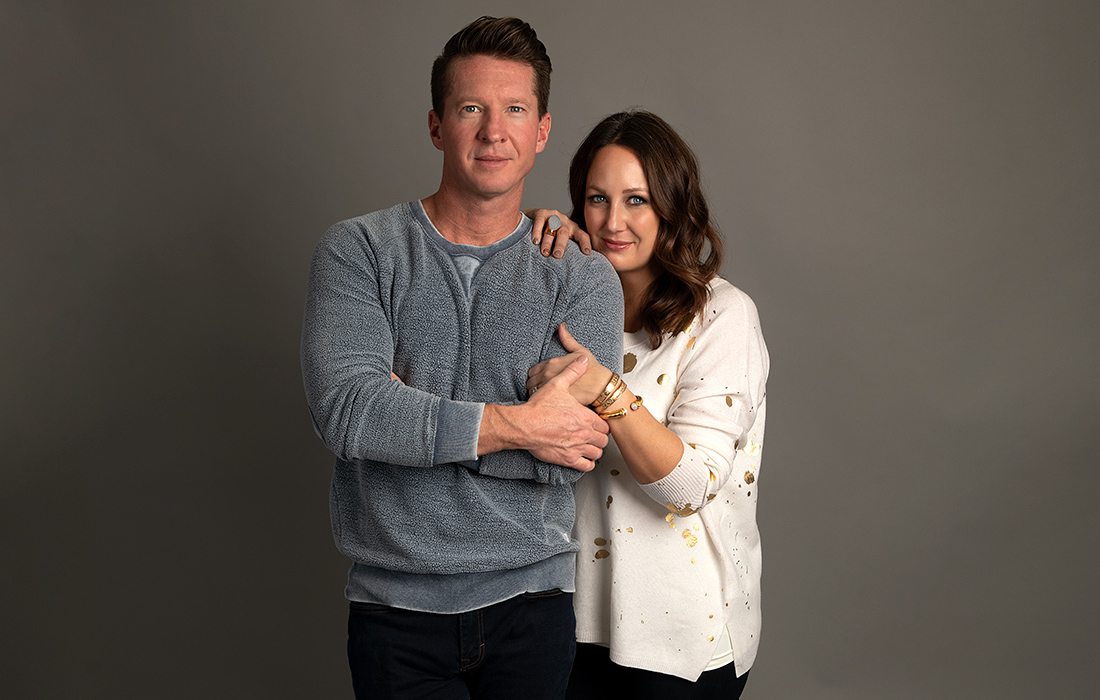 The Fearless Couple
Anniversary: October 1, 2005 | How She Describes Him: Passionate, steady, disciplined | How He Describes Her: Capable, independent, creative
Jonathan Garard is an enthusiastic risk-taker. Audrey Garard is a thoughtful community leader. Together, the two are caretakers of a thriving local business.
Jonathan and Audrey Garard have a history of making things work. They first met while working at Outback Steakhouse. She worked as a waitress while earning her marketing degree. He traveled to regional stores to lead remodeling efforts while doing landscaping on the side. They were young and still figuring out their next step—Jonathan was used to working for himself and Audrey was just graduating from Missouri State University. Things changed in 2001. Jonathan decided to enlist in the military after 9/11 and over the course of his training, he and Audrey went on their first date. One year later, Jonathan deployed to Iraq. When he came home, the they married four months later.
Throughout the next eight years, the Garards made a long-distance marriage work. Audrey began working at Grooms Office Environments in the sales department while Jonathan served overseas. During this time, he worked with a private contract company that provided high-threat protection details to top government officials. He was also a personal driver for public figures like Hillary Clinton and Nancy Pelosi. The latter half of his career was spent in the reserves teaching future soldiers. During his military career he was awarded a Bronze Star Medal.
In 2014, the couple began considering the opportunity to buy Grooms Office Environments. Audrey's mentor and then-owner, Olin Grooms, was ready to retire and it was Jonathan who pushed to go all-in. In 2015, the business was theirs.
Jonathan ended his military career in 2017 so he could take a more active role in the company. He focuses on personnel, internal operations, and finances while Audrey takes a more public role and spends more time with clients. It's been six years since the Garards took over Grooms and they've definitely made it their own. Since becoming owners, the duo have encouraged their employees to get involved in the community by financially supporting their various causes including Diaper Bank of the Ozarks. Their leadership walks the walk too, as Audrey has served on the Springfield Area Chamber of Commerce's board of directors the past three years and volunteers at Safe to Sleep. In addition to supporting a positive work environment, the business is also highly successful. The company has over 300 clients, one of which is the new Cox Monett Hospital. Grooms worked with the health system to outfit all of its spaces and furniture, with Audrey as the lead.
To decompress, the couple likes to travel when they can. As for how they balance their work and home life, Audrey says it's all mixed together. The two also have two children. "If we go and have lunch together, we're going to talk about something related to work and then we talk about family," she says. "It's always combined. I think this generation, the world we live in, you're always taking work home with you. But we also bring our personal lives into work. We find a balance in that."
5 Things You Might Not Know About The Garards 
1. When the Garards knew of each other for six months to a year and didn't interact much before going on their first date. Jonathan said at the time, he thought Audrey was trouble. Audrey said she thought Jonathan was old. He's five years her senior.
2. Beginning in 2003, Jonathan began his overseas deployments and Audrey, who didn't have a cellphone, used her apartment complex's computer to check her emails to communicate with him.
3. Early on in their marriage, the two flipped housing and owned a small landscaping business. When the 2008 recession hit, these businesses were impacted, Jonathan decided to stay in the military out of necessity.
4. While serving in the United States Army Reserves, Jonathan worked as an instructor training soldiers. Though it was a rewarding job at this point, it required him to be gone for 90 days at a time. As a new business owner of Grooms Office Environments, he eventually left the reserves to work with Audrey full-time.
5. Jonathan grew up in Connecticut. His father was a pastor so his family frequently moved before landing in Springfield in 1988.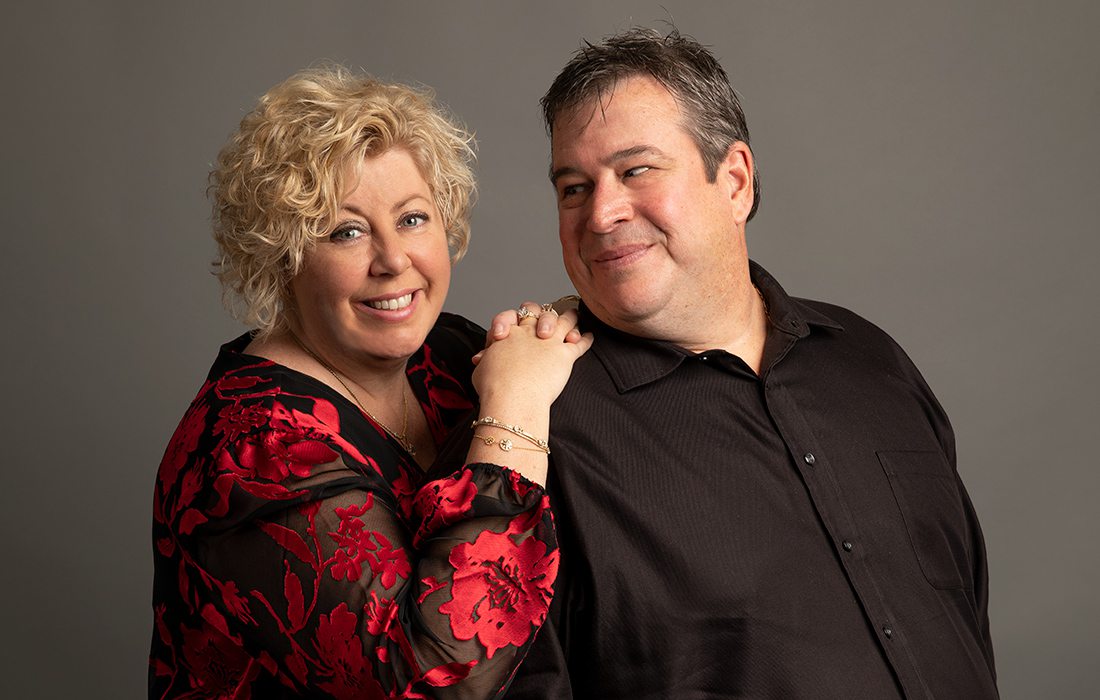 The Tenacious Couple
Anniversary: November 12, 1988 | How She Describes Him: Honest, dependable, amazing | How He Describes Her: Compassionate, organized, driven
Jeff Russell is a self-taught salesman who grew up on an Arkansas turkey farm. Kym Russell is a Harrison, Arkansas
native who had "champagne dreams on a beer budget." Together they oversee Russell Cellular, a 27-year-old authorized Verizon Wireless retailer that staffs more than 2,300 employees and has operations in 37 states.
Jeff and Kym Russell are decision-makers. When they know they want something, they don't hesitate to put in the work and make it happen. Their story starts in northern Arkansas. He was attending the University of Arkansas and she was a junior in high school. The two met cruising through town, what they both agree was their first date, and one year later they were married. Within five years, the Russells' family grew and so did their dreams of success. In 1993, Jeff, Kym and their two children, Jeven and Layton, moved to Springfield for better opportunities. It was there that Jeff answered a newspaper ad to sell Alltel Wireless inventory while Kym stayed home with the kids and babysat for other families.
The first few years took a lot of hard work. Jeff, who says he learned the art of sales by trial and error, eventually opened up the family's first Alltel store in Bolivar in 1994. Then they opened a store in Harrison, and then again in Springfield. Little by little, the business grew and became a true family affair. "[The kids] definitely went with us to set up new stores in the beginning," Kym says. "Layton and Jeven were our setup crew. One time our company server crashed and our backup was three days old because the newest one was corrupted so they actually had to stay home from school and do data entry two days straight so that we could get payroll done."

Jeff says it was a combination of opening new doors in existing markets and growing into new markets through acquisitions that helped company grow. The turning point came in 2008. Verizon bought Alltel and it was during that year that the Russells had to convert all 100 of their stores to new standards. "It was out of our control," Jeff says. "We reacted to that and adjusted and learned how to win with the new carrier we were now part of in the new environment." He's not kidding—everything from the paint color on the walls to the merchandise to the operations systems had to be updated accordingly. "That was a challenging year," Jeff says.
Russell Cellular (RC) now has 614 stores spanning 37 states. Jeff now works with top Verizon and RC executives to develop the company's long-term strategic planning. Kym works in an advisory capacity and focuses on what Jeff likes to call "passion projects" like planning and designing the company's new 40,000-square-foot office in Battlefield. That's not to say the family is taking a backseat. The next generation of Russells is already on track to lead the company. Jeven, who is the vice president of operations, has worked at Russell Cellular for the last 10 years and eventually plans to take over the company and its leadership team. The couple's daughter, Layton Alsup, is also in a high-level position supporting the team's executives and working on some of the passion projects her mother heads. She also owns Nu Essence Spa.
Before the next generation takes over, Jeff and Kym will continue doing what they do best: serving as a dynamic duo that knows how to adapt, change and serve an ever-growing industry.
5 Things You Might Now Know About the Russells 
1. At the beginning of his sales career, Jeff Russell said he was intimidated and that it was not something he was originally comfortable with.
2. At the beginning of their career, Kym and Jeff Russell were making $25,000.
3. The couple opened each store like it was their own franchise. They developed a system and made everything consistent which they said allowed them to grow a lot faster.
4. After opening their first store in Bolivar, the Russell opened their second store in Harrison because their family and friends were interested in getting involved with the business.
5. To unwind, the Russells enjoy visiting Table Rock Lake and traveling. Some of their favorite travels have been to Napa, California, the Bahamas and Las Cabos, Mexico.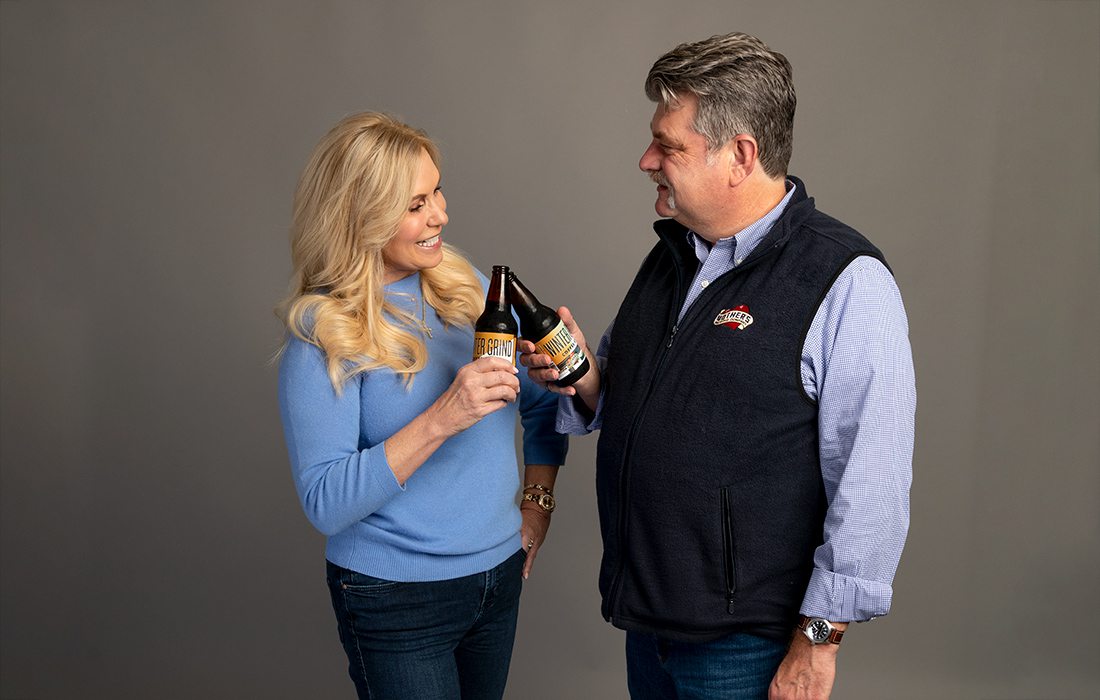 The Ambitious Couple
Anniversary: March 30, 2018 | How She Describes Him: Kind, smart persistent | How He Describes Her: Brilliant, kind, classy
Jeff Schrag is a serial entrepreneur. Mary Helen Schrag is a savvy business owner who loves advocating for education. Together they are pillars in the region and beyond.
Mary Helen and Jeff Schrag aren't afraid to try something new. Between the two of them, they juggle seven businesses while maintaining a marriage built on mutual understanding and support for each other's ambitions. The pair bond over a shared interest in serving their community, through both their businesses and volunteer efforts, and it's this drive and willingness to do good that make them sought-after by leaders at both the local and state levels.

Upon graduating from physical therapy school at the University of Missouri–Columbia, Mary Helen moved back to her hometown of Thayer to work at what was then West Plains Memorial Hospital and start a PT and speech program. Six years later, she opened her own practice and six years after that she opened a second location. Last year, Physical Therapy Specialists Clinic celebrated its 30th anniversary. She also runs a wellness program called HASS, LLC. In March 2019, Governor Michael Parson appointed her to the Missouri State Board of Education. "I believe every student and every individual should have access to education. It is the single most important thing that can pull someone out of poverty," Mary says. She also served on Missouri State University's Board of Governors for 10 years and now serves on the board for its foundation.
When Jeff Schrag graduated from Kansas State University, he had his sights set on being a journalist. He moved to Springfield in 1995 to purchase The Daily Events, which he still owns today. "Along the way, I got nervous that newspapers were going away so I became somewhat of a serial entrepreneur where I started buying other businesses, investing in other things trying to make sure I could maintain a living," Jeff says. That included investing in real estate, rehabbing historic buildings, buying a cuff link business and starting Mother's Brewing Company. But these projects aren't the only things keeping Jeff busy. He's a past chair of the Springfield Area Chamber of Commerce as well as a past chair of the Missouri Press Association.
This year continues to be full steam ahead for the two titans. Mary is launching a women's program at her clinic. And Jeff is breaking into new markets in the state. Plus, the brewery is celebrating 10 years in business this year, which means a year full of celebrations.
5 Things You Might Not Know About Mary Helen and Jeff Schrag 
1. Mary Helen Schrag attended Drury University for her undergraduate degree and attended the University of Missouri - Columbia to attend physical therapy school. Jeff Schrag attended Kansas State University and double majored in journalism and mass communications and interdisciplinary social sciences.
2. When Mary and Jeff first began dating, she wasn't a big fan of beer. Now she loves stouts and porters, especially barrel-aged beers and pastry stouts. 
3. Mary Helen served on the Missouri Board of Registration for the Healing Arts for over 12 years.
4. To celebrate an award or an achievement, Mary loves to travel and Jeff loves to enjoy a fabulous drink and meal.
5. Some of the two's favorite travels have been to Chile, Saint Kitts in the Caribbean, and Mexico.