Small Businesses
At Zero2Sixty, Lora Newman Uses Horses to Coach Business Professionals
As CEO of Zero2Sixty Performance Coaching, Lora Newman incorporates equine coaching into her business as she strives to help business professionals improve every aspect of their professional lives.
By Evan Greenberg
Sep 2018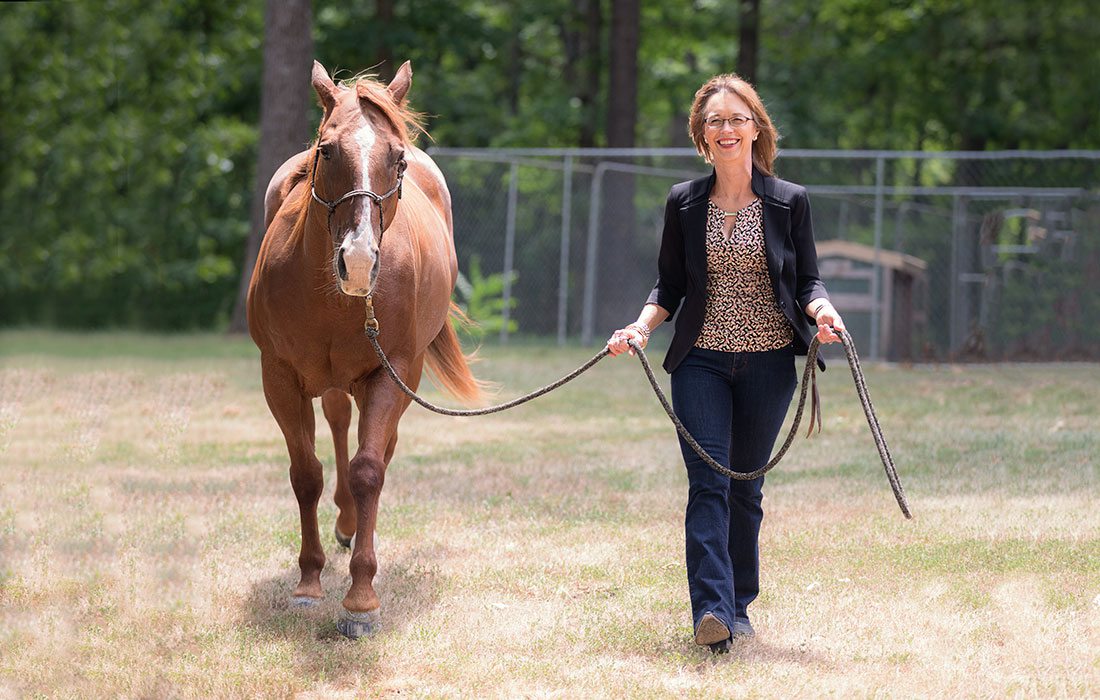 A mass of pool noodles, bouncy balls, horses and business professionals are sprawled out across what Lora Newman calls The Arena on a sunny Friday morning in late July. They've all come to Newman—licensed counselor, holder of a degree in veterinary technology, Army veteran and CEO of Zero2Sixty Performance Coaching—for answers about time management. They're here for a morning Zero2Sixty session, arriving at the Rogersville farm with an open mind, having heard and seen the results that Newman has produced in the eight years she's incorporated equine coaching into her business. 
Everything about what Newman does is so in front of your nose you might miss it for that exact reason. As the groups use the various props at their disposal to create representations of their day, she remains silent. She doesn't offer encouragement or clarification during the exercise, even when its participants—mortgage bank consultants and salespeople, among others—plead for some form of direction.
This paradox, clients desperate to receive answers from a coach who refuses to give them, plays into Newman's greatest strength. To watch her work is to see a woman who is in complete control of a situation that, out of context, looks like nothing but mania: unwilling steeds coaxed along by slightly bewildered, successful people who are willing to believe that there is a method to this madness. And as Newman has made very clear, it's their job to figure what that method is.


Creating Coach Newman
Newman, born in Springfield, grew up going to her grandparents' dairy farms in nearby Chadwick. There she helped take care of baby animals. Her mother had a horse and had Newman riding as soon as she was able. Her love for animals was cemented in these adolescent years, and she'd often borrow horses from neighborhood kids as she got older. 
At 17, she found herself in love with a soldier and enlisted in the Army. They got married and were stationed at Fort Knox in Kentucky. She started first as a medic, then went into the Army Reserve and then into military police training. "The joke was I got tired of taking the bullets out and wanted to put bullets in," she says. 
The marriage didn't last, and she moved back to Springfield with the couple's son. Newman's time in the service taught her a lot. There's a discipline inherent in serving in the military, and it informed the way she now approaches client interactions. 
"I was 17 when I went into the Army," Newman says. "That caused me to grow up quickly. There's a type of leadership there. There were a lot of boundaries and things that I feel like were really integral in helping me grow up in some leadership ability in that you have to be willing to do it. You have to be willing to face your fear. There were a lot of things I did [that] scared me to death." 
Newman then set about getting a laundry list of degrees and certifications, including an EMT training and certification at Eastern Kentucky University and a degree in veterinary technology at Northwestern State University. From there, she ran a veterinary hospital in Louisiana for four years; met her current husband, David; and moved to Austin, Texas, for a job in sales and marketing. After four years, she relocated to Springfield to take care of her ailing father. She was still working in the business sector at the time, and his passing was a seminal moment for her, challenging her to reflect on her own life and how she wanted to live it. She began attempting to figure out ways she could incorporate her passion for animals and life coaching into one business.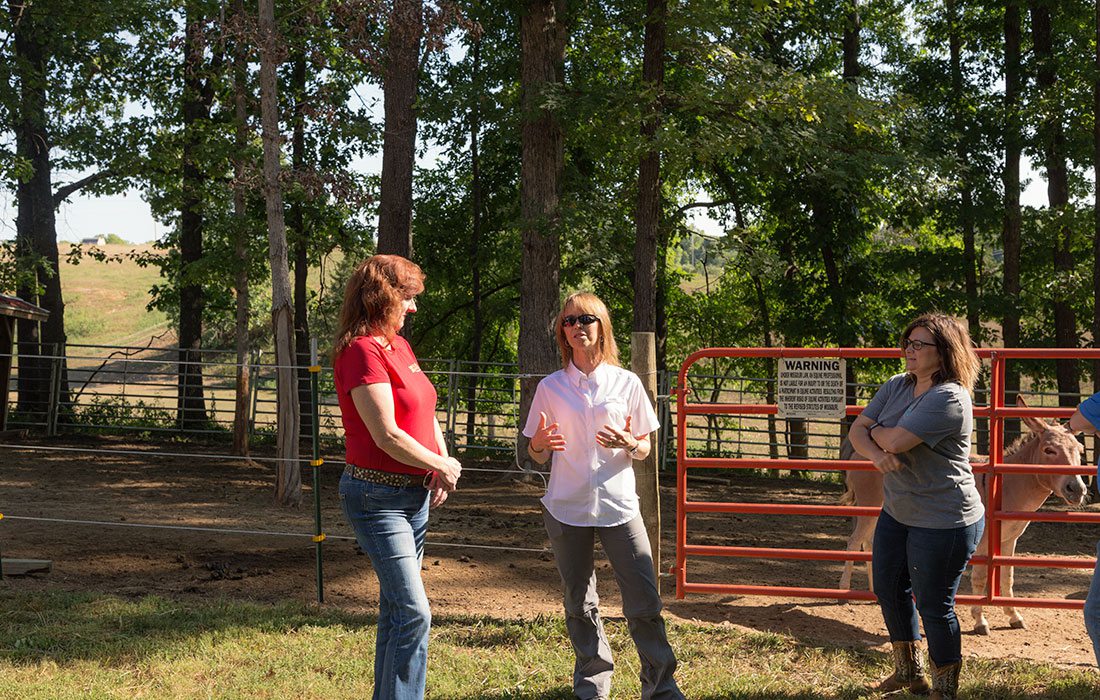 Lora Newman hosts morning sessions she calls Coffee with Coach Lora, during which she gets business professionals thinking about a certain theme.
Purchase Photo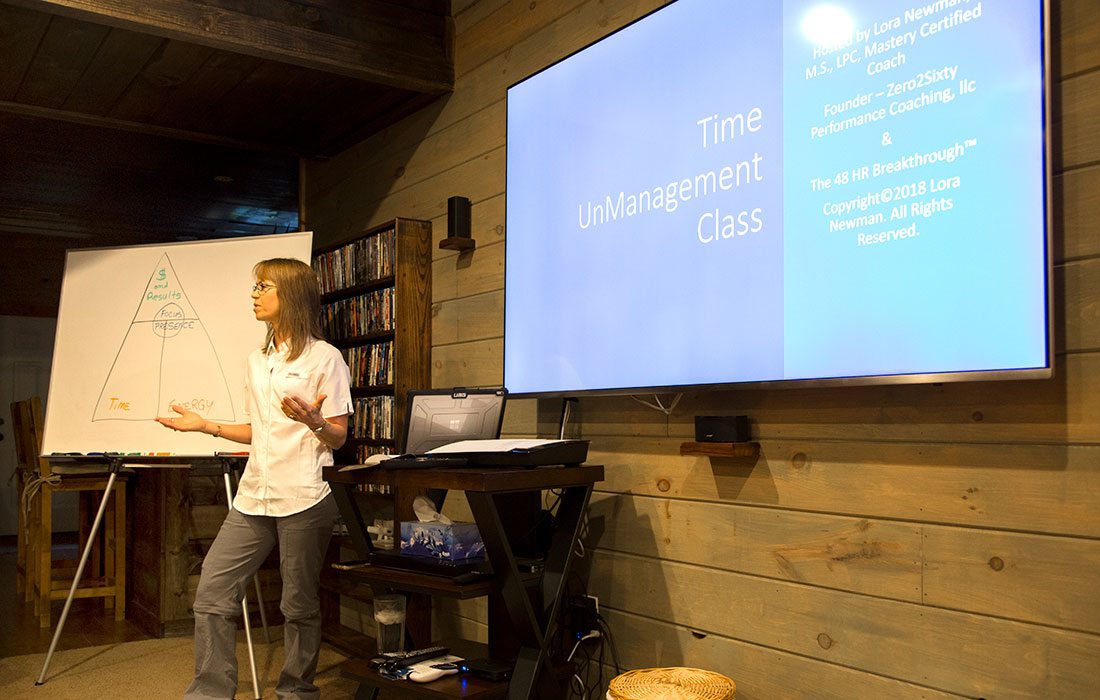 Lora Newman's coaching includes tips and strategies covering a wide range of topics, including time management, efficiency and more.
Purchase Photo
Photos by Evan Greenberg
"Back in the '90s, when coaching was just emerging, I had a coach," Newman says. "And she always pulled me forward and helped me break those belief barriers. She would always question your strategies, help you build strategies, look at the decision process that you were in, how you were thinking about it. She made me stretch beyond who I was, and I really appreciated that. And I thought, 'I want to be that person to someone.'"
She went back to school, again, this time at Drury University, where she earned a bachelor's degree in psychology before getting a master's degree in counseling. She started coaching in 2000 as owner of Life University Coaching and Counseling. She began a decade-long study of how she could incorporate horses into her work, and by 2010, Newman was actively including them in her work. It was then, too, that, she connected and trained with the Equine Assisted Growth and Learning Association (EAGALA). She soon realized that she would need a partner, someone with expertise to complement her strengths. Around six years ago, she got equine specialist Tim Brock on board by signing him up for an EAGALA course. The two set about devising methods to assist people in a rut, those looking to jump-start their businesses or explore alternative methods for productivity. Newman says that, in the past three years, they've started to pull everything together, discovering what it is they like to do best, shoring up marketing and finding the right clients. 
Newman markets herself as a person with solutions, so it might be surprising to discover that she still keeps a coach of her own. But it makes sense—for one thing, there's a shorthand she can have to help cut through the noise. Plus, it establishes her as an equal to her clients because she, herself, seeks help. For Newman, there's value in opening up and showing that even someone in the self-help business needs it, too. "I have to [keep a coach]," Newman says. "You have to be willing to have that person in front of you, pulling you forward, because… it's like standing in the middle of a tornado—you can't see how big your own tornado is. I also personally believe, look, if you're going to make a living keeping others on that cutting edge of change, you need to live there yourself."


Grooming Her Technique
Through Zero2Sixty, Newman works with clients in 22 states and four countries, including ones as far away as Alaska and England. The centerpiece of her methods are the horses and donkeys. She estimates that they're involved in about 20 to 25 percent of her practice; the rest is group or individual work. The animals aren't something you can really hide; for one thing, they are quite large, for another this type of work is not masked by subtlety. With a practice like this, the only way for it to be effective is to lean into it, guided by someone who wholeheartedly believes in the product. Newman owns the domain HorseBusinessWhisperer.com, a site name as cheeky as it is literal. 
As you might expect for someone whose livelihood depends on effective communication, Newman has a specific style. She slices the end of her sentences, making it very clear when she's done speaking, peering at you with expectant eyes to offer something new to the conversation. Her voice is emphatic and booming but only when it needs to be. It rises several octaves when she recalls what someone else has said. And despite her time spent living outside of 417-land, she hasn't lost her Ozarks drawl, pronouncing her home state Missour-uh. She's also quick to point out 80 percent of communication is nonverbal, and that communication is key when it comes to her trainings. "Horses are brilliant—masterful at seeing all that nonverbal communication," Newman says. "They read nonverbal communication, all levels of communication that come from you. If you're stopping and hesitating about something, that horse is going to respond to that. Or if you're being overly exertive in your communication, they're going to respond to that." 
"[Newman] is here to get you to learn so well that you can drive out of here and immediately apply it."
— Kerry Norman, senior loan consultant at New American Funding mortgage bank
Newman's crown jewel, and the program she is most known for, is her 48 HR Breakthrough, an intensive program that involves horses and getting to the root of exactly why a client has sought out her help in the first place. She starts with a needs assessment, which helps her design a curriculum for her client. She performs a screening process of sorts, too, making sure her methods and approach are appropriate for the client. Mental health is an understandably fragile thing, after all. Sometimes, counseling is the best course of action for people who contact Newman, and she is forthright and honest when her services might not be suitable.
Assessments complete, Newman begins taking clients through the exercises in the 48 HR Breakthrough. Her job, she says, is to eliminate inhibitors and negative thinking. That's done as clients work with horses and list their goals and, more specifically, a certain income they'd like to make. These issues are the things that hold people back, and she sees it as her job to identify and help eradicate them. There are three levels of the 48 HR Breakthrough, offered in three separate sessions. Most of the time, the sessions are done with groups of people from different business sectors. They arrive on-site—some stay at her house, others at a guest home down the road—and begin the work. Brock is there the whole time, offering suggestions and filling in blind spots.
Not everything is done inside under fluorescent lighting. For the same reason elementary school kids get excited to have class outside, Newman's clients are energized by the change of scenery. "I think one of the major effects, and there are a lot, is inside you're learning the concepts and making discoveries to immediately apply them with the animals," says Kerry Norman, a longtime client of Newman's and a senior loan consultant at New American Funding mortgage bank, which has locations in Springfield and Nixa. "It's nonverbal, then the thinking, then back inside deconstruct what you do. [Newman] is here to get you to learn so well that you can drive out of here and immediately apply it."

The Basics of The 48 Hr Breakthrough

Lora Newman's best-known program is a group coaching session called the 48 HR Breakthrough. Here is a breakdown of the program's process.
---
Assessment
Before she takes on a client, Newman needs assurances that she can provide what the person needs and that the program is suitable for the prospective client.
Goal Setting
Newman and her clients first step is to lay the groundwork for their session by listing goals and getting specific with the salaries clients would like to earn.
Not Just Horsing Around
Although clients do exercises with horses, they also spend time in a classroom setting where Newman helps the group work through obstacles and perceived problems.
Results
Often, clients walk away with concrete takeaways that they can apply immediately in their professional lives.
Quieting the Naysayers
Newman is aware that there is a natural skepticism that arises when the efficacy of horses gets brought up. "It's always a mixed bag of tricks," she says. But the first barrier, the entry point, is broken the second someone gives themselves in to the work. Clients know full well what they're getting into when Newman coaches them. Seeking her help is a tacit acknowledgement of a need for something a bit outside the box, that, yes, they will allow themselves to stand intimately close to animals who could send them flying with one kick if they wanted to. (It's here that Newman would point out that her horses would never do this.) All the same, it's perfectly fine to recognize the unorthodoxy of the whole thing. But, and this is the important thing, it works.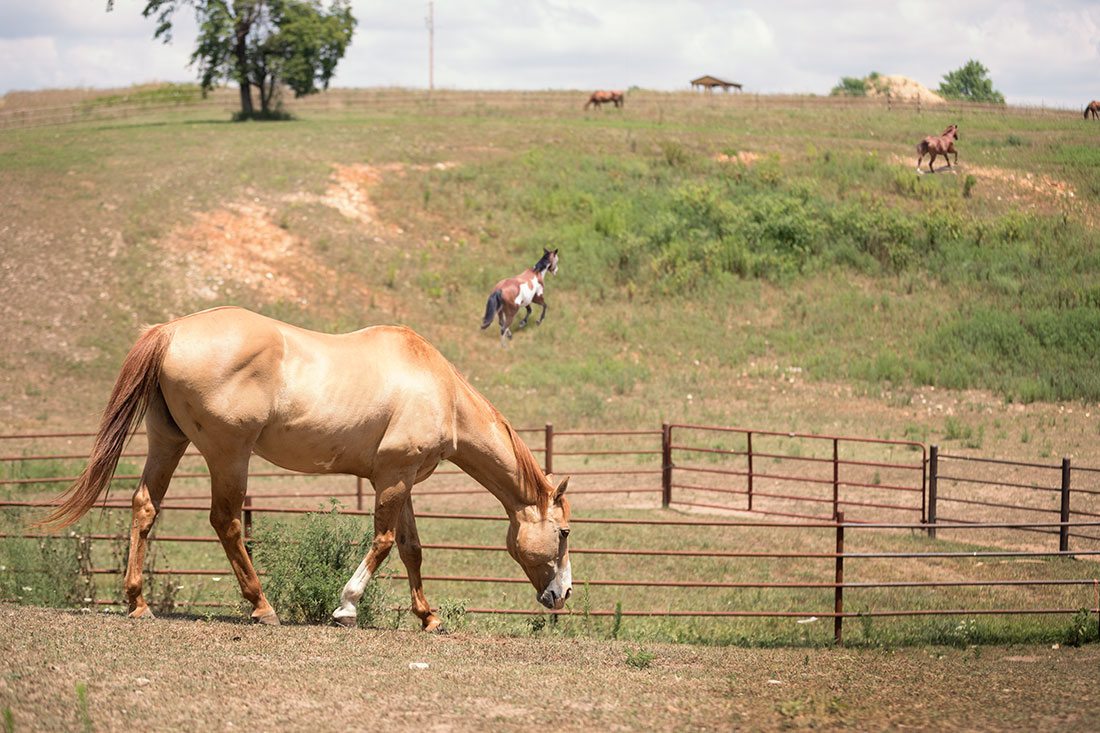 Lora Newman's home includes wide open spaces where the horses are free to roam, play and eat.
Purchase Photo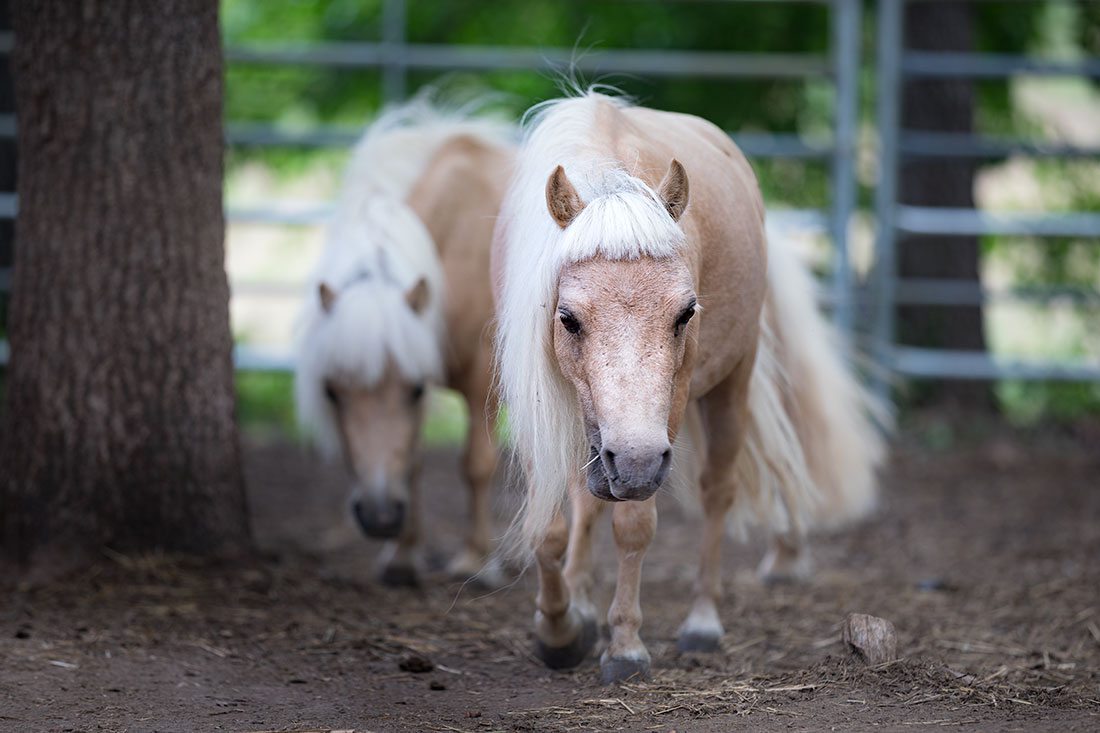 Lora Newman uses miniature horses and donkeys as a way to ease her clients into her equine coaching as well as in her morning coffee sessions.
Purchase Photo
Photos by Brandon Alms
Consider a 50ish-year-old, Type A personality, athletic Oregon man named Jim who enlisted Newman's services. When it came time for the horse work portion of his 48 HR Breakthrough, he bull-rushed the animals, flat-out chased them. Newman had a hard time keeping it together, holding her clipboard over her mouth to hide her amusement. The horses immediately took off running, and Newman called for a restart. She approached him and asked him what the problem was. Exasperated, Jim groaned, "They won't do what I want them to!" Newman seized upon this remark, a teachable moment manifesting itself out of the dust cloud the horses left in their flight away from him. "What we arrived at in that brief conversation was he often feels like he's chasing his people," Newman says. "We let him rethink it and catch his breath, and he went at it again and got it done quickly." 
It's these in-your-face metaphors that Newman traffics in, the kind that could be taught in early-schooling literature classes to introduce the concept itself. It's also why her coaching works—there is no hidden meaning, no enigma inside of an enigma that needs to be decoded. Newman might not give out answers herself, but that doesn't mean you're not going to walk away with some at the end of your time with her. 
"I still run into [old clients] occasionally and they're like, 'You know, I still remember what you told me,'" Newman says. "And I'm thinking, 'Wow, when you thought you weren't effective, you really were.' As you get seasoned, as you get more training and experience, you realize that people, especially people in business, they're brilliant, they're resourceful, and we just have to open doors for them to be even more brilliant and resourceful. If you open a doorway for them, they'll jump through it."
Hear more from Newman and Brock