Culture
Pat Duran is Serving the Community
Restaurant owner Pat Duran uses his culinary skill to provide breakfast for 100 veterans—and his service doesn't stop there.
By Lillian Stone | Photos by Brandon Alms
Nov 2016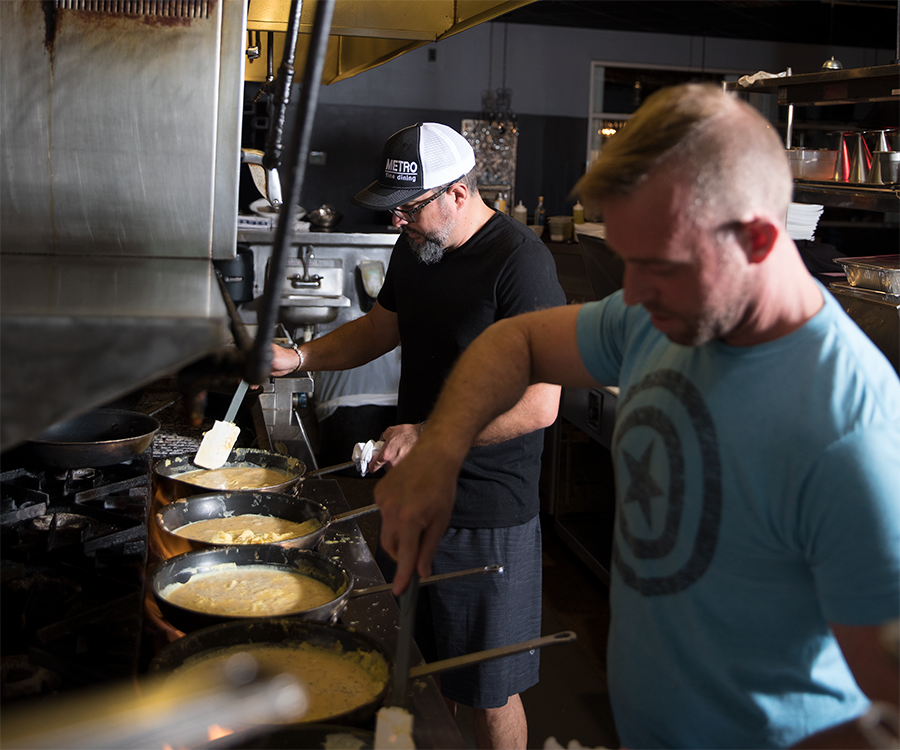 Pat Duran keeps long hours on Fridays. The chef and owner of Metropolitan Grill and Great American Taco Company rolls into Metro Grill's kitchen around 6:30 in the morning. Duran and his 9-year-old son, Steven, then spend several hours preparing breakfast for around 100 people—but none of the food is served in either of Duran's Springfield restaurants. It's for area veterans.
Once complete, volunteers from The Venues church pick up the meals and deliver them to the Veterans Coming Home Center in downtown Springfield. Duran began to contribute to the effort, known as the Breakfast Venue, shortly after he joined the congregation at The Venues about two and a half years ago. "The spirit of paying it forward resounds through the entire church," he says. "There was never an 'ask.' They just show you the need, and you decide what you want to do with it."
This isn't the only way Duran pays it forward. He also leads the Metro Mafia, a group of businesspeople that formed to support the local police and firefighters' pension fund. "We raised a lot of money and a lot of awareness to help bail out the pension fund," Duran says. The group of 26 businesspeople still works to support local law enforcement with help from the Community Foundation of the Ozarks. The Mafia now also raises money to support the immediate medical or financial needs of struggling local officers and also hosts activities for officers and their families.
Duran is adamant that his service endeavors are a natural part of his business model. "It's more of an automatic duty that people should undertake," he says. "I've been very fortunate, and I feel that you have to pass those blessings along." He says that, for business owners, giving back just makes sense. "Paying it forward is really not hard at all," Duran says. Despite the time-intensive personal commitment, his giving efforts have never presented difficulties for his businesses—rather, just the opposite. "Does this affect my bottom line? Yeah, but I think [it affects it] positively." That impact comes in the form of good karma, which benefits the community at large and in turn boosts business. To other owners looking to give back, Duran's advice is simple. "Just do it," he says. "There's plenty of opportunity. I think if you give first, the rest just happens."