Strategy
What You Missed from Our Medical Marijuana B-School
Get your questions answered about Missouri's new medical marijuana industry with some takeaways from our most recent installment of B-School Breakfast Series.
By Jenna deJong
Oct 10 2019 at 12:36 p.m.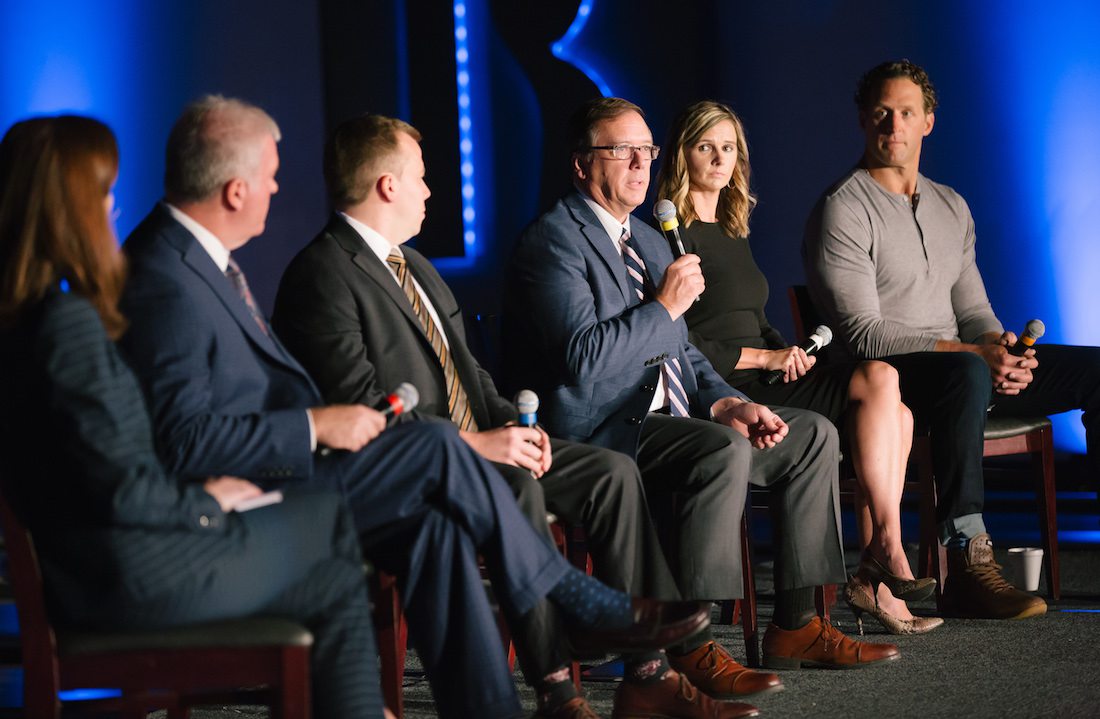 Missouri's medical marijuana law poses a lot more unknowns than certainties. Many questions are rooted in the banking, legal, drug testing and small business industries—much more than we could include in our most recent feature, which is why we dedicated this morning's installment of B-School to tackling some of these grey areas. This morning, we talked to Shaun Burke, president and CEO of Guaranty Bank; Nate Dunville, associate at Neale & Newman LLP; Lyndall Fraker, director of medical marijuana at the Missouri Department of Health and Senior Services; Angela Garrison, president of Tomo Drug Testing; and Grant Wistrom of Revival 98 and former NFL player. 
Steps to Take Right Now
Here are some key actionable steps we got from the panel:
Shaun Burke: Voice your opinions about the current status of the industry's banking issues to lawmakers.
Nate Dunville: Reevaluate your company's drug policies and job descriptions to accommodate someone with a medical marijuana card.
Lyndall Fraker: Work together. Medical marijauana's legalization was a citizen-led initiative, and now, everyone is working together to get the industry on its feet. If someone is doing something wrong, point it out and speak up.
Angela Garrison: Safety should be a topmost concern. Keep drug testing employees but update company policies sooner rather than later.
Grant Wistrom: For those looking to get involved in the industry, culture is everything. Find potential employees that are in it for the right reasons and have a heart to serve patients. 
Creating Missouri's Medical Marijuana Industry 
We started with Lyndall Fraker, director of medical marijuana at the Missouri Department of Health and Senior Services (DHSS). Fraker gave us a breakdown of how scoring hopeful applications works. So far, DHSS has received over 2,200 applications for 348 available licenses. Fraker said when he and his team developed the scoring method, their goal was to be fair and transparent. The process includes scoring in 10 different categories, and a blind third party ranks the applicants. He and his 10-person team are currently sifting through 220,000 documents as the December 31 deadline nears, which is when hopeful applicants are notified if they received a license. Of those 348 available licenses, 10 are set aside for testing centers. Currently, there are 17 applications out for these 10 spots, one of which is from Springfield. Fraker said there is no regional factor when scoring these centers, meaning all 10 centers could potentially end up in one region, depending on how the blind third party ranks the current applications. The economic impact of these centers is vast—Fraker said these centers provide well-paying jobs and that their business is longstanding due to dispensaries, manufacturers and cultivators. 
For those looking to get involved in the industry, Fraker said it's not too late. Though it might not be soon, future applicants will get a chance to receive a license if a license is taken away from someone else. Fraker said there might be a chance for a second wave of applicants, depending on how the allotted 348 licenses perform, but for now, nothing is in the works. 
Dabbling in the Industry 
Grant Wistrom's involvement in the medical marijuana industry started organically. When a former teammate approached Wistrom about starting a business, it planted a seed. Since then, he's worked on opening a vertical integration company with new partners. If his license is granted, the company will include a dispensary, cultivating facility and manufacturing facility. One of his hurdles was finding a quality cultivator who would stick with him through the long-haul. Through his own connections, he now works with a cultivator based in Colorado who believes it's his mission to "tend to the plant."
Through Wistrom's business plan and forecasting, he predicts that, once Revival 98 is up and running, he will employ 62 full-time employees and 54 part-time employees. He said he believes the company will "create 52 indirect jobs through landscapers, HVAC, any sort of specialty occupation" and that the company will produce "29 induced jobs through employee spending in the community." On top of that, Wistrom anticipates to have a $9.2 million dollar impact in the Greene County community by the end of 2020. 
But What About Banking? 
There is still no answer. Shaun Burke, president and CEO of Guaranty Bank and former chair of the Missouri Bankers Association, says that since medical marijuana is still considered a Schedule 1 drug under the Controlled Substances Act, it signals money laundering. Burke says there are two ways to get these banking issues to go away: make marijuana legal or change the banking laws. In September, the House passed the Safe Banking Act, which could alleviate this problem for banks. But until the Senate approves the act, banks are left with their hands tied. 
Burke says that besides that, deciding what a marijuana-related business (MRB) is complicated and that, sometimes, banks find a way around these laws. For example, banks are charged with creating policies for how they bank ancillary industries associated with the wider industry, such as commercial real estate owned by a landlord. 
Currently, Burke says there are about 400 banks out of 6,000 in the country that are knowingly serving the marijuana-related business. "Anytime you have that limited access, it's going to cost," Burke says. "You hear stories of it costing $10,000 just to open the account and $5,000 a month just to have the account to make deposits. That's not the right model." Burke says reaching out to lawmakers and voicing your opinions are steps the business community can take today to help solve the problem.
An Employee Tests Positive. Now What? 
Nate Dunville, associate at Neale & Newman LLP, advised the audience to evaluate their current drug policies and drug descriptions sooner rather than later. Dunville said companies can label positions safety-sensitive, but suggested companies shouldn't use that label for every position. He used the following example to explain why: If an employee's job is to enter data, and they are fired for using medical marijuana because of a safety-sensitive clause, a judge in court most likely will not rule in the employer's favor. 
The other obstacle is what kind of protections there are for both employers and employees. Since medical marijuana is still considered a Schedule 1 drug under the Controlled Substance Act, the Americans with Disabilities Act does not protect those who use it. In addition, Amendment 2's wording about being under the influence is largely left up to interpretation.
"The amendment itself only provides protection for employers for being under the influence on the job," Dunville says. "It leaves somewhat vague the question of marijuana use for employees when they aren't on the job. Is that still considered being under the influence? That's one of the things we have to see play out in courts."
What Do I Need to Know About Drug Testing? 
Drug testing for marijuana is not changing, says Angela Garrison, president of Tomo Drug Testing. Garrison says that for other drugs, like the opioid hydrocodone, a medical review officer would receive a positive test and interview the employee and his or her physician. If the employee is taking the opioid for a valid reason, the medical review examiner voids the positive test. 
However, since medical marijauna is still a Schedule 1 drug, a positive test will not be sent to a medical review officer. Garrison says part of the problem is that the current tests available are accurate, just not timely, and that there are no indications of impairment. Therefore, when drug testing centers like Tomo test employees, they are testing for past use. The only thing Tomo can do is make a note of whether or not an employee with a positive test has a medical marijauana card. It's then up to the employer to decide what to do with that information. 
During the discussion, Garrison implied that choosing to not be involved isn't an answer. Lyndall Fraker pointed out that 15,000 people have applied for a medical marijuana card, and with the state of Missouri's current 3.2 percent unemployment rate, businesses need the people. Garrison said that when, not if, someone shows up with a medical marijuana card and tests positive, an employer must have clear policies as a guide for the next steps to take.
Save the Date for our next B-School Breakfast Series: December 12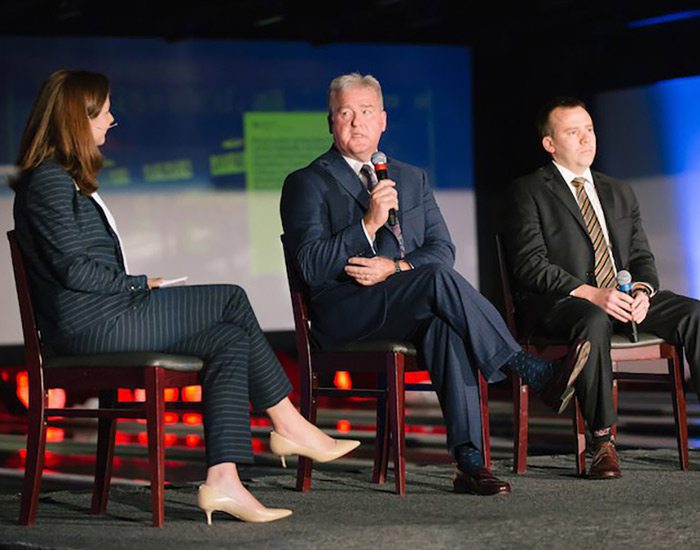 Photos by Brad Zweerink
Shaun Burke, president and CEO of Guaranty Bank and former chair of the Missouri Bankers Association, explains why the banking industry isn't able to work with marijuana-related businesses.
Purchase Photo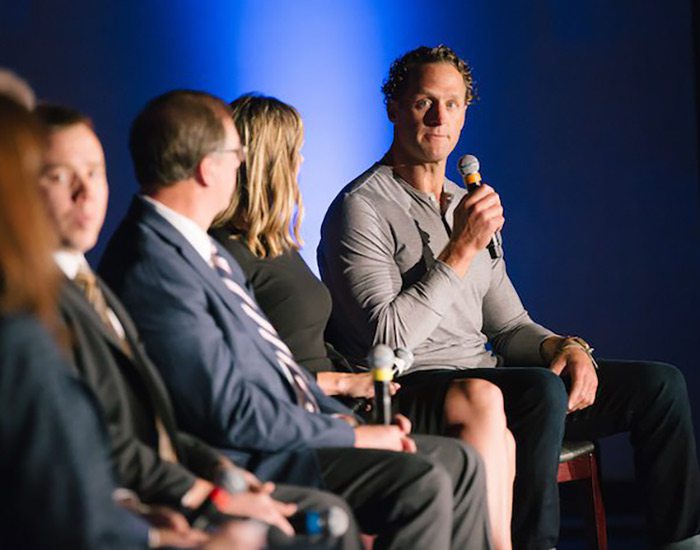 Photos by Brad Zweerink
Grant Wistrom, former NFL player, hopes to get his vertical integration company, Revival 98, off the ground if he is awarded his three licenses: one for manufacturing, one for cultivating and one for a dispensary.
Purchase Photo