Leadership
What You Missed From Biz 417's Diversifying Our Region B-School
Christa Moss, Doug Neff, Bill Nelson and Brandon Taylor share their thoughts about diversity in Southwest Missouri's businesses
By Megan Dollar
Oct 08 2020 at 4 p.m.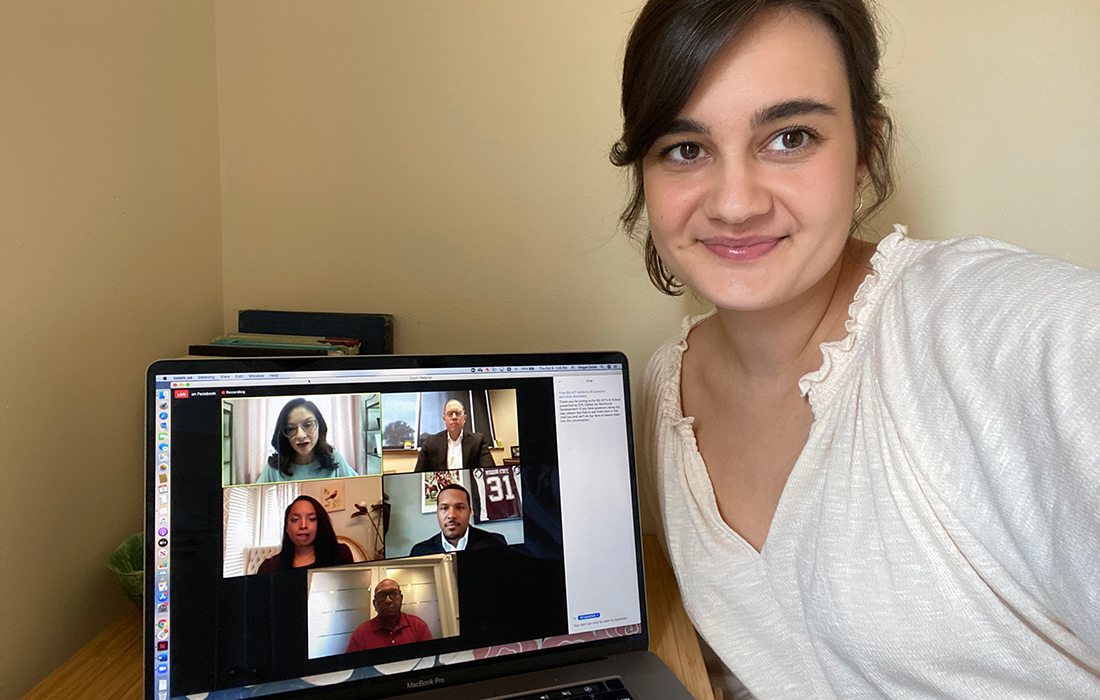 Biz 417's fourth virtual B-School, presented by OTC Center for Workforce Development, took place on October 3 and featured a panel of 417-land business leaders guiding the region toward a more inclusive future. Christa Moss, assistant United States attorney for the Western District of Missouri U.S. Attorney's Office; Doug Neff, southwest region CEO and chairman at Commerce Bank; Bill Nelson, owner and founder of Springfield Driving School; and Brandon Taylor, senior business process analyst at Jack Henry & Associates were all voices featured in Biz 417's Sept./Oct. cover story, "The Case for Diversity in Southwest Missouri's Workforce." They came together for one hour Thursday afternoon to share personal insight and strategies to help 417-land businesses build a more diverse workforce.
Building a pipeline
Brandon Taylor, senior business process analyst at Jack Henry, is originally from St. Louis, where he grew up in a predominantly Black community. He decided to stay in Springfield after graduating from Missouri State University and completing an internship at Jack Henry & Associates. But, until he had that positive internship experience with the company that has employed him since, he was determined to get back to St. Louis.
"If I had gone into these career days… and seen more diverse people representing the organization, it may have caused me to think twice about leaving Springfield as quickly as I could." Taylor says. 
When Bill Nelson, owner and founder of Springfield Driving School, first moved to Springfield from his hometown of Jefferson City, he was taken aback by the lack of diversity, just when he would walk into a place like his bank. "I would assume with as many colleges and universities that we have here, there would be opportunities for mentorship programs, for ways to reach out and bring people in that are not are just like all the rest of us. Someone that's a little different."
Mentorship programs are exactly what Christa Moss, assistant United States attorney for the United States Attorney's Office in the Western district of Missouri, thinks businesses should push for and invest in. "Our colleges have such a great potential for a pipeline here, so we really need focus on recruitment efforts of those individuals," Moss says. "But I think that really even starts even younger at the local level. "Moss pushed for community involvement in mentorship programs such as Big Brothers Big Sisters of the Ozarks, the Boys and Girls Club of Springfield. 
"When they see that other people from the community are contributing to and volunteering and pushing these efforts along, they're incentivized to stay here and give back."
Creating Community
"I see other business struggling to have more diversity and inclusion and sometimes they're successful and sometimes not," Nelson says. "Sometimes the reason they're not is because they keep doing the same thing and expecting to get a different result. Sometimes you have to look outside the box and think outside of the box for ways that we can improve."
Both Commerce Bank and Jack Henry & Associates have developed strategies to step outside of the box and forge new paths within their workplaces, the foundation of which is community.
"A sense of belonging is incredibly important for an organization to be strong." Doug Neff, southwest region CEO and chairman at Commerce Bank, says.  About five years ago, Neff says, his company started a system of Employee Resource Groups or, as he calls them, Employee Relationship Groups. There are four: Rise, a group for women; Emerge, a group for young professionals; Vibe, a group for "multicultural" employees; and Pride, a group for LGBTQIA+ employees. Neff explains that Commerce likes to survey their employees to check-in on work culture and values. "These [groups] have really improved scores around longevity at the company, inclusion and diversity, a feeling of belonging."
Jack Henry and Associates has a similar system, they call theirs Business Innovation Groups. Taylor is the president of the group "Mosaic of People," which is one of five groups. "It's a microcosm of what we want Jack Henry to be: everyone working alongside one another using our differences." Taylor says. "Our power is in the differences we all share and the uniqueness we bring to the table… On top of that it's a place where people feel appreciated and wanted."
On Listening: Respect opinion, accept perspective
"When I think about work or personal life, one of the things I think is super important is to listen and to learn. When you're in a conversation, one of the more important things you can do is just to listen and learn." Neff said. 
An educational conversation to have is about perspective, Taylor says. "Anyone can give opinion, but my perspective is much more in tune with my background, my experiences, what I've been through... I speak from an educated point of view because I lived it."  He believes understanding this difference can make or break many conversations needed to advance diversity and inclusion in the workplace.
Moss reminded viewers that it's important to understand the many different types of diversity and how they may influence perspective. "Diversity is all-encompassing. It's important for us to discuss things about sex, orientation, ability, mindset, background, culture and experience, socioeconomic status. All of these types of traits are what make a workplace vibrant," she says.
You can watch the video on the Biz 417 Facebook page.