Small to Mid-Sized
The Perks of Working on C-Street
There's a reason why Springfield's historic Commercial Street is enjoying a recent boom in development. In fact there are several reasons. From bike shops and restaurant moguls to interior designers, business owners are heading north to C-Street.
By Ettie Berneking
Jun 14 2018 at 3:56 p.m.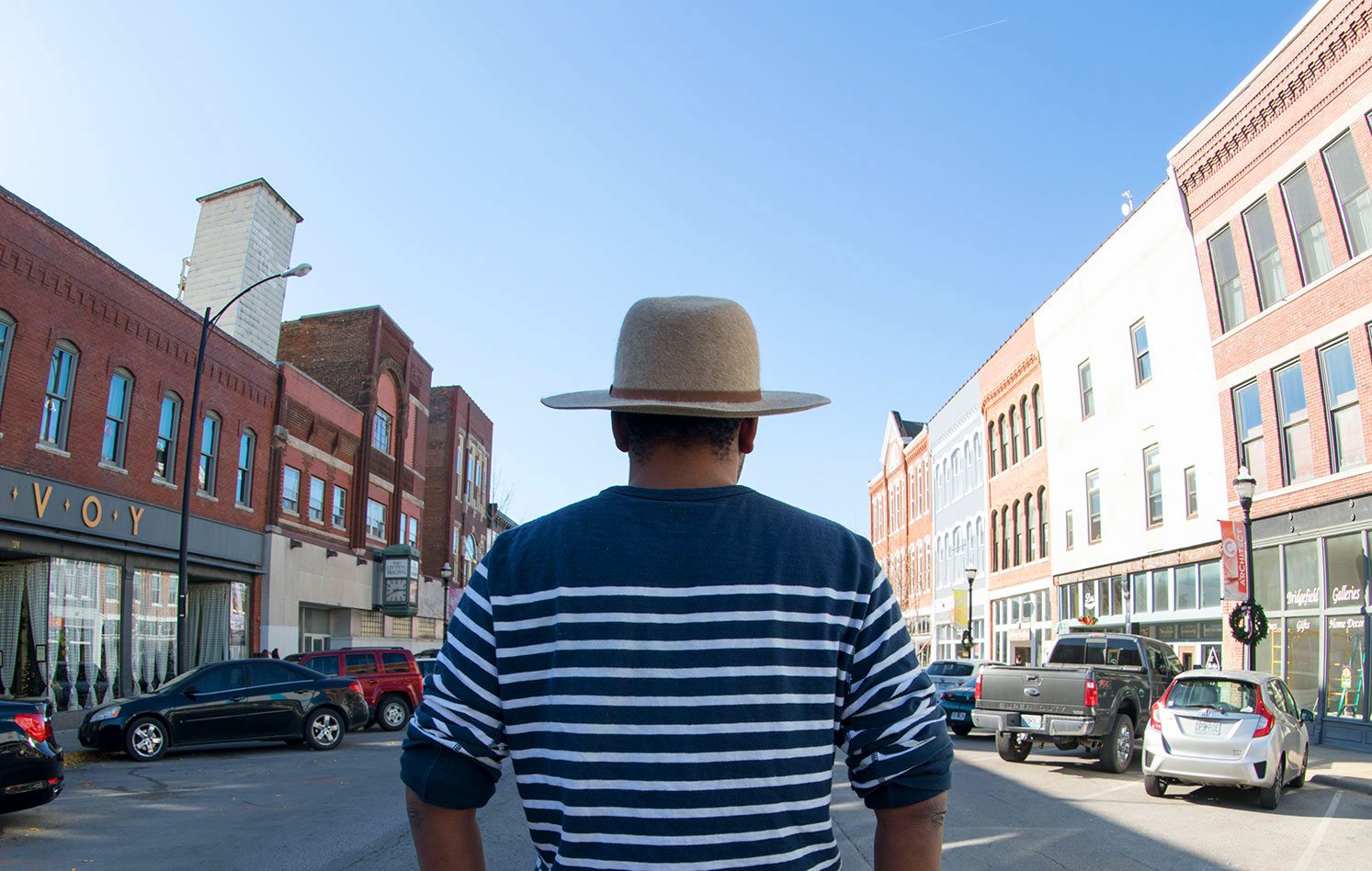 It's finally happening. Springfield's long-neglected historic Commercial Street is basking in the luminous glow of redevelopment and business growth. For years, C-Street was largely ignored by Springfield's thriving business community. Entrepreneurs looking to set up shop headed south or moved downtown. C-Street was considered too dangerous, too far north, too unpopulated. But that is changing, and for good reason. Slowly but surely, C-Street has attracted new restaurants, retailers and businesses. The price is right, space is available and the buildings offer more than ample square footage. Brimming with historic charm, culture and architectural appeal, office space along C-Street often rewards its occupants with more than they bargained for.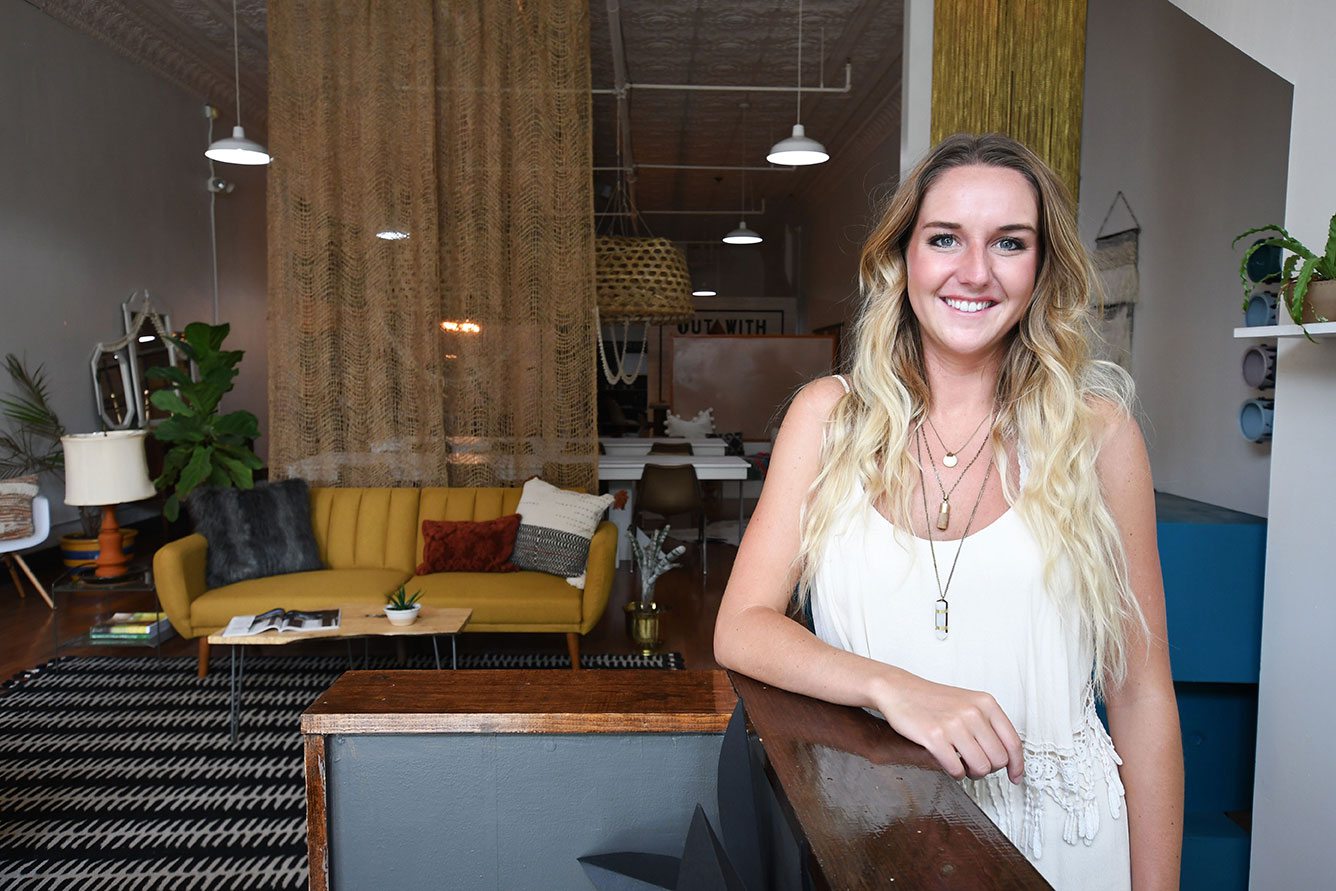 Business Collaboration

Refine Studios
219 E. Commercial Street
It's that age old cliche. Location, location, location! But when Charity Evans moved her interior design business, Refine Studios, into its new home on C-Street, the location was less than desirable at the time. "People saw the area as kind of dangerous and run down," Evans says. What they didn't see was C-Street's untapped potential and unscathed historic buildings. But that's what drew Evans to Commercial Street and into the the two-story brick building she moved into. To create a blank canvas that would showcase her flare for design, Evans left the exposed brick untouched and painted the walls a bright white, which let the building's original tin ceiling pop. 

"It's critical to develop your identity as a company and let your space help tell that story," says Grooms account executive Victoria Gorham. "Imagine allowing employees and customers to get a feel for your culture as soon as they walk into your space. That's exactly what your furniture and decor help convey." 

For Evans, her story is all about culture, and she wanted a building that reflected that. "Even the street itself provides that," she says. As C-Street's business community has grown, Evans has benefited. The real estate investors who bought the building she leases converted the upstairs lofts into Airbnb rentals. When it was time to decorate, they hired Evans and enlisted her help managing the properties. She's also teamed up with the owners of the Savoy Ballroom. When they host weddings, they direct the bridal party to Evan's storefront, which she rents out as an event space for gatherings like bridal showers. "There's a lot of opportunities for businesses to collaborate," she says. "Everyone roots for each other because we all want the street as a whole to succeed."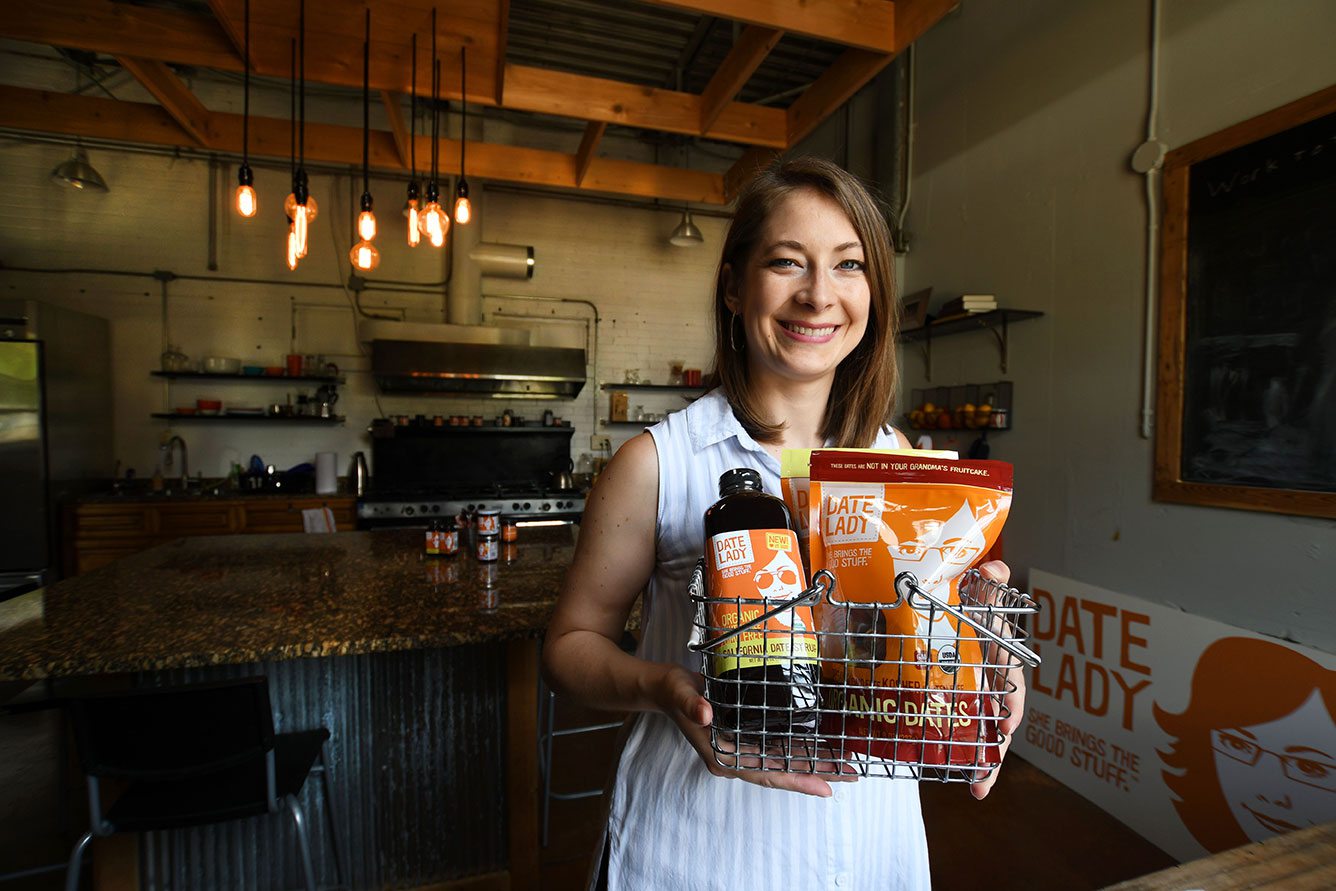 Room To Grow
Date Lady Inc.
900 W. Commercial Street

For those who followed the rise of Date Lady from a local Springfield startup to a player in the national food scene, it's hard to imagine this success story didn't start on C-Street. But back when founder Colleen Sundlie was looking for a space to process and package her organic dates and date syrups, she built a processing kitchen in a warehouse off of Battlefield. 

Two years later, Date Lady had outgrown its space, and Sundlie moved operations into an old ice cream processing building on C-Street. Along with the possibility of office space, the building came equipped with a walk-in cooler and a cold room. "It's insulated with cork, which you almost never see anymore," Sundlie says. "It's been there since the late '40s, and we couldn't have asked for anything better to insulate our products." 

Besides the dreamy walk-in, the building came with a food processing room and an employee kitchen that now doubles as a photo studio for product shots. It's even where the Date Lady team makes all its fruit cakes during the holiday season. Sundlie's purchase of the building even included the attached empty lot and a residential building nearby. So if  Date Lady needs to expand again, there's plenty of leg room.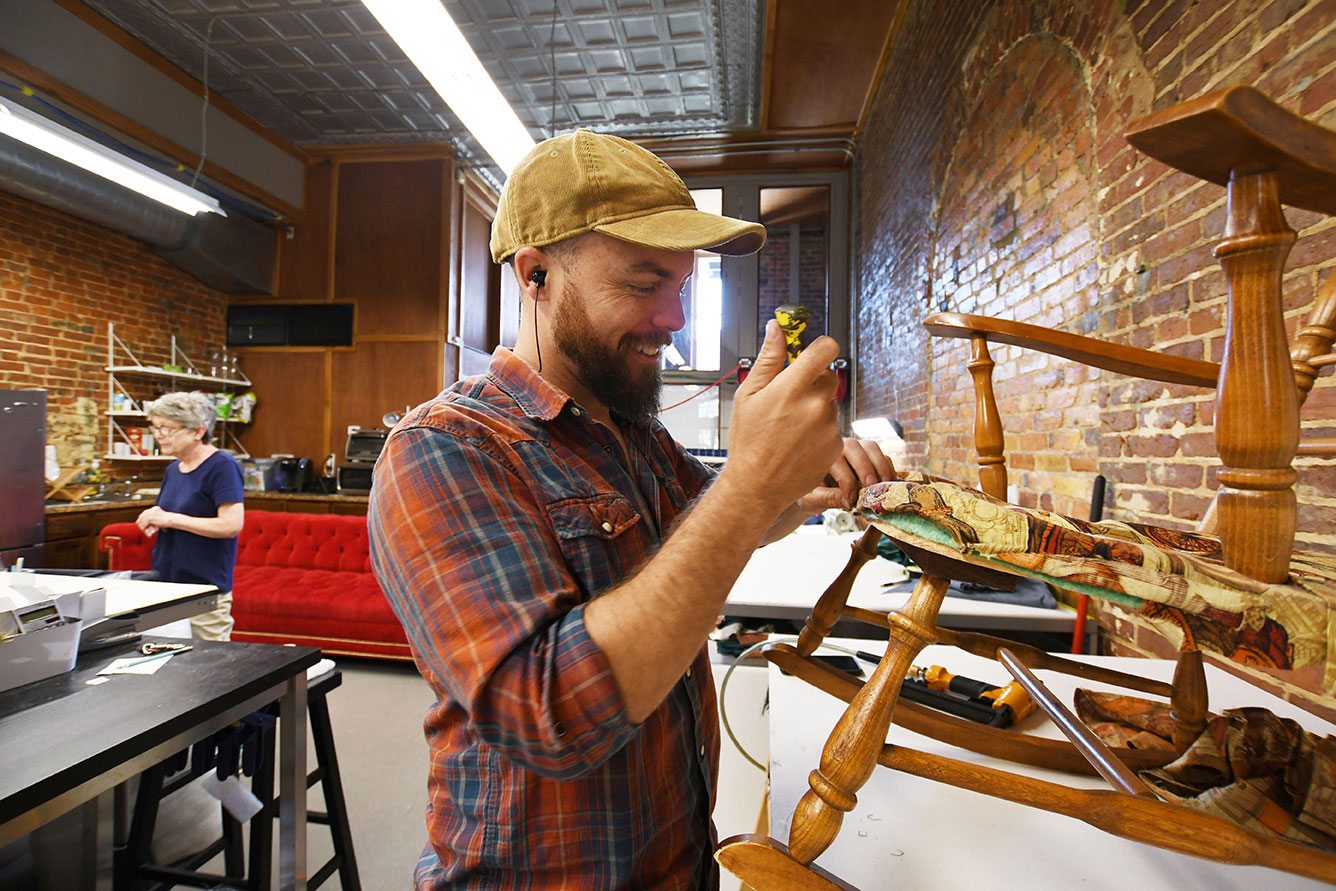 Meeting Business Demands
Bridge Upholstery & Drapery
202 E. Commercial Street

Before moving into their spacious C-Street store, Robbyn Bybee and Manda Brandt were getting Bridge Upholstery & Drapery off the ground while underground. The price for a basement office in downtown Springfield was right, but quarters were cramped, and the basement location meant hauling heavy furniture up and down steps. 

Then they found a vacant accounting office on C-Street, and it was a perfect match. "We fell in love with it," Brandt says. "It has a back entrance, so we can bring furniture right into the workroom, and the front half can be used for client meetings." The space also has vaulted ceilings, which means Bybee and Brandt can easily flip and turn furniture as needed. 

But the real boon for business has been the street itself. The artistic community and atmosphere fuels and melds with Bybee and Brandt's own creative vision. "Creativity in your work place, no matter your industry, helps share some of your personality with your patrons," Gorham says. "It opens the door for connections that can create loyalty and friendships for lasting business." Even the neighbors have been good for business. The woodworker next door can help restore client furniture, and Refine Studios sends interior design clients to Bridge Upholstery. "We weren't expecting that," Brandt says. "But businesses that truly help us are right next door."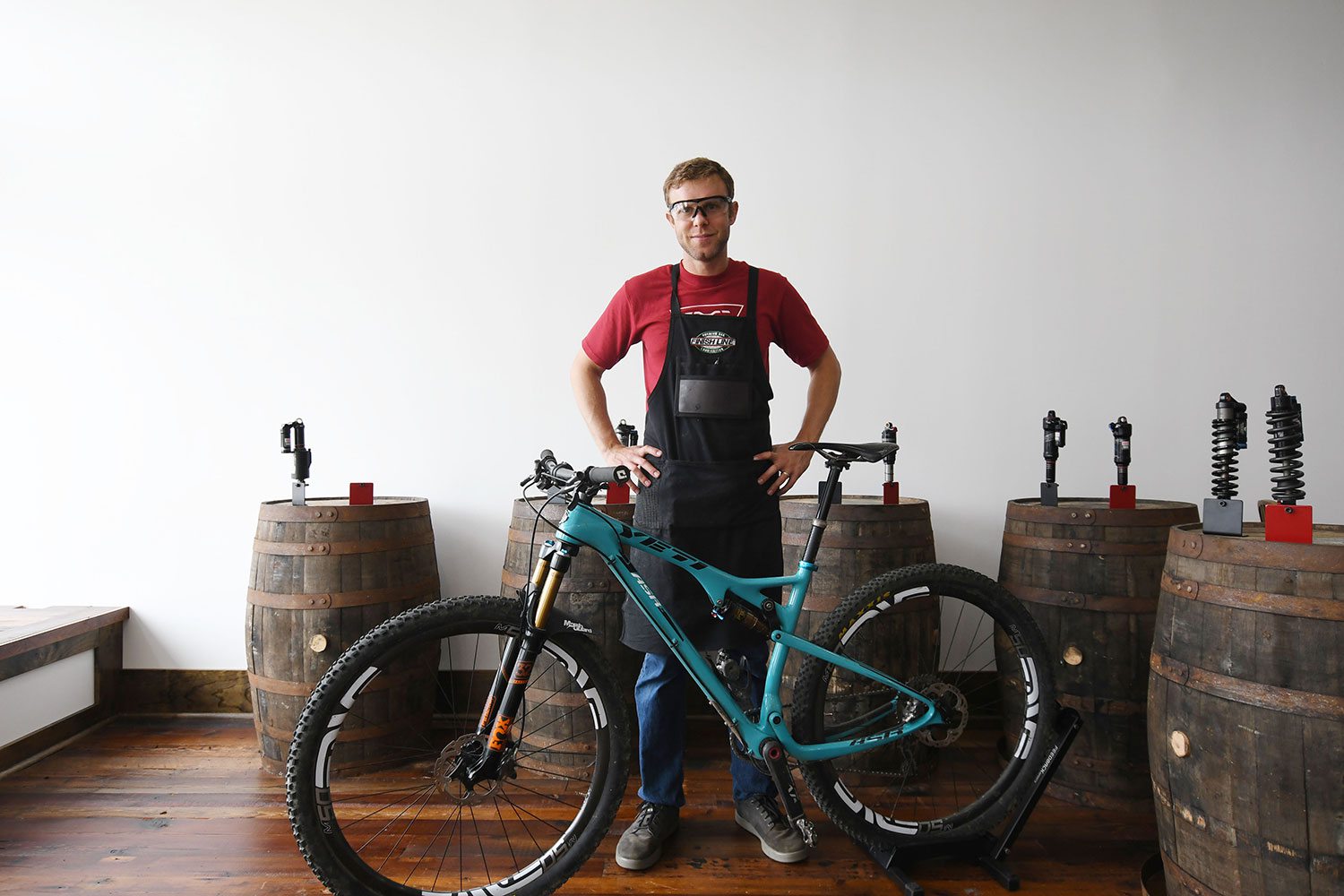 Improved Work Environment
Trail Labs
422 W. Commercial Street

Unlike most retail businesses, Trail Labs owner William Angle isn't focused on bringing foot traffic into his store. "Seventy-five percent of my business arrives through mail," he says. Angle operates within a niche market. Trail Labs focuses on the service and sale of mountain bike suspension components. So when Angle and his wife moved back to Springfield and started looking for a retail and workshop space, he wasn't concerned about finding a heavily-trafficked area. Instead, he was focused on creating a welcoming and stimulating work environment. With a passion for restoring and rehabbing historic buildings, Angle tightened his search to downtown Springfield and C-Street. The retail space that captured his imagination was a cavernous, one-story brick building on the west side of Commercial Street. It was within walking distance to nearby lunch spots and coffee shops, and it was large enough to house a retail showroom, workshop and storage area. "In this industry, you often end up in a windowless garage," Angle says. "You can't see outside, and it's not conducive to good vibes and happy employees." But with the big front windows, Angle's new shop is a much better atmosphere. More than a year after opening, Angle is seeing walk-in traffic increase as cyclists and shoppers wander down the block. He might not have been focused on foot traffic, but his new office is now in a pedestrian-friendly destination.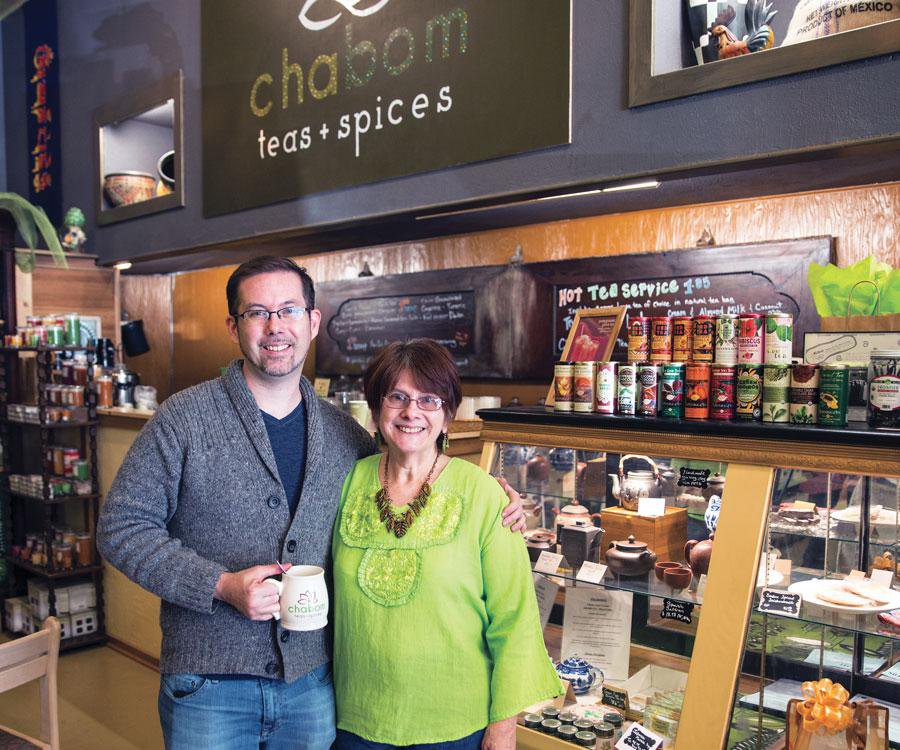 Untapped Potential
Cafe Cusco
234 E. Commercial Street

There's a common thread linking most business owners on C-Street. They often faced skepticism about opening on Springfield's north side. But Joe Gidman, co-owner of Cafe Cusco, Chabom Teas + Spices and the recently opened Van Gogh's Eeterie, was actually encouraged to make C-Street home. Greg Johnson at Great Southern Bank was part of C-Street's commercial improvement district, and he recommended Gidman and his mom and business partner, Claire, check out the available real estate. At the time, the Gidmans were eyeing property on the south side of town, but so was everyone else. "It left a market on the northside that was untapped," Gidman says. After the Gidmans toured a two-story historic building now home to their first restaurant—Cafe Cusco—they started considering the perks of the location including its proximity to Highway 44, industrial parks and the government center off of Chestnut Expressway. But to make sure the C-Street crowd had money to spend on dining out, the Gidmans camped out at Big Momma's coffee shop and counted the number of Apple products. It might sound non-traditional, but their method worked. "We were watching this steady flow of college kids and professionals coming in," Gidman says. "That showed us that there was a demographic that had money to spend." Six years later, the Gidmans move north has payed off. The duo just opened their third business on C-Street—Van Gogh's Eeterie— and doesn't seem to be slowing down anytime soon. 
---
About Grooms Office Environments: For 40 years, Grooms Office Environments has provided commercial interior design services including space planning, project and move management, healthcare and systems furniture as a full-service Herman Miller dealership. Whether you need to furnish a single office, a new building or even a single workout space, Grooms' expertise can work for you. Grooms clients include Jack Henry, Prime Trucking, Bass Pro Shops and CoxHealth Network.