Strategy
5 Big Thoughts We Had at Think Summit 2018
For the second year in a row, Mother Nature tried her best to thwart Think Summit, but thinking this big can't be stopped.
By Adrienne Donica
Jan 12 2018 at 9:05 a.m.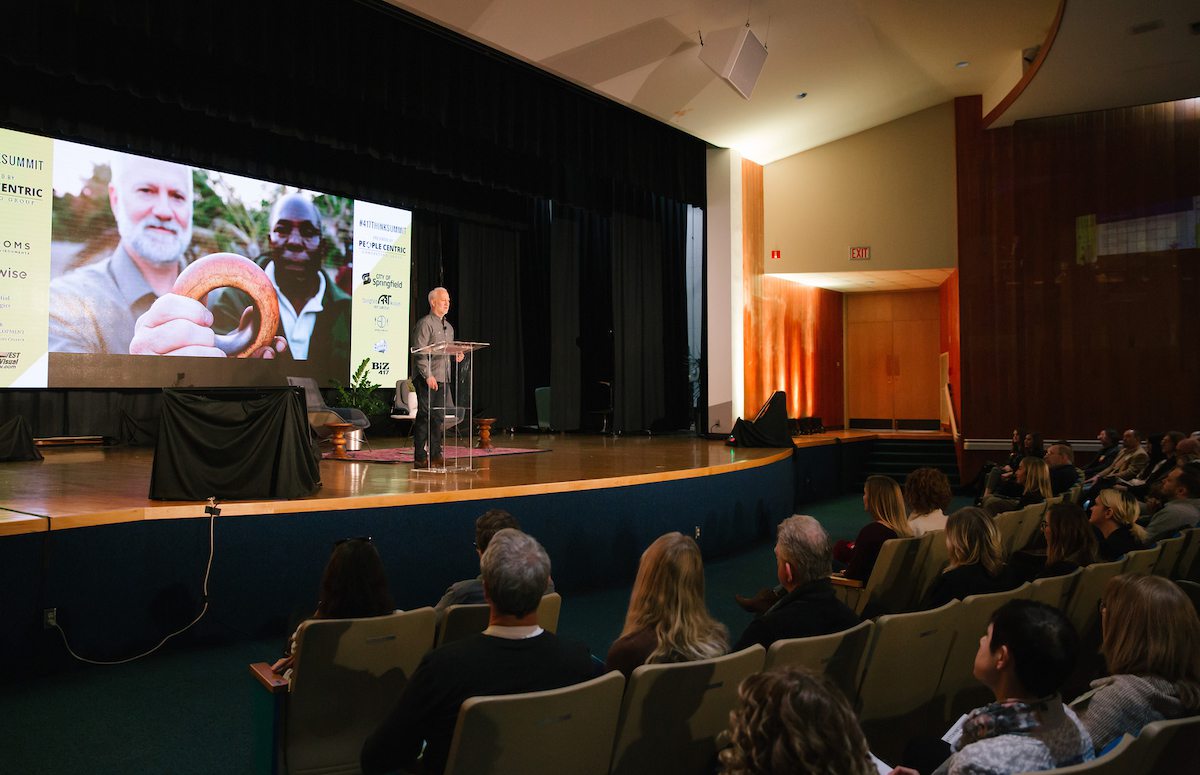 Our second annual Think Summit on January 12 at the Springfield Art Museum packed a lot into one day. Things got personal like when Southwest Baptist University student Evan Kirksey shared his journey as someone living with—and refusing to be defined by—cerebral palsy. Things got a little risqué like when Mike Kromrey, executive director of the Watershed Committee of the Ozarks, told this joke on stage. And, of course, there was no shortage of lessons to be learned from the day's 23 speakers. Here are our favorites.
1. There is an insane amount of musical talent in 417-land.
Not one, not two, but three presentations included live musical performances. Mile Zero's Craig Wescott and Tom Gass performed two songs during Bruce Nasby's talk about communication and leadership. Then, the Reed Academy Choir, one of the top choirs in the nation, surprised us with three pieces. And the day ended with presenters Lyle Foster and Larnelle Foster singing a cappella to civil rights song "Ain't Nobody Gonna Turn Me Around."
2. Create new connections, not new things.
Several speakers discussed the importance of making connections rather than building something new. Members from the Millennial Swat Team who spoke at Think Summit said the community needs to speak with a unified voice about Springfield, a practice they saw other booming cities use to great benefit. Speaker Francine Pratt is helping to end poverty and encourage prosperity through Prosper Springfield, an initiative focused on bridging the gaps between various business, organizations and people. And Mike Kromrey and Ozark Greenways Inc. Executive Director Mary Kromery discussed the importance and interconnectedness between 417-land's waterways and trail systems in their joint presentation.
3. Spend time working on your office culture or else.
A recent Gallup poll found that nearly 51 percent of employees are not engaged at work. Don Harkey, chief innovation officer of People Centric Consulting Group, shared that shocking stat during his talk. Coupled with low unemployment rates and a pickier candidate pool, Harkey urged the audience to improve and leverage their office cultures and reminded everyone that employees leave their managers not their jobs. Not sure how to start improving? Motivational Coach LaDonna Grenier of LG Consulting & Training LLC told the crowd that saying thank you is a good place to start.
4. Thinking big can mean thinking small.
Shawn Askinosie, founder and CEO of Askinosie Chocolate, introduced the audience to the idea of reserve scale during his keynote speech. The chocolatier has found that focusing on being better at being small has allowed him to experience rewarding opportunities and build lasting relationships that he wouldn't be able to if his business were larger. 
5. Or it really can mean thinking big.
Of course, there's nothing wrong with going after something ambitious like when Lyle Foster, CEO of Big Momma's Coffee and Espresso Bar, and Larnelle Foster, owner of Q Enoteca, decided to revitalize Commercial Street by building their businesses there. Lyle advised audience members to ignore big stealers, the people or things that distract and discourage you, and to hold on to big keepers, the people and things that sustain your dreams. "Be big enough to help," he says. "Be big enough to be humble. Be big enough to make the world a better place."
What was your favorite part of Think Summit? Tell us using the hashtag #417ThinkSummit on Facebook, Twitter or Instagram. View photos from the event here.