Women Who Mean Business
Audrey Garard is a Woman Who Means Business
Audrey Garard, one of Biz 417's Women Who Mean Business for 2023, is the owner of Grooms Office Environments.
By Jennifer Swenson | Photographed by Brandon Alms | Art Directed by Sarah Patton
Mar 2023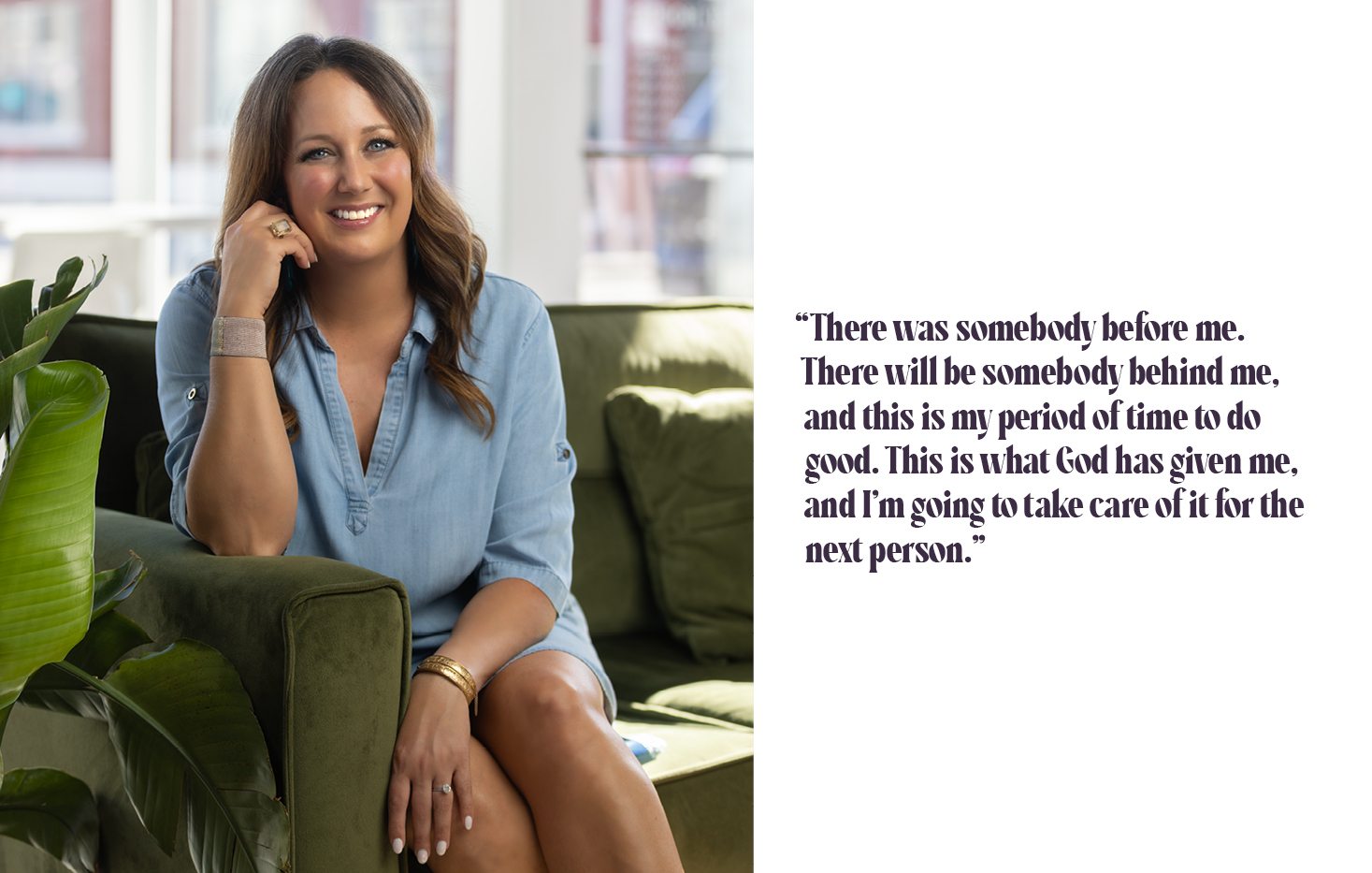 Seventeen years ago, when Audrey Garard responded to a Monster.com listing for a sales rep, she didn't know where it would lead. Just two years earlier, she had graduated from Missouri State University with a marketing degree, and she was looking for a new opportunity. After a series of interviews, Grooms Office Environments hired her into its sales team. "I was a hustler, even at 22," she says. "I worked hard and invested a lot of time in meeting people and making connections."
Garard helped the business expand to new industries and diversify its offerings, which became particularly important during the economic downturn of 2008. "We had to figure out how to stay alive," she says. "In addition to selling furniture, we found other streams for revenue." For example, the company began handling the purchase and installation of flooring for its clients. Garard was promoted to management and leadership positions, and in 2015, she and her husband, Jonathan, purchased the company from founder Olin Grooms.
Since then, Grooms has grown exponentially. "It's been very organic," she says. "We have a lot of amazing, talented people who work hard and have the same 'can-do' attitude." Garard gives her employees and designers the freedom to pursue creative ideas and to think outside the box, and she encourages their continued professional growth. "Whatever they want to do, such as a continuing education class or a design certification, I'll pay for it," she says. "We treat our people so well that they don't want to leave."
The same goes for Grooms' clients. "I love solving problems!" Garard says. "When a client walks in and doesn't know how to fix an issue, we've got it covered. If it's something we haven't done before, we figure it out." 
Since the pandemic and the increasing shift to remote or hybrid work processes, Grooms has had plenty of opportunities to help its clients solve complex workplace equations. For companies that want to encourage and welcome in-office employee gatherings, the physical environment is more important than ever. "Office environments are part of enticing and retaining employees," Garard says. "Anything we can do to make a company's job easier is well received."
Above all, Garard is grateful for the opportunities that have come to her, including her volunteer work at Safe to Sleep and her service on the boards of FosterAdopt Connect and Foundation for Springfield Public Schools. "I am a caretaker," she says, and this way of thinking extends to how she views her business and her community. "There was somebody before me. There will be somebody behind me, and this is my period of time to do good. This is what God has given me, and I'm going to take care of it for the next person."
Favorite Pastime
Gardening and hosting Airbnbs
Favorite Way to Bust Stress
Boating at Table Rock Lake
Top Tip for Self-Care
"Do the preventative screenings!"
Dream Vacation
A return trip to South Africa
Secret Superpower
"I'm flexible. I don't let anything ruffle my feathers."