Women Who Mean Business
Andi Hilburn-Vaini is a Woman Who Means Business
Andi Hilburn-Vaini, one of the Biz 417 Women Who Mean Business for 2023, is the owner/operator of 28 McDonald's restaurants.
By Jennifer Swenson | Photographed by Brandon Alms | Art Directed by Sarah Patton
Mar 2023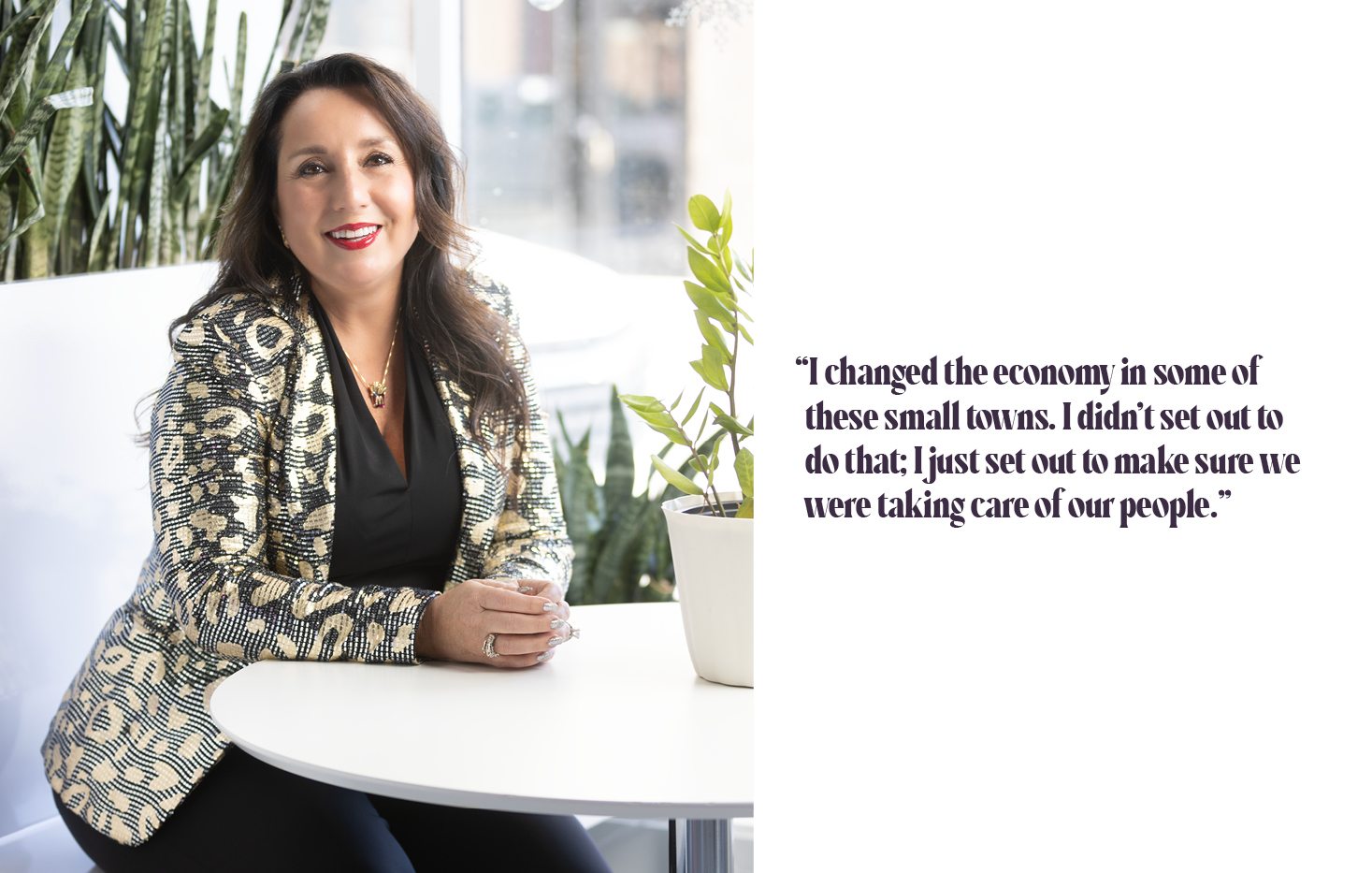 For Andi Hilburn-Vaini, community is everything. As the owner/operator of 28 McDonald's restaurants across southern [south central to southeastern] Missouri and northern Arkansas, Hilburn-Vaini is passionate about individual growth and opportunity. As she weighs each business decision, she thinks of the people and places the decision will serve.
In 2020, when the COVID-19 pandemic affected families throughout the United States, Hilburn-Vaini gathered her leadership team. "We asked ourselves, what do people need, and what do we need to do to meet that need?" Hilburn-Vaini raised the starting wage of her employees to $14 per hour, significantly higher than Missouri's minimum wage. She says the move was "shocking" to the small towns where her McDonald's are located, but soon, other businesses followed her lead. "Nurses, bank employees and factory workers got raises," she says. "I changed the economy in some of these small towns. I didn't set out to do that; I just set out to make sure we were taking care of our people."
When she was a college student at Drury University, Hilburn-Vaini didn't foresee her current path. "I studied criminology," she says. "I thought I'd go into law enforcement." Her plans began to shift when her father, an owner/operator of four McDonald's, died while she was in college. Hilburn-Vaini's mother underwent a rigorous approval process to assume ownership of his four locations. "My mom was taken care of by McDonald's Corporation," she says. "[Corporate representatives] came to West Plains to hold the hand of a newly widowed single mother."
After Hilburn-Vaini graduated from Drury, she told her mom she wanted to join the business. Her mom answered, "You're going to start as crew, not at the top." Hilburn-Vaini gradually worked into leadership roles, earning an MBA from Drury along the way. In 2010, she purchased her first restaurant. By 2020, she owned 14 locations. In May 2022, she added 14 more.
I cannot imagine working for and with another company that embraces diversity and inclusion as much as McDonald's does," Hilburn-Vaini says. "The corporation values women. They listen. They support learning. I would encourage any woman to pursue a career at McDonald's."
Hilburn-Vaini served on the executive board of the Women Operators Network, the national network for female operators of McDonald's. She's also mentored many women as they have progressed in their careers, with some becoming owners and operators themselves. "I try to give advancement opportunities from within," she says. "It is special to me that all of my managers, supervisors and directors of operations started as crew."
The impact of Hilburn-Vaini's work reaches beyond her employees. Her restaurants are a primary supporter of Ronald McDonald House Charities of the Ozarks, and she served in the West Plains Chamber of Commerce and is a member of the board at Community First Bank. "I'm from the small town of West Plains," Hilburn-Vaini says. "In a small town, you realize how you can give back to the community. Not everyone wants to leave their town to do something different, so if I can offer an opportunity for growth, then I'm successful."
Favorite Pastime
Cooking and baking
Favorite Way to Bust Stress
Relaxing at Norfork Lake in Arkansas
Top Tip for Self-Care
"Don't sweat the small stuff!"
Dream Vacation
Traveling to Italy with her husband, Marc—it's in the works for next year
Happy Place
At home with Marc and their two cats, Tigger and Diesel.