Women Who Mean Business
Michelle Billionis is a Woman Who Means Business
As the owner of two Springfield staples, The Coffee Ethic and Cherry Picker Package and Fare, Michelle Billionis is hard at work creating long-range plans to carry both companies into the future with an eco-friendly and community mindset.
By Jenna deJong | Art Direction by Danielle Giarratano | Photography by Brandon Alms
Mar 2021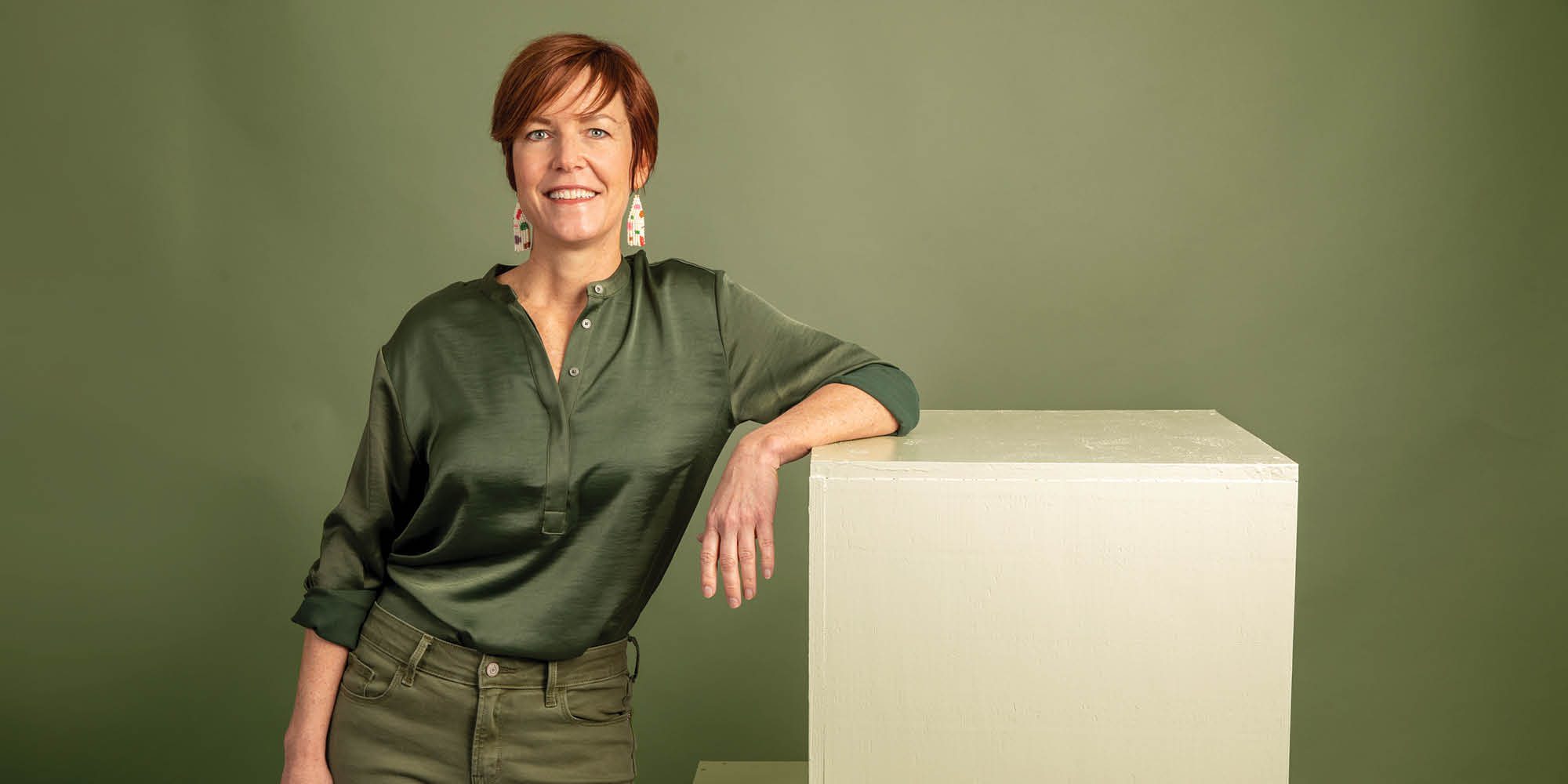 When Michelle Billionis was a little girl, she thought she'd be an artist when she grew up. As a child, she was fascinated by both art and sports, and she followed both passions into college. Today, the right-brained 49-year-old is still drawn to creating and collaborating with others, and it's this desire to create something beautiful that has led her to become the successful business owner of two Springfield eateries, The Coffee Ethic and Cherry Picker Package and Fare. But her story doesn't start with entrepreneurship. Instead, it starts in Powell, Wyoming. 
Right after Billionis and her husband, Tom, married, the two moved to Wyoming and spent 11 years working in sports ministry. She was teaching art and coaching basketball while he worked for the Fellowship of Christian Athletes (FCA). The couple moved to Boise, Idaho, for a year, then Tuscon, Arizona, for four years before deciding to move closer to family who were spread out throughout the Midwest. The couple knew of Springfield, but it was through family friends, Jim and Tina Hamilton, that they started taking a closer look at the city. They decided Springfield was the perfect incubator to execute Tom's interest in opening a coffee shop. At the time, Tom was intrigued by the concept of having a "third place," says Billionis. "Starbucks had introduced this concept of a third place where it's not your work, it's not your home, it's your community space," she says. "Your third place is where you get to meet friends and find out the latest news in town and communicate with your community. He really loved the idea of introducing new people."

With their three daughters in tow, the couple moved to Springfield and opened The Coffee Ethic in 2007 with Jim and Tina Hamilton as co-owners. At that time, downtown was still in its revitalization process, but nevertheless, the four decided to place their bets on what they thought would be a strategic location for the shop. "We knew that coffee would be successful here because Starbucks had already done the market research and were putting in shops," Billionis says. "We liked the idea and the feel of downtown." As soon as they heard the Park Central Library was opening next door, they seized their golden opportunity and never looked back. 
At the time, Billionis was excited to contribute her artistic skills through designing the shop. But things quickly changed. The Coffee Ethic opened just a few months before the 2008 financial crisis, so Billionis became less involved with the shop and began teaching art at the Phelps Center for Gifted Education to help support her family. A couple of years later, she joined KECO to produce the company's marketing materials. In the meantime, the downtown location served the team well. Tom met Josh Widner, who previously owned Scotch & Soda, when the bar was first opening. In 2015, Widner approached Tom with his concept for Cherry Picker Package and Fare. Michelle says Tom suggested adding a coffee shop to his concept and the two eventually became partners. Just one year later, Billionis' world changed, and so did the couple's businesses.
"... to Billionis, these obstacles are opportunities for growth."
On April 16, 2016, Billionis' husband, Tom, died at the age of 44. "It was like hell," Billionis says. "It was the worst thing I've ever been through." Tom suffered a massive heart attack called a "widow-maker" after completing a run and passed away shortly after. In the days and months following, Billionis says it was the outpouring of love and support from the coffee community, not only in Springfield but in St. Louis, Kansas City and Topeka, Kansas that got her and her family through. At first, the prospect of owning and running the shop was an intimidating feat. "I had no idea what the operations looked like," Billionis says. "I never even had a sneak peek into it because it wasn't really my forte. I'm an artist. I'm creative." But after evaluating what her life and the community would look like without The Coffee Ethic, Billionis changed her mind. Overnight, a business owner was born.

Though she still honors Tom's legacy, Billionis has worked in the five years since his death to make the coffee shop her own. She and her team immediately incorporated e-commerce into the business model. She enlisted the help of her brother-in-law to build a website. She increased the business's wholesale accounts. In January 2019, the shop installed a better water quality system, which also helps contribute to the company's eco-conscious reputation. Most recently, Billionis rewrote the business plan to fit her long-range plan. It also aligns better with her personality and passions. 
But that's not to say everything has been smooth sailing since 2016. In fact, just a couple months ago the coffee shop suffered a small fire. But to Billionis, these obstacles are opportunities for growth. What was going to be a two-year remodeling plan is now already in the works. Plus, she says the shop has plans to be a great local option that can compete with Starbucks. Though she's only a fifth year business owner, Billionis has proved what a savvy and resilient leader she can be. And she's just getting started.    
2021 VISION
Billionis is focused on fine-tuning The Coffee Ethic brand, raising the quality of its products and keeping both sustainability and convenience top-of-mind.
FAVORITE THING TO DO IN SOUTHWEST MISSOURI
Canoe or kayak
FAVORITE ITEM ON HER DESK/IN HER OFFICE

A homemade trophy her and her late husband, Tom, made together for a latte art competition they hosted at The Coffee Ethic.
HER WORK STYLE

Making lots of lists and working into the night. Though she's a coffee person, she's not a morning person.