Women Who Mean Business
Stephanie Lynch is a Woman Who Means Business
In college, Stephanie Lynch discovered the food science industry. She was instantly hooked and has spent her career helping major manufacturers identify and create healthy food ingredients.
By Adrienne Donica | Makeup by Emily Edgar using MAC Cosmetics | Shot on location at Glass Hall at Missouri State University
Mar 2019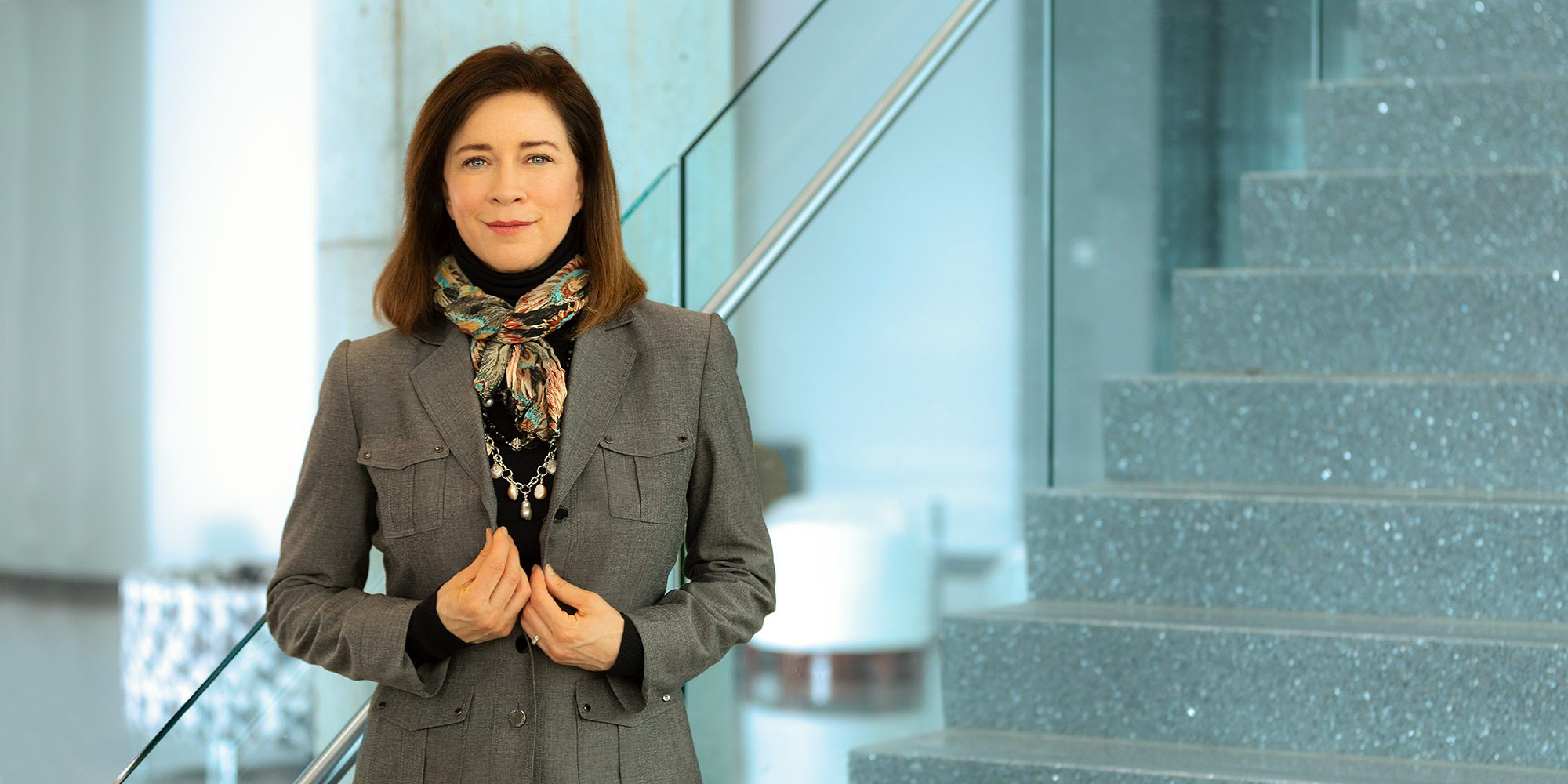 In true scientific fashion, Stephanie Lynch is always asking why, and she constantly sees opportunities. Can salad dressing be good for you? Could you make a nutritious product from chicken that tastes like chocolate cake? It's possible, the fresh-faced food scientist says. Her bright blue eyes narrow in focus every so often as she contemplates her next thought. "I never say things can't be done," Lynch says. "I always look at it and go, okay, maybe it hasn't been done yet, but, you know, we're gonna go over that wall. We just don't know how we're going to go over that wall yet." Her intense passion and relentless work ethic have driven Lynch to take on several high profile gigs, but as a college student, she had no idea the career that was ahead.
Health and nutrition have always been central to Lynch's life. Back in the 1960s, her mom was something of a forerunner, researching the benefits of vitamins and supplements that would keep the family healthy and allergy-free in their rural New Jersey town, long before such products gained popularity. "I just got very interested in that whole conversation: you are what you eat," Lynch says. "I really took that to heart, so I started studying biochemistry because I wanted to understand why." Then, one of her college roommates convinced Lynch to get an internship with Unilever in its Lipton division. That's when Lynch realized she could help create food that doesn't just taste good but is also good for you.
"I get inspired, and then I'm a driver. I'm going to try to enroll as many people in that vision as I can."
— Stephanie Lynch
After graduating, Lynch was hired on at Thomas J. Lipton Co., owned by Unilever, where her first role was researching the health benefits of green tea. She moved on to The Dow Chemical Co., which was just forming its food division. "It was a startup inside of a $50-billion company," says Lynch, who has a dry sense of humor. She began researching a dietary fiber that Dow had created and found it prevented the onset of metabolic syndrome in animal studies. Her work won her the company's top scientific achievement award. Lynch then entered the business development world and identified target customers and sales channel partners for Dow's dietary fiber food ingredients. Another promotion led Lynch to become Dow's global food market manager, a position she held for three years.
Her experience, especially at Dow, meant Lynch was poised to excel at International Dehydrated Foods Inc. In 2010, she started as the vice president of sales, markets and technology at IDF and two of its sister companies, some of the largest manufacturers of chicken- and egg-based products in the country. Lynch is one of two women on the leadership team and manages nearly 20 people. After joining the company, she was determined to discover the benefits of IDF's chicken broth and bullion products. Sure enough, Lynch's team has been successful, and the company has filed more than a dozen patents on new technologies in the past six years. 


FAST FACTS ABOUT STEPHANIE
HOMETOWN
Boonten Township, New Jersey
FAMILY
Married with one stepson and one grandson.
HOBBIES
Decorating, gardening, antiquing, playing pickleball and spending time with her friends and family.
CAREER BREAKTHROUGH
Taking an internship at Unilever and discovering the world of food science.
RESUMÉ HIGHLIGHTS
B.S. in food science from Rutgers University, eight years at Unilever, 15 years at The Dow Chemical Co., earned Dow's top scientific achievement award for identifying the health benefits of a dietary fiber.
HABIT WORTH STEALING
"When we go to work, we end up giving. It's important, I think, to do something for yourself first thing." For this morning person, that means starting the day with a green bone broth smoothie and, if there's time, playing fetch with her goldendoodle.
FAVORITE FAILURE
Dow launched a dietary fiber ingredient for fat replacement that was so successful the company ran out, causing frustration among the sales team and customers. "I learned a lot about how to work through tough situations and how important it is to have a communication team to provide constant updates so your efforts to solve a problem are visible."
This opened new doors for the traditionally B2B empire. "We are now selling and growing into the food nutrition, health and wellness markets," Lynch says. That's thanks to a pioneering product IDF launched in 2014: CHiKPRO. The chicken protein isolate powder was the first of its kind to come to market and the first product IDF marketed directly to consumers. The next year, the company released SIP Bone Broth Protein, a product enriched for collagen protein that has been picked up by a few supplement companies. CHiKPRO, SIP Bone Broth Protein and its associated products are becoming popular among paleo and ketogenic dieters and bodybuilders and have had a big impact on IDF's bottom line. In the past four years, sales grew by 50 percent.
"I get inspired, and then I'm a driver," Lynch says. "I'm going to try to enroll as many people in that vision as I can." Lynch can see IDF's potential to prosper in the consumer market because she knows its chicken protein products have widespread appeal. "They're natural," Lynch says. "They're in step with some of the biggest trends." And after 30-plus years in the business, Lynch knows food is like fashion. "Food kind of cycles around in a fashion just like bell bottoms and bad hairstyles," she says.
As Lynch works to further IDF's mission, she's also balancing a new workload. In January IDF and ADF were sold to German-based Symrise AG, a global supplier of flavors and fragrances. "I think it's a very good fit with this company and a good compliment with these two companies together." For now Lynch's role will stay mostly the same, with a few additional tasks. For Lynch, this new change is nothing but opportunity.