Women Who Mean Business
Amanda Kastler is a Woman Who Means Business
At 32, Amanda Kastler became the first female partner in Elliott, Robinson & Company LLP's 40-year history. Now, she's using her position of influence to develop others.
By Adrienne Donica | Makeup by Emily Edgar using MAC Cosmetics | Shot on location at Glass Hall at Missouri State University
Mar 2019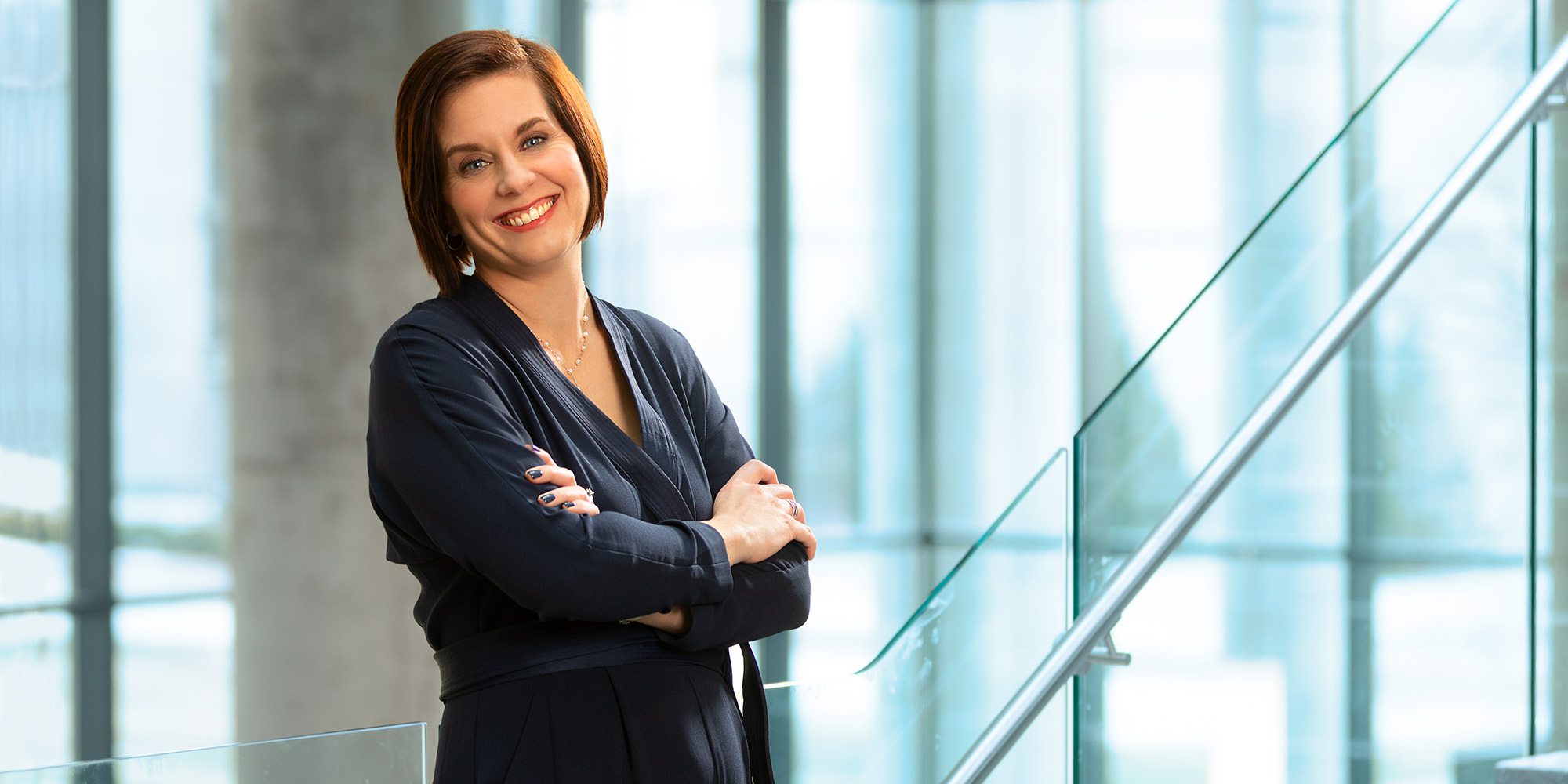 "I  think I've always known what I wanted and not been afraid to go after it," Amanda Kastler says. Where she goes, she excels—oftentimes leading the way for others. In high school, Kastler was a multi-sport athlete and served as captain of her volleyball team. Before her first day at Drury University, she declared her major in accounting and never wavered. And 10 years after starting at Elliott, Robinson & Company LLP, Kastler became the firm's first female partner. "I could be satisfied if that was the best that I could do," she says. "But if I thought that I could do more or be better, I pushed myself to do that." 
The 37-year-old has always had a natural proclivity for leadership, but it's not the title she's after. Kastler wants to create change and help others prosper. "Leadership is more than just telling people what to do," she says. "It's developing them, investing in them… to be whatever their version of success is." The Ozarks native, who has spent her entire career at Elliott, Robinson & Company, pours herself into creating a flexible and inviting culture at the firm. The company had an in-house mentor network and other programs before Kastler joined leadership in 2014, but since then, more initiatives have blossomed.
"Leadership is more than just telling people what to do. It's developing them, investing in them… to be whatever their version of success is."
— Amanda Kastler
One of the most notable is the firm's flexible time policy. Kastler pushed to formalize the program, which she says staff largely viewed as only available to working moms. So, the partners decided to put their employees in charge of writing it. A cross section of the staff came together with Kastler and another partner present to answer questions. "It's amazing if you allow people the opportunity to make something better for their colleagues, they will take excellent ownership of it," Kastler says. "They… put the firm first through the entire process, which was really awesome to see." Now, more staffers utilize the policy and are able "to fit a work schedule into the life that they want to have," she says.

Kastler has also been instrumental in fostering a place for women at the firm. Around 2013, she started a women's initiative. "Really, it was just a way to find avenues or content to engage the women that we did have on our team," says Kastler, who has given her planning responsibilities to some other employees. In the beginning, female staff would enjoy monthly lunches outside the office while discussing a professional development topic, engaging in book studies or simply socializing. Now, most gatherings are held on-site, but the content continues to adapt based on participants' desires. Kastler has also supported the office's voluntary women's Bible study, which began four years ago, and advocated for experimenting with telecommuting. Since 2017, a former employee who relocated has been working remotely on a full-time basis.


FAST FACTS ABOUT AMANDA
HOMETOWN
Camdenton
FAMILY
Married with two elementary-age sons.
HOBBIES
Spending time with family and serving on the Harmony House board of directors.
CAREER BREAKTHROUGH
Becoming the first female partner in Elliott, Robinson & Company LLP's history.
RESUMÉ HIGHLIGHTS
B.A. in accounting from Drury University, Leadership Springfield Class 30 and Class of 2016 CPA Practice Advisor 40 Under 40.
HABIT WORTH STEALING
Kastler and her husband hired a house cleaner and use a meal service a couple of times per week. "Those two things have just reduced stress and make life a lot easier."
FAVORITE FAILURE
Not taking enough time for herself. Today, she makes herself a priority and, as a result, shows up better for her personal and professional commitments.
Kastler sees the value in these policies and programs for the firm. "The more of those things that we can do and engage people in the company… the higher likelihood we'll have people that want to stay," she says. These initiatives can also help develop talent. "While there's a growing trend for more diversity, leadership is predominantly still male driven, not only in our company but probably [at] a lot of accounting firms," Kastler says. "There are a lot of initiatives to try to change that, but sometimes it just takes time to get people developed into a place where they can step into those roles." At Elliott, Robinson & Company, these investments are paying off: all six managers are women. 
Recently, Kastler has realized she needs to focus her energy on herself, too. Facing some burnout, she found an executive coach and is being more intentional about creating time for herself. "Where I found I can get the most of it is really driving," Kastler says. In the quiet, she can digest her day before coming home to her kids and her husband, Neil, or she can simply be. "Perfection is an idea that I like to think [about], but it's absolutely an unattainable goal," she says. "I'm just trying to be really the best version of me every day."
Just like Kastler isn't afraid to go after what she wants, she's also not afraid to share her ambition: become Elliott, Robinson & Company's first female managing partner. "I don't think I'll be the next managing partner, and I'm really okay with that," she says. She figures she'll have more life experience and sharper leadership skills to bring to the table in the future. "My male partners around here have been very supportive of everything that I've done, so I can't imagine that this would be something that they wouldn't support," Kastler says. For now, she'll keep striving to do and be her best and let her work lead her forward.