Women Who Mean Business
Shelley Wehner is a Woman Who Means Business
Shelley Wehner purchased a custom cabinetry business with her husband at the onset of the Great Recession. Long hours, a title change and many PB&J sandwiches later, the Wehners continue to push Cabinet Concepts By Design forward.
By Adrienne Donica | Makeup by Emily Edgar using MAC Cosmetics | Shot on location at Glass Hall at Missouri State University
Mar 2019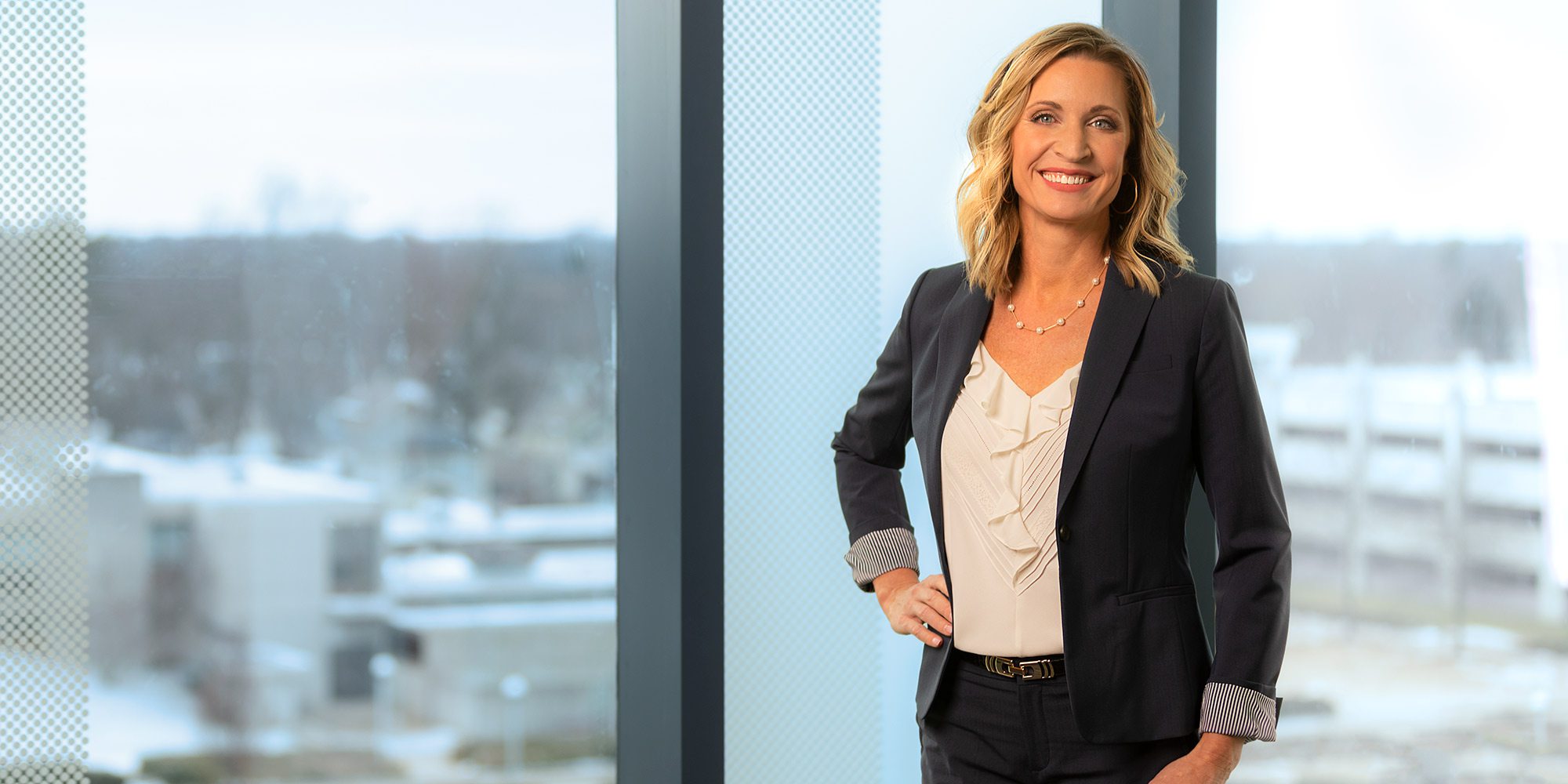 "I hate the word can't," Shelley Wehner whispers emphatically. She's not trying to keep it a secret. In fact, this statement is an integral part of her business philosophy. It's more like Wehner doesn't want to devote oxygen to something so antithetical to her very being. Maybe her disgust can be attributed to the fact that she's an optimist. Or maybe it's her competitive spirit, born out of a childhood spent on various sports teams and later honed as a college basketball player and track runner at Kansas's Pittsburg State University. Whatever the reason, her intrinsic motivation to do is part of what makes Shelley, Shelley.
The tall, slender 47-year-old is friendly and approachable, but she will tell you she is actually quite shy. As she walks around the manufacturing floor of Cabinet Concepts by Design, the company she purchased with her husband, Matt, in 2007, she greets many of her 32 employees and checks in on several projects. That she and Matt have 32 employees, a 30,000-square-foot building and no shortage of orders is a testament to the fact the couple believed they could.
"There were a few moments where Matt and I were pretty much like 'How are we going to hit payroll?' We just kept at it, trying to do the right thing and just keep producing."
— Shelley Wehner
Twelve years ago, Matt, a hobby carpenter, quit his job with Edward Jones to realize his dream of business ownership. Shelley, who had been staying home with their three young children, agreed to help with the books part-time. Together, they decided to invest their retirement funds into purchasing what was then Cabinets by Lane. "Pretty much the day we signed on the dotted line to buy the business, we found out the economy didn't just dip—it tanked," Wehner says. With a young family and four employees, the couple had to make it work despite the fact that much housing construction had come to a screeching halt. "There were a few moments where Matt and I were pretty much like 'How are we going to hit payroll?'" she says. "We just kept at it, trying to do the right thing and just keep producing."
About six months in, the couple had a breakthrough. Shelley realized Matt didn't love designing cabinets as much as he thought he might. She, however, was drawn to the design process and would frequently suggest ideas for Matt's designs. Meanwhile, his interest and expertise in the finances outmatched hers. So, they switched roles. "It was more of a natural fit versus us trying to force ourselves into these positions that we didn't really know anything about," Wehner says. Matt taught her how to use CAD, the design software the company uses, and Shelley, who never worked just part-time hours, began regularly clocking 70- and 80-hour workweeks. She would spend all day at the office, head home to be with their kids and then resume working after their bedtime.


FAST FACTS ABOUT SHELLEY
HOMETOWN
Holton, Kansas
FAMILY
Married with three teenagers, two boys and a girl.
HOBBIES
Attending her children's sporting events. All three are athletes.
CAREER BREAKTHROUGH
Initially, Wehner managed the financial side of the business she co-owns with her husband, Matt, who handled design and customer relations. "Once we flopped roles, that's when our business took off."
RESUMÉ HIGHLIGHTS
B.A. in printing management from Pittsburg State University, five years at Harland, having Cabinet Concepts by Design featured in a couple national cabinet magazines.
HABIT WORTH STEALING
"I'm a stickler on customer service and responding in a timely manner to emails and questions," Wehner says. When Wehner provides her cell phone number to customers, she sets clear boundaries upfront about her availability.
FAVORITE FAILURE
Not hiring a buyer's agent when purchasing her business. It was a painful lesson but taught her the importance of contracts and reinforced the value of hard work.
Finally, three years in, the Wehners started to gain some confidence. They hired Jim Conley, a business advisor with a background in manufacturing. He reviewed their books and practices and reassured them that they could see more profit with small, continual improvements. Two years later, Wehner remembers feeling like they had made it at last. In 2013, they purchased their current building, which opened up even more opportunity down the road. They bought more sophisticated machinery that sped up the production process and, more importantly, allowed them to master new types of construction. 
One type is what they use to create many closet systems today. Customers asked for years if Cabinet Concepts by Design worked on closets. The company could build cabinetry-style systems, but those weren't as popular as more modern closet systems, which are more economical and flexible. After significant research and training, the Wehners launched Simply Organized by Design in 2015. The division has been organically growing without disrupting their core business, Wehner says. "It bypasses every bottleneck that we have in the custom cabinetry world," she says. "We can do huge volumes of closets and not hurt our custom cabinet clients."
Not every business decision has led to success, but Wehner doesn't let that stop her. "I don't dwell on failures," she says. Moreover, she wonders if part of the company's success is precisely because of the challenges they faced early on. "Part of me thinks I don't know how well we would have done if the economy wouldn't have tanked because we were so green and didn't know anything about cabinetry that if we would have gotten flooded with work right away, it might have actually hurt us," Wehner says. That struggle only increased her and her husband's grit. They have learned to make investments only when the numbers show they can. Because if there's one thing Wehner can't do, it's go back to the bottom again.