Biz 100
Person of the Year: CoxHealth President and CEO Steve Edwards
Steve Edwards is a planner, and he knew in his 20s that he wanted to follow his dad's legacy and become CEO of CoxHealth. But as history has shown, there are some things you just can't plan for.
By Ettie Berneking
Nov 2020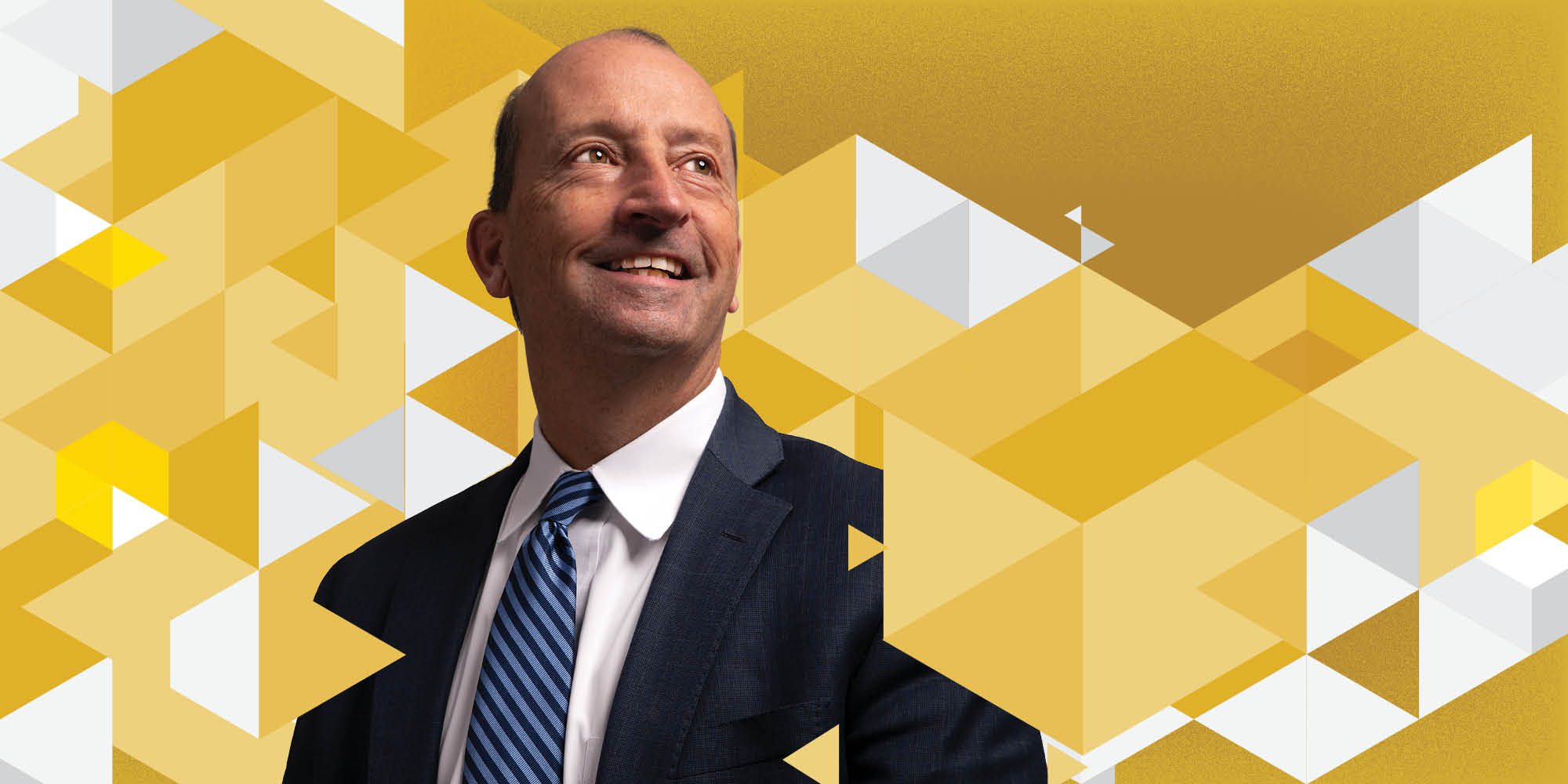 Steve Edwards is a self-described nerd, and he has the anecdotes to prove it. But probably the biggest proof that the spreadsheet-loving CEO of CoxHealth has lived his life on the straight and narrow can be found on one piece of yellowed paper. Tucked away along with his college diploma is the life plan Edwards mapped out when he was in his early 20s. He made it on a spreadsheet, and it's broken down into two- to five-year chunks. Between 30 and 33, he planned on having his first child and purchasing land along the James River. By the time he turned 46, he planned to be CEO of CoxHealth. In real life, Edwards achieved that goal at the age of 46 on January 1, 2012. It was a job he'd been preparing for over the span of nearly two decades, but he says in reality, it was a job he'd been preparing for his whole life.
Edwards has been CEO of CoxHealth for nearly 9 years, and during that tenure, he's accomplished a lot. He has steered the growth of the hospital system, which welcomed Cox Medical Center Branson and Cox Barton County Hospital in 2013 and 2018 respectively; Cox has opened dozens of clinics and it re-entered the Arkansas market this year. On top of that, Edwards has been a stalwart force at CoxHealth during COVID. His efforts to lead Springfield through the pandemic were recognized in October when The Community Foundation of the Ozarks named Edwards the 2020 Humanitarian for his advocacy on behalf of southwest Missourians. At CoxHealth, he oversaw the construction of a 51-bed COVID ICU; he increased the hospital's stockpile of N95 masks from 4,000 to 660,000 at press time. He's coordinated response efforts alongside Mercy Springfield Communities, and he's taken a public role alongside his Incident Command Team to increase education about the virus. He also avoided layoffs even while many hospitals let staff go. He says it was an easy decision that was about culture—Edwards goes out of his way to be approachable and show his team he cares. Before COVID, Edwards attended every orientation so he could meet new hires. Now, Edwards attends virtually. "In my tenure, we've always avoided layoffs," he says. "We knew we would need all of our staff."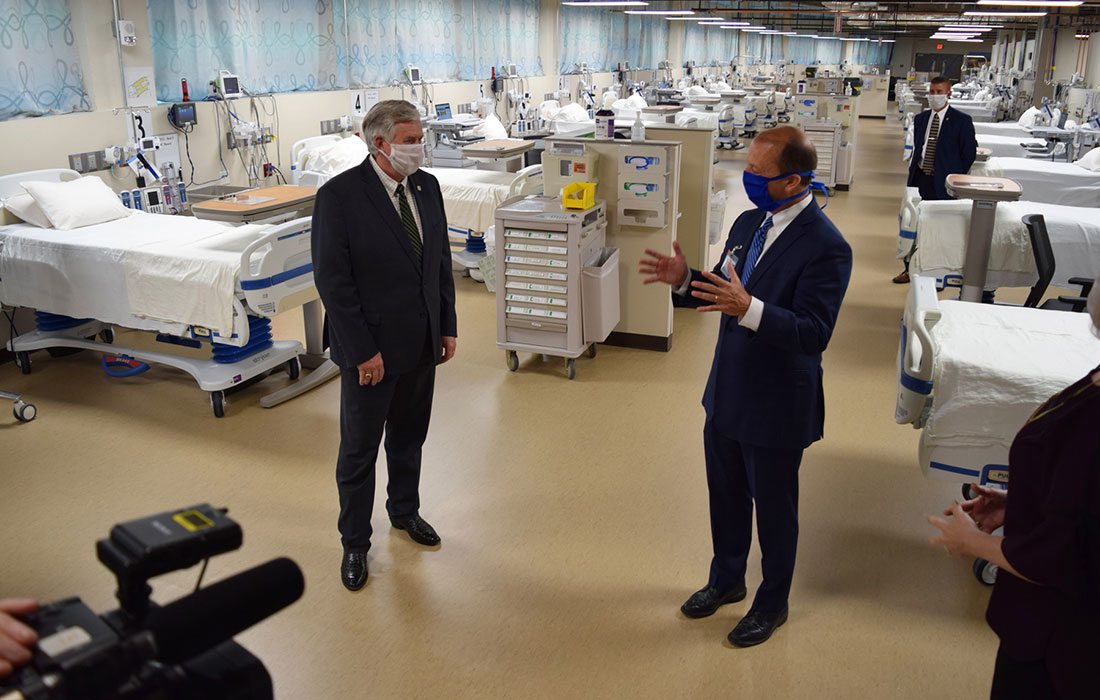 Retaining the hospital's staff could have been a gamble financially, especially since the hospital put elective procedures on hold for nearly six weeks. "We were losing a million a day, but our board stuck with us," Edwards says. When things were tight, Edwards says the hospital was able to dip into its reserves. It actually just closed its books for the year with a 1% bottom line. "We all agreed if there was ever a time to dip into reserves it was now," he says. "We also knew those [elective] cases would probably come back." To ensure the hospital didn't deplete its reserves, Edwards reopened elective procedures in early May. Though the year isn't done yet, this is a job Edwards says he loves no matter the stress.
Edwards is a Springfield native. Technically, he wasn't born here—that claim to fame belongs to Sedalia, Missouri—but Edwards' family moved to Springfield two weeks after he was born. "Part of my history here is my family," Edwards says. "If I had my mom, dad, sisters and brother-in-law around the table, I think we'd have 155 years of service to Cox." He's not exaggerating. Edwards' sister, Vicki Edwards Hockensmith, is a patient access coordinator and has been with Cox for some 40 years, and his father, Charles Edwards, worked at Cox for 28 years as COO before becoming CEO in 1985.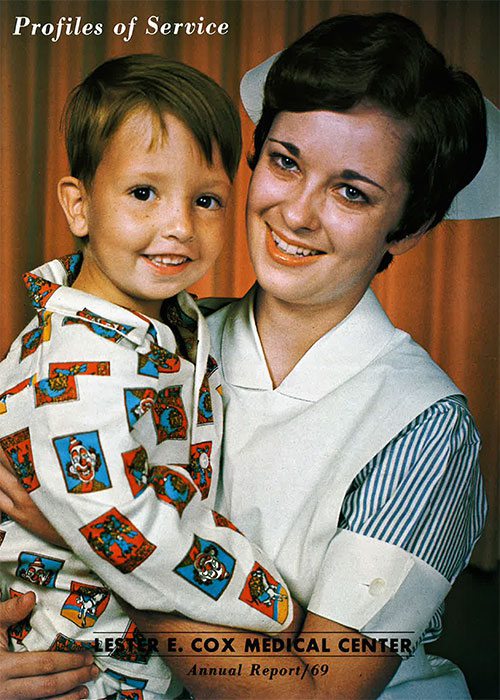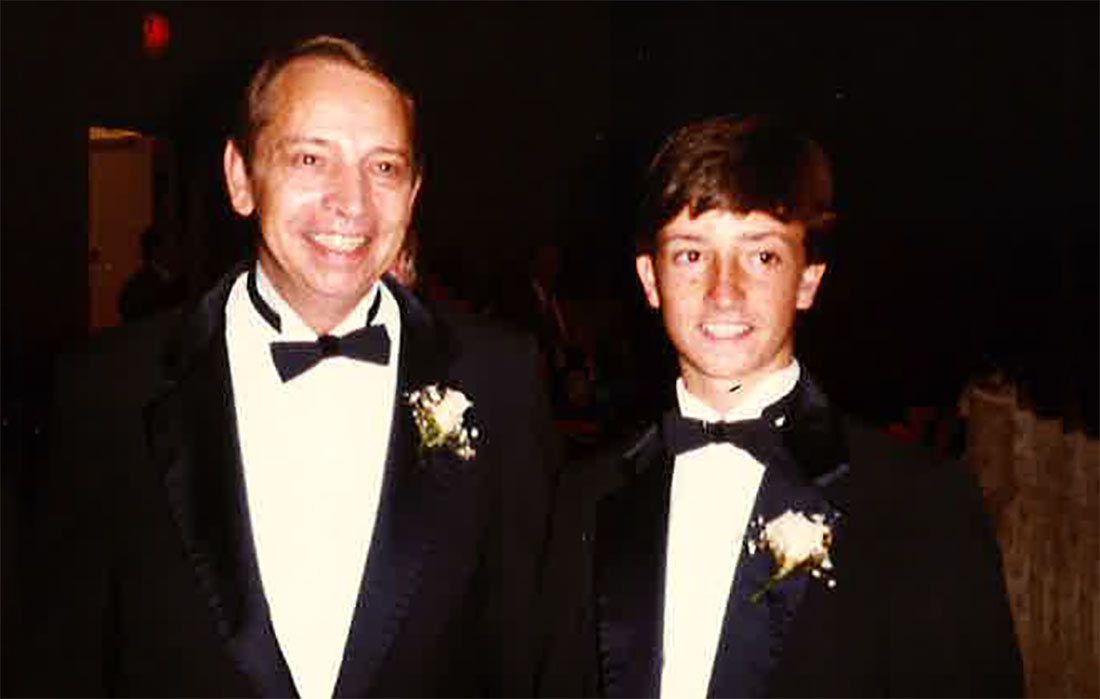 With a family in health care, Edwards grew up in the industry. "We'd go to dinner, and our conversations were about health care," he says. At 15, Edwards got his first job at the hospital with the grounds crew. After that, he worked in the ER as an orderly during the night shift and continued that role through his early years at Drury College (now Drury University).
Even at a young age, Edwards knew he wanted a career in health care leadership, but there was a catch. "Growing up in a health care family, business for the sake of business wasn't inspiring to me. I wanted to have a mission." One day, Edwards heard a speaker talk about planning with the end goal in mind. Soon after, Edwards fired up Excel and mapped out that life plan he still has in his office.
"I realized I had an aptitude toward business. But growing up in a health care family, business for the sake of business wasn't inspiring to me. I wanted to have a mission."
— Steve Edwards, on growing up in a health care family
He wanted to serve on a community board and get his master's in health care administration. He wanted to run for Congress—one of the few goals on his timeline he has now scrapped—and he wanted to learn to play the bagpipes. Edwards hadn't just mapped out his career path, he'd planned his entire life. The whole idea behind the bagpipes, biking across America and golfing in Wales was to build an interesting life story he could be proud of.
Edwards' life has followed his spreadsheet shockingly close. He and his wife are developing a home on the James River; they have three kids (Edwards' planned for two); he got his master's in health care administration at Washington University in St. Louis with a Fellowship at Baylor Healthcare System, and he became CEO like his dad. In many ways, Edwards is using his career to honor his dad.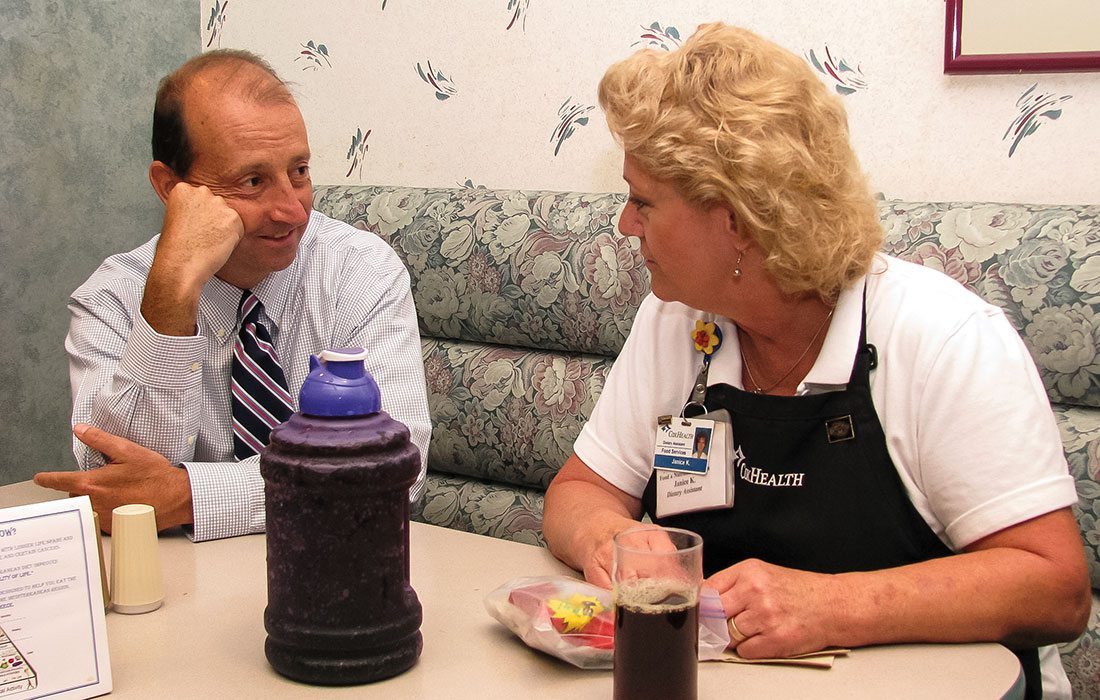 Having watched his dad serve as CEO, Edwards knew the job was not a typical nine to five. "It took a lot out of him," Edwards says. When Charles Edwards died in January 2001, Edwards was gifted his dad's journals. "He had a point where he said he had three responsibilities: his job, his family and himself, and I could tell he couldn't do them all," Edwards says. "So he made the decision to sacrifice himself." Standing in the shadow of his dad's legacy, Edwards is hyper-aware of how stressful being CEO of a hospital can be. His dad survived three heart attacks while on the job, so Edwards is vigilant about his health. He runs, hikes and kayaks and escapes with his family to their lake house (part of his life plan) where Edwards can unplug and go fishing. "As soon as we head to the lake, I can feel my blood pressure go down," he says.
Still, Edwards admits, that like his dad, he's not great at balancing work and life, and COVID-19 has added new stress. But in some ways, Edwards was built for a crisis. He dislikes routine and long meetings, and now that the hospital has implemented its incident command structure, policies can be implemented within 24 hours. "In health care, speed really matters," Edwards says. "We've accelerated in a way I'm really proud of."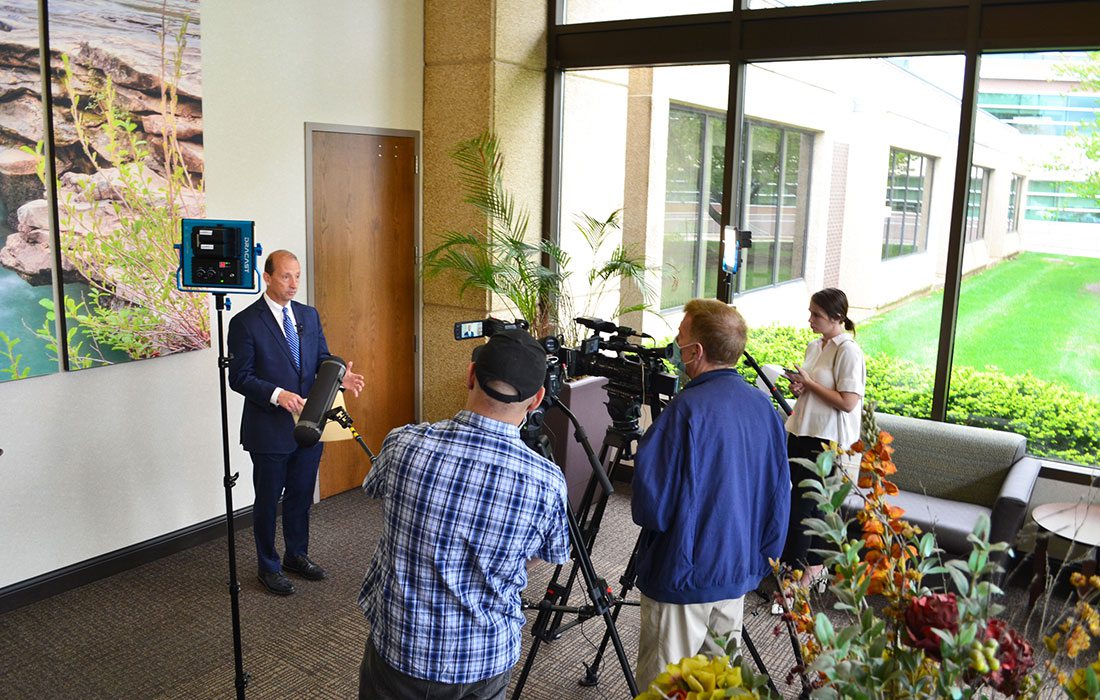 By all accounts, Edward's 9 years at the helm of CoxHealth has been a success, but Edwards says he never feels like he's done a good job. "There's so much more to do," he says. "And in health care, there's no room for error, but we're going to make errors, and those haunt you." One event that still haunts Edwards came on September 10 of this year, when Cox announced that Marie Brumbaugh, a 40-year-old medical assistant at one of Cox's Branson-area clinics, had died from COVID. For Edwards, her death was a failure on his part. "I know I failed because we lost an employee due to COVID." he says. "She was a single mom. It's brutal."
By mid-October, 131 people in Springfield-Greene County had died of COVID, and 100 patients were admitted for COVID. Thirty-seven of those were in Cox's 51-bed COVID ICU. For Edwards, this is personal. "I toured our COVID unit last week, and there were two people I knew," he says. Still, Edwards says he loves his work. Like his dad, Edwards' job is intertwined with his personal life, and much like his dad, Edwards is eager to work. "This is more than a job," he says. "This is where I grew up." And it's where he planned on building his career even when he first mapped out his life plan.
Biz 417's B-School Featuring Person of the Year Steve Edwards
Join us as our Person of the Year sits down for an in-person interview with Biz 417 Publisher Logan Aguirre during B-School presented by OTC Center for Workforce Development.
During the event, you'll learn how to leverage strategic goal setting for success and gain leadership advice as Edwards reflects on leading a health system of 12,000 employees through a pandemic and so much more. B-School is additionally sponsored by American National.