Strategy
The Geek Foundation Aims to Empower Locals to Take a Job in the Tech Industry
Krista Peryer and Maranda Provance of The Geek Foundation will champion the tech industry through a curriculum developed with Pitt Technology Group and the Drew Lewis Foundation following a $24,000 grant from the Community Foundation of the Ozarks.
By Reese Radmacher
May 2020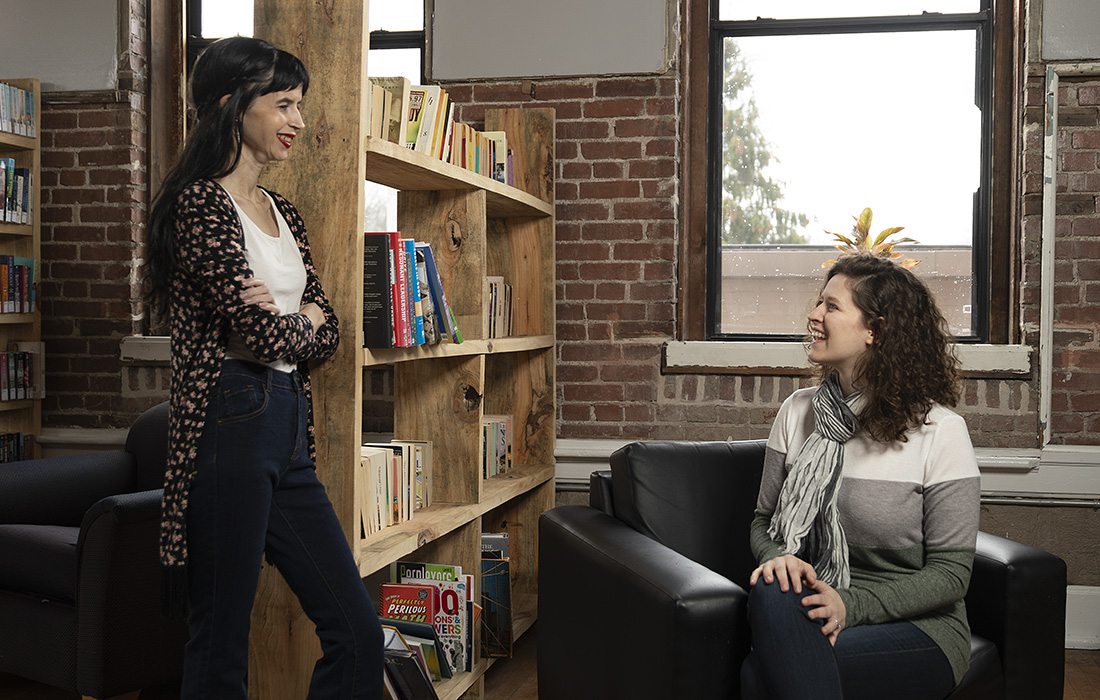 Biz 417: What is it about the IT industry that your foundation is attempting to clarify or debunk?
Krista Peryer: You don't have to spend your entire life tinkering with things or being interested in coding. Maranda and I came from different experiences. She went the college route, and I didn't. I tried to go to college but couldn't find the route I needed to go because I was interested specifically in trying [front-end] web development. There wasn't a pathway for that directly. But one thing she and I both have in common... We both were told if you haven't been doing it your whole life, it's too hard to do or you wouldn't be able to figure it out, and that's just not true. 
Maranda Provance: We want to redefine the word geek to mean someone who is passionate about something. You don't have to be a nerdy child genius to be a coder. What you need is to be able to solve problems and leverage creativity. Most importantly, you need to be persistent. Another thing we want to debunk about the industry is that it's a solitary job. Coding jobs these days are highly collaborative.
Biz: What type of IT jobs are available locally, and why do people think they need to go elsewhere for a tech-related job?
KP: People don't realize we have a really large tech industry. O'Reilly [Auto Parts] is thought of as automotive. Jack Henry [& Associates] is thought of as banking. 
MP: Companies like Jack Henry and O'Reilly are tech companies that employ thousands of people. And there are probably 100 or more smaller companies who hire tech talent in this area as well. I also don't think people know that we have a great support system for tech employees––between meetup groups like SGF Devs, Springfield Women in Tech, Geek Foundation and weekly coding for beginners.
Biz: How are these courses offered?
KP: We are hosting the classes at the Fairbanks. A lot of people do really well with in-person learning... People can come and mentor each other, work with each other and learn together. 
MP: They can expect to learn skills they need to get an internship or job as an entry-level support technician. 
KP: Entry-level support technicians typically begin making $30,000 to $45,000.
Biz: Are you finding it to be easier or harder to get your word out than expected?
MP: When we can find the right audience, it's always very well received. I think with the general public, though, because people don't know those things we're trying to debunk––people don't know how many good jobs there are here. We could really do well to get the word out even more to parents because kids are being introduced to these things somewhat in school right now, but parents don't know what jobs there are out there, so they also don't know how to encourage their kids.

Biz: How did you get involved with the Geek Foundation?
MP: Krista and I connected through a former coworker of mine. We connected and shared a joint interest for helping more women get into tech and increasing diversity in the technology field. I didn't really ever think of coding as a career path for myself…I got my first job in tech by beating my future bosses at a game of Settlers of Catan. They called me the day I graduated high school and asked me to come in for an interview for a developer position, which I totally bombed. But through the game and other interactions, they saw that I was a strategizer and a problem-solver and gave me a shot! I started working with them the summer after I graduated high school and very quickly fell in love with it. I've been coding ever since! I always wanted to give back and help give other women that social pressure and the opportunity to join me in the tech field.
Biz: Who would you say is your target student?
KP: Right now we're trying to get as many women interested in the program, and basically the idea moving forward, for all of our adult classes, will be that if we're unable to fill with the early registration––with like The Northwest Project, Minorities in Business who we've partnered with as well, the local NAACP, Single Moms Rock [and] other organizations that represent minorities––if we are unable to fill all of the spots, then we will have open registration [for the general public].