Culture
How OMG Commerce Landed on Inc.'s Best Places to Work in 2019
Finding the right people and giving them the training opportunities to grow and communicate openly are two keys to OMG Commerce's company culture.
By Max Havey
Sep 2019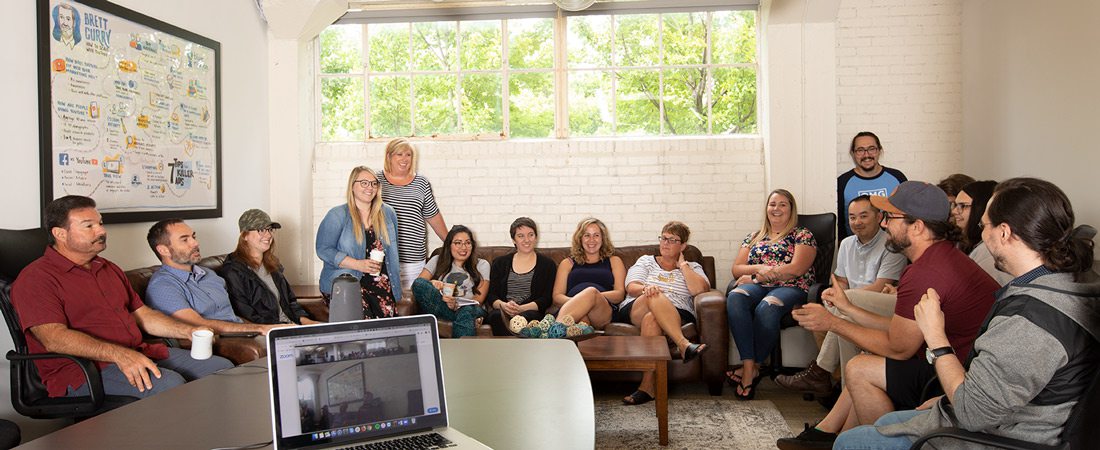 When OMG Commerce submitted to Inc. Magazine's Best Places to Work survey, CEO Brett Curry wasn't quite sure what to expect. He thought that with only 25 employees, the e-commerce digital marketing agency might be too small to compete. But as it turned out, the company's reputation for quality culture helped land OMG Commerce on the 2019 list. It even scored high marks in all categories in the micro/small business category. Inc. Magazine scores submissions according to the company's size.
Crafting a quality company culture had been a major focus for the company from day 1, and Curry credits much of OMG's success to its culture. "Culture is so difficult because, like tending a garden, it takes constant attention and work, but it starts with finding the right people," Curry says. As a growing company­—OMG now has 30 employees­—Curry is a big proponent of hiring for culture alongside skill and talent and finding the kind of employee who will flourish in OMG Commerce's flexible and fast-paced workplace. "We don't put any hard caps on time off, so we hold our team to a high standard," Curry says. While he was apprehensive about the policy at first, he's seen employees successfully work from extended vacations. "They're going to utilize it and not take advantage of it."
Beyond finding the right people, Curry is also a proponent of helping employees grow to their full potential. "We invest a lot in training because we are in an industry that is changing constantly," Curry says. This allows Curry's team to keep up with the latest trends in Google, Amazon and YouTube ads, as well as training, to keep technicians, specialists and finance people sharp. Coupled with this, Curry brings a few employees along to the 10 to 12 events OMG Commerce attends, either as an exhibitor or where Curry is a speaker. "Travel and events are a larger line item in our budget, but we really see that as our marketing efforts." Curry sees this investment as a way to help his team offer the best results to clients.
Another factor Curry cites in cultivating OMG's culture and achieving these results is maintaining constant open lines of communication between teams. Curry notes that the company uses project management software Slack and Teamwork to keep each team on track and accountable for their clients' projects. "It takes a lot of effort to communicate the way we do, but in the long run, it saves us time, money and frustration." Alongside these channels, Curry and his executive team make time for one-on-one meetings plus Monday Motivation meetings. They also host semi-regular happy hours and team outings to help strengthen the social element of these communication channels.
All of these elements taken together are why OMG Commerce scored so well on Inc. Magazine's survey, and Curry sees it as further proof they're doing something right. "It was a pleasant surprise and validation that we're doing some of the right things as it pertains to culture," Curry says.


Inc. Magazine's Best Places to Work Categories
Medium-Large
(100–249 employees)

Extra Large
(500+ employees)