Meet the Maker
Meet the Maker: William Angle of Trail Labs
How first-time business owner William Angle turned a passion for mountain biking into a highly niche suspension service business.
By Lillian Stone
May 2019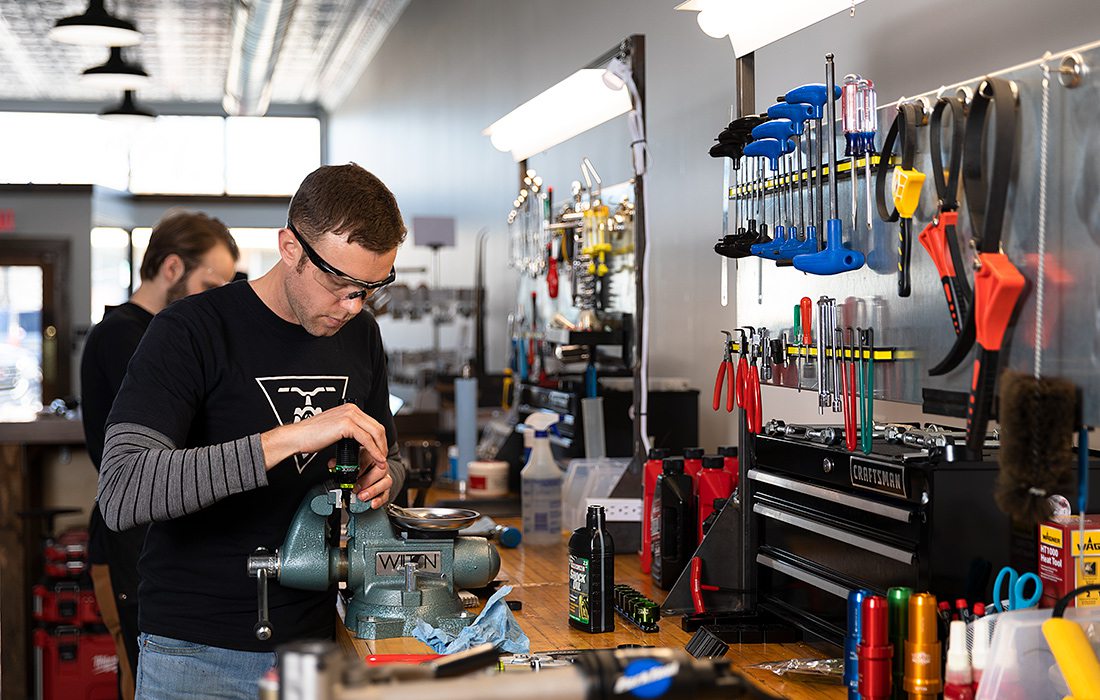 To say that William Angle offers a niche service might be an understatement. Angle founded Trail Labs, the only mountain bike suspension service center in the Midwest, in 2017. For Angle, it started as a hobby: The avid road cyclist started mountain biking in 2013 when he was living in the United Kingdom with his wife, Christina. Angle quickly joined the UK's massive mountain biking culture, biking daily and training with several major bike brands. That's how he met Ian Kennedy, the founder of the UK's leading mountain bike suspension service center, TF Tuned. When Christina was offered a job at the family business in Springfield, Angle realized he had a unique service to offer outdoor enthusiasts in the Ozarks. He explored the U.S. mountain bike market and realized that suspension specialists were rare, forcing many mountain bikers to send bikes back to the manufacturer for costly, inconvenient repairs. The idea for Trail Labs was born.
When Angle opened his doors in 2017, he was eager to appeal to Ozarks outdoor enthusiasts. However, the first-time business owner realized he had a lot of work to do. Although the Ozarks had a major cycling culture in place, Angle had to educate his customer base. "I went around to all of the bike shops and tried to educate people about the necessity of [suspension service]," Angle says. "My biggest hurdle was probably selling the service, letting people know that this is routine maintenance that you really have to do. It's something a lot of people don't think about."
After about a year of relying on word of mouth and face-to-face salesmanship, Angle decided to explore digital marketing. He quickly realized that none of the other U.S. mountain bike suspension specialists were investing in digital marketing, which informed his advice to other niche businesses: "See who else is doing [what you're doing], and see where they're not doing it well," he says. "Ultimately, if you don't market yourself, people won't know you're here." Angle connected with Wake Creative, a local marketing agency, to develop a compelling digital marketing presence, working with cycling influencers and running a targeted ad strategy. It's paid off: According to Angle, the business had its highest-grossing month ever in January 2019.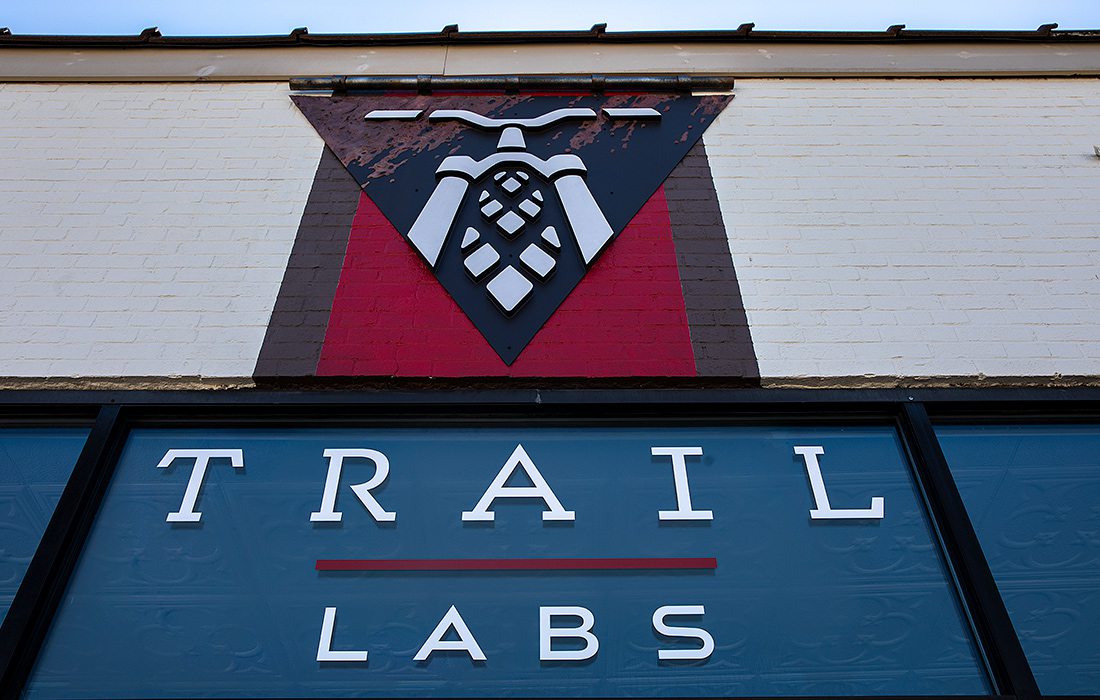 As a first-time business owner, certain business logistics were also a hurdle for Angle. "It was hard to go from running the business on the side to doing it full-time and trying to understand the workflow," he says. That encompassed everything from taxes to inventory control. "Actually establishing the business as a legal entity, figuring out how to pay the sales tax, figuring out state bonds—it was a lot," he says. Ultimately, Angle got advice from other bike shops and business-minded family members, learning how to navigate the state website in the process.
Inventory control was another unexpected obstacle. "Inventory control is probably the hardest part of this because each brand is different," he says, noting that brands package the same parts differently, which can make it tough to know exactly what you have in stock. That was even true for Angle, who has a military logistics background. "You can't just make an Excel spreadsheet," he says, pointing out that Trail Labs uses QuickBooks for now, although a custom system might be in the near future.
Despite the challenges of starting a highly niche business, Angle's business is growing consistently. He's now certified to work on nearly every major bike suspension brand, and he's the designated Midwest service center for both Cane Creek Cycling Components and Ohlins USA Inc., a Swedish brand. Angle is proof that, with grit and a lot of persistence, a passion project can turn into a lucrative business.


Behind the Design: Mountain Bike Shocks
A basic overview of the process that allows Trail Labs technicians to service the most sophisticated mountain bike shock brands. According to owner William Angle, the process typically takes between one and two hours.
Step One: First, the mountain bike shock is prepared for servicing.
Step Two: Next, the shock is bled using an Andreani Vacuum Pump. According to Angle, this Italian pump vacuums out air and injects oil, a key part of shock maintenance. The equipment is rare in the United States, which is one of the reasons that Trail Labs is one of the most well equipped service providers in the country.
Step Three: The shock is tested on a hand dynamometer, which allows the technician to check compression, friction and other key components.


Date opened: April 2017
Number of employees: 2
From mind to market: 3 years
Revenue for the last quarter: $30,000 in service sales
Profit from the last year: All profit invested back into business expenses