Culture
Branson Bank Keeps Community Service at its Core
Branson Bank offers employees more than 50 volunteer opportunities that reach every corner of the community.
By Nate Samson | Photo by Brandon Alms
Sep 2017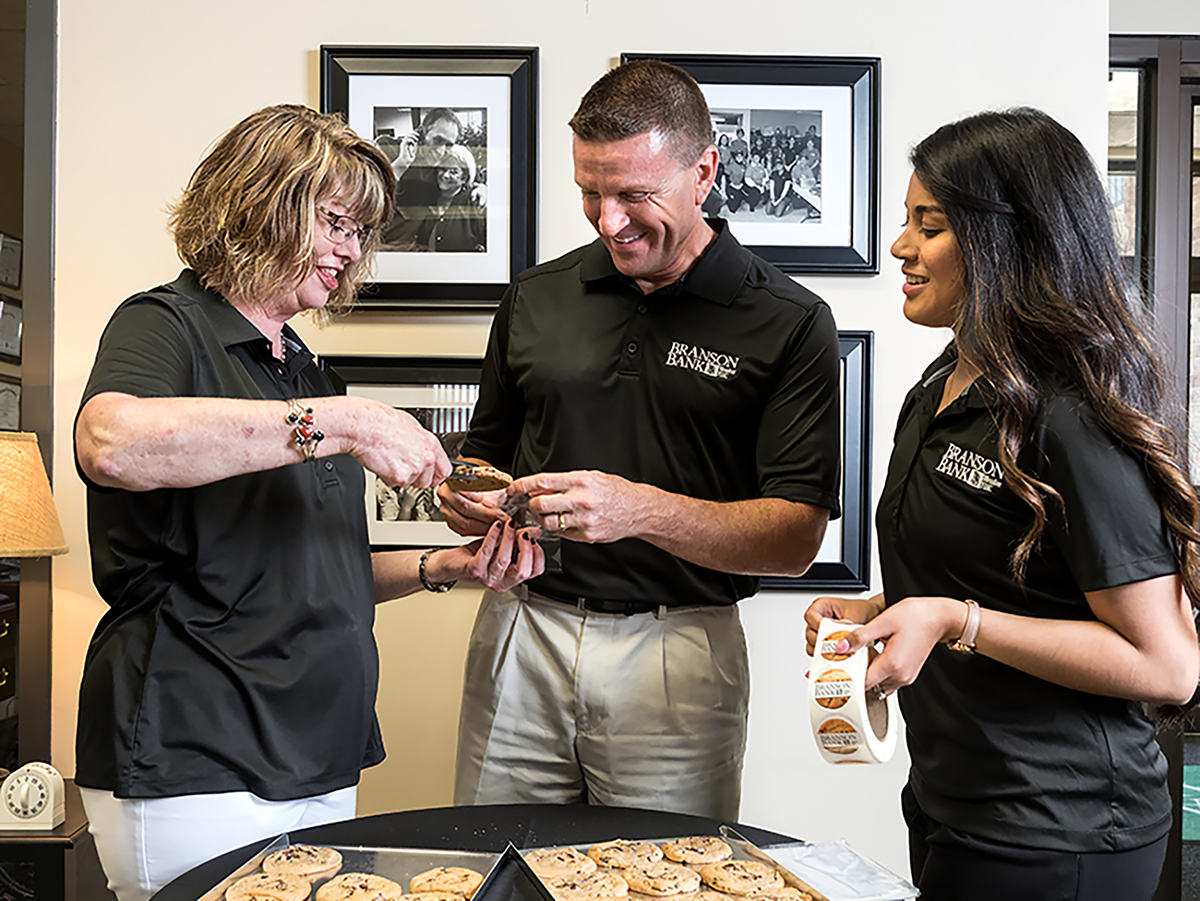 Since Branson Bank's beginning in 2000, community service and chocolate chip cookies have been key components in Branson Bank's business model. The cookies are a thank you to customers, and the service is a thank you to the community. Passionate employees from top to bottom are the driving force behind both. Over the years, the chocolate chip cookie has become more than a warm welcome at the door. A recently developed cookie logo, found on all marketing collateral, includes nine chocolate chips representing the company's nine core values. These include positivity, professionalism and, most importantly, community involvement. 
Bill Jones, president and CEO of Branson Bank, has instilled this core value into every area of the company—including his own schedule. "The most effective leaders lead by example," Jones says. "As leaders, we must successfully demonstrate to those within our realm of influence the behaviors we hope to see them emulate." Jones has served on the Branson/Lakes Area Chamber of Commerce Board, City of Branson Finance Board, Lions Club and various local youth programs. 
Over the years, Branson Bank has partnered with local organizations including Fellowship of Christian Athletes, Branson/Lakes Area Chamber of Commerce and Ozarks Technical Community College. These partnerships have helped the company reach its growing number of 52 community service outlets. In 2008, the company began what would become its most influential and comprehensive service to date: the calendar project.
After a budget cut in the 2008–2009 school year left Taney County schools unable to purchase calendars for its teachers, Halley Flemming, the bank's vice president of marketing, stepped up to the plate to lend a helping hand. She and the rest of the marketing team designed, produced and distributed calendars to fill the empty walls. The project has continued ever since. The 2018 calendar features nonprofit clubs and organizations from local high schools.
With so many outlets for community service, organization is key. A business development team meets every Monday to review and document each outlet. An Excel spreadsheet records each employee's service hours, service of choice and—most importantly—its value to the community. Keeping record of this information allows the company to regulate and modify community service efforts if necessary. 
For some companies, employee participation can get in the way of successfully incorporating community service into a business model. Branson Bank has found a way to ensure its people are always engaged. "If you can identify something that the associates are willing to get behind and support and allow their voices to be heard, it will drive itself," Flemming says.
Philanthropic Profile
52
Number of employees (at three locations)
904
Number of volunteer hours so far in 2017
$56,481
Amount donated so far in 2017
52
Number of service organizations Branson Bank works with
$500
Scholarships awarded to college students each year (four $500 scholarships)