Small Businesses
Jason Frantz is Crafting a Future
Jason Frantz, owner of WoodShop Artisans, utilizes lessons of the past and modern technology to stay ahead of the curve and single-handedly manage his nationally recognized woodworking business.
By Nate Samson | Photos by Brad Zweerink
Sep 2017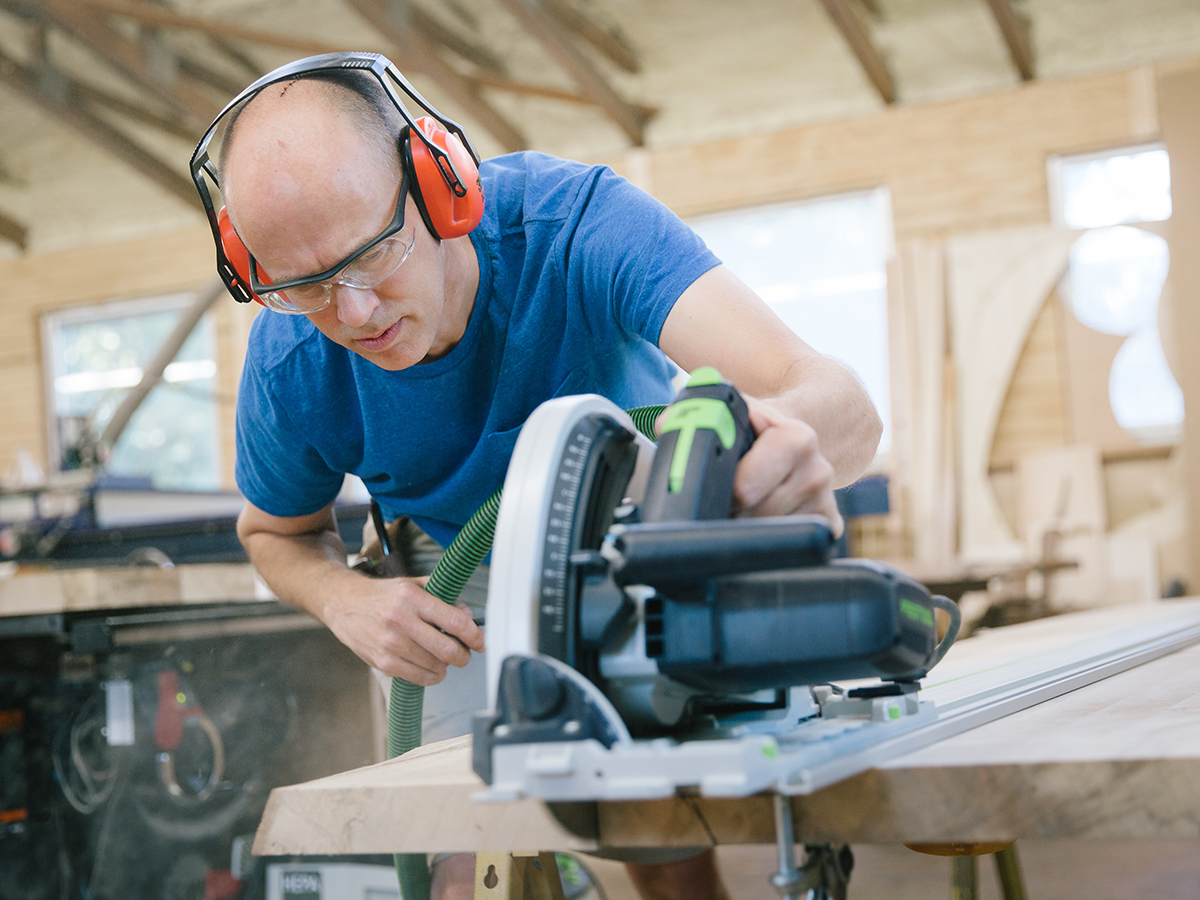 As far back as he can remember, Jason Frantz's life revolved around woodworking. It began very practically. If he needed a piece of furniture, his father encouraged him to make it. This instilled creativity and self-sufficiency in Frantz at a very young age. 
He later mastered his craft thanks to his year-long mentorship with Northern Virginia woodworker Jim Gutowski. Gutowski taught Frantz everything he knew and concluded the mentorship with only one stipulation: that Frantz leave the area to avoid future competition between the two. 
After considering his products and a compatible target market, Frantz found himself in central Missouri. Since this beginning in 2002, WoodShop Artisans has grown significantly, forcing Frantz to continually reevaluate his business model. From day one, efficiency and productivity have been key components in the development of the company. With a growing clientele, Frantz is faced with two options to ensure both: more employees or more machinery. 
Frantz has been a one-man show from the start, and he plans to keep it that way. His most recent hire was a new computer numerical control router able to complete a several-day project in just 20 minutes. The recent investment has paid for itself. "Buying that machine was like hiring an employee," Frantz says. "It allows me to do other things."
Business is booming, but it hasn't always been that way. When Frantz first opened his shop, he was denied a bank loan he intended to use for new machinery. But it was a blessing in disguise that reminded Frantz to utilize the things he does have instead of worrying about the things he could have. "Master the tools that you have," Frantz says. "Your success is going to depend on how well you use the tools that you have at your disposal. Add to them as you grow."
Aware of the potential to expand clientele, Frantz avoids limiting his work to a select few products. Murphy beds, canoes and cabinets are a few of his most well-known products, but Frantz is always willing to try new things and accommodate varying customer needs. "Flexibility gives you a tremendous amount of freedom. That's part of the appeal of what I do and what appeals to a lot of people about woodworking or any trade like this—freedom to not only express yourself through what you do but to do so many different things." 


---
Behind the Design
If you've ever looked at a product and wondered, "How did they do that?" we've got the answers for you. Frantz talks about the process of making his space-saving, highly sought after Murphy beds.
For Frantz, the process of making his crowd favorite Murphy beds begins well before he steps foot in his shop. "The process starts with the concept," he says. Overall, Murphy beds serve the same space-saving purpose for all customers. The ability to fold the bed into the wall creates space in the center of the room that can be used for just about anything. 
However, of the nearly 50 beds Frantz has made for customers, no two are the same. Cabinets, shelves and extra storage space surround the wall-mounted frame. This leaves a lot of room for creativity. "I want to make sure it not only fits their style, design and aesthetic but also fit their space and work the way they need it to." After discussing the bed's design and practicality with the customer, Frantz can begin to cut and assemble the necessary pieces of the framework.
The key component of any Murphy bed is the hardware. After the framework is in place, a counterbalance mechanism is installed to raise and lower the bed as needed. Frantz calculates the weight of the bed to determine the appropriate weight of the counterbalance. With the counterbalance in place, Frantz is ready for installation.
Although Murphy beds seem like a daunting DIY, Frantz says there's nothing to be intimidated by. WoodShop Artisans has distributed Murphy beds to lofts, condos and homes all over 417-land. These stylish space-savers have been a staple in his growing business, and he plans to keep it that way. "It gives you so much of your home back." 
As the company continues to grow, so does the waiting list of eager customers, stretching nearly two years out. Although daunting to some, the wait allows Frantz to plan and produce the quality products he is known for. "I value those who wait."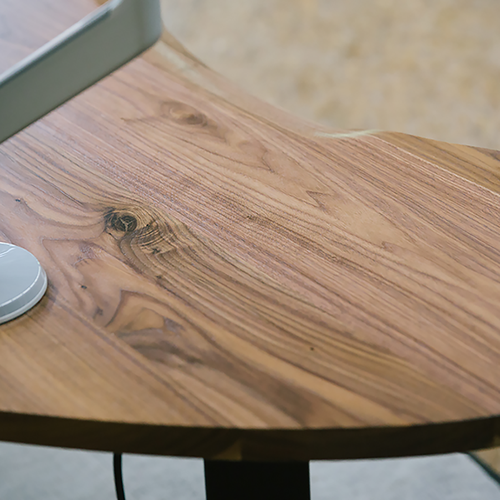 Jason Frantz likes to try his hand at new and unusual requests, like this curved desktop (left).
WoodShop Artisans:
Date Opened: January 1, 2012
Number of Employees: 1
Most Popular Item: Murphy bed
From Mind to Market (for Murphy Beds): 1.5 to 2 weeks
Maker's Choice: Canoes. "Even if you're building a canoe with modern tools and modern techniques, you're still continuing a tradition that's been around for thousands of years," Frants says.