Small Businesses
Justin Gloe's Online Business Strategy Success
Operating two businesses and sharing a third with his partner, Justin Gloe knows the ins and outs of what it takes to be successful.
By Jenna DeJong
Nov 2018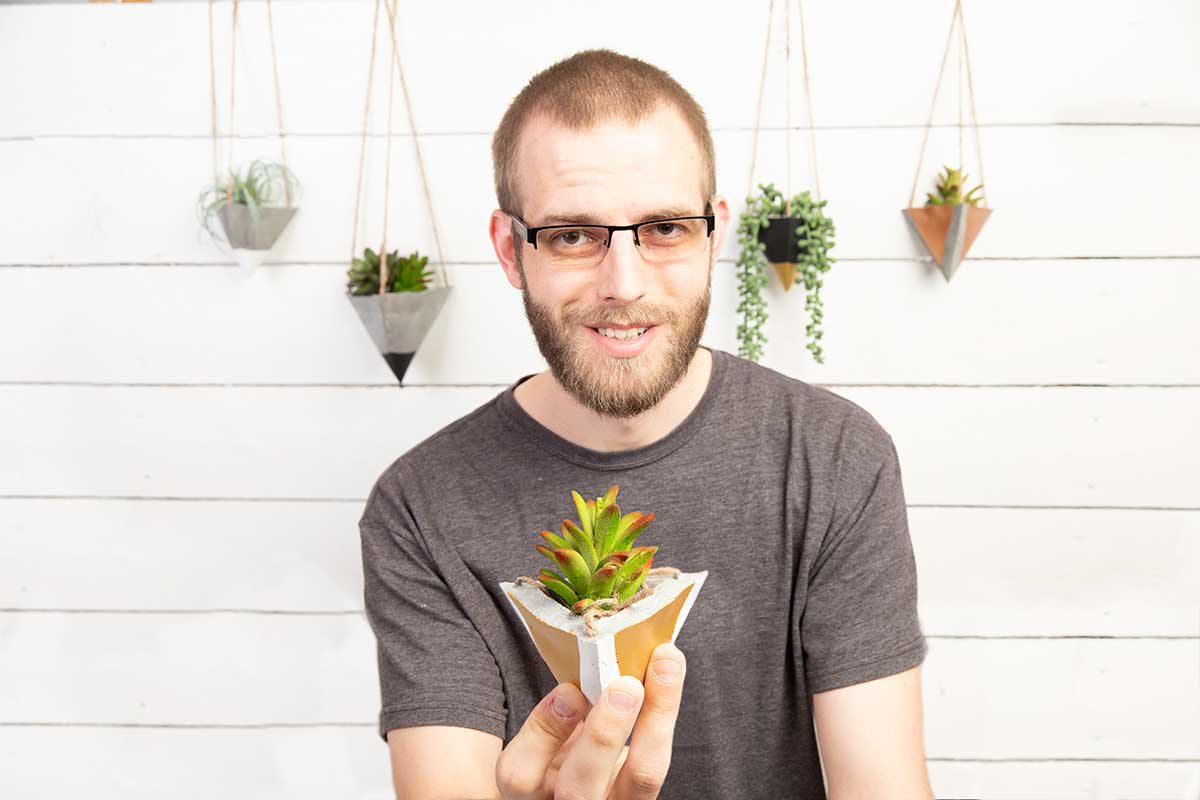 Justin Gloe went to school for five years to earn his degree in design. After graduation, Gloe worked at an interior design company before he realized the sedentary lifestyle spent in front of a computer screen was not for him. As an entrepreneur at heart and with creativity running through his veins, Gloe decided it was time to venture out on his own. He packed up his desk and put his inventive mind to work. 

Already armed with Elite Photobooth, a side gig he started with his partner during his college years, Gloe had some familiarity with running a business, but he needed an additional endeavor to maintain a steady income. "I had experience selling video games and vintage items online during my high school and college years to make extra income," Gloe says. "I decided to tap into my creativity and start a handmade product line to sell online."

Already fascinated with concrete, wood and gardening Gloe scoured the web for ways to make the three concepts commingle. The result of all that research was the launch of Timberline Studio. The company operates online through Etsy where it sells handmade products such as hanging concrete plant holders, shadow box wall planters, wooden planter boxes, concrete coaster sets, concrete ring cones and more of Gloe's handmade designs. "I'm a big fan of the raw natural look of concrete and wood and fell in love with industrial and modern design," he says. "I also love how a green plant looks with concrete. It is a porous material, so it helps absorb excess moisture and prevent rotting roots." 

Gloe started Timberline Studio in January 2016. Like any business owner, Gloe has run into hiccups with the company, but he likes to focus on the wins. He attributes his college years to much of his new success. "My parents encouraged me to pursue an art degree instead of more traditional degrees," he says. Without all the experience Gloe gained in product design, graphic design, web design, search engine optimization, photo editing, branding and marketing, he says it would have been far more difficult to start his business.
"I spent way too long worried about taking the risk and going out on my own."
— Justin Gloe, Owner of Timberline Studio and That Paper Cut Place
After establishing Timberline Studio, Gloe added one more line to his resume. In March, he started That Paper Cut Place, which focuses on hand-cut paper mats, layered paper art and paper shapes. Similar to Timberline Studio, Gloe's paper creations are sold through Etsy. Gloe declined to share revenue information for either business.

"I spent way too long worried about taking the risk and going out on my own," he says. "It took a long time to gain the confidence to take the leap and go it alone. I couldn't be happier with my decision. It has given my life much more flexibility, and I get to do what I love every day of the year." His next endeavor? Creating his own website as a hub to sell products and list more information about his businesses.


Behind the Design: Timberline Studio
Most of Timberline Studio's products involve some form of concrete so the process is much of the same for each product. 

"I just combine the concrete mix with water until it is the proper consistency and pour into a mold," Gloe says. "I tweaked my own concrete recipe from bagged cement to use for my products because I wanted a certain color and texture for the finished pieces." 

Most the molds Gloe uses he made himself. The dried concrete is cured for a few days and then Gloe sands the products by hand with sandpaper. Once finished, the piece is dusted and cured. The final stage is painting, if Gloe sees fit. 
Behind the Business 
Date opened: Timberline Studio, January 2016; That Paper Cut Place, March 2018 
Number of employees: 1
From mind to market: 1-2 weeks for Timberline Studio products, about 3 days for That Paper Cut Place products 
Most popular item: Timberline Studio's concrete coasters and wood and concrete shadow box planters; That Paper Cut Place's state shaped photo mats
Maker's choice: "I truly love making my products. They are so fun to make because I get to work with my hands. It's nice not having to sit in front of a computer all day or take orders from a boss."