Offices
Michele Granger is Working From Home
Take a peek inside the home office of recently retired Professor Michele Granger. "This is really my workspace for everything," says Granger, who writes textbooks and performs employee assessments for a New York–based fashion company.
By Savannah Waszczuk | Photos by Brad Zweerink
Nov 2016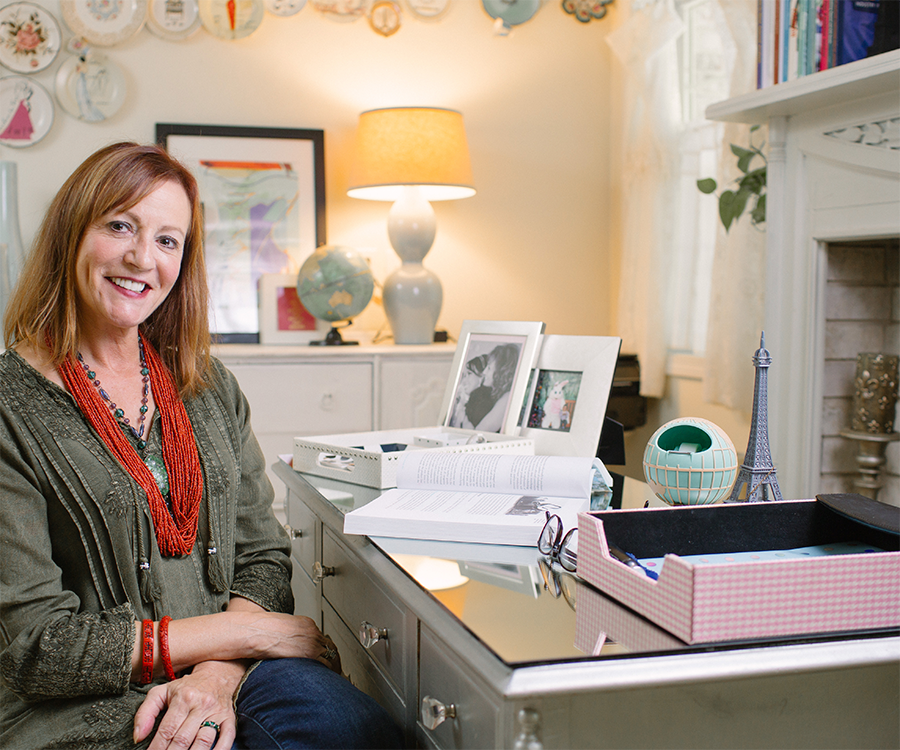 1. Michele Granger was a professor at Missouri State University from 1999 to fall 2016, and she taught at Stephens College in Columbia for 15 years before that. She spent the majority of her university years teaching fashion merchandising, and she's become quite the expert. Such an expert, in fact, that she has written nine textbooks and contributed to many others. 
2. Granger made her office's curtains out of some of her white blouses she seldom wore. "I thought, 'Oh, you know, that would be a cute panel,'" she says. She wanted something light and airy to make sure her office space had plenty of natural light, so the shirts worked perfectly.
3. Not many people have the benefit of having a bed in their office, but Granger does, and she puts it to good use. "I'll sit up there with my computer on my lap and write a lot," she says. The bed itself is a work of art that speaks to Granger's love of fashion—it was made out of an old clothing rack by local artist Jim Faulkner. "He made it high enough for my dogs to walk and sleep under," Granger says, speaking of her Pomeranian companions, Luc and Mykonos. Framed signage from Love, Loss and What I Wore, a play that Granger acted in, hangs over the bed, and small dress forms Granger found and restored from various places, including Stephens College, sit in front of it.  
4. "All of the books on the mantel are ones that I've written or contributed to," Granger says. Artwork by Granger's friend Sarah Riley also sits on the fireplace mantel, and another piece of Riley's work hangs across the room above the office's daybed. "The piece above the fireplace is a hand-painted paper creation she made while studying in Italy," Granger says. 
5. A collection of decorative plates climbs its way up the wall just left of the office's entryway, and it continues to snake its way across the wall on the opposite side of the room. "I've collected plates from many of my travels," says Granger. "A lot of these also belonged to my mother and grandmother, and some of them are gifts from friends." After collecting so many, she knew she wanted to show them off. "I actually saw this idea on Pinterest," she says. But it's one of those DIY projects that will likely never be complete. "I'm always adding to that wall," Granger says. 


6. Granger's desk is an antique that she acquired and then painted silver. "It was a dark, masculine piece originally," she says. She also added a mirror to the top of it, creating a piece that's as visually appealing as it is functional. It's where she did the majority of her lesson planning and grading for her classes while she was teaching, and now it is where she often sits as she writes her books. A small Eiffel Tower statue sits on the desk and speaks to Granger's love of Paris. It's just one of the many Paris-themed pieces in her office and around her home. "I've taken students to Paris a dozen times over the years," says Granger, whose daughter came on the trips, too. "It is like a second home to me, and it's where I want to go when it's time to go somewhere." 


7. An old buffet from Granger's parents' lake house sits on the entryway wall beneath the plate collection. "I took it and whitewashed it," Granger says of the piece. She now uses it for storage and to display some of her favorite framed work.  


8. An old armoire that formerly belonged to Granger's parents sits on the wall opposite of the entryway. "I had it refinished by Ed Pace," Granger says. She uses the piece for file storage and to hide her paper shredder.