Small Businesses
Falling Feathers Game Calls
Kory Cribb always planned on joining the construction business, but the Great Recession led him to take his idea for a hunting business from dream to duck call.
By Matt Lemmon | Photos courtesy Falling Feathers Game Calls
Nov 2016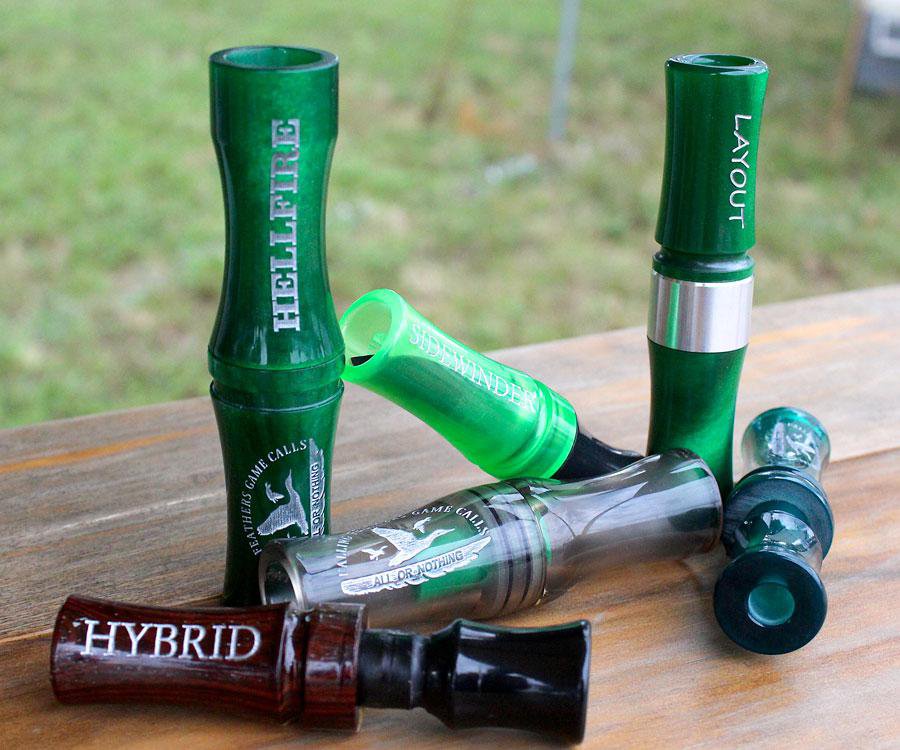 When Kory Cribb enrolled at Ozarks Technical Community College, he was planning to go into the construction business like much of his family. Then the Great Recession hit, and the construction industry tanked. Cribb, an avid hunter, knew he had to shift gears. An assignment in one of his business classes had him create a mock company and business plan, and the spark for Falling Feathers Game Calls was kindled.  
"I got to looking at some of the numbers and found there is a market for a really good call that's done at a fair price," Cribb says, noting that most calls at the time were selling between $180 and $200. He himself had spent thousands of dollars on calls since childhood. "For a younger kid, spending $180 on a call will break you," Cribb says. "I wanted to make a great call and come in under $100. And we did."
By 2010, Falling Feathers Game Calls—based in central Springfield near Drury University—was producing the Sidewinder, its flagship duck call. Hand-crafted and painted, each call is tuned extensively, beyond industry standards, according to Cribb. Falling Feathers' product line includes calls for ducks, geese and turkeys, with some predator calls, such as jackrabbits and fawns in distress, in the works. The calls are carried online and in a host of retailers, including many Bass Pro Shops locations in the United States and Canada. Cribb is now working to break into the hunting-mad markets of Greenland and Iceland. In addition to manufacturing, Falling Feathers offers guided hunting experiences.
On the business side, Cribb says he mostly winged it. "I took little bits of advice from anyone I could," he says, though the ins and outs of large-scale retail presented a learning curve that his background in construction couldn't account for.
Beyond the technicalities of getting into big-box retail stores like UPC codes and packaging, Cribb says finding success in business is all about keeping overhead down, putting earnings back into the business and persevering. "Don't give up, ever," he says. 


---

Behind the Design: Falling Feathers Game Calls
If you've ever looked at a product and wondered, "How'd they do that?" we have answers for you. Founding Feathers Owner and Founder Kory Cribb takes pride in his company's dedication to craft when constructing its flagship duck call, the Sidewinder.
Kory Cribb starts with a piece of wood with what he calls unique character. He cuts it into a square about 2-by-2 inches. The piece is put on a lathe and hand-turned to create the barrel of the call. The lathe and hand-turn process is repeated with the insert, which is the piece that vibrates within the call. Both the barrel and insert are sanded down. The insert is put on a tone-board jig—which Cribb calls a very intricate piece of equipment—to be cut. "The smallest variance either way can completely change the sound of the call," Cribb says. Once the jig cuts the insert, a reed and wedge (the pieces that the user blows into) are attached to the call. The call is then precision-tuned, with the insert adjusted multiple times, if necessary, to guarantee a consistent clear call. "That's the best that call can ever sound when it leaves my shop," Cribb says. Once the call is tuned, it is laser engraved with the Falling Feathers logo and model number. In the case of custom orders, which Cribb says Falling Feathers does a lot of, corporate logos or wedding messages can be inscribed.