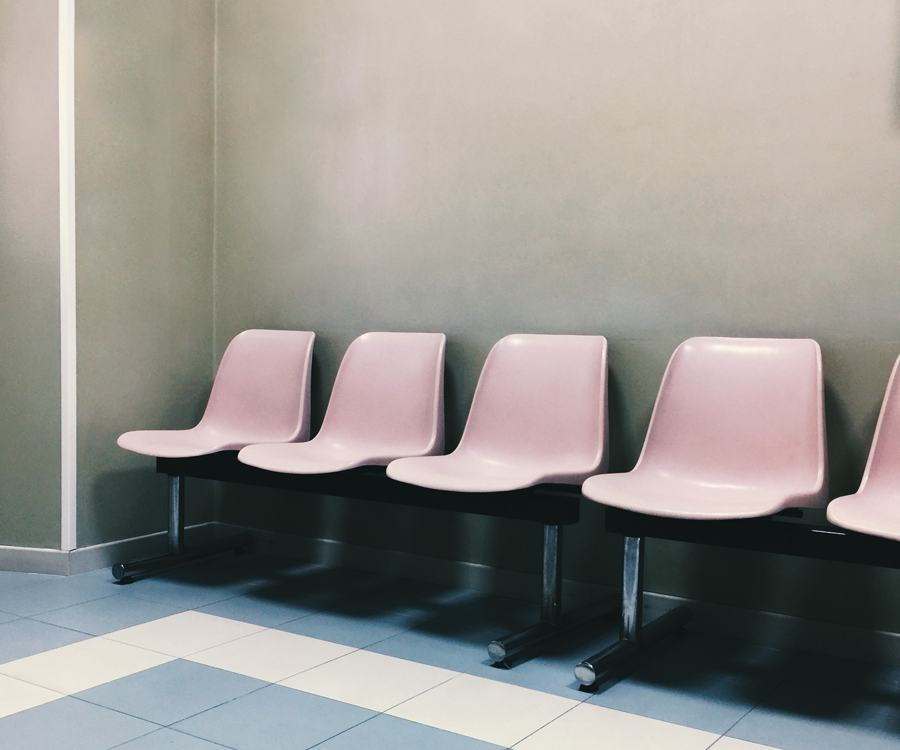 At the height of the Great Recession, the scheduling board in the office of Brookline Doorworks, a Springfield garage door installer and retailer owned by Mark Foley, was woefully empty. With demand drying up and builders hunkering down to weather the storm, contractors and suppliers of all stripes felt the pinch.
Reluctant to lay off staff, Foley cut workers' hours and struggled to find odd jobs to fill their days at work. "We tried to keep everybody busy," Foley says. "For a while, there were some people working maybe three days a week. There wasn't enough work."
Fast forward a few years. The economy recovered, putting more money in homeowners' pockets and encouraging developers to bring new projects online, causing Foley's business to surge. "When I look at our scheduling board, there's a lot more new construction installs," he says. "A few years ago we might have had four or five a week, or three a week—now, we have several per day."
But as demand for new commercial and residential construction increased, another demand—the need for skilled workers—skyrocketed, too. "It's always been more difficult to find someone with experience in this line of work," Foley says. "Now, it's harder than ever."
That need for skilled labor, and the difficulty in finding it, translates across industries in the region. According to the Ozark Region Workforce Development Board and Missouri Job Center's 2017 State of the Workforce Survey, 72 percent of its 576 respondents reported having difficulty filling positions during the past year, up from 59 percent in last year's report.
The situation is likely to grow in severity due to a low 3.9 percent unemployment rate as of March, technology-driven shifts in industries and other market and demographic forces. But despite those obstacles, local companies are taking steps to find solutions for their immediate and long-term workforce needs by implementing robust strategies to attract talent, equipping current staff with resources to grow into hard-to-fill roles and reaching out to future generations in hopes of drawing workers into fields in need of skilled labor.


Ramping Up Recruitment
The manufacturing floor at Springfield ReManufacturing Corp.'s Heavy Duty facility hums with activity as dozens of associates take apart, clean, inspect, weld, assemble and test engine components. In the heart of that bustling space is a 2,000-square-foot area now filled by a new assembly line dedicated to diesel engines for a new client, an over-the-road trucking company.
Although that new business is a major coup, it also posed a colossal challenge for Scot Scobee, SRC's human resource director, as the company prepared to send those orders to the production floor starting this May. "We are going to double our engine line capacity and add about 100,000 hours in our shop," Scobee says. "The challenge is we are, in essence, hiring the same amount of people we did all last year in two months."
To do just that, SRC held its first hiring fair in more than a decade this past March. About 200 job seekers took part in on-the-spot interviews and tours of the facility. Some of those applicants attended hanks to employee referrals, which SRC incentivized during a dedicated push in the weeks prior.
But Scobee and leaders from other SRC Holdings Corp. divisions are thinking beyond this single recruitment drive. "If we are going to grow from a half-a-billion- to a billion-dollar company in next three to five years, which is our plan, we've got to bring new people into the organization," Scobee says.
Growth is also top of mind for Jim Jones, president of JRI Holdings, which designs and manufactures industrial cleaning systems under two brands, JRI Industries Inc. and Jensen Fabricating Engineers Inc. "Probably one of the single biggest hurdles is going to be finding new employees and people to allow us to grow and expand in Springfield as much as we want," Jones says.
Jones says that challenge has existed for some time, which lead JRI to approach the Missouri Division of Workforce Development when the company needed help finding qualified candidates about eight years ago. During that process, JRI was asked whether it would consider applicants who had recently left prison. JRI agreed, thus expanding the company's applicant pool and helping it attract great employees. "Obviously you've got to be somewhat interested in people's background, but we always understand people have made mistakes," Jones says. "If we can find somebody who wants to work and checks out, we are committed to them, kind of almost regardless of what they've done in the past.
It's not just the manufacturing sector that's redoubling recruitment efforts. For example, if there's a career fair happening at a local college, seeing representatives from American National* in attendance is practically guaranteed. That's because the company takes full advantage of its proximity to regional universities to maintain a talent pipeline for its Springfield corporate center, particularly for entry-level positions. "We just have better luck in this area with the entry-level market because it is so saturated with colleges," says Megan Trower, manager of talent management at American National.
American National recruits much of that talent through a dynamic paid internship program with the goal of finding positions for interns within the company after they graduate. As career development trainees, participants gain valuable experience while contributing to the company alongside current staff in key capacities, such as assisting with underwriting or working in American National's Client Service Center.
In addition to bringing students to American National's corporate offices, the company builds bridges to college-aged prospects by engaging in classroom spaces. Human resources staff members regularly present in courses at Evangel University, several employees teach technical courses at Ozarks Technical Community College and a University of Arkansas graduate on staff returned to his alma mater to visit with actuarial students. Coupled with the internship program and dedicated career fair attendance, this classroom presence helps students gain a better understanding of the company and the opportunities available there. "Name recognition is huge," Trower says.
Building name recognition has also been essential for Penmac Staffing Services Inc. In recent years, more companies have been seeking Penmac's assistance in finding qualified candidates for jobs. "We have seen an increase in companies looking at using a [staffing] service that might never have used one before because they are struggling at getting enough people in their doors to fill out applications just on their own," Penmac President Paula Adams says.
To meet that demand and drive more job seekers to openings, Penmac has increased its marketing budget, allowing the firm to intensify time-tested strategies like online and social media marketing, as well as to utilize new tools such as mass calling and texting services. The company has also increased its advertising budget and expanded to new platforms including TV. A mobile app is also in the works to help ease communication with Penmac's current employees and applicants about job opportunities. "We use all of the media possibilities that we can to try to reach them," Adams says.
On top of increased marketing efforts, incentives and perks for current employees are also part of Penmac's strategy to attract applicants. For example, those who found their current position through Penmac become eligible for a bonus when they refer a friend to Penmac and after that new person works for a set period of time. Although this bonus incentive has been available for more than a decade, Penmac increases bonus pay rates or reduces eligibility requirements during certain recruitment promotions.
Penmac also makes every effort to remove factors impeding willing people from applying to open positions, such as offering a van service for a small fee to employees who lack reliable transportation, a perk available since 1988, when founder Patti Penny bought a van and personally drove employees to work. Penmac has maintained a fleet over the years and recently added an additional van and part-time driver due to increased demand.
---
Hiring Help
In March, Springfield ReManufacturing Corp. held a hiring fair with interviews and tours to prepare for a new production line at one of its facilities. 
Left Photo: Maintenance Supervisor Darrell Miller, right, interviews Victor Bulik for one of the open positions. Right Photo: Austin Murray gets a tour of the facility from Michael Ward.
---
Leveraging the Community
For JMARK Business Solutions Inc., an IT managed service provider, attracting talent has hinged on company culture and benefits—such as generous paid time off policies, flexible working hours and opportunities to work from home—more than ever before, especially for high-level positions. Russell Winterberg, JMARK's director of talent management, offers the example of a role like system administrator. "You can be a system administrator at one of 50 companies within Springfield, Missouri, and so then a lot of times [your] deciding factor is not based on the actual position duties," he says. "Most of the time those duties are going to be pretty similar. What it ends up coming down to is, 'What's the culture of your company like? What are some of the different benefits that you offer? What can I expect from the environment?' And that becomes a bigger thing to them than the actual position itself."
Winterberg says promoting the region's livability has also become important, particularly when recruiting experienced employees who have ties to Springfield but live in larger metro areas, a population group that the company targets. "Some of probably the best employees that we've gotten are people that have come back—they left and went to the big city and are like, 'You know what? I'd like to eliminate that hour-and-a-half commute every day,'" he says. Downtown Springfield's resurgent arts, culture and restaurant scene has been useful when cultivating prospects, too. "That can be a selling point to candidates as well, especially people that have not been here in a while," Winterberg says. "You have them come in, and they are like, 'Holy cow, this place has changed quite a bit.'"
CoxHealth also leverages 417-land's quality of life when recruiting new staff. In March, CoxHealth hosted a hiring event for experienced nurses at Hotel Vandivort in hopes of recruiting attendees—such as traveling nurses from other cities working at CoxHealth on short-term contracts—by demonstrating the exciting aspects of living in 417-land. When attending job fairs outside the area, Celeste Cramer, system director of recruitment and retention at CoxHealth, uses videos from the Springfield Area Chamber of Commerce that illustrate the region's livability.
But those events are just one piece of the health care giant's wide-ranging strategy to fulfill its workforce needs, particularly as physicians, nurses and other health professionals near retirement and patient care morphs to accommodate an increased number of cases requiring a one-to-one patient-nurse ratio. "Those ratios really impact things," Cramer says.
To meet those challenges, CoxHealth is taking a multipronged approach, even developing tools such as proactive recruiting software. Once completed, the software will be able to predict retirement trends within the system based on the hospital's data from previous years. "We aren't just sitting here waiting for retirements to come through," Cramer says. "We want to proactively address those [vacancies] so as soon as they are posted, we already have a candidate to slot in there."
Due to immediate need, CoxHealth took the locally unprecedented step of hiring about 100 international nurses, who started arriving in fall 2016. A common approach in other parts of the country, the move received some criticism due to concerns that the nurses would be paid less than their domestic counterparts or that local candidates were passed over. Cramer says both are misconceptions and that the move was necessitated by the lack of local candidates ready to join the workforce. "It is really hard because it's pretty rare that a city of this size will have two Level I trauma centers the size of Mercy and CoxHealth, and the schools just can't produce enough nurses to support both systems," Cramer says.
She also notes that the international nurses, all of whom possess many years of experience and meet high care standards, fill the specific need for nurses with greater levels of experience while serving as a vital stopgap to the larger issue at hand. "The shortage in health care workers is here, and we must be creative in how we fill current vacancies while we proactively find new ways to build the workforce," Cramer says. "International recruiting is just to supplement the high demand, but our focus is on growing and retaining local talent."
---
Community College Corps
Ozarks Technical Community College isn't just helping 417-land businesses address workforce challenges. This March, OTC and Missouri's 11 other community colleges officially formulated the Missouri Community College Workforce Development Network with the goal of helping companies across the state equip their workforce. The network allows the colleges to pool their resources, which are then made available to all Missouri businesses regardless their location in the state. If an organization needs a specific type of training that their local community college lacks but another possesses, that valuable information is now accessible through the network.
---
Growing Talent Internally
CoxHealth discovered a new means of developing that local talent while working on the international recruiting project. While working with specialized agencies and learning about their training processes, Cramer and others wondered if there were ways that some of their current staff—specifically, people working in departments such as housekeeping but who were certified nurses in their home countries—could benefit. "We started talking to these individuals, [and] we were like, 'Well, how can we help you become a nurse?'" Cramer says.
The next steps included partnering with Cox College to create a curriculum designed to get participants, who don't have to be affiliated with CoxHealth, up to speed for their licensure examination to become registered nurses and prepare them to join the hospital's staff. "The cost was relatively low, but it has a very big impact on their lives," Cramer says.
CoxHealth offers similar opportunities for other staff, such as a $10,000 scholarship for current employees interested in becoming surgical technicians or participating in a new medical coding program designed with OTC. Both are part of a growing strategy within the health care system to fill key positions with qualified individuals from within its own ranks.
OTC's training programs have also been vital to SRC, which, along with other divisions of SRC Holdings Corp., partnered with the college to create an industrial technology degree as a means of training existing workers to fill vital jobs. Scobee says that such internal workforce development has been crucial, especially for roles like maintenance technicians, which the program helps train. He recalls receiving more than 200 applications for maintenance technician positions last year, but not one of the candidates panned out due to various reasons, including that they lacked the right skills. "Instead of buying them from the market, we are trying to build them from within," he says.
American National places a similar emphasis on internal recruiting. That's an especially important approach when it comes to positions requiring greater expertise. "When we are looking at more of that skilled workforce or particular type of IT knowledge, that's where it gets a little bit more difficult [to recruit] in this area and where we need to be working on our workforce development internally," Trower says. "Training people for those types of things becomes more imperative."
That's been a particularly beneficial tactic for claims, a division of the company which tends to have higher turnover. Last year, American National launched a training program to create a stronger pipeline for that division. "It's meant to be kind of a springboard program," Trower says. "They learn the ins and outs of all of the claims functions that they would handle, and they backfill or move into positions created at various levels of our claims area." Drawing a combination of internal and external participants, the program boasts 100 percent retention of the first three classes, totaling 26 people, since it began in January 2016.
JMARK also stresses employee growth, so much so that all new hires and their directors meet with a technical trainer to map out their career path in the company. That emphasis on staff development—including covering the costs of necessary certifications, seminars, conferences and other educational opportunities—plays a part in securing JMARK's workforce in years to come. "There's always going to be a shortage of people to do what you need and what you want," Winterberg says. "But, we hire based on the person first and probably the technical skills second. We can train the technical skills. That is a big thing for us."
Such investment will pay big dividends for companies down the line, says Lindsay Haymes, Springfield Area Chamber of Commerce vice president of workforce development. "It's about empowering individuals and companies to be able to take their own steps toward closing their own skills gaps," Haymes says. "And another piece of that is that it's incredibly costly to find new people. It's a lot easier to train your own and promote them within." Plus, such investment provides a powerful retention tool. "When you invest in your people, they feel more valued. They feel like you care about them and you want them to be successful, and so there's a lot of that kind of more intangible benefit that turns into tangible benefit when the employee stays and you don't have to try to find someone else," she says.
Retaining Talent
Elliott, Robinson & Company LLP is one local company that has taken advantage of tangible benefits, such as flexible hours and telecommuting, to attract and retain employees. According to Amanda J. Kastler, a partner at the firm, there are two conundrums perplexing the public accounting industry: managing the around-the-clock burden of tax season and retaining staff, particularly people who have between four and eight years of experience. "That's always been a magical time frame," Kastler says. "If people leave public accounting, it's in that space." With those challenges top-of-mind and knowing millennials' workplace preferences would likely differ from those of prior generations, Kastler and others in leadership took a hard look at the firm's culture. "We tried to stay in front of the curve to keep the great people that we had and potentially attract people from other firms that weren't getting what they needed," she says.
To do that, the firm began offering flexible work hours, even allowing personnel to put a cap on the amount of time they put in during tax season, a historically rare perk in the industry. That flexibility was made possible by the addition of part-time staff to help shoulder the burden. This year, one of those part-time workers—a former staffer who moved to Las Vegas—telecommuted, which the firm hopes to offer more in the future as a way to retain employees even if they relocate. Kastler says those shifts—made during the last three to five years—have paid off in a big way. Last year, the company had less than 6 percent turnover, a fraction of what it was about eight years ago, when the firm experienced industry-average turnover in the 10 to 15 percent range.
Retention is also a major focus for SRC's Scobee. "How are we going to ensure that we have access to staff?" he asks. "The first thing is, keep the ones you get. That's the smartest and the best strategy." At SRC, that retention hinges on culture, which is built on philosophies from President and CEO Jack Stack's book and coaching program, The Great Game of Business. Those concepts include transparency, empowering associates and offering MiniGames, or short, focused campaigns to affect change.
That focus plays out through initiatives like a MiniGame incentivizing associates to submit new ideas, and Leading Edge, a professional development program geared toward future leaders in the company. These efforts all play into employee engagement, the company's key focus for 2017, and retention. "That's going translate to lower turnover, which translates into better profits," Scobee says.
Struggling with retention? Learn ways to help keep talent in your business.

---
Reaching New Generations
For some industries, such as construction, the biggest labor challenges take shape long before retention ever comes into play. But thanks to a dedicated community push, that might be changing. This past April, about 900 hard hat–sporting high school students flooded the Ozark Empire Fairgrounds and Event Center's E*Plex for Build My Future, hosted by the Missouri Job Center, Home Builders Association of Greater Springfield (HBA), Springfield Contractors Association, Missouri Department of Transportation and others. Some kids high-tailed it to a dump truck simulator, others tried brick laying, while others worked on floor-covering designs, leveled sand and much more.
Modeled after iBuild, a Kansas City expo similarly highlighting careers in construction, the inaugural event introduced students to the industry at a time of dire labor shortages, causing project delays and increased costs. "There are all of these opportunities out there directly tied to the construction industry, and we desperately need people filling those jobs," says HBA CEO Charlyce Ruth. "This sounds silly, but if we don't get more plumbers out there, you are going to start paying a plumber more than you pay an attorney."
Although there is more work to be done, Brookline Doorworks' Foley is pleased at the prospect of bringing more young people into the industry through outreach like Build My Future. "That's a good step in the right direction," he says.
Derick Barnes, business agent for the Heavy Construction Laborers' Union Local 663, echoes Ruth's concern. "The pool of people to pull from in construction as a whole is drying up," Barnes says. To help expand that pool, Barnes and others in organized labor banded together with the Missouri Job Center last spring to launch a Multi-Trade Pre-Apprenticeship program designed to prepare participants for apprenticeships with local unions.
Born out of the Missouri Job Center's industry-specific roundtable discussions, the program helps participants obtain their OSHA 10 certification and boost their preparedness for the construction industry with classroom learning and hands-on training with the plumbers and pipefitters, local carpenters and heavy construction unions. That training paid off: Each of the four trainees that participated in the first class joined the construction industry.
In 2017, a second pre-apprenticeship program—one geared toward 18- to 24-year-olds—began, bringing similar training to 10 participants, all of whom were hired in construction. Barnes says the program would have been worthwhile if only one of the participants had joined the industry because of it. "I really believe that life is about opportunities," he says. "These kids are seeing an opportunity. If it wasn't for the career center and our partnership, they would never have that opportunity."
Other communities are taking note of that partnership. In March, Barnes, the Springfield Chamber's Lindsay Haymes and Mary Ann Rojas, director of workforce development for the City of Springfield, traveled to Washington, D.C., where they discussed the success of various collaborative efforts at the National Association of Workforce Boards' Forum conference. Another trip is scheduled for this May, when Barnes and Rojas will each present sessions at the National Association of Workforce Development Professionals conference in New Orleans.
For Haymes, such collaboration among business, government, education and others bodes well for the future of 417-land as the region tackles its labor shortages. "We have the right formula in southwest Missouri to get out in front of the workforce challenges and try to bring real, practical solutions to the business community when it comes to talent because of our collaboration, because of our partnerships and because of the talented individuals that are both leading various organizations and the teams that make them up," Haymes says. "It's just a really great time in the workforce ecosystem in southwest Missouri."
Learn how to attract talent from Generation Z. 
---
Workforce by the Numbers
In February, the Missouri Job Center-Ozark Region and Workforce Development Board released findings from its annual State of the Workforce Survey zeroing in on workforce issues and trends. Here are five key tidbits from the survey.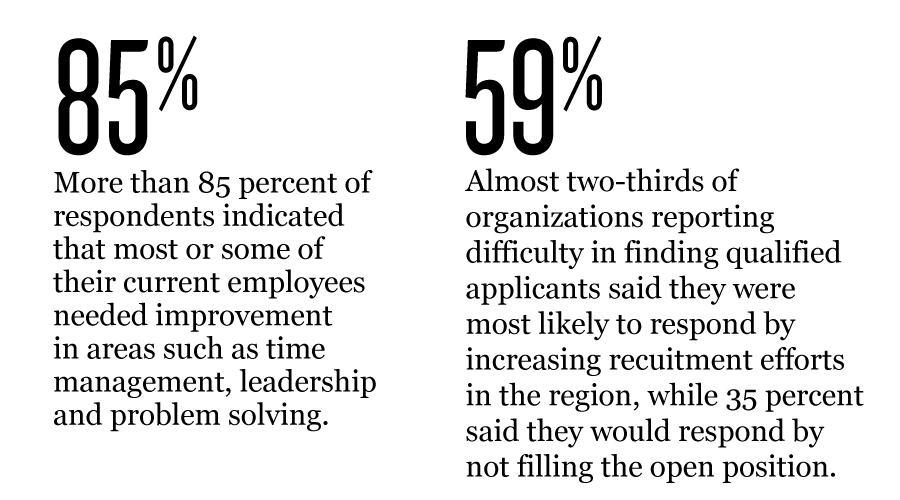 ---
Getting Skilled
The Missouri Job Center and local construction experts are teaming up to train potential workers for various positions during the Multi-Trade Pre-Apprenticeship program.
*Editor's note: A previous version of this article incorrectly stated the name of American National, which is the correct name for the company's entity referred to in this story.