Small to Mid-Sized
Clinger Holsters Are Locked and Loaded
When programmer Chris Tedder pulled the trigger on his idea for a discreet and flexible holster, he had no idea that he'd be shooting for success and increasing his company's sales six times over in just a year.
By Matt Lemmon | Photo courtesy Clinger Holsters
May 2016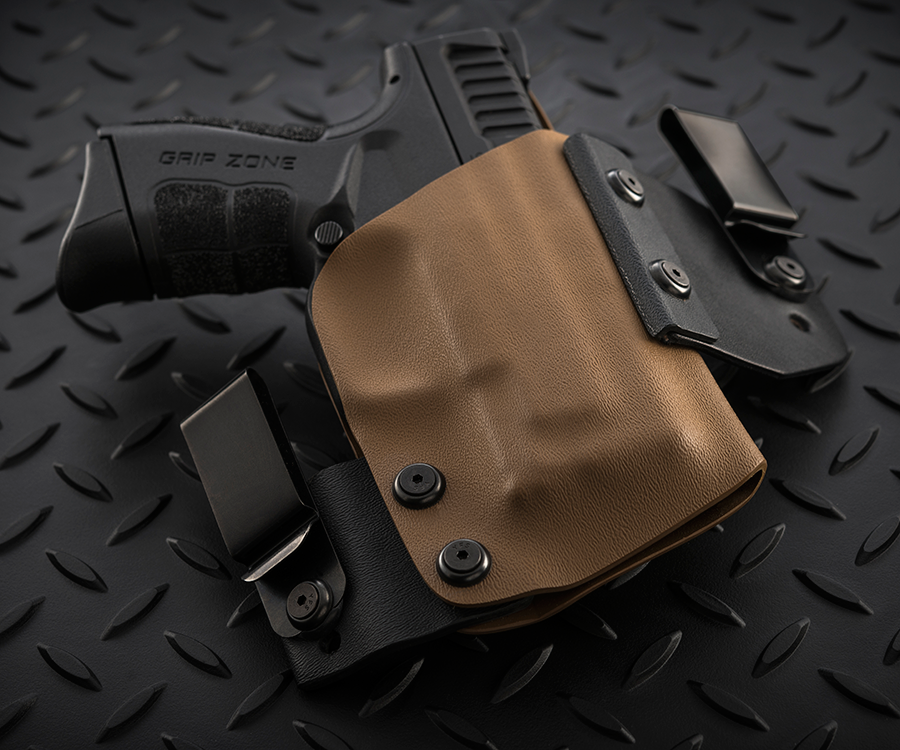 Chris Tedder's success is a very clear case of an entrepreneur identifying a problem and taking the initiative to solve it. In this case, Tedder, president of Van Buren, Arkansas–based Clinger Holsters, felt that most concealed-carry holsters on the market were too obtrusive, particularly when it came to larger firearms.
A computer programmer by day, Tedder began working on his signature Cling-Tab system by night. There are videos at clingerholsters.com that illustrate how it works, but it's essentially this: Two "tabs" keep the holster attached to the wearer's belt. One is tight and keeps the handle side of the holster snug between the pants and waist. The other is a flex tab, which pivots as the waist moves side to side or up and down. The result is a handle that stays affixed to the wearer's body even if he or she bends or twists. A concealed weapon stays completely concealed.
"It's an obvious idea when you stop and think about it," says Tedder, who has filed patents for the work. "People love this holster." The other element of the invention is the use of the malleable Kydex material for the holster itself, instead of the leather or nylon typical for holsters. Kydex is a thermo-plastic that is heated and then vacuum-molded to fit nearly 400 specific models of firearms. Holsters run anywhere from $19.99 to $59.99, Tedder says.
But a great invention doesn't always beget a successful business, and Tedder has built that as well, with a 500 percent increase in sales in 2015 over 2014.


---
But how does a web producer from northwest Arkansas become one of the firearm industry's most successful accessory makers? Tedder, who calls the day he walked in and resigned from his old job and started working on Clinger Holsters 24/7 as his very favorite day, provided Biz 417 with some insight on building a business from scratch:
Give it your all.

Tedder says he slept three or four hours a night during the first year, when he was still putting in 40-plus hours at his old job while also working on the Cling-Tab system and the process for creating the holsters. He also sunk every dollar he had into it.


Balance rapid growth with customer demand.

Clinger Holsters' lead time is three weeks, down from six to eight weeks on orders. He says the time he, as owner, has to devote to customer service is a little unexpected. "You want to focus on building a brand, a product, but you have to commit focus and resources to your customers or it will hurt the brand you're working on." 


Efficiency is king.

Tedder is tight-lipped about his production processes, citing keen competitor interest, but says efficiency in an assembly line-like process is key. Everyone specializes in something, with bonuses paid on beating production goals. 


Don't undervalue your web presence.

As a web designer in his previous career, Tedder admits he started with an advantage in that he could build an excellent website quickly and cheaply, even while the business was getting off the ground. It's made a huge difference. "You want as many eyeballs as possible seeing your product, and you want to make it as easy as possible to buy," he says. Targeted advertising in magazines, a curated social marketing strategy (if you're a firearm advocate you'll want to follow Clinger Holsters' Instagram feed) and more-than-competitive pricing help close the deal.