Small to Mid-Sized
By the Numbers: Springfield's Hotel Boom
With hundreds of hotel rooms under construction, Springfield's robust hotel industry signals a strong local economy.
By Juliana Goodwin
Mar 2018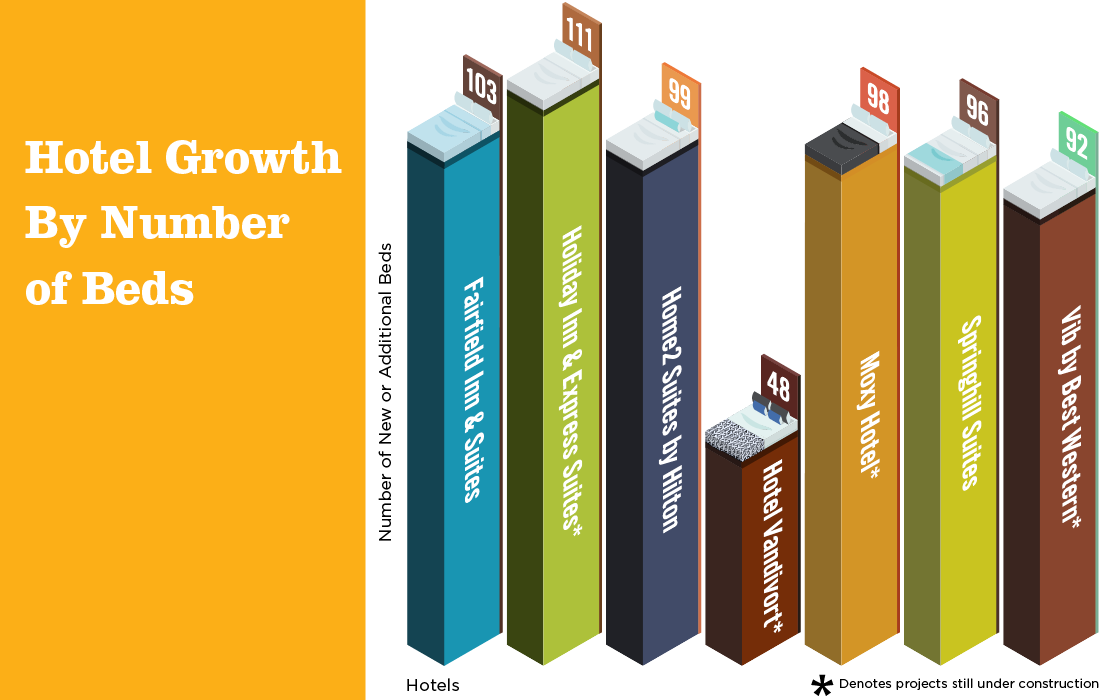 The hotel industry in Springfield is booming. "We don't normally see this many properties under construction at the same time," says Tracy Kimberlin, President/CEO of the Springfield Convention & Visitors Bureau. "Roughly 500 rooms will be added to the marketplace by the end of this year." In the past few years, hotel occupancy records have continued to be broken, and 2017 was no exception.
According to Smith Travel Research's STR report, Springfield was up 2.8 percent last year, while hotel demand in Missouri saw no increase. But Kimberlin says according to their own tracking, the city's room occupancy was up 5.6 percent (the disparate figures are due to different sample sizes and the inclusion of independent hotels within the CVB's records). "Wonders of Wildlife is obviously contributing to that, in addition to the economy," Kimberlin says. After rebounding from the Great Recession, the economy continues to grow as unemployment, especially in Springfield, has remained low. At the same time, construction and tourism are up, as are sporting events and business travel.
This uptick in tourism is good for the restaurant industry, retail and other local businesses, Kimberlin says. The average visitor spends $125 per person per day, but that varies as business travelers spend a little more and convention-goers shell out $150 per person per day or more. And while it's rosy news, Kimberlin says he wouldn't want to see that many rooms added every year. "There is a delicate balance of supply and demand," he says. "Our demand has been very high. The building is in response to that. We just hope it doesn't get ahead of demand."