Women Who Mean Business
Women Who Mean Business
Meet 2017's Women Who Mean Business, four dynamic professionals who are confidently leaving their mark on the 417-land business scene.
By Savannah Waszczuk | Photos by Chuck Travers | Art Direction by Heather Kane | Styled by Worth New York | Shot on location at Oasis Hotel and Convention Center
Mar 2017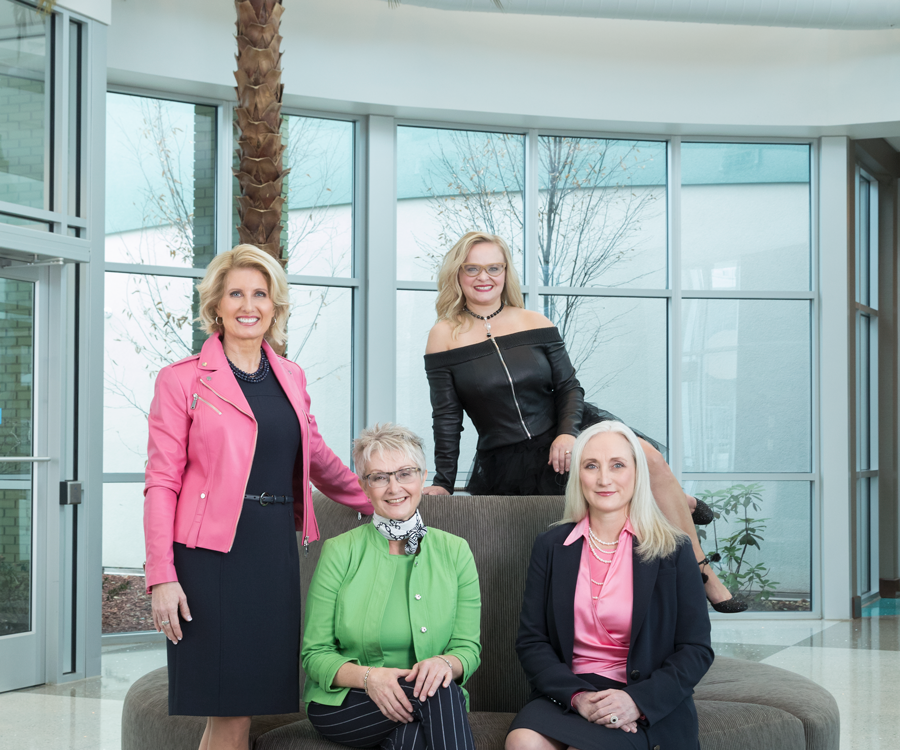 We asked you to tell us about the region's most powerful, game-changing women, and you answered with dozens of professionals who are leading the way in their fields. After examining candidate after candidate from an array of highly qualified nominees, we chose these four fearless women who stood out from the rest. This year's Women Who Mean Business are four dynamic professionals who are confidently leaving their mark on the 417-land business scene.
---
Robin Robeson
Executive Vice President and Chief Operating Officer, Guaranty Bank
Robin Robeson says the positions she's held at four banks, a consulting company and a technology software company all prepared her for her current role: the woman who provides leadership, management and vision at Guaranty Bank. Here's what she learned at each stage of her career.
 1986: Part-time Teller, First National Bank. 
Robeson had a part-time job at Sears when she was a student at the University of Missouri, but things quickly changed after she waited on a bank executive one day. "At the end of the transaction, he gave me his card and said, 'You know, I'd love it if you'd think about coming in and working for us as a teller,'" she says. When Robeson stopped by the bank a couple of weeks later, she was hired on the spot.
 1988: Management Trainee, Boatmen's Bank. 
Robeson graduated from Mizzou on a Friday, and she started a position in the management training program at Boatmen's Bank in St. Louis the following Monday. "That job gave me the opportunity to work in all different departments of the bank," Robeson says. "One of the things I realized there was that if I really want to move up in banking—and I wanted to be an executive one day—I had to spend time on the revenue-producing side of the business." She eventually became a portfolio analyst there.
 1991: Account Executive, FISI-Madison Financial.  
Next Robeson went from St. Louis to Nashville to work for a bank consulting company. "I would go into community banks and help them grow," she says. Robeson did so well that the company asked her to cover the four-state area of Missouri, Kansas, Arkansas and Oklahoma. "That territory was kind of a mess," Robeson says. But she saw it as an opportunity to work her hardest and try her best to clean it up. If you do that, she says, "There really isn't anywhere to go but up."
 1996: Assistant Vice President and Regional Retail Sales Manager, Commerce Bank. 
Although Robeson started out as assistant vice president and regional retail sales manager, she mastered several positions at Commerce Bank, including an assignment in business development and a position in which she started Commerce's private banking for the region in 1999. Three years after that, she changed roles again. "In 2002, I was promoted again to the market executive for the Commerce Trust Company," Robeson says. "That job had sat open for a period of time because they just weren't finding the right person. I kept raising my hand and saying, 'Hey, I can do this job,' but they'd say, 'Well, you're only 36.' But I knew that had nothing to do with my ability, so I just kept raising my hand." 
This persistence and confidence is a key to success, Robeson says. "You have to make it known that you want more responsibility—that you want to grow and that you want to develop," she says. "You have to be more direct. Sometimes I don't think that women do that as much as they probably should. You have to just go for it sometimes, even if you don't think you're 100 percent qualified. I almost think that every position I've ever gotten I wasn't quite 100 percent qualified for." 
 2007: Vice President of Corporate Services, Duck Creek Technologies
Robeson was still at Commerce at the start of 2007. "That's one of my biggest missteps—staying in that job too long," she says. "I felt that to take my career to the next level I needed to do something completely different." So she left the familiar banking world and began working for software development company Duck Creek Technologies. "It was the best thing that I could have ever done," she says. Although she went into a high-level role in a whole new industry, she says it was important that she was honest. "My experience is that people respond when you're authentic," Robeson says. "If I didn't know something, I'd tell them. And I think that me being authentic in that way helped me to gain respect because I didn't pretend to know everything." 
 2012: Chief Operating Officer, Guaranty Bank. 
When the position for Chief Operating Officer at Guaranty Bank opened up, Robeson was ready to return to banking. "A COO position was always the position I thought was right for me," she says. "And the fact that it was at a community bank—it was like a dream come true, really." Her career path was different than she could have ever imagined, but she was happy to get into her dream role. "I believe that because I had always done a really good job and had great relationships with people—the fact that I always did what I said I was going to do—it's always been my belief that if you do those kinds of things, the right opportunity will present itself to you. People will remember that." 
 2017: The Next Big Thing 
Robeson doesn't plan on leaving Guaranty Bank until the day she retires. That being said, she does plan on moving its corporate offices—in fact, a new building is well underway. At press time, Robeson said she and her team expect to be moved into the new location at Farmers Park by this September. "We have a 103-year history, and we're very proud of that," she says. "But like all organizations, we have to grow, we have to evolve, and we have to stay relevant. That's what this new building is. It's very exciting because it's going to show the community how we see the Guaranty Bank of the future."
Why You Need a Good Support System 
Robin Robeson moved to Springfield after taking on her role with bank consulting company FISI-Madison Financial. It is here that she met her husband, Jim. "We got married in 1995," Robeson says. The travel schedule her career demanded wasn't quite as glamorous after marriage, so she started to look for another job with more time in Springfield. 
Still, she has always had a demanding career with long hours and weekend phone calls, and Jim has been nothing but supportive. "Choose your spouse, your partner or your significant other very carefully because they have a very big impact on your career success," Robeson says. "I'm going to give credit for that to Sheryl Sandberg, because she puts that in her book. But I believe it 100 percent." 
And it's not just about your spouse; it's about others, too. "Don't surround yourself with people who don't lift you up, who don't give you support, who are negative," Robeson says. "If you don't have a support network around you that is encouraging and who believes in you, well, that will really wear you down." 
---
Crista Hogan
Executive Director, Springfield Metropolitan Bar Association and Springfield Metropolitan Bar Foundation 
Crista Hogan has spent much of her life dealing with personal struggles, but she never let them interfere with her professional success. Her perseverance through upheaval has made her a steadfast leader in the local law field. 
Crista Hogan uses an analogy to explain how she's accomplished so much in her lifetime. "I'm a distance runner," she says. "I compare a lot of things to that and to the training it takes." 
Hogan has completed three marathons, and her total number of half-marathons, her signature race, is 33. "You can't just wake up, lace up your shoes and say, 'I'm going to run a marathon today,'" Hogan says. "But maybe you can go out, and you can run a half mile. Then soon you can run a mile. Then—if you've trained—a marathon isn't really that hard. That's if you've put in all the miles leading up to it. But if you're not prepared for it, it'll kill you." 
Running in these races, as well as putting in the miles and miles of training they require, has been one of Hogan's few constants over multiple decades of ups and downs. She had her first child in her third year of law school, then later had two more children with her first husband, Jim, who they later learned had a severe mental illness. After years of trying to make it work, the two eventually divorced. Later in life, Hogan's second husband, Tedd, was diagnosed with terminal cancer. "I know the minute that it happened," Hogan says. "I know the day, and I know the minute. Because he died seven months later, but a lot died in that moment." Three months prior to Tedd's death, Jim committed suicide. 
Despite these personal struggles, Hogan has done whatever it takes to not only survive but also to succeed. She worked as an attorney to support her family, but she left private practice almost 15 years ago to become the executive director of the Springfield Metropolitan Bar Association, an organization that was struggling when she joined but is now prospering under her leadership. 
Since Hogan started her role at the Bar, the association has received four national awards for programs and publications, among many other recognitions. The membership of the organization has grown from roughly 500 to a thriving 1,000, and Hogan, with the organization's other leaders, created the Springfield Metropolitan Bar Foundation. The foundation has allowed thousands of people from all walks of life to participate in free public education and community outreach projects. Hogan has greatly expanded the bar's professional education programming and brought its publications in-house, all while making it a financially stable organization and even accomplishing a decades-long goal of purchasing a building to house it.
Hogan has also prevailed outside of her career. A smile takes over her face as she shares the fact that she's found love again—she's happily engaged to her fiancé, Abram McGull. She's also kept herself involved with various volunteer organizations, including being a member of and then president of the Junior League of Springfield. "Frankly, my experience in Junior League is probably what helped me get this job even more than being a lawyer," Hogan says. "I'd run some small businesses through Junior League, and I'd dealt with budgets, personnel and projects." 
As many of Hogan's interests and pastimes tend to do, Hogan's time in Junior League helped her develop transferable skills, something she says is important for everyone in all stages of their lives and careers. "Learn as much as you can," she says. "As an employer, if I have five people come in for a position, I'm going to pick the one who's going to make my life easier. They're going to know something I don't know or know how to do something that I don't know how to do." 
And as far as professional advice goes, Hogan is frequently asked, and she has plenty to share—just not over lunch. Two years ago a summer law clerk wanted advice and invited Hogan out for the midday meal. "I hate going to lunch," Hogan says. But instead of turning the woman down, Hogan made a suggestion. "I said, 'I have a better idea. Do you run?'" Hogan says. "She said yeah, so she came along running with me." 
This leads to Hogan's next point: If you're asking something of someone else and you want to stand out from the crowd, give some thought to what's in it for them. "If you want to pick their brain, pick their brain while they get to do something they like to do," Hogan says. For her, it's running, the same pastime she uses as a part of her own professional development. "What I've found is that the women I run with—literally, run with, because the women I run with are all women lawyers—we get business done while we're running," she says. And she also gets a little something for herself—a bit more training for that next big race. 
---
Elle Feldman
Owner, Elle's Patisserie + Owner and Aesthetician, Lavare Day Spa
Elle Feldman is a popular name in Springfield's professional scene—she's both a top-notch aesthetician and the head confectioner at Elle's Patisserie. What most people don't know, though, are the many obstacles she faced on her long path to owning two small businesses.
Elle Feldman gets a bit teary eyed when she speaks of earning her college degree. "Graduation day was the best day of my life," she says. "I wasn't expected to go to college—neither of my parents went to college. I didn't think I was book smart when I was younger. I tried really hard in school, but I struggled a lot with math and science, so I didn't think I could do anything academic."
That's actually why she started in theater. As a young woman, she saw it as her ticket to success. Then she went to Alverno College, a four-year private liberal arts college that focuses on ability-based learning, and she thrived. "It was like the whole world opened up to me then," she says. 
It was the confidence Feldman found at this Milwaukee school that greatly changed her future. She soon found herself living in Springfield with her husband, Jon, and then turning her hobbies into a way to earn a living. "What I say to people is that if you want to be an entrepreneur, or even just enjoy your job, do something that you would do for free," she says. 
Feldman used to make truffles and other sweet treats for friends, then she started making them at her first small business, Lavare Day Spa, as a perk for guests. This eventually led to her opening her second business, Elle's Patisserie, in 2011. And although you'll never see her wearing a power suit as she's whipping up a batch of ganache, you'll often find her in the spotlight among other professional women in the region. She shares the words of wisdom she's acquired over the years.
 On creating a good work-life balance:
"This is really hard, and I'm going to be real on it—I don't think it's beneficial for any woman to sugarcoat it. Now just because this is my truth doesn't mean it's anybody else's truth, but I will do what it takes at all costs to get it all done. I don't ask for help, but that's a problem. You have to start learning how to ask for help and letting go of a little bit of control. You have to give people time to learn so they can help you in the way you want to be helped. I didn't, and I did it all myself, and I got sick. Five years ago, I developed an autoimmune disease. I wasn't eating right, I wasn't sleeping, and I wasn't working out. Sometimes you have to kind of hit rock bottom to learn that you just have to take care of yourself and create boundaries."
 On advice for young women starting their careers:
"Surround yourself with a support system of positive people and people who lift you up, and don't hang with the people who bring you down. I eliminated some personal relationships, and that was hard to do, but it has been really good to me. I've also attracted all of these new amazing people and had amazing new experiences. I read this article that said to think of the top five people you spend the most time with—well, you are a combination of those people. Well, think about who those people are. If they don't have traits you want, don't hang out with them." 
 On leadership:
"I've had people tell me that people listen to what I say and look up to what I say and have respect for what I say and do. Because of that, I've always felt that I have to be really careful and P.C. I have always been pretty private about my opinions on politics. As a business owner, I always felt like I had to be. But I'm starting to change that. I'm wondering if it would benefit women in general if I were to be more vocal about my perspective on it all because maybe there are other women out there who wish they had women like me that they could relate to. Maybe they'd be like, 'Okay, great, we can support each other.' So I'm starting to think that maybe I need to be a little bit more vocal about that."
 On giving back:
"That has been something that has been instilled in me since I was born. I didn't realize it then, but it comes from my grandfather. He was a huge volunteer for Catholic charities, both when he was working and after he retired. He led by example. I've always felt that it was important that I continue that, even for his legacy. With my businesses I'm able to give back in a way that I never could before. I would never be able to just write a check for the amount that we donate or the things that we sponsor—we donate an average of $6,000 in product, services and money per year. It's really hard to say yes to donate significantly to everyone, but I always try to give something, even if it's just a stack of coupons for a buy one, get one free truffle or a free truffle."
---
Marla Calico
President and CEO, International Association of Fairs and Expositions
As a hungry, eager college student, Marla Calico had a somewhat unexpected start to her career when she took a work study job at the Ozark Empire Fair. Little did she know she would spend the next 40 years working her way up the ranks in the industry. Calico served several roles with the Ozark Empire Fair including the leading general manager role for 10 years, and she became a committee member of the International Association of Fairs and Expositions (IAFE) organization early on. Her first IAFE role lead to many more, including roles as a speaker and, eventually, chair of the board. Today she's the leader of IAFE, which connects 2,000 organizations—roughly 1,200 member fairs and 800 associate members—around the world. We chatted with her to trace her path to success and find out what she's learned along the way.
Biz 417: You were named the assistant manager of the Ozark Empire Fair before you even graduated college. How did you take on such a large role at such a young age? 
Marla Calico: I was very, very fortunate when I started at the fair because my mentor was Dan Fortner, who at that point in time had taken over being manager of the fair and was working for no salary because the fair was in such dire financial straits. We had to work so hard to do everything because we were so far in debt, and we didn't have any money. So I was out on the tractor with him; he taught me how to do basic electrical and basic plumbing. And then we'd go right back into the office and work on marketing. I got a really unique exposure into all facets of running the fair. It was sort of a natural progression, and then eventually when Dan announced his retirement, our board of directors didn't even look anywhere else—they asked me to take the job. 
Biz: What are some of your proudest moments throughout your career?  
MC: When I was at the Ozark Empire Fair, it would have been successfully seeking and obtaining funding to create the E-Plex and then seeing that through its construction. Also, leading the fair to reach nearly four times the annual revenue it had when I first moved into the fair's management team. Serving as the chair of the board of the IAFE was an amazing experience, and at the time I thought I could receive no higher honor in the association. But then I was absolutely stunned and honored beyond belief when I was named to our association's Hall of Fame in 2012.
Biz: What are some small things that people can do to make a big difference in their professional career?  
MC: One of the things that I had experienced in college through one of my classes was the importance of being out there. When you go out and you walk into a room, you have to be shaking hands. You get out there, you start taking business cards, and then you go and sit with someone besides someone else you know. A lot of people are uncomfortable doing that, but you have to make those connections. It's almost getting comfortable with being uncomfortable. 
Biz: For you, it seems to come naturally. But how do you encourage less-outgoing individuals to be more confident?
MC: It's truly about being comfortable in your own skin. Don't try to be someone else—be comfortable with who you are, and capitalize on your strengths. For me, people know about my smile, and they know I'm going to walk right up to them, greet them and shake their hand. I'm very good at remembering people's names and something about them, and so I capitalize on that, too. So what is it that you can capitalize on? 
Biz: Do you feel you have faced any particular challenges as a woman?
MC: I've never had to face a situation of outright harassment due to my sex. I did have an interaction where—and I remember this very clearly—I was at the fair, and a contractor we were working with, a good ol' boy of some sort, was standing in front of me, and my maintenance manager who was easily 10 years younger than me was standing right next to me. But he was a big guy, a football player. The contractor wouldn't look at me and talk to me; he just kept looking at my maintenance guy. Well I finally strong-armed my maintenance man and stood up right in front of him and said, "If you want a decision, you're going to have to talk to me." Sometimes you have to do that. Now, I'm not going to do that all the time, but the situation called for it. You gotta be bold if you have to.
Biz: Your employees say that you're a great motivator. How do you encourage them to always do their best? 
MC: I think it starts from number one—something that I cannot explain but it came from my parents—an inherent sense of optimism. I grew up in an environment where it was like, "Hey, sis. You can do anything you want to do, and you can be anything you want to be. Go try. Go do." And as a relatively young person, being delegated the authority to go and have my own responsibility—well, I didn't know there was any other way to operate. Well, what is habit becomes your point of excellence. If you particularly practice that, it comes without a thought. In that regard, I have to say it's somewhat natural for me to expect someone who works for me to do their best. I'm going to go ahead and delegate that authority to them, and I'm going to trust them to get it done. 
Biz: What are some other things you consider important in your role as a leader?  
MC: I heard this at a session one day—if you wake up in the morning and something is wrong, and then you come to work and you have an attitude, everyone around you is going to have that attitude. And it is so simple, but, if you think about it—think of it as attitudes are contagious, and is yours worth catching? Another thing—if you're going to lead, you can't get caught up in managing. You've got to be out in front, looking forward and prepared to take the brunt of anything. Sometimes my job is that of a navigator. Sometimes I'm more like a captain who has to take control of the wheel. You have to understand on any given day what your role is. And honestly, I just believe in surrounding myself with the right people. It all comes back to attitude. You can teach skills and talents, but what about their attitude? You have to hire for attitude. 
---
Get Involved
The 2017 Women Who Mean Business know that getting involved is one of the first steps to success. Start making your own connections with the help of these local women-focused organizations. 
Created by The eFactory and The Network, Rosie supports, assists and serves as an advocate network for current and prospective female founders, business owners and leaders in the greater Springfield area. The goal of Rosie is to help women of all ages and professions connect, partner and collaborate as well as to increase support and access to resources for women in the areas of professional development, business assistance and leadership. 
How to Join: Online at rosiesgf.com
With more than 600 members, the Junior League of Springfield, MO, is an organization committed to promoting voluntarism, developing the potential of women and improving the community through the effective action and leadership of trained volunteers. Its purpose is exclusively educational and charitable in nature, and the group is restricted to women 21 years or older who demonstrate an interest in and commitment to voluntarism.
How to Join: Attend an informational meeting and complete new member requirements during the annual May–April time frame. Find additional info online at jlspringfield.org/joinjls/newmembership.
Founded in 1909, AWC now has more than 2,000 members nationally. The local chapter is focused on both personal and professional development of its members: women working in the communications field. The association also seeks to connect professional women, recognize the work and accomplishments of members and create a network of women supporting women.
How to Join: Attend a monthly luncheon, hosted the first Tuesday of every month at 425 Downtown. Visit awcspringfieldmo.org for more information.
AAUW is a national organization with state and local branches. Its goal is to break through educational and economic barriers for women and girls. It's open to women and men holding an associate (or equivalent), bachelor's or higher degree from a regionally accredited college or university.
How to Join: Find virtual and in-person events at aauw.org or aauwmo.org, or contact Donna Medlin at djmedlin@aol.com for more information.
Women in Science and Entrepreneurship (WISE)
Run by the Missouri Cures Education Foundation, WISE is an opportunity to bring women in the fields of science, research and entrepreneurship together to network. It's a state-wide group, but the Springfield organization meets once per year each fall. College students are also welcome to attend.
How to Join: Sign up online at missouricures.org. You'll receive a monthly newsletter and an invitation to the organization's annual Springfield event.
Working Women in Nixa (WWIN)
Organized by the Nixa Area Chamber of Commerce, this group includes female business leaders who are chamber members. The primary goal is to help women leaders excel professional and personally. 
How to Join: Meetings are held on the third Tuesday of the month at the Chamber's new location (106 W. Sherman Way, Suite 6, Nixa). Learn more by calling 417-725-1545 or emailing info@nixachamber.com.
The Women's Initiative
Established in 2013 by Arvest Bank, The Women's Initiative aims to empower women of all ages and professions and to offer enhanced opportunities for education, mentoring, friendship and leadership development.
How to Participate: The Women's Initiative hosts two events per year. If you're interested in attending, email thewomensinitiative@arvest.com.