Culture
Salon Service Group
One disastrous dinner led this Springfield business owner to adopt a new operations mantra. That expression now serves as the company's cultural backbone.
By Ettie Berneking | Photos by Brad Lyons & Taylor Nguyen
Mar 2017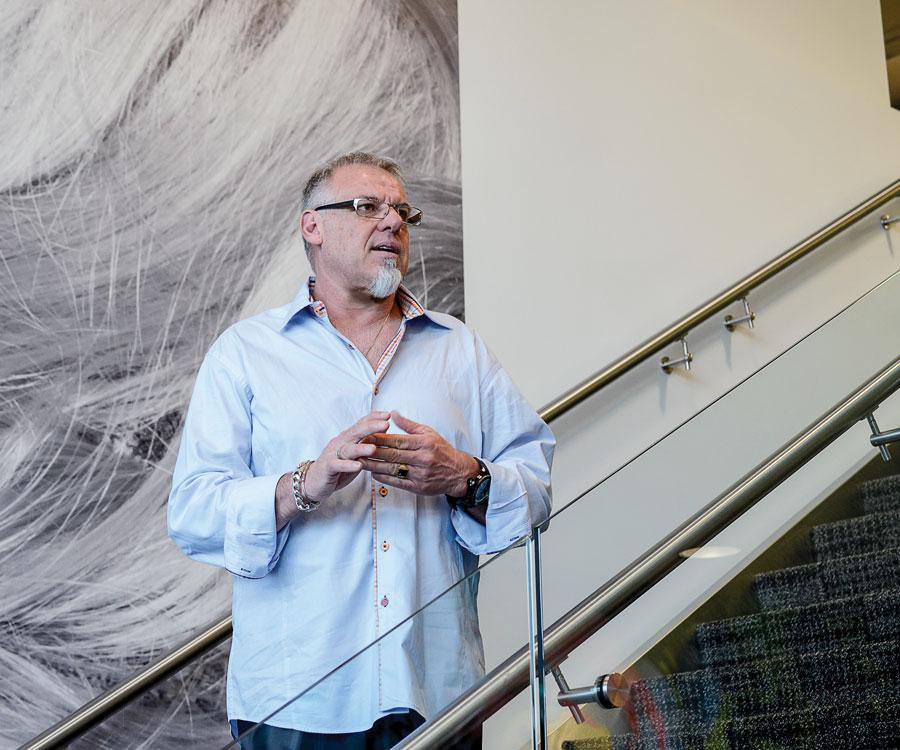 Gino Barbo, owner of Salon Service Group, has been in the distribution business since 1987. The Australia native has 27 stores in 11 states and some 280 employees. "I always say that my mom wouldn't be proud of me because I built a big company," Barbo says. "She would be proud that I've built it the right way." For Barbo, that means putting his employees first. Thanks to a collaborative work environment that encourages a healthy work-life balance and prioritizes respect within the office and a shared sense of responsibility, the culture of Salon Service Group puts the employees' happiness on par with the company's customer service. 
"We always wanted to make sure we did things the right way," Barbo says. "The right way is making sure we treat our customers well, but it's also making sure we're treating our employees right and they're being respected. They can have fun and have the opportunity to have a long-term career and be part of a company that will listen and grow with them and build the company as a team."


Gino Barbo speaks to Salon Service Group staff at an All-In Sales Meeting.


To instill that notion of teamwork, Barbo has a saying he likes to use: "Go find the egg!" The expression came about after Barbo went out to eat one night and asked to add an egg to his cheeseburger. The menu had other dishes that have eggs, so Barbo knew it was possible, but the server didn't even ask the chef to do it. By the time the meal was over, Barbo, who never got that cheeseburger, had a new business mantra: Go find the egg, which means do a little extra to get the job done. It's an expectation Barbo sets for every employee. "At the end of the day, I'm going to do the very best for my employees, and I expect my employees to do their very best for our customers," he says. "Instead of saying, 'I don't know,' or 'We can't do that,' let's get up and find a solution."
Headquartered in Springfield, Salon Service Group has expanded into Iowa, Kanas, Tennessee, Arkansas, Oklahoma, Nebraska, Wisconsin, Minnesota and Texas. The growth has tested the company's culture, but Barbo says the key is patience. "Anytime you grow at that level, there are always challenges," he says. "The larger you get, the harder it is to keep that culture consistent. Someone new might not understand it right away, but over time, they will feel part of it."
To bring everyone on board, Barbo and his managers keep all employees updated on company goals and numbers, and they gather twice a year for "All-In" meetings. Employees celebrate company victories, hand out awards and go over upcoming projects. Instead having of cubicles and closed-off offices, the company's headquarters is colorful and creative with plenty of open work spaces. And as Salon Service Group celebrates nearly 30 years in business, Barbo credits that company culture of respect and shared responsibility for much of his success. 
*Editor's note: This article has been updated to correct errors. Brad Lyons took the photo of Gino Barbo. Additionally, Salon Service Group's only office environment is its headquarters.