Offices
Departika's Office Space
There's nothing traditional about Departika, a digital marketing and design company, and that includes the company office on Commercial Street. Step inside the modern industrial office full of quirky, fun decorations.
By Adrienne Donica | Photos by Brad Zweerink
Mar 2017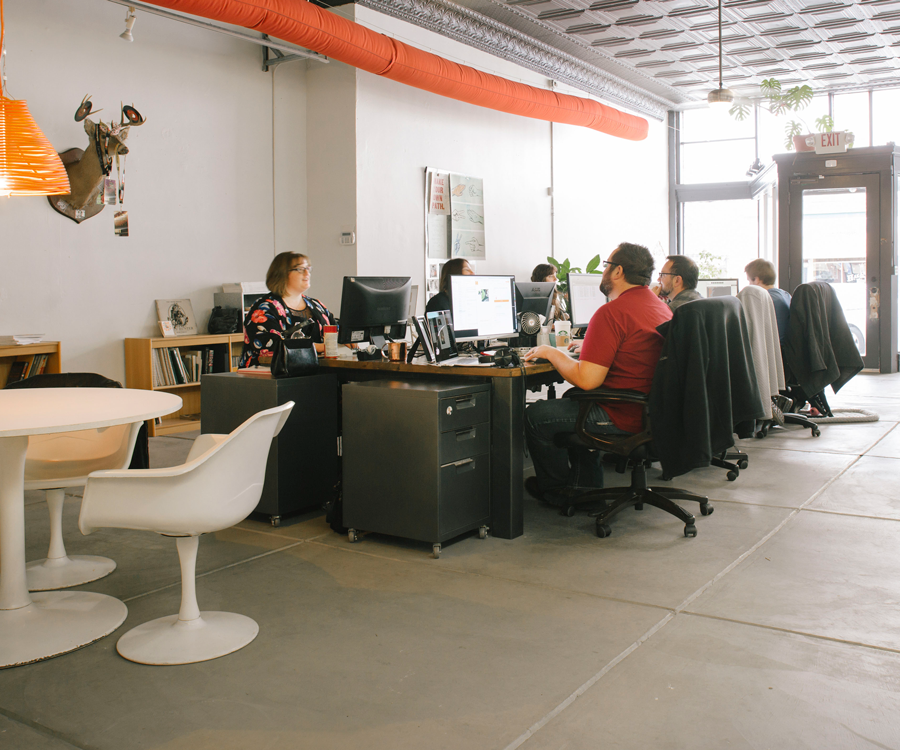 1. The Departika team is six people strong and owned by Katie and Corey Canada. All six work at the custom-built table made by Mademan Design LLC, a St. Louis–based company, that sits in the front of the office. The table features outlets on top, providing extra convenience for charging electronic devices. In exchange for the table, Departika designed Mademan's website.

2. Dean the deer is a pseudo mascot for Departika. "We wanted a unicorn head bust," Katie says. When they couldn't pull off making one on their own, they settled for this deer bust that belonged to Corey's parents. Over time, Dean has acquired many accessories such as VIP passes to a NASCAR event (one of the company's clients sponsors a team) and a crown that was left by the Canadas' 4-year-old daughter, Sophie.
3. "We use these big shelves to break up our office a little bit," Katie says. The shelves separate the working table from the pingpong table and are filled with several knickknacks. Books, design magazines, client products, novelty toys and about 80 PEZ candy dispensers adorn the ledges. That statue on top of the shelf is on loan from Corey's sister who brought it back from northern Thailand.
4. The pingpong table at Departika has been a long-standing item at the office. Although it hasn't been used much recently, staff members are known to play matches multiple times a day. Former employee Tyler Gross painted the drawings on the wall behind the table as well as on a nearby cabinet. Katie says he had free rein to create whatever he wanted.
5. Designer/Developer Andy Owler brings his dog Oakley to the office on a regular basis. She is about 5 months old.
6. When it came time to decorate, Katie and Corey chose a modern industrial style to play up the bones of the refurbished building. "We wanted really white walls to contrast that really rough plaster old wall that we liked the look of," Katie says.
7. While in their old downtown location, the team made a big bulletin board that fits perfectly on the back of the shelves of the new office. It serves as an inspiration wall for sketches, old Spin magazine pages and more. Last summer, Springfield Creatives came for an office tour, and when they left, Katie noticed a few additions.
8. This workstation is a multipurpose craft corner. Workers can mock up designs, trim printouts or even paint. "Sometimes that area becomes a little mini photo studio," Katie says, referring to times when they want to take photos of their clients' products. Above the desk hangs a painting by Daniel Flodin, who is a friend of the Canadas.
9. The back room at the office used to be an apartment. Some previous employees even lived there at one point, but now Departika employees use it as a conference room. Before this space was designated, conference calls often required any employee not on the call to be quiet. When an employee moved out of the space, Katie says, "It was the perfect opportunity to repurpose the space as a back office."