Women Who Mean Business
Women Who Mean Business
Out of almost 70 nominations, these five trailblazers stood out from the pack as leaders in their fields.
Written By Claire Porter | Photos by Brandon Alms | Styling by Worth New York | Shot on location at Farmers Park
Mar 2016
Who are the women shattering the glass ceiling and making a mark here in 417-land? We asked, and you answered. Out of almost 70 nominations, these five trailblazers stood out from the pack as leaders in their fields.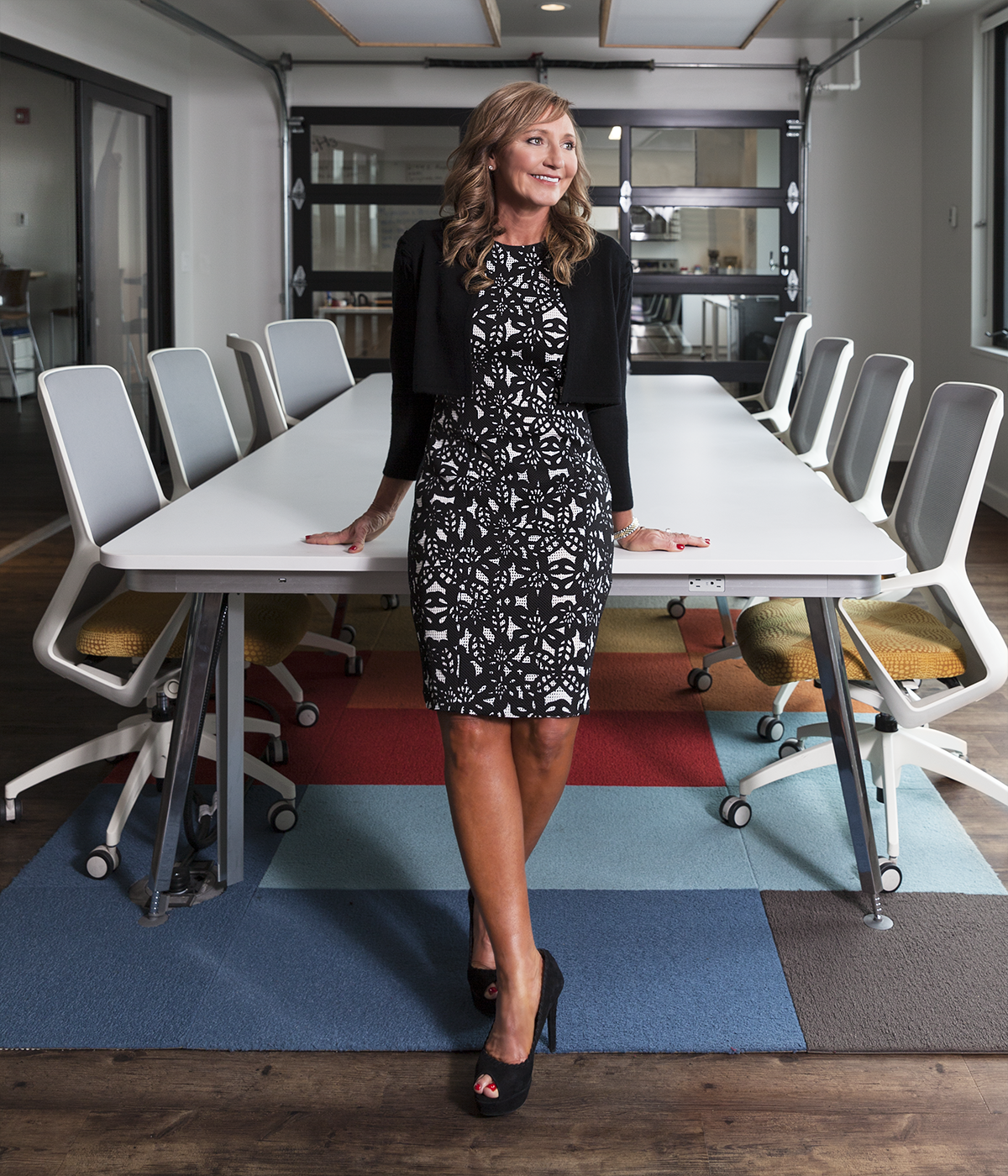 Teresa McGeehan
Owner/Operator, McDonald's
When most people take their first job as a teenager slinging burgers and serving fries, they rarely envision spending their careers that way. Teresa McGeehan was no different when she started working at McDonald's at 16 years old, but after 33 years with the organization, she is an owner/operator of 12 locations along with her husband, Chip, and is now one of the region's top female executives. 
As she climbs the ladder, McGeehan doesn't let her employees forget the potential their positions hold. "When people say McDonald's is a dead-end job, I say it can be if that's what you want it to be," she says. "Any job can be. Where do you want to take yourself?"
Through the years, McGeehan's supervisors recognized leadership traits in her and continued to promote her, despite her struggles with self-confidence. "I never really thought I had the potential to do it, but I tried," she says. "That's probably my one regret, that I wasn't more of a maverick and more of a risk-taker. I waited for people to come to me instead of saying, 'I can do this.'"
One of those supervisors was Chip McGeehan, who is now her husband. In 1994, he purchased the Lebanon McDonald's and immediately saw McGeehan's potential and ambition as he guided her through higher levels of management. "I knew I had a diamond in the making with this ball of energy," he says.
Because of mentors like Chip, McGeehan makes an effort to be a mentor to others. "I see so many little Teresas coming up the ranks," she says. "How do I help them? How do I encourage them to reach for the stars?" 
Everything from her mentoring to her attitude has rubbed off on her team. "Her drive and motivation has inspired many of our employees to reach high in life and accomplish all they can with what they have," Chip says.
Teresa's Path to Owner/Operator
1983
McGeehan begins working at McDonald's in Lebanon and is promoted to crew chief several months later.
1985-1990
She is promoted to higher management positions, eventually becoming General Manager.
1992
With McGeehan as General Manager, the Lebanon McDonald's becomes the highest sales volume restaurant in Missouri.
1994
McGeehan wins the "Outstanding Store Manager of the Year" award for the region. 
1995-1998
She becomes area supervisor, overseeing three locations and is awarded Supervisor of the Year.
2005-2009
McGeehan undergoes training to become a franchisee owner/ operator.
2010
McGeehan owns and opens her own store at a second location in Lebanon. 
2012
She purchases two more locations and takes a role on the Regional Leadership Council–Executive Team.
2013
In her 30th year with McDonald's, she receives the Ronald Award.
2014
McGeehan purchases two more locations, making her the largest female owner/operator in the Heartland Region.
McGeehan has helped two female owner/operators through the training and development program, which is one of her proudest accomplishments. According to McGeehan, female McDonald's operators have a higher success rate, higher-volume restaurants and greater cash flow. The issue isn't making women successful within their roles, it's getting them into those roles in the first place. She says that many women's spouses are owner/operators, but they themselves aren't approved owners. "If something were to happen to your husband tomorrow, your franchises can be taken from you because you're not approved and you haven't gone through the training to own them," McGeehan says. "Do you really want your livelihood taken from you?"

The true success of McGeehan's mentorship is due to her skills as a leader. For an organization with employees as young as teenagers and as old as those nearing 90, that leadership has to span a broad audience. "People are motivated by different things," she says. "I think that's the key to success: knowing your people and what motivates them." 
Although motivating tactics vary across demographics, the lessons imparted by a good leader tend to stick. For example, when McGeehan was giving a career talk at a local school, the teacher was a former employee McGeehan had fired for drinking Sprite and lying about it because the employees weren't allowed to drink soda. "She stood in front of her classroom and told that story, and she said, 'That was the most valuable lesson I ever learned… That made an impact on me, and I taught my children: don't lie, and don't take something that doesn't belong to you,'" McGeehan says. 
"People say we're a hamburger business, and we really aren't. We're a people business; we're just selling hamburgers."
— Teresa McGeehan
Moments like that reinforce the importance of a skill McGeehan admits she finds difficult to this day: handling conflict. She's learned how to sit down and have difficult but necessary conversations, but early in her career, she avoided them and lost valuable team members because of it. "I know those great leaders would probably still be with me today if I had done what I knew my conscience was telling me to do," she says. Those frank conversations also come in the form of admitting her own mistakes and being understanding and reasonable when others do the same. "I have to ask, 'How would I want to be treated if I was the one coming to me and saying this?'" she says. 
That empathy is a key part of McGeehan's leadership strategy. Because she's held every role within the organization, she knows their challenges firsthand and remembers what it was like to go through that position. "I made a promise to myself when I became an owner/operator: I'm always going to make sure I have empathy," she says. "That doesn't mean I'm not going to hold people accountable, but I have empathy and try to understand what they're going through." 
Ultimately, her success boils down to her people-focused attitude. "People say we're a hamburger business, and we really aren't," she says. "We're a people business; we're just selling hamburgers. It really comes down to the people. It's the people who walk into our restaurants every day that we serve, and it's the people who serve those customers. That's truly what makes us successful."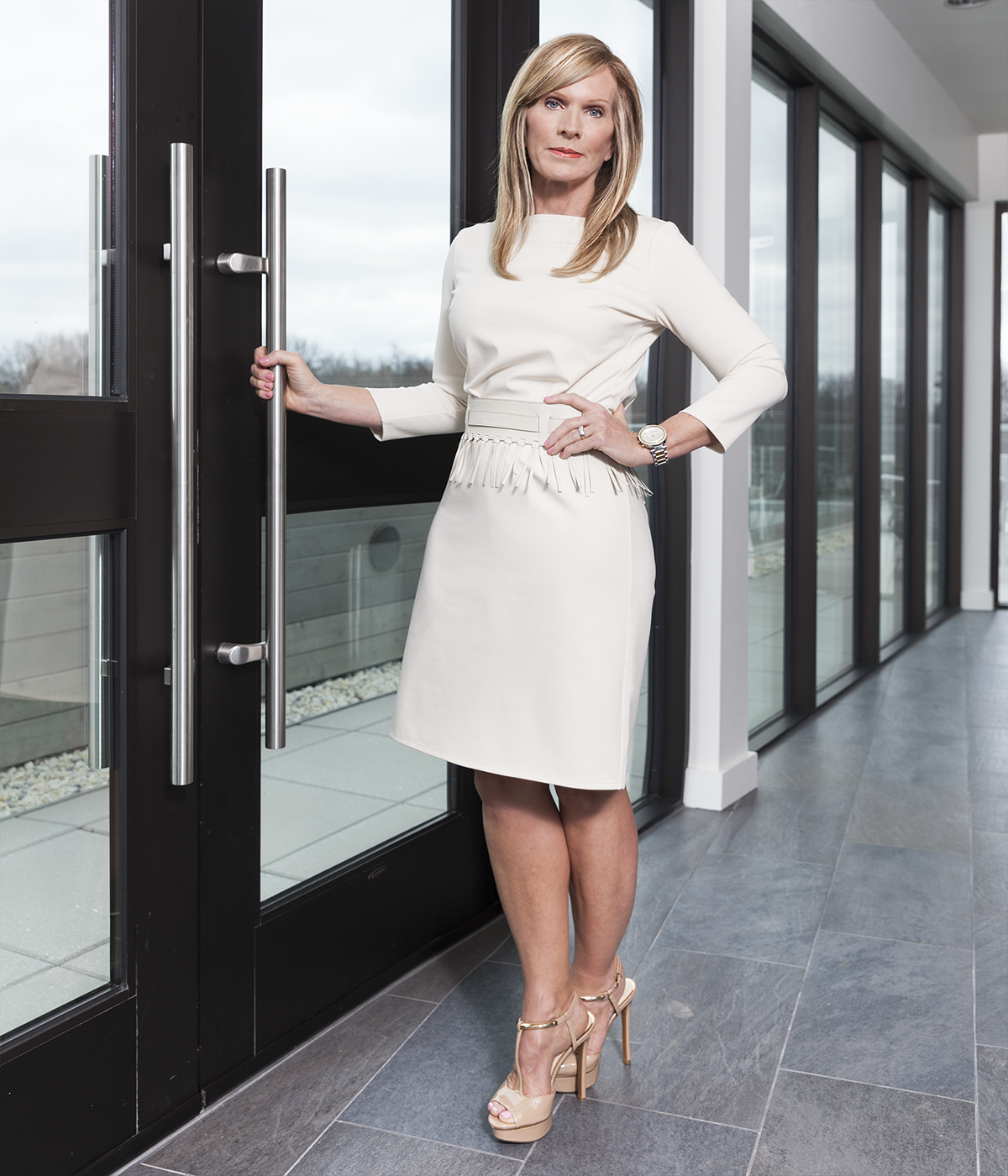 Debbie Bennett
Vice President of Hospitality, Big Cedar Lodge, Bass Pro Shops
When Texas native Debbie Bennett moved to the Ozarks in 1987 with her husband, the two settled in a house off a pristine lake nestled near a vacant property. Today, that property is Big Cedar Lodge, and Bennett is the vice president of hospitality, running all things guest-related at the scenic Ozarks getaway. 
At first, Bennett had planned to go to nursing school, and the empty property would remain a pristine vista she drove by each day to get to the package store she and her husband owned in Ridgedale. She knew of Big Cedar–owner Johnny Morris only through his reputation at Bass Pro, so when she heard that Morris had bought the property to turn into a lodge and was looking for employees to run the place, she took a chance. "Nursing is taking care of people, so would this be," she says. She hasn't turned back since. "Once the hospitality field gets ahold of you, you never let go," she says.
"There's a lot to be learned from taking a little bit of time to understand the organization and work within the organization. That was a very valuable lesson for me."
— Debbie Bennett
Bennett started by answering the phones, then eventually took on each new position as the resort rapidly grew. The challenge of growth is of course growing pains. Not only did Bennett and the staff have to keep up with Morris's ever-evolving vision, but they also had to grapple with a lack of resort experience, a deficit they made up for with passion. "Sometimes passion can carry you a long way, as long as you have leadership who have had some experience that we all can learn from. That's really what happened at Big Cedar," Bennett says. "Johnny and Jeanie Morris believed in a small team of people that were inexperienced at running resorts but saw a lot of passion in the people that were here. I think that's where we found our success." 
Sydney Friar Dougherty, creative content manager for Big Cedar, says no one exemplifies that passion more than Bennett. Despite not being a native Missourian, she is enthusiastic about every project and jumps at any opportunity to promote the Ozarks, sometimes with more zeal than a local would. "She makes you feel like your own pride is real," Friar Dougherty says. 
With such a big, long-term vision for the future and possibilities of Big Cedar, Morris's plans developed as he went, which means his team had to be on board for every change in direction. "If you're not flexible and you're not a change-agent, I don't know how successful you can be," Bennett says. That trait carries over to company culture, especially when it comes to welcoming all different lifestyles in the workplace. "Balancing a career and family is a huge commitment," she says. "If employers were just a little bit flexible, I think it would help. Women with kids at home feel guilty when they have to leave their children to pursue a career. Flexibility would help them achieve that balance." 
Debbie Bennett's Tips for Being a Better Manager
Be Ready to Change Mindsets
"Suddenly, now the decisions you're making are affecting a lot of people, and you have to look at things very globally."
Passion Packs a Punch
"Everybody has passion for something. You just have to discover what that passion is and bring it out in them. People come to work every day, and they want to do a good job."
Stay Humble
"Any good leader who makes a mistake and recognizes it very early on has to be ready to make a quick change to make it better and to admit to the mistake."
Be a Boss First
"You need to be ready to be criticized when you go into management, and you're definitely not going to be everybody's friend. It's important to model and set clear expectations. Out of this will come respect." 
Cater to Crucial Conversations
"You need to have honest conversations about their performance throughout the year and address things as they come up. Otherwise, the end-of-the-year review can be a complete shock."
It's Okay to Connect Personally
"As a leader, you have to be constantly aware of when people aren't [feeling] quite right and do something about it. Be a good listener. It's a great skill to have as a leader." 
Balance Varies
"You really shouldn't demand what [hours] people work. If you trust them and they do their job, it doesn't matter. I'm happy that they can go to their soccer games and watch their kids because then they're happy. It does trickle down."
Bennett stayed flexible and was rewarded with promotion after promotion, even when she had doubts about her own abilities and lack of experience. "I give [John and Jeanie Morris] so much credit for challenging us to move out of our comfort zone," she says. "A great thing to pass on to anybody getting into leadership is to help [your team] get out of their comfort zone and let them realize what they're really capable of. That's a great way to have your associates realize their full potential. That's probably the best gift that you can ever give to anybody." 
With each promotion came a mastery of a new aspect of Big Cedar, from housekeeping and front of house to sales and marketing. Bennett says these experiences shaped her ability to relate to and work with her team and gave her a deeper understanding of what she's asking of them. "Some people graduate, and they want to go straight to the top," she says. "There's a lot to be learned from taking a little bit of time to understand the organization and work within the organization. That was a very valuable lesson for me." 
As Bennett develops her team and her relationships with them, she has also developed her leadership style. "I recognized a skill of my own, which was the ability to draw the strengths and weaknesses from associates," she says. "I found that using all of the strengths of all of the people all of the time created the best results." 
An unshakable confidence in that team has made Big Cedar's accomplishments possible. "There's always a project that seems impossible to do in the time we're given, but she almost never bats an eye," Friar Dougherty says. For the coming year, the team has even more huge projects in store for Big Cedar and its affiliated property Dogwood Canyon (including a go-kart track, bowling alley, treehouse, restaurant and more). If Bennett's leadership is any indication, the Ozarks are in store for some breathtaking new attractions for years to come.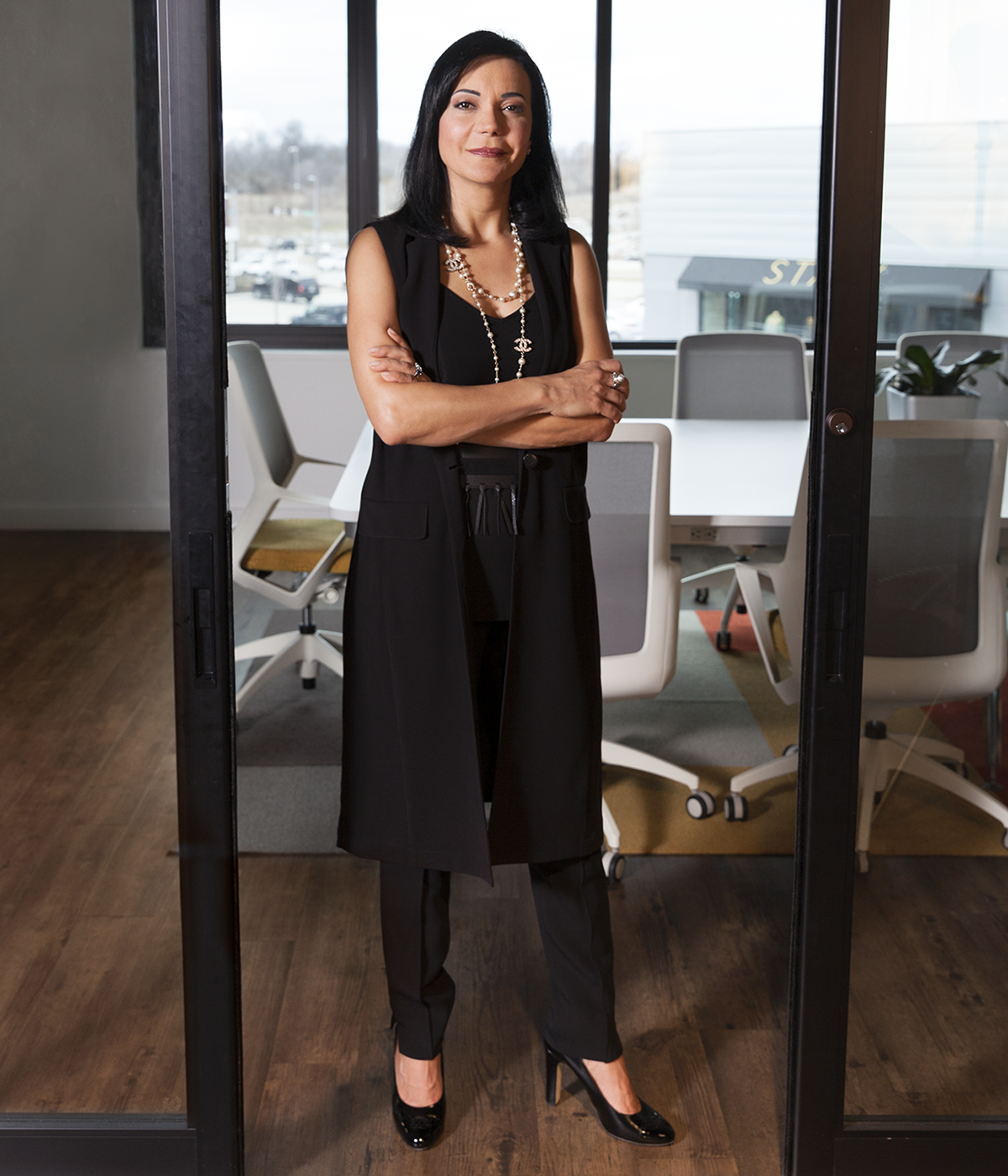 Rita Baron
Principal, Baron Design & Associates, LLC
Four years after graduating from Drury University and landing a job at a large architecture firm, Rita Baron found herself seven months pregnant and facing relocation or unemployment as the firm closed its Springfield branch. Knowing her imminent maternity leave would be an obstacle in getting a new job, Baron instead decided to launch her own firm, Baron Design & Associates, LLC. "You are pregnant, and you're planning to give birth and focus on a new baby, yet at the same time, I had two babies to focus on: I had Baron Design, and then I had a baby, too," she says. 
Opening your own business is a risky move, but Baron has always had a go-getter attitude and the determination to make a name for herself. While working at the architecture firm, Baron grew tired of designing small details and building facades, so instead, she found a way to leave her mark on a project in a big way. "I took the initiative myself—and not a lot of people did this—on going and bringing clients to the firm, so I could have ownership of what I wanted to design," she says. "I was convinced that was the only way it would get done." 
To her team, that's the attitude of a go-getter, and they can't help but be inspired by it. "I've learned a lot from watching her as a leader," says Alyson Puett, office manager of Baron Design. "I'm not a negotiator, and Rita definitely is." Puett notes that she's learned how to stand up for herself and fight for what she deserves. 
"Women are strong, smart and proven to be amazing leaders."
— Rita Baron
That attitude was crucial in the early years of Baron Design when the firm had no projects and was facing off against large firms. For every big project the team was denied, they picked up smaller projects to build up their experience. The team knew their clients were taking a chance in hiring someone so green, but Baron says they always outperformed expectations. "It was a challenge, but it was exciting because you're just doing it for yourself," she says. "If I'm going to fail, it's my responsibility. If I'm going to succeed, it's my responsibility, so I'm just going to keep going and not focus on the failures or on the successes. Keep in focus, project by project. That's how we did it." 
Baron is a strong advocate of embracing failures and then learning from them. "Don't be afraid of taking a risk," she says. "Don't be afraid of failure because failure is going to help you so much in life." 
Baron readily admits she was quick to take on new risks. When these decisions are done right, they have expanded the firm's reach into hospitality and real estate development and broadened its portfolio to include massive historic renovation projects. Other risks, such as getting into the food business and opening an Einstein's Bagels, ended up taking time and attention away from Baron's other projects and weren't a good fit for the company. "I always used to quickly take the risk," she says. "Now I tend to take my time because it's hard to let go of what I've accomplished. You've got to protect that. You've got to be careful." 
Baron says an easy way to be cautious is to not put all your eggs in one basket. "When you put them all in one basket not knowing what the end result will be, it's not just taking yourself in the risk," she says. "You're now taking everyone else around you. I'm a leader. I'm responsible to the people who work with me." Baron's No. 1 responsibility and allegiance is to her team, which now includes 12 architects. 
Biz 417: How involved should a leader be? 
Rita Baron: The leader has to stay focused on the daily tasks. You want to delegate, definitely—that's what a leader does: delegate and build a team. Don't lose sight of that, and stay involved as much as you can because if you start moving apart from being involved, I think that's when a leader starts to fail… It's your thing; it's your reputation; it's your identity. It's all one package, so if you lose sight of it, you're doomed. 
Biz: Do you have any regrets in the way your business has grown? 
RB: I look back, and nothing is a failure. What makes me do better is learning. You just keep learning because everything you get into—I don't care how wonderful it is or how perfect it is—you're going to make mistakes. 
Biz: How do you handle those mistakes productively?
RB: To be a good leader, I am prepared for that person to make a mistake. And if that person makes a mistake, I am going to support them and stand by them and not execute them because I allow them—I want them—to have the freedom. I want to allow them to make mistakes so they can learn more about themselves.
Biz: Will you know when you've found your passion?
RB: It's like with my two kids, I can't see life without them. I can't see life without building. Both of those together [give me that feeling]. You walk away from a building, and you know when you die it's going to be there unless someone tears it down.
"I never say they work for me," she says. "They work with me. I think that for me is most important because they're part of my organization. We succeed together or we fail together." For Baron, taking care of her team means giving them some breathing room within a safe structure. "Allow the people around you to create their own style and to be able to perform on their own," she says. "Don't hold them back. Give them freedom, but always stay. You are the retaining wall for them. You are the support. Always allow them because when you allow them, gosh, they'll do amazing stuff." 
Not only can Baron's team flourish on their own, they're also very comfortable pulling her in for every project, which Baron says is one of her favorite qualities of her team. "I definitely love being involved," she says. "You take that away from me, I have nothing left."
Baron learned a lot of her team-leading skills from her mentor: her mother. As the youngest of nine children, Baron was often left to her own devices, and her mother allowed her to explore and to always take the first step on her own, skills Baron still prides herself on to this day and says there are even more she wishes she could have learned from her. "I lost my mother when I was in my early twenties, so I knew I could not go back to her for advice, and I think that's a lesson to learn," she says. "Don't be afraid to ask for advice. Go to who you admire and ask their opinion, and if they feel like they're respected, they're not going to deny you help." 
That mentality has shaped her skills-driven approach to mentoring and hiring. "Women are strong, smart and proven to be amazing leaders," she says. "However, we let the seed be planted in our heads that it's going to be tough for us in the workplace. When I interview someone, I really don't pay attention to gender. All I focus on are the person's qualifications. That's where the focus needs to be." And her qualifications absolutely speak for themselves. Baron Design & Associates, LLC is working in 16 states and developing real estate in eight states with no plans to slow down. "I refuse to be labeled as the mother, the pet, the whatever," she says. "What I want to be labeled as is passionate with amazing qualifications." With continued growth on the horizon for her firm and bigger and bigger projects in the works, she'll have more than earned that label.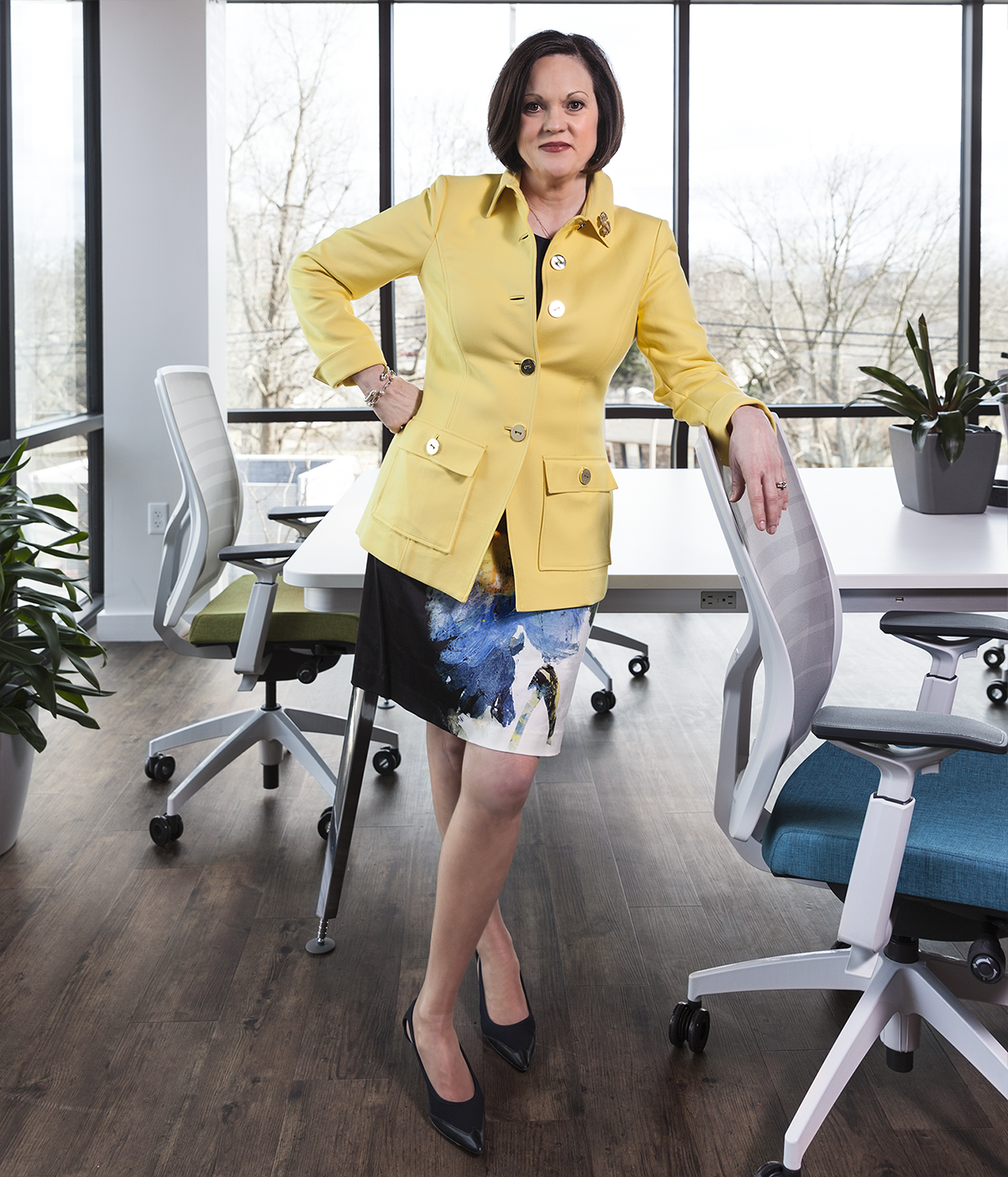 Jami Peebles
Executive Vice President, Central Trust Company
Growing up, Jami Peebles never planned to be a trust officer. In fact, she didn't even know what that was. Her first job out of high school was as a bank teller. Then, after working her way through various banking positions, she was offered the chance to join a trust company. "I wish I had known from day one what a trust officer was because I would have said, 'This is what I'm going to do,'" she says. "I think it is the most awesome job. It is very rewarding." 
Peebles is now the Executive Vice President of Central Trust Company, where she serves on the executive committee, sets strategy for the company and manages Springfield's 27-person office. Seven years after taking the helm, Peebles has transformed the culture and rapidly increased its growth. "Our trust department was responsive," she says. "Somebody called, and they wanted to ask a question or open an account, and they were accommodated. Now we are much more proactive in every facet of our job." 
Peebles's team is important to her, which is why she looks for opportunities to sharpen her leadership skills. "Leadership requires continual training and the willingness to be flexible," she says. She says recent seminars and working with a business consultant have helped her realize how to work people to their strengths. "If you let them do what they're good at, they'll feel good about it, they'll be productive, and they'll be happier," she says. 
"I was always a woman in a man's world and still am."
— Jami Peebles
This happiness leads to a sense of pride, which is something that's been a key component of Peebles's work ethic ever since she was a teenager working her first job at her father's Ethan Allen plant. "He made it clear that because you are the boss's daughter, you must work harder, you have to show up earlier and your performance has to be better than everyone else's," she says. "That kind of stuck with me, and it became [my goal of] exceeding expectations." 
Peebles is among the leaders in her industry, but now that she's there, she's learning how to adjust. "I was always a woman in a man's world and still am," she says. "When a man says something, it comes across as informative. When a woman says something, sometimes it comes across as—what's a nice word for what I'm thinking?—being bossy. I think that's still a challenge." A challenge that Peebles is ready to tackle thanks to what Andrea McKinney, vice president and wealth management consultant at Central Trust Company, calls her conviction. "She is not afraid to share her opinion," McKinney says. "She doesn't back down from what she believes is right. Being in what's traditionally a man's world, you could be discouraged from doing that, and Jami is not." 
However, Peebles points out that  women struggle with that confidence, something she's seen firsthand during her work with Convoy of Hope's Women's Empowerment Program through which she's traveled to Ethiopia and Tanzania to provide women with job-skills training. "It's not just about how we can help women, but how can we help them help themselves," she says. "To me, the answer clearly when I went to those other countries is two things: pride and self-confidence." 
Self-confidence comes into play heavily for what Peebles notes is the key trait of a good leader. "You have to be able to make decisions—hard ones," she says. "Some are going to be good, some are going to be bad, but you have to be able to live with the consequences. It's important to be open to new ideas and new ways of doing things." She'll have to be open to new ideas soon, too. Due to sustained growth, Central Trust Company is out of space in its current location and is exploring creative solutions in the near future.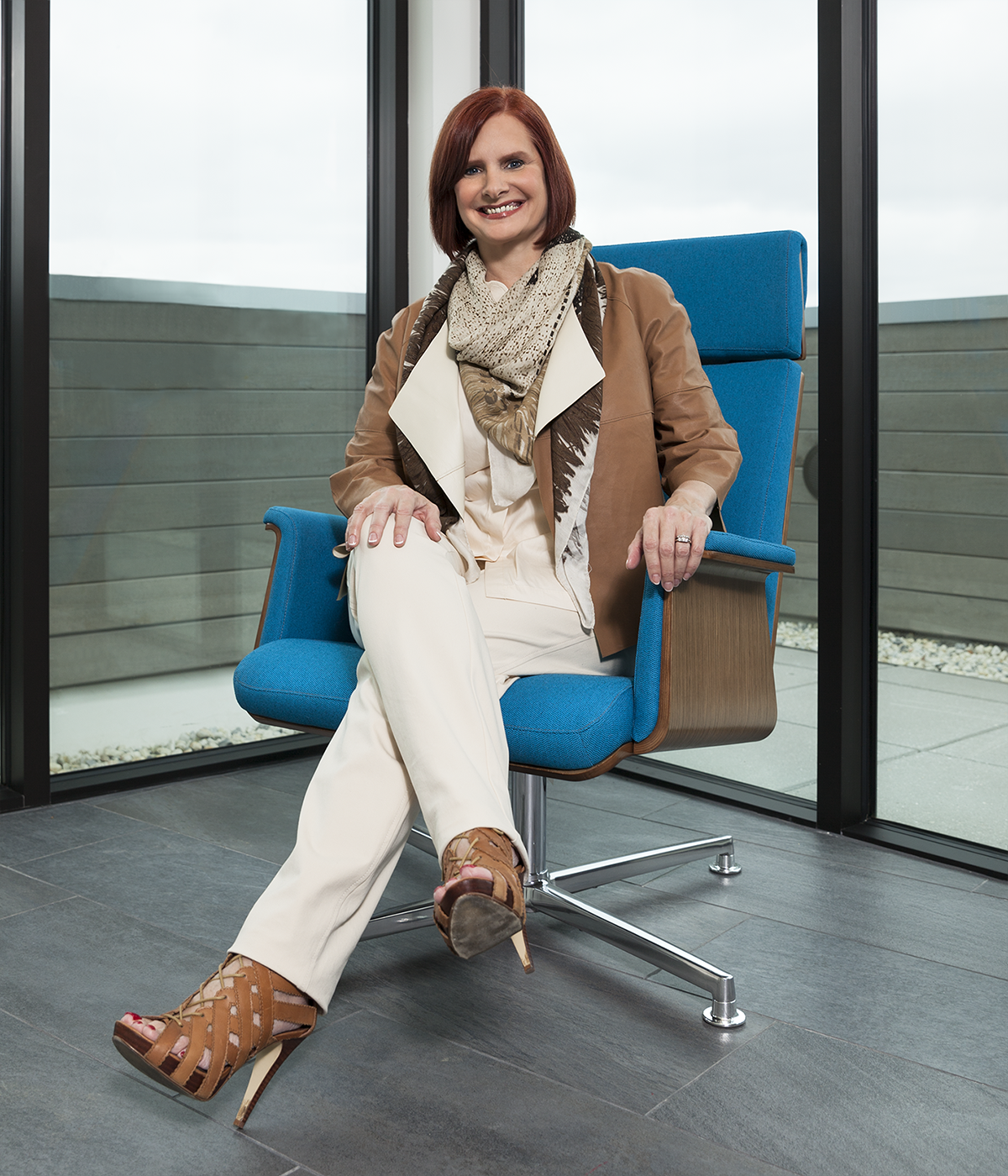 Stephanie Bryant
Dean and David D. Glass Distinguished Leadership Chair, Missouri State University College of Business
"If you had told me growing up that I was going to have a Ph.D., I never would have believed that," says Stephanie Bryant. Bryant grew up in a small paper-mill town in Louisiana and, after high school, she could only afford to go to college for one year. She worked administrative jobs for six years to save up to go back. While working, she picked up bookkeeping and basic accounting from the head of bookkeeping, Tom Rauch, who encouraged Bryant to pursue an accounting degree. 
Bryant headed to LSU to pursue a bachelor's degree (and later a Ph.D.) in accountancy. Although she worked in the private sector for a time, she felt her true calling was in mentoring and giving back to others, so she began her career in education in 1994 and hasn't looked back since. "I really, really felt—and still feel—that we are here for this little short time," she says. "Is it really going to matter how many papers I published? Is that what is really important to me in my life? That was a major pivotal point in my life where I consciously made a decision. I can chase career success, or I can really do what I think I was put here to do, and that's to mentor people and help other people be successful." 
Fortunately, Bryant didn't have to sacrifice career success for personal fulfillment. She became a professor of accounting at James Madison University and later the University of South Florida, where she gradually worked her way up the administrative ladder. Now, as dean of the College of Business—worldwide, only 19.9 percent of college deans are female—Bryant says she has learned from being in and experiencing each and every role. Bryant also had ample opportunity to hone her leadership abilities. "There's a saying that leaders are born, not made," she says. "I don't believe that. I believe that people can develop leadership skills and can be the leaders they aspire to be." By noting leadership skills she admired and those she didn't, Bryant built up an inventory of skills to practice—an exercise she still does to this day. "You're never done," she says. "You have to always be willing to grow, and you grow through mistakes." 
"There's a saying that leaders are born, not made. I don't believe that."
— Stephanie Bryant
Early in her career, Bryant was often rattled by judgment. Over time, she's developed her emotional intelligence to be able to pull the good from the bad. "You have to learn not to be emotionally dragged down to a place where you can't recover," she says. "You have to have a lot of emotional resiliency to be in leadership, because there's a lot of criticism." 
This empathetic, rational approach carries across all of Bryant's relationships. "I made an implicit decision that I would always treat every person with respect," she says. "That's to me what being authentic means." As an administrator and former professor, Bryant shows she cares by recognizing a job well done and by mentoring those who reach out. The biggest lesson she imparts: be authentic and maintain your integrity. 
Her authenticity and people-focused leadership have won support among the College of Business faculty and staff. "What you have to do with a strategic plan is get people around you and say, 'Where do we want to go—it's not I; it's we—and what course do we want to follow?'" 
Missouri State University President Clif Smart notes that in addition to her team, her ability to energize the community around the college's progress has made her successful. "She's a strong, forceful leader who has a vision for the college, and at the same time she's  good at bringing people with her," he says.
For the coming year, Bryant is rallying the troops around the college's biggest project: the full renovation of Glass Hall. The 2017 reveal will bring a new set of triumphs and challenges, and Bryant can't wait to take them on—every single one.