Small to Mid-Sized
Executive Coach Builders Are Stretching to the Top
Young entrepreneur David Bakare led a failing company to first place in the luxury limousine industry.
By Julie Sedenko Davis | Photos By Vivian Wheeler
Mar 2016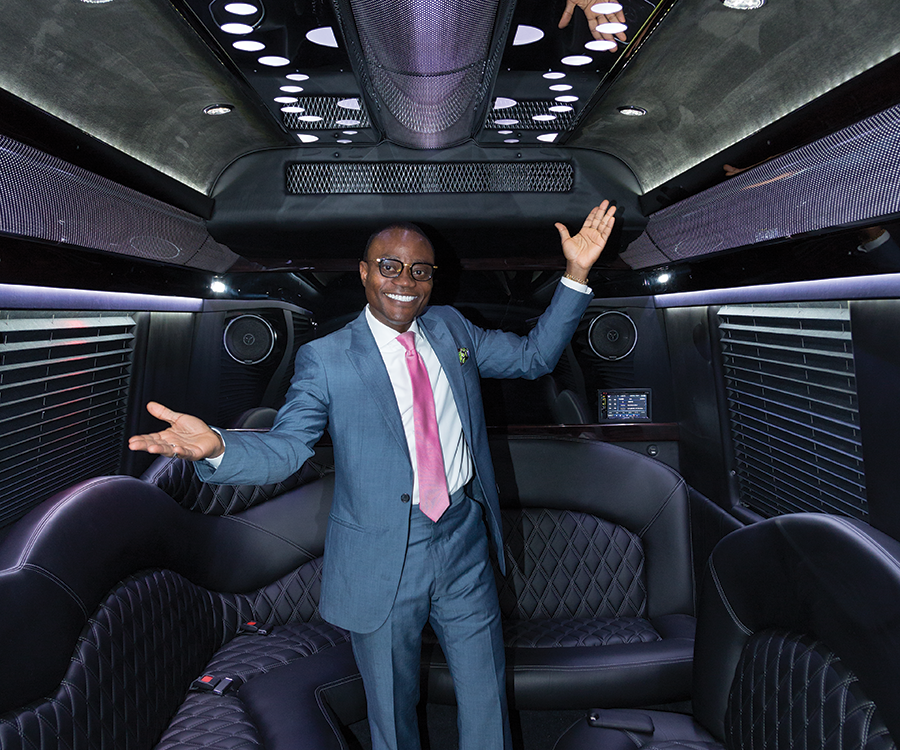 Stretch limos and private town cars usually evoke images of glamorous celebrities, not necessarily USC-educated self-described computer geeks. But David Bakare, president of Executive Coach Builders, is just that. Although he studied engineering and science in school after moving to America, Bakare realized his passions were in building and creating. At the age of 21, when he and his father discovered that Executive Coach Builders was floundering at the bottom of the industry, the two purchased the company and began their ride to success. 
"I loved the idea of creating something," Bakare says. "That's what I did with computer engineering, so I get to develop cars. That, to me, was really exciting." Executive Coach Builders takes luxury car shells and completely transforms them into world-class limousines, handling everything from design to production in its local headquarters off of Interstate 44. Initially, reluctant to change too much too fast, Bakare ran the business as it had been run, until he realized he couldn't expect to do everything the same and get a different result. At a point of desperation, he remembers thinking, "This is a stable product but we can't sell it." He recognized the company needed a new product. He also recognized he had nothing to lose.
Maybe the most crucial thing Bakare did to change strategy was to change focus. He began thinking about the person renting the limo rather than the person buying it. Ultimately, they were more important than the 50- to 60-year-old buyer. Bakare began designing a product for the 18- to 20-year-old end-user based on the latest trends he saw popping up at clubs and bars. "That's where the whole revolution started," he says
Executive Coach limos were, literally, transformed. They designed The Fantasy, a car with a contemporary look, mirrored ceiling, colorful lights and a seashell seating design. Bakare's customers kept renting and renting The Fantasy, and Executive Coach Builders couldn't keep it in stock. Suddenly, Bakare was back in business.  
"The day you stop developing, that's when your product starts dying." —David Bakare, President of Executive Coach Builders
Today, Executive Coach Builders is the largest limousine manufacturer in the world. When Bakare is asked how he made it, people sometimes laugh at his answer. But after nearly losing the business twice, he emphatically says: "The most important thing in business is hope. Not just a pipe dream but realistic hope." Bakare believes the mental drive of the person running the business is more important than cash flow. 


Before David Bakare (top) can bask inside a finished limousine, the luxury cars are stretched (left) and go through extensive workshops like painting (right) that Executive Coach Builders has on-site.


Bakare tells aspiring entrepreneurs it's easy to get to the top but much harder to stay there. His secret is staying current. When traveling, Bakare visits nightclubs for inspiration on the latest design trends. "The day you stop developing, that's when your product starts dying," he says.
What does it feel like for this computer geek to be the top limousine manufacturer in the world? "There's no better feeling than to know you set out this goal, and you've accomplished it," Bakare says. But, he warns, there's also a sense of fear when wondering where to go next. For Bakare, he's setting a new goal: the luxury bus industry. "It's a new race," he says. "We're number 30." Probably not for long.
---
Behind the Design: Executive Coach Builders
If you've ever looked at a product and wondered, "How did they do that?" we've got the answers for you. Executive Coach Builders President David Bakare walks you through the process of putting together one of his company's modern luxury limousines.
The Lincoln MKT is a high-end vehicle without a single modification. But David Bakare's team transforms these cars into the ultimate form of prestigious party transportation. The unique five-door MKT 120-inch stretch limo holds up to 10 people. The car is specially manufactured for Executive Coach Builders with larger wheels and a beefed-up suspension and braking system to handle the extra weight of a limousine.
When the car arrives at Executive Coach Builders, located near the Springfield-Branson National Airport, teams of people go to work getting ready for each step of an intricate process. The company has 100 employees who make up 12 separate departments. Inside the factory are body, paint, wood, plastic and upholstery shops. 
Other departments include assembly, electrical, quality control and a specialty area where they build special-order vehicles, including bulletproof vehicles for diplomats.
The first step to build the limo is actually tearing it apart. Workers completely strip the vehicle inside. Then, the car is literally cut in half and "stretched" 120 inches. It's put on a jig for stabilization, and then the frame rails, floor pan, ceilings and side panels are installed. All of the pieces are welded together. Side panels and doors, including the custom fifth door are also installed.
After the car's major parts are together, it is time for primer and rust protection. Bakare insists the car get an epoxy coating both inside and out. While most people wouldn't do rust protection on the inside, he believes it's important. The epoxy application happens in a custom-built paint booth that is made extra long and tall to house a limousine. There are five of these specialty paint booths inside the factory. After applying primer and rust protection, the limo is sanded and prepped for exterior paint. The shade is matched to the car's existing color.  
Then they install the intricate electrical system to control the limo's divider, windows and other amenities. The air conditioning is installed along with windows and even a custom, mirrored ceiling. The ceiling and special lighting are part of Bakare's innovative design to create a nightclub feel. 
While the car is being welded together and painted, other teams are preparing the inside pieces. Twelve employees make up a custom in-house wood shop. They prepare parts for the bar, overhead controls, parts of the seats and more. The parts are cut, painted, lacquered and assembled for installation when the car comes through.
Plastic pieces are produced using custom molds and a 14-foot ABS vacuum form machine. Giant, flat pieces of black plastic are heated in an oven until the plastic is melted into a jelly-like substance. It's then formed around the molds. A large vacuum sucks out all of the air until the plastic is permanently shaped. The piece is then cooled and cut into separate pieces for the limousine. This plastic forms ice buckets, post covers, parts of the limo bar, door panels and more.
Next, the privacy divider is installed between the driver and passenger sections of the vehicle. The television, seats and bar are then installed. Seats are created in-house, allowing for customization and better quality control.
Finally, all of the car's original parts, which were taken out when it was first stripped, are re-installed. The final stage of production is quality control where any errors are corrected. The vehicle is then detailed and delivered to its new customer. 
When a limousine is ordered, each department goes into production at the same time. Everyone has just 10 to 12 days to complete the vehicle. The cost of a new Lincoln MKT stretch limousine is between $85,000 and $95,000. They are generally used for about four years before being replaced with a newer model. 
In addition to luxury limousines, Executive Coach Builders creates high-end passenger busses, carrying between 10 and 50 passengers. Currently, Executive Bus Builders, a company in California manufactures the necessary fiberglass pieces and then ships them to the Springfield. Bakare plans to move the West Coast bus factory to Missouri within the next two years and begin manufacturing those vehicles solely at his Springfield factory.  "These are going to be buses that go from nightclubs but also go to churches or the hotel and airport," he says. "The buses have a lot more variety of use." 
Whether it's top-of-the-line buses or luxury limousines, Bakare is always reinventing normal. He's careful not to underestimate the competition, always working to stay one step ahead. When you're sitting in one his company's trendy, five-door limousines, it feels like Bakare is, quite easily, miles ahead of the competition.