Leadership
Mentorship Moment: Doug Neff and Paden Wilcox
Doug Neff and Paden Wilcox connected through the Springfield Area Chamber of Commerce. The mentoring relationship has provided Wilcox with a valuable viewpoint from a seasoned professional.
By Ettie Berneking
Jul 2018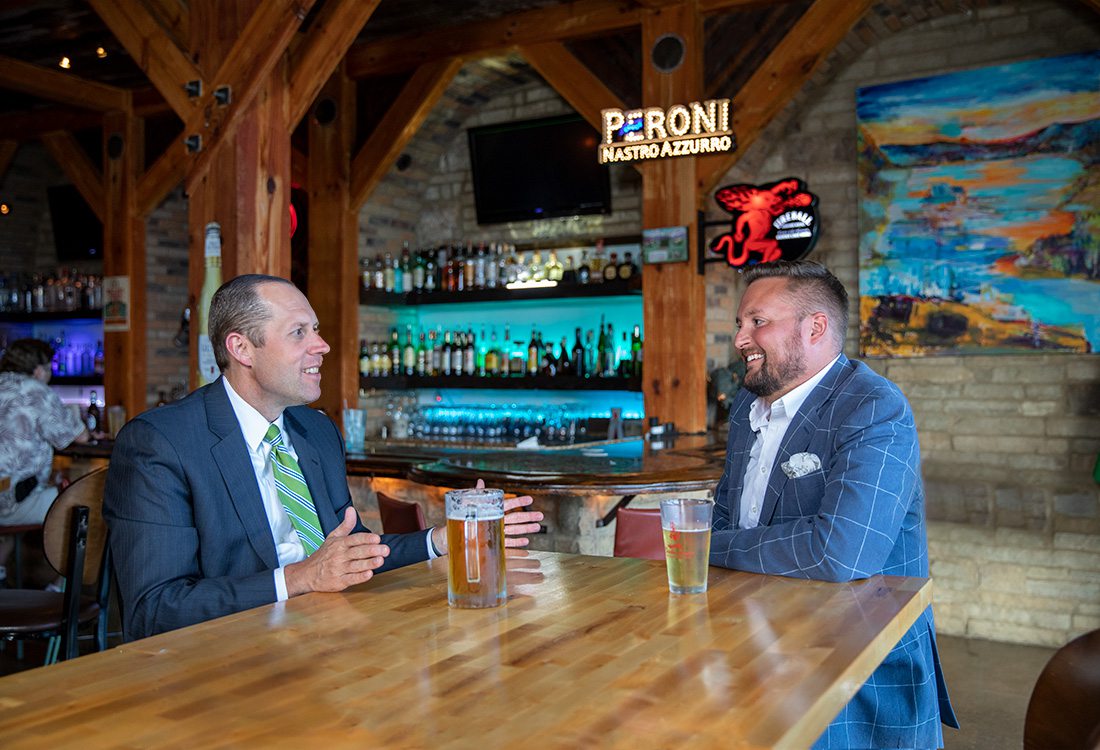 Biz 417: How did this mentoring relationship get started?
Paden Wilcox: Doug serves as chairman of the [Springfield Area Chamber of Commerce] Board, and I'm on The Network's leadership council. They connect members and foster mentoring opportunities. We've met once a month for the past year.


Biz: What was the first meeting like?
PW: It was about getting to know each other and what drives our professional lives. I was always jotting things down to talk about. But as the relationship grew, it became more about getting together to talk.
Doug Neff: We were both respectful of not wasting each other's time, but it became more of a friendly discussion about business and opportunities.


Biz: What did you want from a mentoring relationship?
PW: There's a lot of value in being able to ask your mentor honest questions. I wanted a perspective I could trust, and I realized that experience is a huge factor. Doug has been doing this longer than I have, and he's probably gone through things I haven't experienced.
DN: It's also about personal skill set. And any time you're in a mentoring relationship, you're both going to learn how to hone your personal skills.


Biz: What lessons have you taken away from the mentorship?
PW: Doug gave me pointers on being prepared and realizing how busy people are. So when you catch your boss's ear, you show up with a prioritized list. You want to make the best use of their time and yours.
DN: My mentors were people who were a step above me. They taught me a lot, and Paden will recognize some of these. But if you like where you work, and you like the people you're working with and you're reasonably compensated, think long and hard before you make a change. Also, if you're patient and work hard, good things will happen. I really believe that.


Biz: What advice do you have for potential mentees who might be looking for a mentor?
DN: Be respectful and don't make it a waste of time. Paden is focused on learning from this experience. It's not a sales pitch. But also, if you want a mentor, just ask. Most of us are willing to do it.
PW: If you're not taking advantage of that in our community, you're missing the boat. That's a very powerful opportunity not everyone gets. I know sitting down and connecting with people can be intimidating for young professionals, but if you're not doing things that push you out of your comfort zone, you're 
not growing.


Biz: What advice would you give young professionals about networking?
DN: It's about being genuine. If you're always selling and pushing, that doesn't work very well.
PW: I think young professionals have it built up in their mind that networking is going out and giving their 30-second sales pitch 50 times. Networking is about building relationships. You don't even have to mention where you work. Just show up and be yourself.