Culture
Bring in the Babies: Behind APO's Culture of Flexibility
A job at Aids Project of the Ozarks requires compassion for every client, so the organization's leaders prioritize flexibility and openness in its work culture.
By Claire Porter
Jan 2018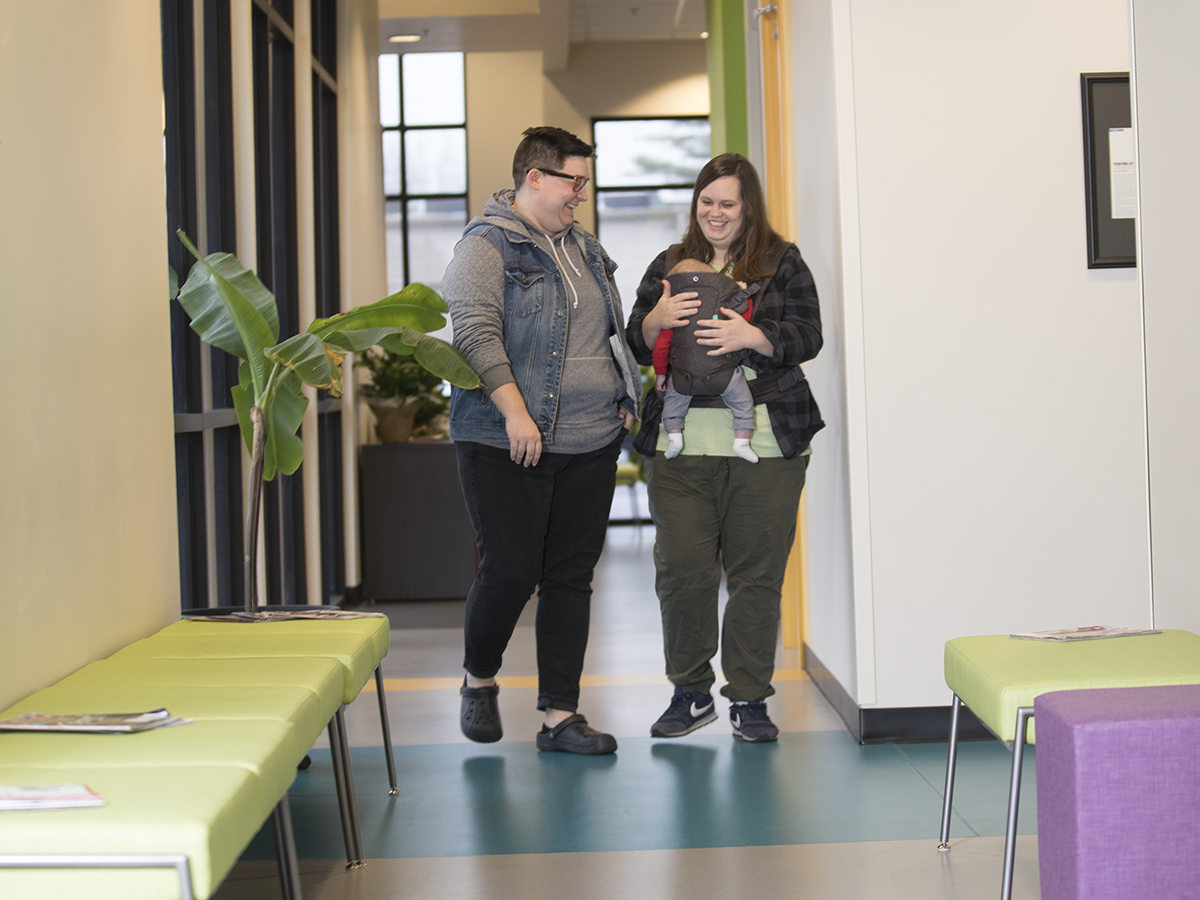 This past September, a familiar name got a new appearance. Aids Project of the Ozarks (APO) moved into a new building on Glenstone Avenue. Despite the shiny digs, the nonprofit organization, which has been providing medical care and full-spectrum HIV and AIDS testing, education and case management since 1991, has kept its culture of flexibility and compassion in full swing.
"The new design really facilitates a lot of interaction," APO Executive Director Lynne Meyerkord says of the combined clinic, office, pantry and pharmacy space. Increased collaboration between clinical staff and case managers means better communication—and service—for APO's 850 clients spread across 29 counties. And with that many clients, flexibility is a must for the organization's 48 staffers. "For a lot of people we serve, HIV isn't their only issue," Meyerkord says. "They've got potentially domestic violence issues, they've got drug and alcohol issues, they've got poverty issues, so this is just another thing they have to be aware of and navigate." Meaning rescheduled appointments, mental health support or alternative hours for STD testing are some of the many accommodations APO makes for its clients.
That flexibility applies to the company's internal culture as well. "We actually have a suggestion box that we look at," Meyerkord says. Several popular programs have sprung from the box. The Baby on Board policy, which allows parents to bring their newborn to work with them until the baby is six months old, was a suggestion from the clinic manager. Other perks like a shower in one of the restrooms and the ability to bring dogs to work on Fridays were also staff suggestions that leadership weighed, researched and eventually approved. "We love pilot projects," Meyerkord says. "Let's try this and see if it works. If it doesn't work, okay. If it works, great." 
Meyerkord acknowledges that for a nonprofit juggling funding, federal regulations and various grant limitations, allowing flexibility is sometimes easier said than done (she's currently embroiled in the intensive research phase of acquiring an office toaster oven), but the investment is worth it. "Those small things really make people be involved—not just feel involved, but be involved," she says. 
The hurdles of being a nonprofit business so deeply entrenched in federal and state policy also mean Meyerkord and her staff have to roll with the punches and think on their feet when policy changes affect budgets, staffing or services. "I've learned not to freak out or panic at the first news story I read," she says. She emphasizes how important it is to do as much research as possible and to be upfront with staff about how changes influence day-to-day operations, and if you're uncertain, communicate that as well. "Being as honest with the staff as you can be, I think that's really important," Meyerkord says. 
Frank conversations are also a necessary part of interactions with clients who are facing a disease with no cure, but the staff's passion for helping those who need it is a core tenet of APO's mission. Clients facing the fear, uncertainty and stigma of an HIV diagnosis might have nowhere else to turn for financial support, health care or guidance, and employees of APO recognize that for these clients, they are oftentimes a lifeline. "Our staff has to feel good about where they work to do good work, so we're very committed to that," Meyerkord says.