Strategy
Local Salons are Feeling Fabulous
Springfield's spas and salons have undergone some major upgrades.
By Adrienne Donica
Jan 2017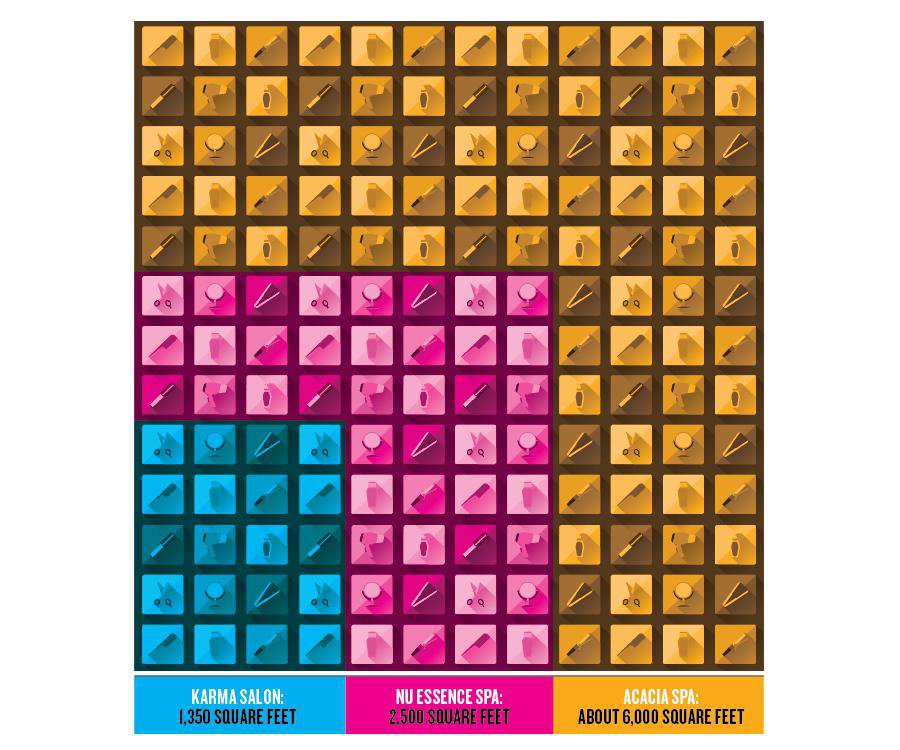 In the past year, several of Springfield's spas and salons have been upgraded. Whether the businesses moved or simply expanded, these new digs have provided additional services for customers and more jobs for the community.
Acacia Spa's new location is nearly 10,000 square feet and opened in June 2016. About three times larger than its old one, the extra space has translated into a larger boutique area and new amenities including a yoga and fitness studio, an infrared sauna and a eucalyptus steam room. Meanwhile, Karma Salon and Nu Essence Spa have bought out neighboring storefronts for their expansions. Finishing its renovation in March 2016, Karma added 1,350 square feet to accommodate six more stations, a larger color bar, an extra service room, a laundry and storage room and more. Nu Essence Spa is slated to finish construction on its new look by February 1, which totals 5,000 square feet once complete. Guests can enjoy a lash and brow room, five more massage chairs, two more rooms for aesthetic services and more. 
New employees accompany these physical expansions. Acacia hired 17 people, while Karma added seven full-time positions. Nu Essense Owner Layton Alsup says she anticipates hiring more employees once construction is finished. Such growth is indicative of nationwide industry trends from the U.S. Bureau of Labor Statistics. Ten-year projections suggest hairdressers, barbers, cosmetologists, manicurists and pedicurists should see a 10 percent employment change from 2014 to 2024. Likewise, skin care specialists can expect a 12 percent increase in the same time period compared to a 7 percent increase across all occupations.