Small Businesses
Ensor Guitars is Strumming Along
Chris Ensor, owner of Ensor Guitars, makes a living helping others make music.
By Syndi Moore | Photo by Brad Zweerink
Jan 2017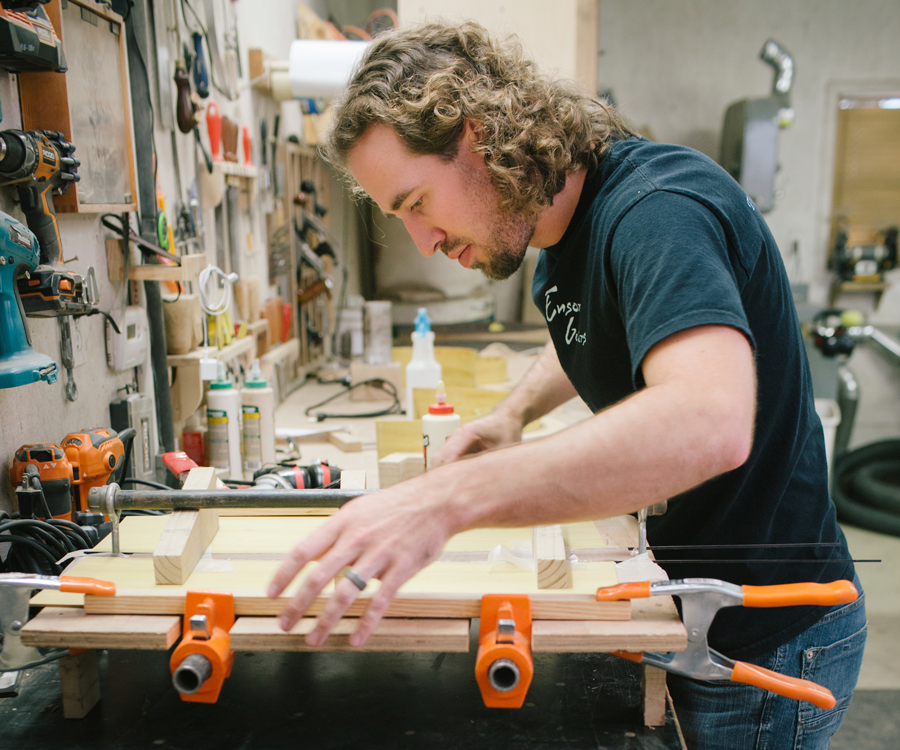 Chris Ensor's commute isn't a commute at all. He works in a building behind his house that he revamped to create space for his acoustic guitar–making business. Year-round the shop averages 70 degrees and 42 percent humidity. The stable climate protects the incredibly thin wood Ensor uses, which a minuscule amount of moisture could irreparably damage.
And when you're building an instrument that sells for thousands of dollars, there isn't a lot of room for error. "With a guitar, the very first thing you do will affect the very last thing, so you have to be careful the entire time," says Ensor, who owns and operates Ensor Guitars in Springfield.
As a teenager, Ensor tried guitar-making by winging it. That first guitar hangs as a wall clock in his dad's garage. "It's made of two-by-fours and plywood, and it's absolutely terrible," Ensor says. "But it kind of got me going in the direction of wanting to build."
Ensor tried again after reading a book on guitar-making. He wasn't satisfied with his work, but looking back he says that this experimentation allowed him to make a lot of mistakes he needed to make.
In college, Ensor followed his father's suggestion to seek formal training in lutherie, which is the art of building or repairing string instruments. That's how he met and trained under master luthier Sergei de Jonge, in Canada. De Jonge has more than 40 years' experience and taught Ensor how to build guitars with hand tools instead of machinery.
Ever since, Ensor has been making guitars, but it wasn't until 2012 that he started his business after people saw his work online and started contacting him with orders. He works in a small market and knows one bad review could be detrimental. 
"If you think about how many people you know that play guitar, and you narrow that down to an acoustic guitar, and then you narrow that down to people who spend $5,000 or more on a guitar, it's a very, very niche market," Ensor says. 
Ensor makes sure a guitar turns out exactly the way his clients want them to. "You have to have enough patience to be able to work through it and know when to cut ties and start over because if I'm not proud of it, it's not going out the door," he says.
Ensor's passion for making and playing guitars fuels him. He says passion is the most important thing business owners need to be successful, and they should always be on the lookout for new business ventures. "Don't be afraid to follow new streams of income that may present themselves," Ensor says. He has taken advantage of such opportunities by selling tools to other luthiers.
"At the end of the day, as long as you can go home happy, sleep well with the way you run your business, and feed your family, everything else will work out the way it should," he says.


---
Behind the Design: Ensor Guitars
As you might imagine, building guitars is not an easy practice. "My favorite saying is 'lutherie looks hard, but really, it's harder than it looks,'" Ensor says. 
First, Ensor allows his client to pick out what they want their guitar to look like. This means deciding things like the shape and the woods of the guitar. "The client is allowed to pick out every detail, if they want," Ensor says. Some want to pick out every tiny thing. 
Next, Ensor gets to work. To create the symmetrical back of a guitar, Ensor takes a board, cuts it down the middle, and opens it like a book. The side pieces of the guitar are bent into the proper shape, before the front and back are glued on. Once the box of the guitar is closed up, then comes aesthetics. Ensor goes through and completes the detailing and trim of the guitar—the last step in completing the body of the guitar. 
After that, the carving of the guitar's neck begins. Ensor determines the fit of the neck to the body of the guitar based on how the customer wants it to feel when they hold it. "If something is off by a quarter of a degree, it makes a huge difference, so I make sure it's not," Ensor says. Carving out the neck of the guitar is one of Ensor's favorite tasks in creating them. 
The next step is painting on the finish. The guitar gets about 16 coats of finish, which comes out to be about the thickness of a piece of paper. Some layers take an entire day to dry. After all of the layers are on, the guitar cures for two weeks before Ensor sands and buffs it. Once all of that is done, the pieces of the guitar (the body and neck) are put together. 
Lastly, Ensor glues the bridge of the guitar on, attaches the strings and goes through about a hundred steps to get it all set up. During this process, among other things, Ensor makes sure the guitar plays in tune. 
Ensor then lets the guitar sit for a week or two before shipping them out. According to him, the very top of the guitar tends to change, and with that, the strings raise. "String height is huge to a guitar player," Ensor says. "If it's off by a thousandth, they're going to notice." He lets the top rise naturally, and then he takes it through his many set-up steps again to make sure it still sounds how the player will want it to. 
Finally, he places the guitar in its very own, custom-made case. Ensor likes to pick out the interior colors of the cases so that they match the guitars themselves. He packs them up as tightly as he can to avoid damage when it ships.
During the entire process, Ensor communicates with the client so that they know how progress is moving along. If when pictures are sent along through emails, Ensor is sure to not to reveal too much so that it's a total surprise when they open the case. 
Editor's note: A previous version of this article incorrectly stated part of the creation process Chris Ensor uses to make guitars. He does not stain guitars.