Offices
Creativity Happens in Amanda Day's Office
For Senior Art Director Amanda Day, a creative office space fosters creativity on a day-to-day basis.
By Savannah Waszczuk | Photos by Brad Zweerink
Jan 2017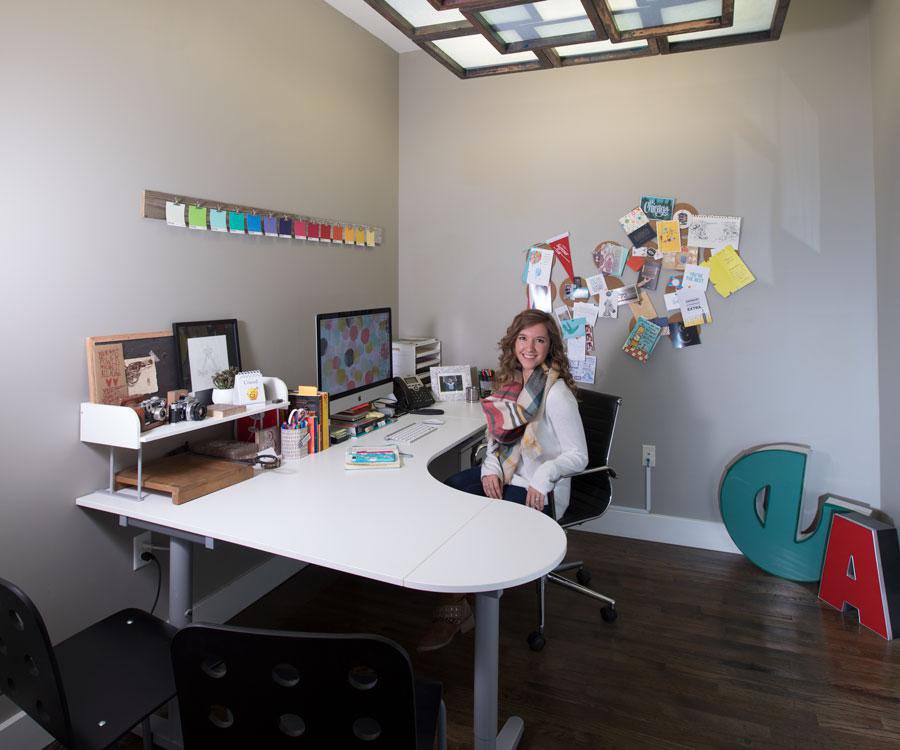 1. As senior art director at Revel Advertising, Amanda Day's job is all about creativity. For the past three years, the inventive 27-year-old has helped guide Revel's creative team in developing countless successful campaigns and even snagging a few American Advertising Awards—and she's done it all from her corner office in Revel's downtown space. Take a glimpse inside her creative haven, which is filled with many handmade touches. 

2. Day's office filing cabinet acts as a shelf for several special pieces and sits below a framed lion print she has named Lenny the Lion. There's a framed "D" that was created from a letterpress by Day's favorite artist, Jessica Hische. This was a gift from Chris Jarrett, Revel's creative director and partner, when she got married in September 2015. "I had bought the 'A' print—for Amanda—a few years back," Day says. This piece now sits on her desk shelf. The file cabinet is also home to a couple of Revel's American Advertising Awards from projects that Day directed and a Mother's Brewing Company growler that the Revel team designed and gave out as Christmas gifts.
3. Day has a shelf on her desk to display a few special pieces. The framed print of the "A" letterpress from her favorite artist, Jessica Hische, sits near a gun print that was made by a classmate during one of Day's print-making classes she took in college. There are also two cameras: an old Argus camera that was a gift from Day's uncle and an old Olympus camera that Day's mom used during her years in college. 


4. When it was time to add interest to the wall behind her desk, Day got creative. "Nicole actually helped me hang those little pieces of cork board on the wall," Day says of Revel's CEO and partner Nicole Jarratt. The pieces are actually trivets from Ikea, and Day uses them to display special notes, pictures and cards. 


5. When Lowe's started carrying a line of Pantone-colored paints, Day was thrilled. "Pantones are important in the world of graphic design," Day says. To speak to her love of the colors and her love of the field, she created her very own Pantone display piece. "I took an old piece of privacy fence and attached the clips," Day says. Then, she simply hung the paint swatches from the clips.


6. A cluster of frames on the wall opposite of Day's desk also speaks to her love of letterpress. "The 'Stay True' and 'Share Your Passion' are both from letterpress companies I follow," she says. There are several other graphic pieces on the wall, including a feather print she found on Etsy. 


7. "I have a ridiculous obsession with pens and markers," Day says. She uses them for her bullet journal—a blank journal that she turned into a planner-like book she uses for making to-do lists and taking project notes. "That's something Nicole and I both started doing at the beginning of 2016," Day says. "It's basically a planner but without the structure of a planner." These pens provide just enough organization.


8. A copy of Traction by Gino Wickman also sits on Day's desk. "That's something I read for my role on the leadership team here," Day says. The team meets once per week to go over numbers, look at budget items and discuss any issues that might arise.